Top Five Current Wingers in World Rugby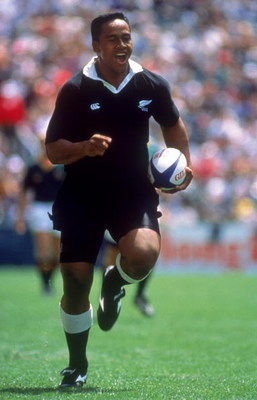 To me, wing is the best position in rugby for a number of reasons, but mostly because you get to see the true athletes excel.
This is my tribute to the current wingers that are playing the game. When looking through current playing rosters, I was unable to include Lote Tuqiri because he no longer plays rugby union and also Jason Robinson because he has retired.
But here is my list of the top wingers actively playing right now. Enjoy!
Rupeni Caucaunibuca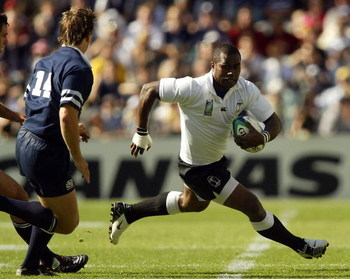 Number 1
Rupeni is the fastest rugby player I have ever seen.
I spoke to a sprint coach in Whangarei and he told me that Rupeni would just stride beside Fero Lasagavibau...and Fero was one of the fastest players in New Zealand rugby.
He possesses power, agility, awareness, kicking ability, balance, and raw pace. He was/is unbelievable.
Jonah Lomu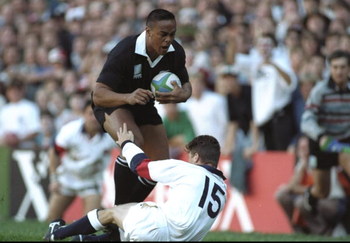 Number 2
At 6'5'' and 115 kgs, along with the ability to run a sub-11 second 100m, Jonah Lomu changed the standard of wing play globally.
He was truly the first global rugby superstar. When Lomu started playing on the wing, he was devastating. The way he ran over Mike Catt in the 1995 World Cup is remembered as one of the greatest tries in World Cup history. He is also the top try scorer in World Cups with 20.
Jonah makes this list as he is currently playing for Marseille Vitrolles. And to think, for more than half his career he was playing with a debilitating kidney disease that sapped him of energy.
Bryan Habana
Number 3
Bryan Habana is the leading international winger in the world at the moment.
His knack for coming up big in big matches has become common place (e.g. Super 14 final versus the Sharks in 2007). His ability to accelerate is phenomenal and he turns up in the right places at key moments.
He has become a superstar in world rugby and is respected not only in South Africa, but globally.
Shane Williams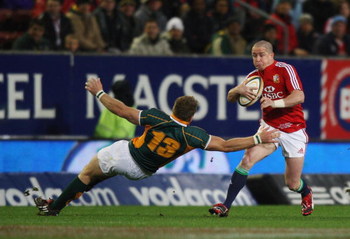 Number 4
Shane Williams' agility is outstanding. He possesses the best step of any winger in world rugby right now.
It is his ability to accelerate out of the step which makes him so effective. The first time we in New Zealand saw him was when he almost single handedly ran through the whole All Black side in the 2003 World Cup.
Napolioni Nalaga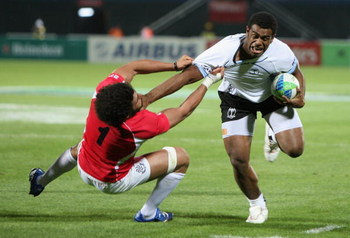 Number 5
Napolioni Nalaga is 23 years old and was born in Sigatoka, Fiji.
Nalaga plays in the French top 14 competition for ASM Clermont Auvergne. With his mixture of height (1.91m) and size (100kg), as well as blinding pace, he has shown himself to be one of the top wingers playing the game.
He led try scorers in the French top 14 in 2007-08 with 16 tries—three better than the top try scorer from the previous year. In the 2008-09 season, he was once again the top try scorer with 20 tries.
His 16 tries in the 2007-08 season were a record, a record which he broke the following season. Nalaga was named in the 2008 team of the year by English rugby website, Planet Rugby.
Honorable Mentions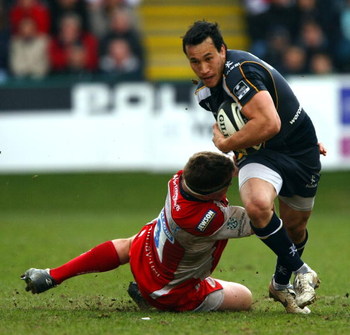 Rico Gear
Sitiveni Sivivatu
Takudzwa Ngwenya
Alesana Tuilagi
Hosea Gear
This is not a definitive list, just my opinion of the best wingers in world rugby. Feel free to comment and express your views as to who you think the best players are.
Keep Reading