Failed Mid-Term Costs Jayhawks' Report Card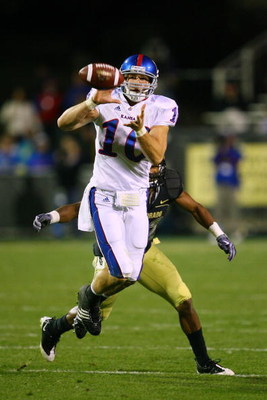 We've already reached the mid-way point of the college football semester, and it's time to start handing out grades again.
At 5-1, the Kansas Jayhawks' slate shouldn't look so bad, but I'm not sure they realize that this is not a "gimme" class. They've done good enough so far this season, but I think everyone in Lawrence expects much better.
In fact, like my teachers used to tell me, we know they can do much better because we've seen it done. The Jayhawks need to bring all of their homework to the gridiron each and every outing, and to this point fans have not been treated to such a complete outing.
Hopefully looking back on their body of work thus far will be an eye-opening experience for the Jayhawks.
Safeties: C-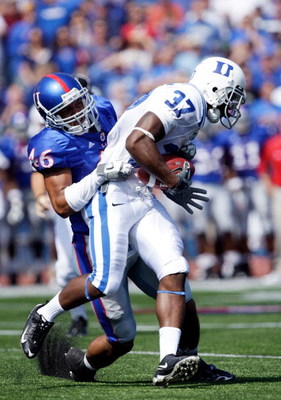 Phillip Strozier is never in the right place at the right time, Justin Thornton is usually in the right place but always a millisecond late, and Lubbock Smith has plenty of catching up to do in many areas.
Finally, forget the entire secondary. Only mild consistency and experience have truly distinguished Darrell Stuckey from a group that requires more from him.
One sole bright spot I see right now is that while Lubbock Smith was nothing special in last Saturday's loss, it was his first career start. One has to admire his aggressive, downhill attitude from the safety position.
Smith should only get better, but other than that, this barely-average group merits a barely-average grade.
Cornerbacks: D+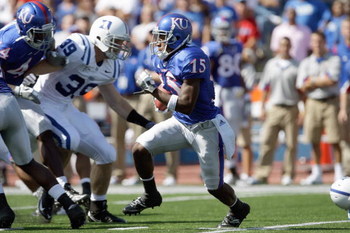 Daymond Patterson usually has decent position but fails to make plays on the ball. Chris Harris really looked okay against Colorado, but will still be exposed by quicker route-runners.
On the bright side, Ryan Murphy continues to overachieve despite being misused. And D.J. Beshears looked average in his career debut, but this teenager has refined cornerback instincts that will keep him competitive for Patterson's job.
Hopefully he avoids major mishaps and a lovely spot in the eternal doghouse next to Calvin Rubles and Anthony Davis.
The only difference between the corners and safeties is the benefits of Darrell Stuckey, however minimal they currently seem.
Linebackers: D+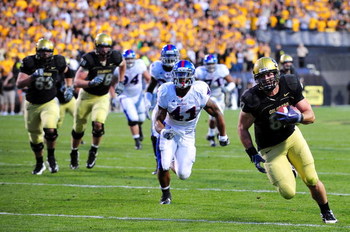 This group is hard to gauge.
One minute, Huldon Tharp is racking up tackles and Drew Dudley is giving offensive coordinators massive migraines; the next they're blowing assignments for huge plays.
Unfortunately, the relatively unnoticed but very important things they do are overshadowed by massive mishaps.
Justin Springer is back from injury but still not playing to potential. Drew Dudley simply isn't quite fast enough to cover the modern running back. Arist Wright is always on the wrong side of big plays, and Huldon Tharp is still very green.
However, all four are are new to starting gigs and have flashed potential at times.
I can't overlook the fact that they aren't, at the very least, the blatant weakness many projected them to be coming into this season.
Defensive Ends: C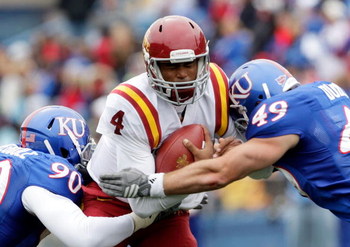 It's too bad Clint Bowen has an affinity for never blitzing. The extra coverage does little good anyway, and sending only the four lineman usually hangs Jake Laptad, the lone threat to the quarterback, out in a double-team to dry.
By the way, has anyone seen Maxwell Onyegbule? I haven't since his big game in El Paso.
Quinton Woods finally got a shot last weekend at Colorado, but if it tells you how much of a factor he was, I didn't know he had played at all until yesterday.
The only reason for this (relatively, of course) high a grade is Onyegbule's hot start, Laptad's consistency, and Jeff Wheeler's sporadic-but-graciously-accepted contributions.
Defensive Tackles: C-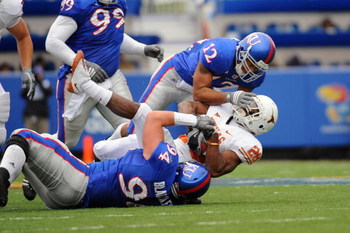 Patrick Dorsey isn't big or spectacular. Supposed contributors Jamal Greene and Duane Zlatnik rarely make an appearance.
Offensive guard John Williams is huge and athletic, but is in the middle of a full-time switch to defense and has plenty to learn. Caleb Blakesley is a large, injury-prone, and experienced veteran who has never been a big producer or leader.
The X-factor here is Richard Johnson, Jr.
The sophomore may never be James McClinton, but he has games that make me think he could step up and become a leader up front.
To do so would mean continuing to grow physically and intellectually, while developing a McClinton-esque motor that will carry Johnson's A-game into each and every game.
Interior Offensive Linemen: C+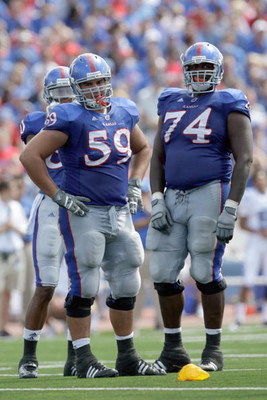 This group is deep, versatile, and smart.
Capra, Hatch, and Thorson aren't experienced and their abilities won't impress many. However, they make fewer mistakes every game and rarely allow major backfield blow-ups.
Don't forget redshirt freshman Trevor Marrongelli whose rotational contributions are usually positive and constantly improving.
It's too bad John Williams is taking his abilities elsewhere; he and Marrongelli had the makings of a special duo in time.
The only complaint I have with this bunch is that the time they allow Todd Reesing and holes for Jake Sharp are existent, but usually minimal. Experience is the best aid available for this group.
Offensive Tackles: C+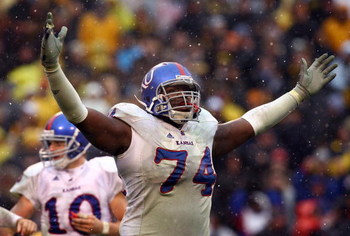 Tanner Hawkinson drew raves in the offseason for his footwork, football I.Q., and ever-improving technique, and he has yet to disappoint.
However, he still needs to grow physically because he lacks the strength to sustain blocks and create good running lanes.
Conversely, Jeff Spikes eats defensive ends alive; too bad it's usually a penalty.
When things are calm and defensive lines are tiring, Spikes uses his size and surprising agility to dominate. However, mental errors and penalties still make Spikes the center of attention in big moments.
Both of these guys are green and have to become positive factors in the clutch rather than reasons for additional anxiety to Todd Reesing and his running backs.
Tim Biere: B
This poor guy has the unfortunate task of doing every unheralded drag-job KU asks of him.
I'm just glad that he does them so well, and I decided to recognize him appropriately.
He's not a spectacular blocker, but does well in open space or tight to the line and is very good at pop-blocking before taking off on his pass routes.
The best part about Biere as that whenever a pass actually does come his way, he's usually very wide open and always takes advantage of such a blessed opportunity.
The only knock right now is that he's not superb at route-running or blocking, he has missed some time, and rarely stands out. That sounds like a "B" student to me.
Wide Receivers: B+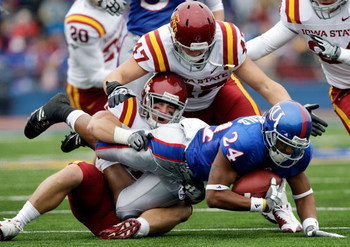 On one hand, it's hard to give a group that produces so much so often a grade as low as a B+.
On the other, drops, poor blocking, and the lack of Jonathan Wilson or Bradley McDougald taking advantage of the constant single-coverage situations that Kerry Meier and Dezmon Briscoe treat them to makes it hard to give them such good marks.
In the Colorado contest, this group probably performed better than any other.
Only one big Jonathan Wilson drop, the disappearance of McDougald after one catch early on, and the unfortunate placement of a Colorado defender's helmet in the end zone on Dezmon Briscoe's game-winning opportunity come to mind as negatives.
If this group stays consistent and continues to make bigger and bigger plays every game, KU will always have a chance to win.
Running Backs: B
Up until the Colorado game, KU's rushing attack has looked fairly formidable, despite being without Sharp.
In fact, I almost wish Sharp would've sat out the CU game as well.
I don't believe his lack of production was entirely his fault; he looked a little rusty and the offensive line was not very helpful. However, I feel Toben Opurum could've created opportunities where Sharp had failed.
When used properly, KU's backfield has been as good as any and as productive out of this type of spread offense as it is supposed to be.
Hopefully inconsistency does not become a recurring issue.
Todd Reesing: B+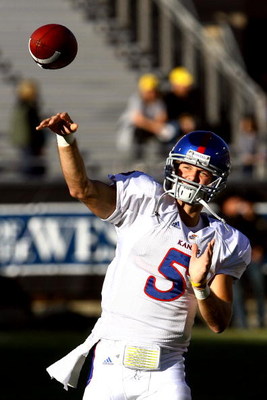 Todd Reesing is great. I would not trade him for any quarterback in America right now or ever.
However, there's a reason Todd Reesing was lightly recruited.
It's impossible to ignore that while he is crafty, he is also jumpy. Being small will never keep him from being great, but it will keep him from maintaining any sort of pocket presence.
Even when a good pocket actually exists for Reesing, he often scrambles for better opportunities and the potential for a big play, limiting himself to half of the field and allowing pass rushers to chase him quite freely.
All in all, he tries to do too much.
Sometimes it works, other times it does not. Last Saturday it did not, but there's still a chance that this week it will, and that is why Todd Reesing is still golden in my book.
Special Teams: B-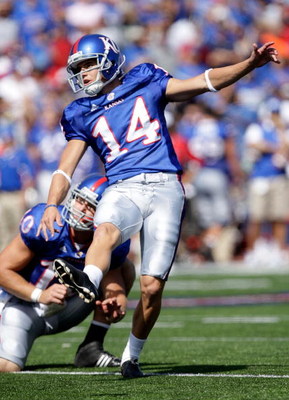 Up until last game, Branstetter looked very pedestrian. Sure enough, as soon as I open my fat mouth to diss him, he nails three integral field goals to keep the Hawks in a big game on the road.
Rojas will never be amazing, but usually does a good job of pinning balls inside the 20.
And other than the occasional massive mishap, Daymond Patterson is a fairly threatening punt returner too.
The kick return team is above average and is always a threat to break off a big run-back, while the kickoff team is, conversely, usually a threat to give one up.
Fortunately, our kicker may not be strong-legged but he has a linebacker mentality.
Coaches: C-
Three years ago, KU fielded an excellent special teams unit coached by Clint Bowen and a good defensive group as well. Last year, Bowen was promoted due to the opening at defensive coordinator, and now they both stink.
It's not just Bowen's fault, though. Louie Matsakis has done plenty of damage to our special teams group, and Mark Mangino is at the head of all these problems if for no other reason than that he hired both of them.
I'm disappointed with personnel decisions, schemes, and strategies, and most of all with Mangino for not taking measures sooner. Instead, he waited too long, and an inexperienced group of defenders tried to take on a new defense.
This may have cost us the Colorado game, and unless problems within the coaching staff are fixed, how can we expect other problems to go away?
Our team G.P.A.? A measly 2.28.
Impressed? Me neither, and it's time to start studying harder, or the Big 12 South nerds are going to run us into the ground and out of contention in the North.
Keep Reading

Kansas Jayhawks Football: Like this team?