Week Six NFL Power Rankings: Who Dat at No. 1?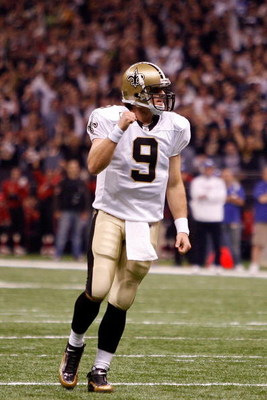 Things are a changing in the National Football League.
For five weeks the New York Giants have sat atop the NFL charts as the "best team in football," however after Sunday's debacle in New Orleans, it is now open season on the top spot in the NFL power charts.
Take a gander at the top 10, and let the debate begin...
10. Baltimore Ravens (3-3)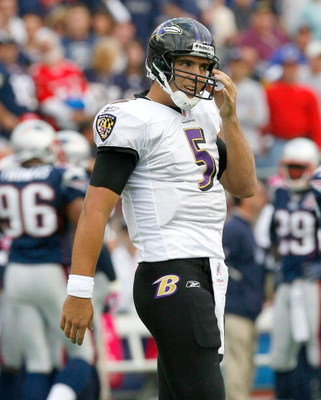 This is how bad the NFL is this year, when a 3-3 team makes the top 10 list, but look around. Who else is there really to throw into the top 10? The Packers are inconsistent, the Eagles got smoked by the Raiders, the Cowboys find ways to lose on any given Sunday, the Jets have crashed to earth, and the 49ers and Cardinals are total conundrums.
So I will begrudgingly give the 10 spot to the Ravens. Why? They probably could beat any of the teams I listed above.
In spite of a three game losing streak, there is still something there in Baltimore. Joe Flacco turned it on in the second half of the Vikings game, throwing for 385 yards and two TD's against the stout Vikings defense.
Plus, the Ravens could have and should won the game, if it weren't for a missed field goal in the closing seconds. The Ravens have lost all three games during this streak by a combined 12 points. In short, the Ravens are doing something right, but they are just failing at finishing the job.
One concern is their defense, which got totally ripped apart by Brett Favre on Sunday, and gave up a last second touchdown to the Bengals last week.
If there is one 3-3 team that could figure this out, it is the Ravens, who have the Broncos, Colts, and Steelers coming to their place in the next month.
9. Cincinnati Bengals (4-2)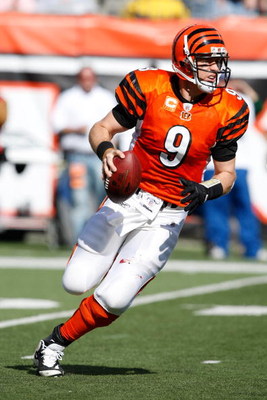 Ahhh, the Bengals.
To quote Al Pacino in "The Godfather Part III," "Once you think your out, they pull you right back in." For the past month the Bengals have made all of us believers with one last second comeback after another, then all of a sudden the Bungals showed up.
Matt Schuab torched the Bengals for 392 yards and four touchdowns in the Texans 28-17 victory in Cincinnati. The Bengals fooled us for four weeks - they won't fool anyone anymore. The Bungals are back.
8. Pittsburgh Steelers (4-2)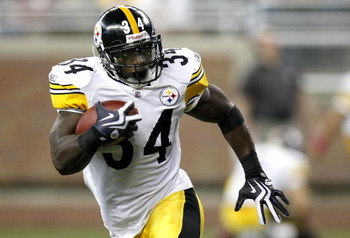 Guess who's coming back up the charts?
No, not U2 or Bruce Springsteen.
That's right the world champion Steelers!
You knew it wouldn't be long before the Steelers would get healthy and start building momentum to another AFC North crown, and it appears that Pittsburgh has found a new back in Rashard Mendenhall (above) to lead the way.
Mendenhall has 349 yards rushing and four touchdowns since replacing a banged up Willie Parker.
Ben Roethlisburger is quietly having a spectacular season. He has completed 73 percent of his passes for 1,887 yards and 10 touchdowns. He is well on his way to another Pro Bowl appearance. He should be in line for a MVP award, but with the way Brees and Peyton Manning are playing, it ain't going to happen.
7. Atlanta Falcons (4-1)
The Falcons just keep on rolling along.
The Dirty Birds shut down Jay Cutler and the Bears to earn their second straight impressive victory, this one coming in prime time on NBC.
Matt Ryan was ok against the Bears defense, throwing for 185 yards, two touchdowns and two interceptions. Plus Michael Turner is having a decent year carrying the football, totally up 353 yards on the ground this year.
However it is the Falcons D that has been impressive. They have given up only 77 points this year in spite of giving up 359 yards per game.
The Falcons have been ok; it should be interesting to see if they can hang with the Saints over the long term.
6. New England Patrots (4-2)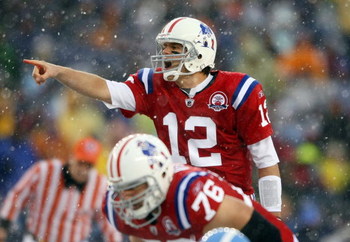 You know, I am really digging the Patriots throw-back uniforms. They are actually very nice looking unis and I highly recommend that they switch back to them. Too bad they were big time losers when they wore them in the 60s, 70s and 80s.
Plus, those jerseys have some points in them.
Fifty-nine points to be exact, as the Patriots ran up the score, Steve Spurior style, on the hapless Titans. Hey, Belichick, ever hear of calling the dogs off? It was not like the Titans were going to come back from 31-0.
Typical Belichick, the most hated man in the universe. He just loves sticking it to everyone.
Tom Brady had a great day, throwing for six touchdown passes, showing the world that he is definitely back on track. Look out NFL. If the Pats begin clicking, it won't matter what the Minnesota Vikings, Indianapolis Colts, and New Orleans Saints do during the regular season.
5. New York Giants (5-1)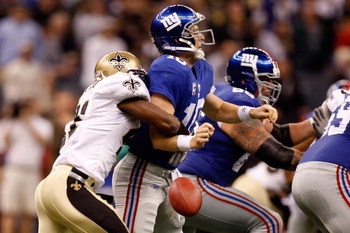 Ouch! Talk about being exposed.
The Giants defense, which has been hurting all year with numerous injuries looked the part as Drew Brees picked them apart in Sunday's 48-27 meltdown. In fact, the Saints just scored another touchdown as I am writing this.
A pass defense that is still missing Kenny Phillips and Aaron Ross got lit up for 369 yards and four touchdowns on Sunday. The Giants even surrendered 34 points in the first half, making it one of the worst half's in Giants' history.
Offensively, there was really nothing the Giants could do. They were so far behind the eight ball that Eli Manning could have been perfect, and the Giants still would have lost that game.
We are going to learn a lot about the Giants right now. After breezing through a schedule that a Division III football team could beat (except the New York Jets) the Giants will be facing stiff competition every single week. Who are the Giants? We will soon know.
4. Denver Broncos (6-0)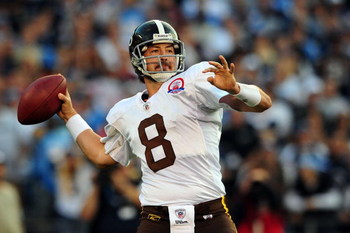 How 'bout dem Broncos?!
I am convinced this is a really, really, really good football team. After three win against the Bengals, the Browns and Raiders, many wondered whether this Denver team was truly for real.
Well, ask no more. Huge victories against Dallas, New England, and San Diego has the Broncos and their god awful brown and gold retro jerseys at 6-0.
Credit is due to Josh McDaniels, who has brought a new brand of energy to the ball club, and to defensive coordinator Mike Nolan, who has built one of the league's best defenses.
The Broncos D shut out each of their first five opponents in the second half, and held San Diego to just three points in the second half on Monday Night. They came into the Chargers game first in total defense (252.8 ypg) and first in points allowed (8.6 ppg).
Kyle Orton has done a very nice job at quarterback. For a guy who was lambasted by everyone for being an average quarterback, he has been wonderful in Denver, throwing for 1,469 yards, nine touchdowns and only one interception.
It certainly helps when Orton has Brandon Marshall, Eddie Royal, Tony Scheffler, Jabar Gaffney, and Brandon Stokley to throw to. In short, these Broncos are a special, special football team in 2009.
3. Indianapolis Colts (5-0)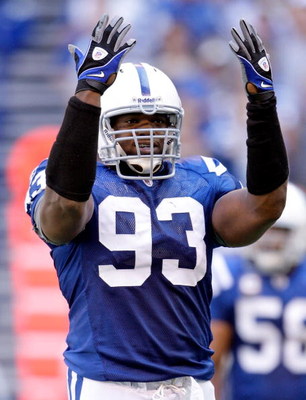 The Colts win even when they don't play.
The Colts have had a very good year. Peyton Manning is setting records every week, throwing for 300 plus yards in each of the first five games this year. He should make it six next weekend when he goes up against the horrific Rams.
Look for Indy to be unbeaten by the time they play the Patriots in mid-November.
2. Minnesota Vikings (6-0)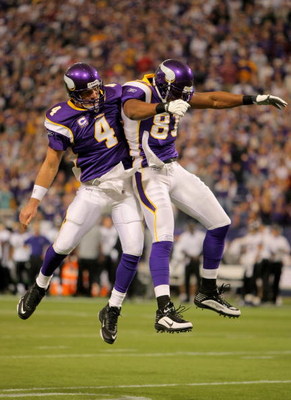 Breaking News Flash: Brett Favre has two separate messages for Packer fans and for Jets fans.
Dear Packer nation,
Do you miss me now? LOL! Enjoy the view from third place, boys and girls.
Fondly,
Brett Favre.
Dear Jet fans,
Suck it!
Sincerely,
Brett Favre.
Yes, Favre is getting the last laugh right now, as he is living it up in Minnesota, with the 6-0 Vikings! I guess 40 is the new 30 right now, or at least until Favre decides to throw 20 interceptions in the month of December as he usually does.
But, hey, lets give the Vikes some credit. Favre has thrown for 1,347 yards, 12 touchdowns and two interceptions. Adrian Peterson has 624 yards, already, and the Vikings defense has been down right nasty, with Jared Allen leading the way with 7.5 sacks.
The Vikings are rolling. Right now we are on a pace to have two dome teams with top seeds in the NFC.
1. New Orleans Saints (5-0)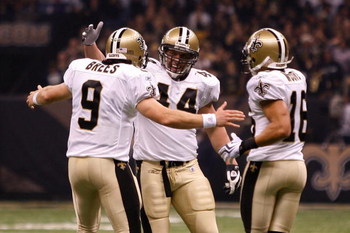 Oh, how sweet it is in New Orleans!
In 2006, when the Saints began this nice run, making it all the way to the NFC title game, many expected the Saints to build on that momentum and ride to better days in 2007 and 2008.
The Saints fell short of the postseason each of those two years, but right now look poised to become the NFCs No. 1 seed.
These guys just get it. They can outscore anybody, with the precise accuracy of Drew Brees, the power running game of Pierre Thomas, Reggie Bush, and Mike Bell, and a defense that has only given up 93 points all season.
The Saints go marching on. You betcha! Now they have to avoid a let down in Miami against the Wild Cat Fish. If they do that, people will be thinking 16-0! Seriously.
Keep Reading