Ken's Corner: NHL's Top 10 Sophomores to Keep an Eye on in 2009-2010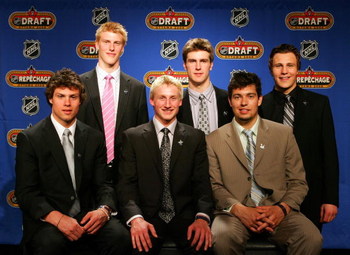 While the hubbub so far this early season is all about hot teams and new rookies, the beloved baby-faced rookies of last season have now grown into hard nosed experienced veterans and are largely forgotten.
For example, some in Los Angeles have seen the resurgence of the crown but may overlook the contributions of Drew Doughty, since a full season has passed since his addition to the team.
The same can be said for all the rookies on this top ten list. My most significant criteria was that the player be expected to live up to expectations and fill voids this season within his respective team. Many were top rookies last season and are now looking to adjust to the pressures of growing into an NHL veteran.
The players listed are in no particular order.
Claude Giroux - Philadelphia Flyers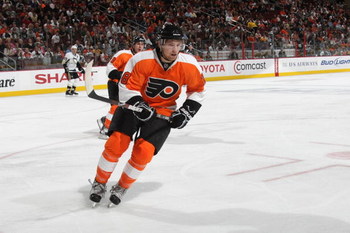 Recording 27 points in 42 games certainly wasn't a bad rookie season for Giroux, especially considering he was a +10 player. Giroux has begun his sophomore campaign decent enough recording three points in six games for a +3.
Giroux should spend his entire season in The City of Brotherly Love and his numbers will show. Giroux will like be a catalyst for helping a very talented Flyers team deep into the playoffs.
Blake Wheeler - Boston Bruins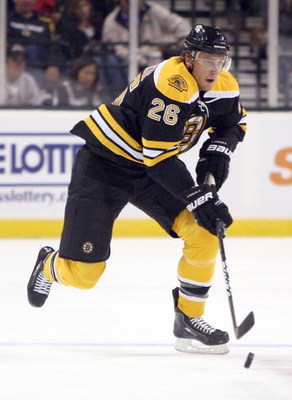 Wheeler was drafted by the Coyotes in 2004, but never saw time in a desert dog jersey. After signing with Boston he earned a spot with the Bruins and never let it get taken away. In his rookie campaign Wheeler earned 45 points in 81 games—not too shabby for a kid who is likely a reason the Coyotes loose sleep at night for letting him slip away.
The resurgence of respect in Beantown is thanks in part to young talent like Wheeler, and with Kessel now wearing the white Maple Leaf of Toronto (if he ever does play) Bruins fans will look to Wheeler and others to carry the load.
James Neal - Dallas Stars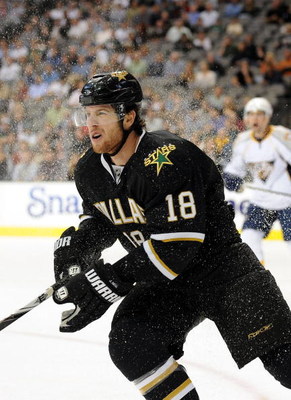 Neal had a decent enough rookie campaign with a struggling Dallas team recording 37 points in 77 games. The real reason to watch Neal is more complicated than some of the others. Either Neal has helped lead a resurgence in Dallas, or the Stars' success is helping boost Neal's numbers.
So far in 2009-2010 Neal has seven points in seven games and is mentioned in most post game reports as often, if not more than, superstars Brad Richards and Brenden Morrow.
Additionally, in some of the games Dallas has struggled Neal has seemed to be the best player on the ice. Leading to such quotes as, "He looked like an NHL player dropped into a men's senior league game." Bill Clement had to say about Neal, "He was that good. He looked that much faster, that much stronger and hit that much harder than everybody else in that hockey game. I was really impressed with James Neal."
With expectations so high early on, only time will tell whether or not James Neal will live up to his name of "The Real Deal".
Drew Doughty - Los Angeles Kings
There are some Kings fans on blogs I frequent who all but have wet dreams about Drew Doughty, and for good reason. In the beginning Doughty lived in a hotel in Los Angeles because he didn't expect to last in that kingdom for more than a month. The months dragged on and before long Doughty had played in 81 games and had never left the Kings' roster for the minors. He generally paired with veteran Sean O'Donnell and the defensive prowess grew.
Doughty recorded 27 points in 81 games in 2008-2009, and this season the Kings are looking for him as a true anchor on the blue line. Thus far it appears to be working as the Kings have had one of their best starts in recent memory. After a three game skid the Kings will look to Doughty and their defense to help them win games going forward.
Zach Bogosian - Atlanta Thrashers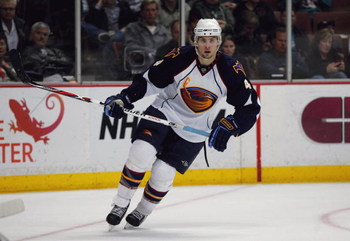 Playing defense for the struggling Thrashers must be a real headache for a player, but imagine that player being a rookie. Zach Bogosian endured just that kind of shell shock. Recording 19 points in 47 games isn't amazingly impressive, but then again usually nothing about the Thrashers is.
So why keep an eye on Bogosian and the Thrashers?
Bogosian is just one of many youngsters trying to turn the team around, and with his numbers and playing time likely increasing this season, he could significantly help the Thrashers achieve their goals of a playoff berth. Hey, it could happen.
Steven Stamkos - Tampa Bay Lightning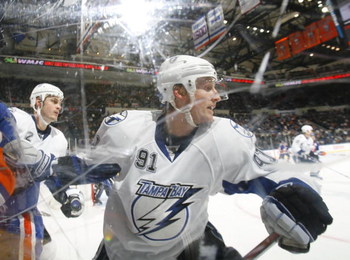 Ahhh Steven Stamkos, he was going to be the reason the Lightning would be good again and was made out to be a savior since the moment he put on the sweater. Photo shoots and immediate face recognition were in full swing by mid-summer and, boy, did the rookie pay. Hell, even I bit on the Stamkos hype during last season's fantasy draft.
Early on to say the rookie prodigy struggled would be like saying the U.S. Civil War was a disagreement. He was utterly terrible early on, and fell from the Calder runnings faster than Rosie O'Donnell runs for the ice cream truck.
He finished the season with solid numbers though, with 46 points in 79 games and already this year has eight points in seven games. He's finally living up to the hype in Tampa Bay, and if he can stay consistent Tampa Bay could have a (slight) hope of making the playoffs.
Kris Versteeg - Chicago Blackhawks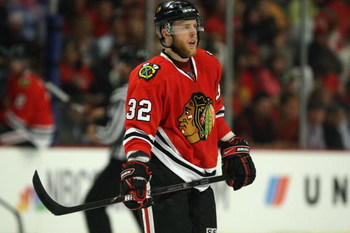 With 53 points in 78 games Versteeg did more than turn heads—he snapped necks. A finalist for the Calder, Versteeg was a strong reason why the Hawks were a feared team last season.
This season he is right back to his old tricks with seven points in eight games, and Chicago is looking like a team to beat in the Western Conference. If opposing teams watch Versteeg in fear, don't you think you should watch him for entertainment?
I've been pretty pleased with Versteeg (aka Steeger or VerStud) so far this season. When I asked Tab Bamford, Featured Columnist for the Blackhawks, about Versteeg, he said, "He's been playing well on both ends of the ice, has fought hard for the puck, and continues to hustle. The work ethic from all of the young Hawks after a huge season last year has been impressive."
He went on to add "...I don't see any reason to think, after the start they've had, that Versteeg, Sharp, Kane, Toews, and Byfuglien all shouldn't eclipse 55-60 points this year."
Bobby Ryan - Anaheim Ducks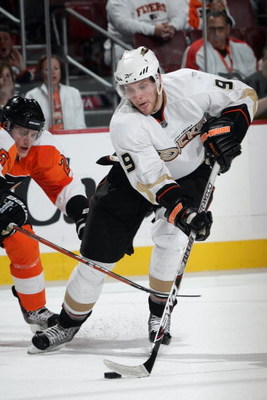 Bobby Ryan is an interesting story, drafted by the Ducks (I think they were still Mighty then) just after Sidney Crosby and eternally damned to the minors by Brian Burke, sorta.
Last season, in what seemed to be his last chance at seeing the big time, and after originally being placed in Iowa, Ryan was called up due to injuries. To say Ryan made his time count is like saying Brian Burke is mean.
Ryan recorded 57 points in 64 games once he was brought up, and nearly stole the Calder from goaltender Steve Mason. This season though Ryan has struggled, much like his Duck counterparts. The Ducks find themselves in the basement of the Pacific Division, and Ryan's measly two points in seven games is a large reason why.
He has fantasy hockey gurus, including myself, loosing sleep weekly.
But, if the Ducks and Ryan turn it around they both could be forces to be reckoned with. The Ducks still have a chance at a good playoff spot and Ryan could easily be competition to Ovechkin and Crosby for the MVP award.
Derick Brassard - Columbus Blue Jackets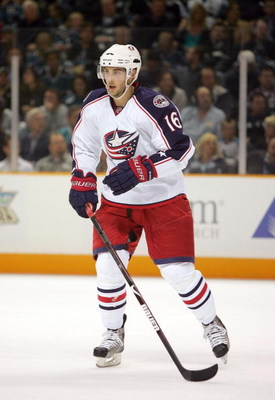 Until a season-ending injury Brassard was epic stud No. 1 in Columbus. Recording 25 points in 31 games there was a lot of talk that the rookie Blue Jacket would win the Calder.
Then his season-ending injury struck, oddly enough from a fight with Dallas Stars now-sophomore stud James Neal.
This season Brassard is back and healthy and looking to help his team get back, and get deeper in the playoffs. Brassard has already recorded three points in six games and could easily break out again this season.
Steve Mason - Columbus Blue Jackets
Mason stole the Calder trophy like he stole games and like David Letterman steals bad jokes. I usually try not to forget the other players on the ice but in the case of Mason I can honestly say he carried the Jackets into the playoffs.
He not only carried them as a rookie, he stood on his head, made a glove save, sipped some tea, and explained to GM Scott Howson that he was an epic badass. Okay, so I stretched it a bit, but Mason is without a doubt a true talent.
Boasting a 30-20-0-7 record in 61 games and leading the Jackets to their first ever playoff berth with a 2.29 GAA and 10 shutouts made Mason the only true choice for the Calder. Going 4-1 already in his five starts this season, Mason looks ready to pick up where he left off.
Mason may be one of the few goaltenders that even gives Alex Ovechkin nightmares. Just make sure you don't lose sleep over missing Mason standing on his head this season helping lead the Jackets back to the playoffs.
Keep Reading

Columbus Blue Jackets: Like this team?