Endless Love: Seven Wrestlng Couples From The 1980-90s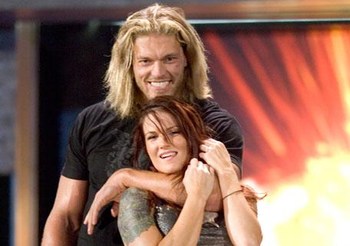 Throughout the decade, we've had couples who've come and gone. Some good and some not so much. One of my favorite couples from this era, like Edge and Lita, provided an abundance of "entertainment," and were the butt of many superstars jokes (especially John Cena). But recently there has been a shortage of successful couples in the business. I'm here to showcase seven tandems who made "magic" together in the 80's and the 90's.
(This is not in any particular order)
Diamond Dallas Page and Kimberly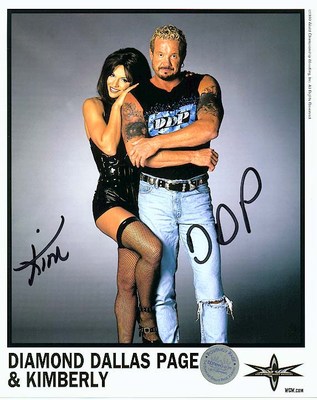 Early in his career, Page was constantly surrounded by a bevy of beauties known as the Diamond Dolls. Eventually in WCW, DDP came to the ring with just one Diamond Doll--his real-life wife, Kimberly.
Initially, Page and Kimberly had a Savage/Elizabeth type dynamic in that the fans booed him and cheered her because of the way he mistreated her. In 1995, Page fell on hard times after losing a loserleaves-WCW match to the Booty Man (a.k.a. Brutus Beefcake), who also won Kimberly's services. Page, however, returned a short while later, and he and Kimberly reunited.
DDP hit it big in 1997 when he turned babyface after rejecting an offer to join the NWO. Page became a bonafide superstar when he defeated Randy Savage, with Kimberly (who was now as Page's wife on television) and Elizabeth in their respective men's comers. At that point, Page and Kimberly, who also was the leader of the Nitro Girls dance troupe, were the undisputed top couple in sports entertainment.
Page went on to win the first of his three WCW world titles in 1999. In 2000, Kimberly turned on Page and allied herself with Eric Bischoff and the New Blood heel faction. Page and Kimberly were actually on opposite sides for some mixed tag matches, but before the angle could fully play out, Page took some time off to heal his neck and back injuries, and Kimberly left the business. When Page returned several months later, his wife did not, and she also remained at home during Page's WWE stint.
Tully Blanchard and Baby Doll
During the mid-80s, the Crockett promotion, based in the Carolinas, was on fire, and Blanchard, a cocky, young heel, was one of the company's top stars. A talented worker and good promo man, Blanchard really became a money player when Baby Doll became his valet.
The angle began with Blanchard going on a search for the "Perfect 10." His quest ended when he laid eyes on Baby Doll, a tall, big-boned blonde whose physical stature rivaled some of the male wrestlers. The leather-clad Baby Doll was the antithesis of WWE's Elizabeth—she said what was on her mind, taunted fans, and never hesitated to interfere in Blanchard's matches. She was invaluable to Blanchard as he engaged in classic feuds with Magnum T.A. over the U.S. title and Dusty Rhodes over the NWA television title.
In a surprising twist, Baby Doll had a falling out with Blanchard and became an ally to Rhodes. However, proving that you can never trust a woman (at least not in pro wrestling), she subsequently turned on Rhodes and rejoined Blanchard and the Four Horsemen.
The real-life relationship between Blanchard and Baby Doll was strictly business, she was married to a wrestler--mid-card babyface Sam Houston, who in story lines was a frequent victim of attacks by Blanchard and company.
Triple H and Chyna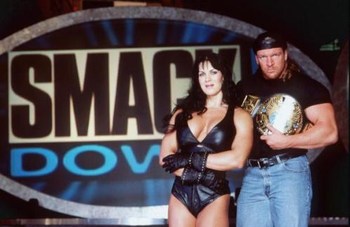 Part of Triple H's Connecticut-snob gimmick in 1995 was that he would always come to the ring accompanied by beautiful women.
Two years later, Triple H settled on having just one woman by his side, and she looked nothing like the fashionmodel types he had previously been banging out with. The muscular, Amazon-like Chyna made her debut by coming out of the audience and attacking Goldus's valet, Marlena, violently shaking her like a rag doll. Chyna's character, somewhat patterned after Baby Doll, got physically involved in Triple H's matches, helping her man win by delivering the dreaded low blow to his opponents. Shawn Michaels, Triple H, and Chyna comprised the original D-Generation X, the top heel group in WWE at the time. After DX became babyfaces, Chyna turned on Triple H and joined Vince McMahon's Corporation.
It wasn't long, however, before Triple H again turned heel and he and Chyna were back together. As Triple H began to work his way up to main events, he and Chyna parted ways and she began competing against men. The two remained together off camera until Triple H dumped her for Stephanie McMahon. Chyna left WWE shortly thereafter.
Jimmy Garvin and Precious
Garvin and his blonde valet Sunshine were making life miserable for babyfaces in the Texas-based World Class Championship Wrestling in the early 80s, but that wasn't satisfied. Deciding he needed two valets, he brought in another blonde named Precious, who was Garvin's real-life wife, Patty.
Not surprisingly, the two women didn't get along, and Sunshine allied herself with the popular "Gentleman" Chris Adams and other babyfaces in mixed tag matches against Garvin and Precious. The heel couple later moved on to the Crocker promotion, where Garvin often won matches after Precious blinded his opponents by spraying perfume in their eyes.
Garvin and Precious eventually became babyfaces, and Garvin made a strong challenge for Ric Flair's NWA world title. The Garvin-Flair title program, which was the highlight of Garvin's career, came about after the "Nature Boy" hit on Precious, who responded with a slap to the face. Flair went on to defeat Garvin in a cage match, and as a result, he won a night with Precious.
In a memorable interview, Flair, in anticipation of his date with Precious, brought ont a mannequin dressed as her and proceeded to make out with it. When the big night finally arrived, it was Garvin's brother Ron in drag, not Precious, who was waiting for Flair in a hotel room. Ron Garvin, known as the "Man With the Hands of Stone," KO'd the lascivious champion with one punch.
Goldust and Marlena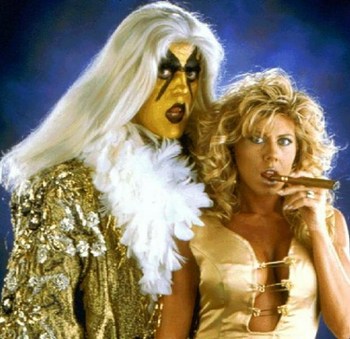 WWE fans didn't know what to make of this bizarre heel duo when they debuted in 1995. Goldust (a.k.a. Dustin Runnels), sporting a blond wig and gold and black face paint, was portrayed as being either gay or bisexual (it was never made clear), and he had a habit of quoting lines from movies in his promos. Marlena (a.k.a. Terri Runnels, Dustin's wife) was his sexy, cigar-smoking accomplice.
The antics of Goldust and Marlena were at the forefront of WWE's transformation from family entertainment to an edgier, more adult product. A lesbian story line between Marlena and Sable was one angle that was nixed shortly after it started because it was deemed too racy.
After Goldust and Marlena turned babyface, Goldust engaged in a feud with Brian Pillman, who won Marlena's services in a match. Just as the angle was picking up steam, however, Pillman died suddenly.
Eventually, Goldust and Marlena split in the story line, and Dustin and Terri Runnels divorced in real life.
"Stunning"Steve Austin and Lady Blossom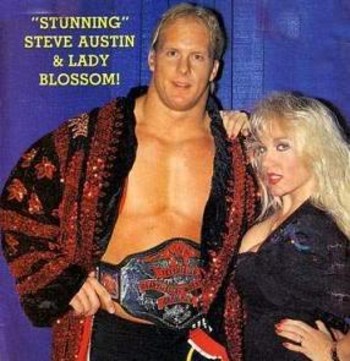 Long before he became "Stone Cold," Austin was involved in an angle that was way ahead of its time. While it has become commonplace for wrestlers and their real-life wives to participate in soap opera-type story lines, that wasn't the case back in 1990.
Austin, with long, blond hair, was a rookie in the USWA in Texas, when he turned on his mentor, Chris Adams. To get under Adams' skin, Austin brought in Jeannie Clark (a.k.a. Lady Blossom), Adams' real-life ex-wife, to be his valet. Adams' real-life second wife, Toni, then came in to be her husband's valet.
Austin, Adams, and the two busty blondes participated in a wild feud featuring mixed-tag matches and impromptu catfights. Austin and Clark ended up getting married in real life, and they eventually moved on to WCW, where she became known as Lady Blossom. The couple became a successful high midcard act in WCW before she decided to leave the business. Austin and Clark, who reportedly came up with the "Stone Cold" moniker for him, divorced in 1999.
Randy Savage and Miss Elizabeth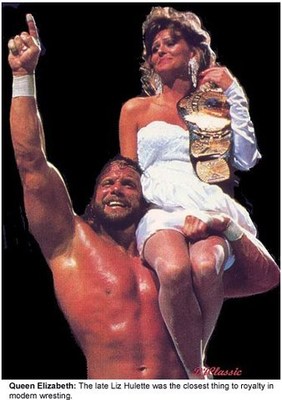 Savage had all the necessary tools to be a superstar when he entered WWE in 1984--he had a good look, he could work, he could talk, and he was charismatic. But what really shot him to the top was the decision to make the lovely Elizabeth his manager in 1985.
Elizabeth, a.k.a. the late Liz Hulette, Savage's real-life wife at the time (but not acknowledged as such in story lines), was the first female manager in WWE history. Elegant, petite, and somewhat mysterious, Elizabeth's presence at Savage's side made the "Macho Man" stand out in a company loaded with talented wrestlers.
The couple made for an interesting dichotomy, as people hated him but loved her. Savage drew the fans'ire by verbally abusing Elizabeth, who, despite Savage's abhorrent behavior, remained loyal.
Savage later turned babyface after saving Elizabeth, who perfectly played the damsel in distress, from an attack by the Hart Foundation and the Honky Tonk Man. That led to Savage and Hulk Hogan forming the Megapowers. Hogan's interference helped Savage defeat Ted DiBiase, "the Million Dollar Man," in the finals of the WWE world title tournament at WrestleMania IV.
For one year, Savage and Elizabeth were on top of the wrestling world. Then, in one of WWE's most memorable story lines, an insanely jealous Savage accused Hogan of "lusting after Elizabeth." An enraged Savage turned on Hogan and shoved Elizabeth to the ground in an era when such violence toward women in wrestling was considered shocking. Eventually, Savage and Elizabeth reconciled and were "married" at SummerSlam in 1991. Seven months later at WrestleMauia VIII, Savage regained the WWE title by defeating Ric Flair, who had lied about having an affair with Elizabeth.
In 1992, Savage and Hulette divorced, and she left the business. Elizabeth resurfaced in WCW in 1996 and resumed an on-air partnership with Savage. This time, she turned on him and sided with Flair before later going back to Savage again. By that point the story lines had been played out, and she went on to become the valet and real-life girlfriend of Lex Luger. Elizabeth died of an apparent drug overdose at Luger's home this past spring.
Keep Reading