Ranking the Giants of Professional Wrestling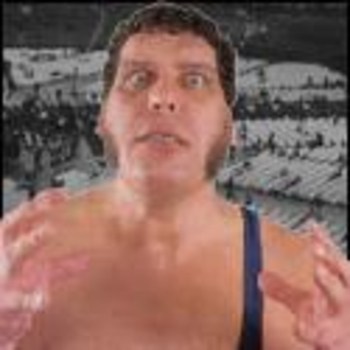 Here's a tribute to the big, large and gigantic men of wrestling.
Dating back to the 1950s, gargantuan men were booked to be an attraction as if they worked for the circus.
They normally didn't hold titles, yet they were difficult to defeat.
Most of their success was due to intimidating their foes with their size (normally 6'5'' and weighing over 400lbs) and strength.
Vince McMahon saw these big men as the perfect foe to challenge and push Hulk Hogan for the WWF World Title. These matches help to establish Hogan and his title reign as legendary.

No. 12 - Haystack Calhoun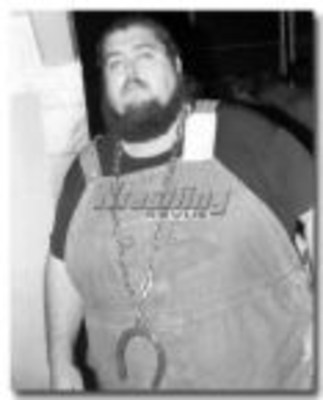 Haystack Calhoun is recognized as the pioneer who laid down the foundation for future big men.
He obtained success fighting special matches like handicap matches and battle royals before it became mainstream with Andre The Giant.
Calhoun's style of "country brawling" was copied later on by Uncle Elmer, Hillbilly Jim, and the Godwinns.
He also teamed with another 600 fighter named Mountain Man Mike, and still to this day those guys are the heaviest tag team ever.
Billed Height: 6'4"
Billed Weight: 600 lbs
No. 11 - One Man Gang (Akeem)
One Man Gang was a member of Skandor Akbar's Devastation Inc. during the early 80s in WCCW and Mid-South Wrestling.
In '86, OMG won the UWF Heavyweight Title via forfeit from Terry Gordy. He successfully defended the belt against Hacksaw Jim Duggan, Steve Williams and Ted Dibiase.
In the WWF, OMG had mild success fighting against low level talents but was not able to beat the stars like Hulk Hogan and Macho Man Randy Savage.
His success was when he teamed with Big Bossman to form the Twin Towers. One of their highlighted matches was the famous Friday Night Main Event against the Mega Powers. This match was the beginning of the end of the Powers.
Billed Height: 6'9"
Billed Weight: 450 lbs
No. 10 - John Tenta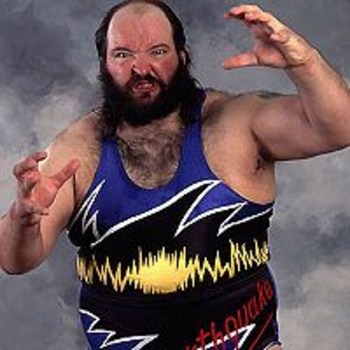 The former sumo wrestler was introduce to the WWF as a large fan who Dino Bravo and Ultimate Warrior was going to use to settle their score of who was the strongest wrestler.
After allowing Bravo to do his set of push ups while sitting on his back, Tenta jumped down on Ultimate Warriors back as the Warrior attempted his set. Both Tenta and Bravo celebrated as the Warrior was laid out in the ring.
Earthquake was born!
Earthquake gained a reputation as one of the most feared wrestler in the WWF. Most of his opponents required a stretcher to get a carried out of the ring after repeatedly hitting them with his sitdown splash.
It was only logical that Earthquake would gain a shot at Hogan. During a segment of The Brotherly Love Show, Earthquake attacked Hogan and continously crushed his ribs with the "Earthquake Splash".
After unsuccessfully winning the title, Earthquake started a feud with Jake "Snake" Roberts after splashing Robert's snake Damien.
Earthquake won his only major title as a member of the Natural Disaster with Typhoon in 1992.
Billed Height: 6'7"
Billed Weight: 462 lbs
No. 9 - Abdullah The Butcher
Abdullah fought in six decades, dating back to 1958.
His violent battles against Carlos Colon, Bruiser Brody, and Herculez Ayala were legendary.
These bloody wars and his reputation were probably the reasons he didn't fight in the WWF.
His WCW stay was short as he feuded with Sting, in '91, after being placed in a birthday box that Cactus Jack presented to Sting.
Amazingly, The Butcher has fought as recently as this year. His opponent needed 42 stitches and an ambulance ride from the arena.
Good for you Butcher!
Billed Height: 6'3"
Billed Weight: 430 lbs
No. 8 - Big John Studd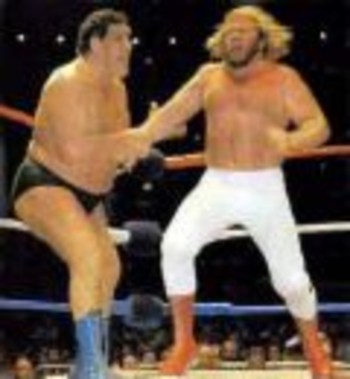 Big John Studd was the first "big" man to challenge Hulk Hogan in '82-'83.
Studd instantly feuded with the champ once Bobby Heenan brought him to the WWF.
This was during the time when Heenan's Family mission was to win the title.
Studd's legendary feud was with Andre The Giant. Studd would claim in interviews that he was the true giant in the WWF and offering $15,000 to anyone who can bodyslam him.
Though Studd was bodyslammed at the first WrestleMania, the feud continued as he began teaming with fellow "big" man King Kong Bundy.
After retiring for three years, Studd returned to WWF as a face and continued his feud with Andre who was the heel.
Billed Height: 6'10"
Billed Weight: 364 lbs
No. 7 - Kamala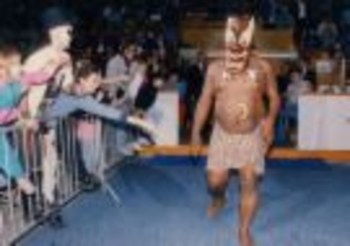 Kamala, who debuted in 1974, continues to be a top draw in the new millennium.
Kamala mostly wrestled for Mid-South Wrestling, Memphis, World Class Championship Wrestling, and WWF throughout the 80s.
The Uganda Giant often fought other "giants" like Andre, One Man Gang, and Bundy. But never was on the winning end of these battles.
He does have the honor of losing the first ever Coffin Match to the Undertaker at Survivor Series in 1992.
For a big man, Kamala was very quick and would often due a top rope splash to defeat his opponent.
Kamala held many minor titles including the USWA and AWA Southern Titles.
Billed Height: 6'7"
Billed Weight: 400 lbs
No. 6 - Jerry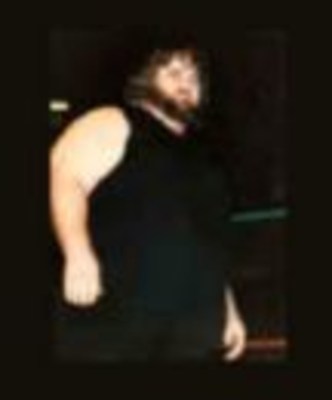 This is one of the men why I decided to do this slideshow.
On Sunday afternoon, before watching my Giants tank, I was watching a match between Blackwell and King Kong Bundy v. the Road Warriors. As I watched Blackwell execute a standing drop kick it dawned on me how much I miss these big men in wrestling.
So here I am.
Blackwell was very successful in the WWWF in the late 70s, but was not able to beat Bob Backlund for the titles.
In the AWA, Blackwell teamed with Sheik Adnan Al-Kaissey and Ken Patera to win the tag titles as the Sheiks.
Blackwell turned face after standing up to Sheik and Brody in '84.
He became the top face of the AWA, but was not able to top Stan Hansen and Curt Henning for the AWA titles in '86-'87.
Billed Height: 5'9"
Billed Weight: 474 lbs
No. 5 - King Kong Bundy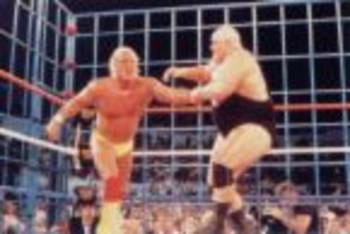 King Kong Bundy is one of my favorite wrestlers to watch.
Moves like the Atlantic City Avalanche, Giant Elbow and the Bundy splash are poetry in motion, at least for a 400-plus man.
Prior to the WWF, Bundy was successful in the WCCW winning the NWA American Heavyweight and Tag Team Titles twice.
With Mid-South Wrestling, Bundy began requesting for the five count, which was his trademark heading to the WWF.
In the WWF, Bundy defeated SD Jones in record time (9 seconds).
His feuds with Andre and Hogan were the highlight matches during the mid-80s. The highlight being the steel cage match in WrestleMania II against Hogan.
Bundy continues to wrestle for independent promotions and if one was to come around me you know I would be there.
Bundy was one of a kind.
Billed Height: 6'4"
Billed Weigth: 444 lbs
No. 4 - Yokozuna
Rodney Anoa'i began fighting in the AWA and Mexico as Kokina Maximus.
In the WWF, Rodney became Yokozuna and was managed by Mr. Fuji.
At WrestleMania IX, Yokozuna defeated Bret Hart to win the World Title but lost it the same day to Hulk Hogan.
Yokozuna won the belt back at King Of The Ring 1993 with the famous Banzai Drop.
As his status grew, so did his waist line. By 1995, it was believed that his weight was near 700 lbs.
He continued to wrestle in the WWF through the 90s but did not see any success as he did in '93.
He was the nephew of Samoan Afa and Sika and his cousins were The Rock, Rikishi, Samu, Rosey, Manu and Umaga.
Billed Height: 6'4"
Billed Weight: 500-700 lbs
No. 3 - Big Van Vader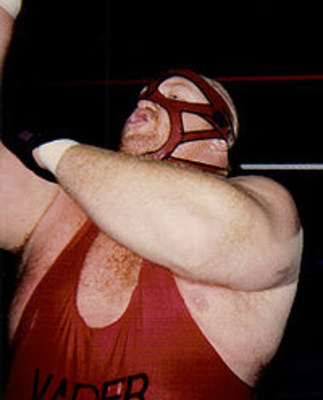 Leon White began his career with the AWA in 1985 and was known as Bull Power.
In New Japan is where the Big Van Vader gimmick started after Antonio Inoki suggested the change. In Japan, Vader fought the top faces like Inoki, Riki Choshu, Tatsumi Fujinami, and Masa Chono.
In the WCW, Vader was managed by Harley Race and feuded with Sting for the WCW World Title. He eventually won the belt and lost it three weeks later to Ron Simmons.
Vader held the World Title three times and the WCW United States Title once.
In the WWF, Vader often competed in the main event matches but was not able to win the WWF World Title.
Vader was a big man who was exciting to watch. He would just pound his opponent to submission. There were no arm or headlocks in Vader's matches. Just pure power.
Billed Height: 6'5"
Billed Weight: 456 lbs
No. 2 - Paul Wight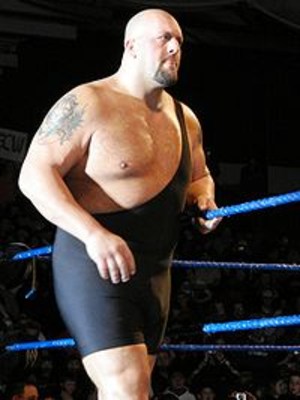 Paul Wight is a five-time world champion (WCW World Heavyweight Championship twice, the ECW Championship once and the WWE Championship twice).
He also won the WWE United States Championship and the World Tag Team Championship (with the Undertaker twice, Kane once and Chris Jericho once).
Wight gained recognition in the mid-90s as The Giant, who claimed to be the "son of Andre The Giant".
I wonder what Andre would have thought with the storyline.
He was a member of Kevin Sullivan's Dungeon of Doom and challenged Hulk Hogan for the belt.
In the WWF, Wight changed his name to the Big Show and is currently finishing a 10-year contract that was signed in 1999.
Billed Height: 7'1"
Billed Weight: 485 lbs
No. 1 - Andre The Giant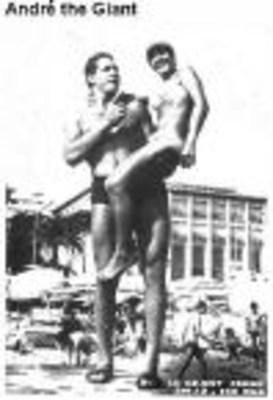 Andre The Giant was billed the "Seventh Wonder of the World" and was a fan favorite from the moment he stepped foot in America. He was voted the Most Popular Wrestler of The Year in 1977 and 1982.
In the early 80s, Andre The Giant and Hulk Hogan were the first two names that normally would be mentioned by fans when naming their favorite wrestlers.
His feud with Killer Khan included a match that was voted Match of the Year in 1981.
Since Andre never got a pushed for a title in the early 80s, special matches like Handicap and Battle Royals were conducted in an attempt to push Andre.
This was a similar situation that was conducted three decades earlier with Haystack Calhoun.
You have to give Andre credit for selling the heel turn that occurred during a Piper's Pit. Andre was so popular at that time and only a terrific performance would ensure that the fans would turn against him.
He succeeded and the main event at WrestleMania III was made.
After losing the match, Andre continued to battle for the belt which he eventually won in controversial manner. He sold the belt to Ted Dibiase, which was eventually deemed inappropriate and allowed the belt to be settled in a tournament during WrestleMania IV.
In late '89, Andre won the WWF Tag Team titles with Haku, who were dubbed The Colossal Connection.
At this time, Andre's size and health was deteriorating.
In 1993, Andre The Giant died of a heart attack while he slept.
He continues to be missed by wrestling fans and was selected third in the PWI Top 500 list that was compiled in 2003.
Billed Height: 7'4"
Billed Weight: 540 lbs
Honorable Mention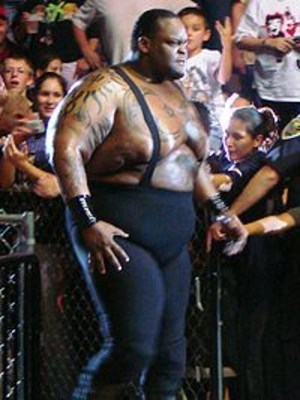 These big men deserve to be mentioned:
Jorge Gonzalez (El Gigante & Giant Gonzalez)
Mable
Bam Bam Bigelow
Fred Ottman (Typhoon & Tugboat)
Rikishi
Uncle Elmer
Keep Reading