Rafael Nadal: The Story Inside-Out (Pt 2: A Page Turned)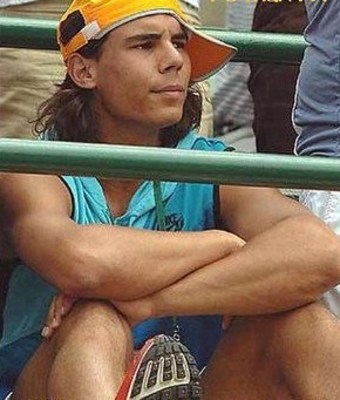 You don't win, there's a next time.
You can't play, what do you do?
It was in the final against Ljubibic in Madrid 2005, when the first signs of serious injury struck, lurking throughout the year-end season.
Rafa played an agonising game of three hours, forcing out excessive effort, at the end of which were found several affected areas in his foot.
The pain prevented him from playing his usual tennis and disrupted his rhythm and play-level comfort.
Could he get back to top form again? And meet the demands of the gruelling tennis calendar?
For the first time, it was he who doubted.
Yet hopes were crushed and nothing got better.
The test results were out, the injury seem to worsen and Toni concluded he would not play the Shangai Cup, missing out on an opportunity to match himself with the best swords in tennis.
It affected, and tampered with, his hard-court season, clutching its hold all through January and knocking the Australian Open off his calender.
His parents couldn't stand seeing their ever-optimistic, enthusiastic son downcast.
Tennis was all he worked for all through these years, and unexpected, he stumbled among unresolved unknowns.
Back On the Trail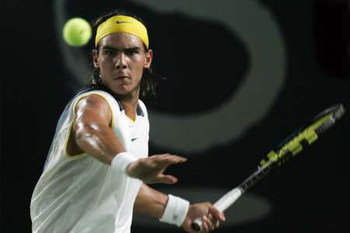 Desolated and helpless, he lay sidelined from the rest of the battle field, unable to play an official game for 114 days when he appeared in Marseille against the Belgian Rochus and felt like a beginner full of adrenalin again.
However, above all, he felt like his usual self once more. His foot withstood a game of brutal intensity; and he played, like it were the match of his life, such emotion marking his comeback.
It is not just how good you are at your best, rather more, it matters how well you cope when you deal with the worst.
Rafael understood this better than ever, for right then, it was not a question of passing the ball over the net, but living through the hardest of times.
However, it was in the deserts of Arabia, where all doubts regarding his physical condition were erased, where he handed Federer his first loss of the year 2-6 6-4 6-4.
Onto the Red Dirt: Imprints Stay
The 2006 clay season began from where he left off last April, but ahead were bigger challenges, if he were to consolidate and extend his clay kingdom.
He defended his Barcelona and Monte-Carlo titles, but the biggest challenge awaited in Rome, where the rivals brought forth an epic five-setter in their finest clay court encounter till date.
The match took off with some solid baseline rallies that neither player refused to let go.
They glided all over the court, with sublime net-plays, remarkable athleticism, and breath-taking passing shots to end in traded tie-breaks.
The crowds sat gripped at the sheer brilliance of tennis play coming off their racquets that afternoon.
The third set, on one break of serve went to Nadal but the next displayed some astounding answers from the Swiss, and he seemed just impenetrable, winning the fourth emphatically.
And, The decider. Roger continued with his raised level of tennis play, and it was soon 3-1 in his favour.
It was the seventh game, when Rafa dug deep to force another deuce and break back.
And an exhilarating passing shot finished with a fist pump from the Spaniard at 3-4 Ad., levelled scores.
The evening dawned yet the courage and conviction, both lay unwavered.
It got tighter and neither was done yet.
Saving two championship points, the teenager held on to force the final tie-breaker.
After about five hours of invigorating tennis, it had come down to this.
A remarkable shot from Nadal landed unreturned on a failed stretch, but the World Number one answered it with a brilliant forehand of his own to go up 4-2.
In the end, one more point was all Federer could snatch from this unrelenting teenager, who clinched the match 6–7(0), 7–6(5), 6–4, 2–6, 7–6(5) with an angled forehand that threw the opponent off-balance.
He was simply one incredible talent, the world was amazed.
This is for real: I'm back
Moments before the semi final match against Nicolas Almagro, for no apparent reason, all the feelings he held for the past few months splashed forth.
He was sitting on the bench in the changing room of the Barcelona tennis tournament when he inexplicably burst into tears much to the bewilderment of those present.
Rafa interprets it as a hit of reality, on recovering his absolute confidence in himself, that he made it through, a feeling which seemed so distant at the beginning of the year.
In the end, while his maturity makes us forget, he's just a young lad like any other, only, dealing with life his own way.
Paris: Back for Roland Garros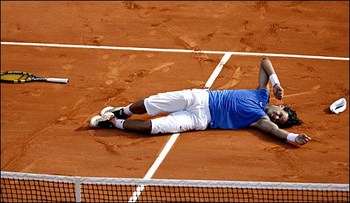 Along the Paris trail, stood the likes of Mathieu, Hewitt, Djokovic, Ljubicic.
He overcame all, breaking Guillermo Vilas's 29-year old male record of 53 consecutive clay court victories along the way, to reach his second Grand Slam final, only to face an in-form Federer on the other side of the net.
But perhaps, the journey seemed never ending and obscure all of a sudden, as he left the locker room and faced the corridor, hearing his own foot-steps amidst the thunderous applause.
Alone, hesitant, unstrung…
0-1
0-2
0-3
0-4
0-5
He watched the score-line metamorphose.
A brief glance at his seemingly unperturbed uncle and an encouraging nod from the family, he took a deep breath as he prepared to serve to avoid a blank-set.
A re-vitalised 'Vamos' filled the stadium, as he put up a 1-5.
This however, did not prevent the focused Swiss from claiming it 6-1 but it was that one game, which marked the start to another.
He calmed down, got back to his usual game, and unsettled the number one next set to snatch his own 6-1.
Once comfortable in his shoes, the momentum shifted to his gear as he won the third 6-4 and prepared to serve for the match in the fourth. But Federer broke back in a crucial game to force a tie-break.
6-6 (6-4). Match Point.
He began the ritual. Dried his forearms. Adjusted the hair. Bounced the ball once, twice, thrice…
The serve unleashed and the ball was into play.
He ran Federer from one corner to another, pushing him with the forehand angles.
The quality of the return could no longer hold up, and Rafael ended with a staunch half-volley from the net.

Suddenly, everything seemed lucid enough. All those months…
And victory tasted sweeter than ever.
It brought tears to his eyes, as he ran to his father who, serene and master of emotions, couldn't hold them back this time.
Onto the Lawns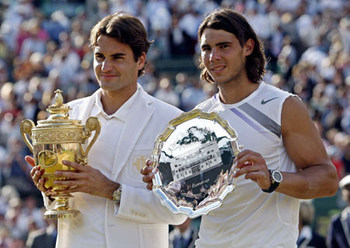 He arrived at the Grass court season coming from his most dominant clay season ever, that fetched him titles at all four tournaments he entered.
However, a shoulder injury in the quarterfinal against Hewitt at Queen's, meant he was unable to complete the match, ending his 26-match winning streak.
Seeded second at Wimbledon, he managed an astonishing comeback being two points from defeat against American qualifier Robert Kendrick in the second round, to win in five sets.
But even more, much to the surprise of most tennis critics and greats, he was to play for his first major title outside clay, (becoming the first Spanish man since Manuel Santana in 1966 to reach the Wimbledon final).
However he was effectively beaten by an experienced Federer in four sets.
Hard Court Season: One Ends, Another Begins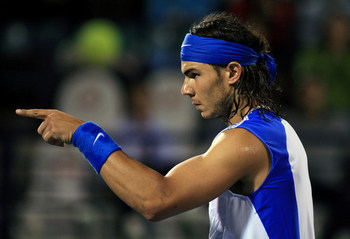 Despite his continuous strides on other surfaces, his short comings on hard courts were evident.
Most tennis critics seemed convinced that he was one to be known as a remarkable clay court master. But, this young man had other dreams.
Year upon year, he worked, maybe in little steps, but he was reaching there. Still young, still a lot to learn. All he needed was time.
The second half of 2005 had marked few peaks for Rafa, except for a quarterfinal appearance at USO and Madrid Masters and a Semi-Final show at Shanghai, losing 6-4 7-5 to Federer, a third loss in their nine career meetings.
He then, went on to become the first player since Andre Agassi in 1994–95 to finish the year as the world number two in consecutive years.
More complete, more compact, he returned in 2007 with a better game altogether.
He began with his best result in Australia until then, by reaching the Quaterfinals, before falling to eventual runner up Gonzelez in a match played with knee pain.
His good form fetched him Indian wells as the first title of the year, without dropping a single set while the Miami run ended again at the quarterfinal stage.
Battle of Surfaces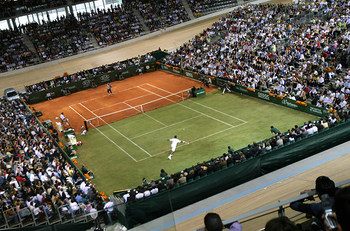 While Rafael dominated the clay surface with 72 straight victories, Roger Federer ruled the grass with 48 consecutive wins.
The Battle of Surfaces was the execution of a novel idea by Argentine Pablo Del Campo, CEO of the Del Campo Nazca Saatchi & Saatchi agency.
What made the match unique was that it was played on a hybrid court - half clay and half grass.
The event was held in the capital city of Rafael Nadal's home island, Palma de Mallorca, on a court that cost 1.63 million dollard and 19 days to prepare.
In an exciting tie-break finished, watched by over 200 million viewers worldwise, Nadal finally prevailed 7-5, 4-6, 7-6 (12-10).
Mid-Season Hits Off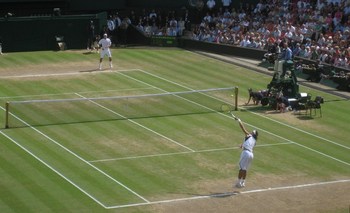 If the clay court king could ever get better…
Defending his earlier titles, this time it was more of a straight sets affair.

Hamburg final 2007 though, marked an end to his astronomic 81-match winning streak on clay, the male open era record for most consecutive wins on a single surface, also giving the Swiss his first clay-court win over Rafael, 2-6 6-2 6-0.
But hardly did it make a difference in Paris.
He rebounded to win his third straight Roland Garros in four sets.
But perhaps, the most anticipated of all, that year, was Wimbledon.
The rain beckoned, forcing to stretch himself to the maximum, but miraculously he still reached the final despite playing five matches in a row and overcoming a five-setter(against Soderling).
Sunday marked another of their early epic duals, as they locked horns in this first major battle outside clay, this time Federer in chase of a
fifth Wimbledon crown to match Borg's all-time record.
A few hits and a few misses, he was, on the verge of toppling the Swiss temple, but just fell short of, in a crucial decider which let few break points slip by.
It hurt, it disappointed, but never de-moralised.
The chase was still on.
It striked the tennis critics, hard and clear.
There lay a bigger pupose to be claimed.
Fewer Peaks: Injury Strikes Again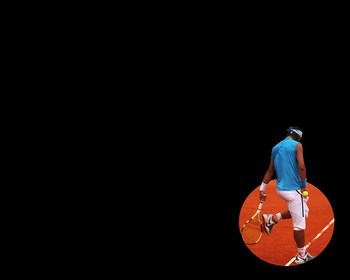 The pace died down a little after the grass court season, as the Mercedes Cup in Stuttgart, marked his last title of the year.
Rather, he battled a knee injury suffered during the Wimbledon final, for most of the second half of the year.
He put up a modest fourth round appearance at the US Open, falling to David ferrer.
After a month-long break from tournament tennis, Nadal played the Mutua Madrileña Masters and the BNP Paribas Masters, upset by David Nalbandian in both, at the quarterfinal and final stage respectively.
He advanced to the semi-finals of the Tennis Masters Cup in Shanghai, yet again, where Federer defeated him 6–4, 6–1.
2008 - A New Phase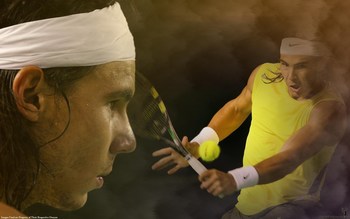 A powerful and reliable serve, aggressive play, resolute volley and wide range of winning strokes – a lot was to be incorporated to that extent of the absolute specialists.
Working, improving, believing. He progressed.
He bettered his previous Australian appearance, reaching the semi-finals, though handily defeated by an in-form Tsonga(eventual runner-up to Djokovic).
Indian Wells semi-finals brought yet another thrilling duel with Tsonga, edged out 6-7 7-6 7-5, while Miami played host to another Nadal final.
Putting his improvement in the equaton, along with Federer's irregular performance due to mononucleosis, there spread murmurs whether he would replace Roger as world number one.
First Signs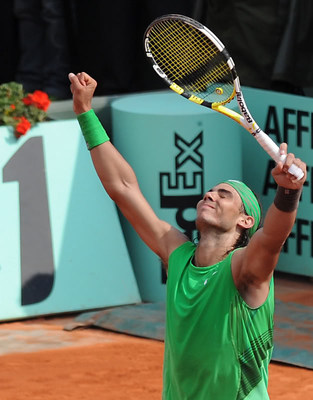 Numerous points to defend again, he started off well with Barcelona and Monte Carlo.
But the physical wear and tear had its effects, and foot blisters strew a first-round exit from Rome.
The Hamburg Masters was another battle, this time to hold on to the number two spot with Djokovic breathing down his neck.
He overcame both hurdles with authority, adding to his trophy cabinet, his first Hamburg masters after the disappointing loss last year.
The comparisons to Borg had from long been coming off and he was soon widely acclaimed the greatest clay court player ever.
6-1 6-3 6-0. Such were the scorelines of a demolishing game from the clay-court king that year at Paris, giving Federer his first bagel since 1999.
He added a fourth consecutive French Open title(shared with Borg), not losing a single set-en route to victory.
There was no more looking back. Evident from every angle, he was simply...
in the zone.
Capturing Roland Garros 2008 also made him only the fourth male player (open era) to win the same Grand Slam singles tournament for four consecutive years (the others being Borg, Pete Sampras, and Federer).
A New Kind of Fire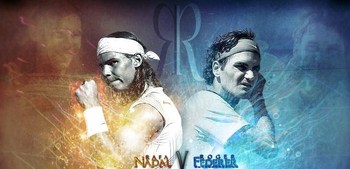 Setting records in Paris, he arrived in London just two days later, a new kind of fire relit in the heart, a new kind of belief reflecting his every move.
Coming off a 23-match winning streak, also stretching over a first grass court title at Queen's, he appeared in ominous form.
Simply no one was to deny Nadal a third go at the Wimbledon crown after coming so close to toppling the Swiss king last year.
The stakes were high. The expectations soared.
But little did they know, what lay forth that Sunday afternoon.
It was an epic dual that stretched over four hours, with each point, new energy, with every game, more focus, and they waded into the darkness, matching each other toe-to-toe, unrelenting right till the end.
Firm forehands and solid serves, all combined with the typical Nadalian elements, little it mattered, the resistance, as he took the first two sets 6-4 6-4, even overcoming a break in the second.
There was no more choice. Down two sets to love, the World No.1 simply had to produce some answer to this seemingly unstoppable Spaniard, or it would be a straight sets business.
But, no.
The real drama, had not yet begun.
The Greatest Match Ever Played
It was then, the Roger Federer showed why he was the five-time champion on the lush lawns of London.
He got back into the match, a bit more deeper, and narrowly edged out the tie-break to seize the third.
But rather, the most overwhelming of all was the fourt-set tie-break, a fragile heart-stopping beauty.
For a moment, he could see it, the excitement and the tension interwined, one single point, it was all that mattered.
Twice held yet twice it passed him by, the second erased by a divine backhand pass from Federer.
Dream. Illusion? All gone.
Rain delays, dark skies, and the feeble balance, how did it feel, to let go championship points and having to face a decider from a two-set lead?
"Nothing change no?" He says. "After second, third, fourth, I still need only one more set to win"
A two-set lead, two-tie-breaks, two-championship points, all slipped by, if it were anyone else, perhaps, the spirit would have wavered.
It was simply another reminder to the rest of the world, he's Rafael Nadal.
What more to ask for? It was to be a decider.
After four hours and 40 minutes of a relentless battle of staggering tennis, came the decisive break 8-7.
40-30. Third Championship point arrived.
Saved, yet again, this time, with a remarkably-angled return off the backhand from Federer.
A good service on the next point fetched him, a fourth chance.
The Ultimate.
No more, the wait.
A netted forehand from the Swiss.
Game. Set. Match.
That One Moment of Victory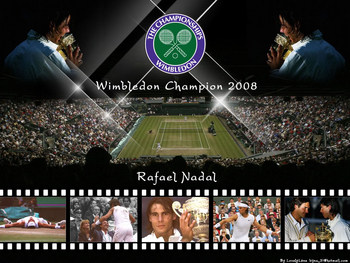 Nothing could match that one moment of victory.
He gave in to the amalgam of emotions, collapsing on the ground, ecstasy filling every fibre of his being.
Ending a record streak of five consecutive Wimbledon titles and 65 straight grass court wins, Rafael became only the third man in the open era to win both the French Open and Wimbledon back-to-back after Rod Laver and Borg.
It was a victory that meant so much, and these were memories etched once, forever indelible.
He has not been back to the All England Club since then, but he received "a beautiful album" replete with images of the day and balls imprinted with 'Rafael Nadal - 2008 Wimbledon Champion', which still remain invaluable
Rightfully Earned: A New Place
It did not stop there.
One challenge overcome, another appears on the horizon.
And he sets off running.
Nadal extended his winning streak to a career-best 32 matches, with a Roger Cup title in Toronto and making it to the semifinals of Cincinnati masters.
Overcoming Novak Djoković 6–4, 1–6, 6–4, and Fernando González in the final, 2008 Beijing Olympics was a bonus to an amazing year, to claim the Gold medal, also being the first male player ranked in the top five to do so.
Consistent performances in the hard-court season combined with Federer's early round losses, finally earned Rafael Nadal, the world number one ranking on August 18th, officially ending Federer's record four-and-a-half year reign at the top.
All He Could Ask For.... And More.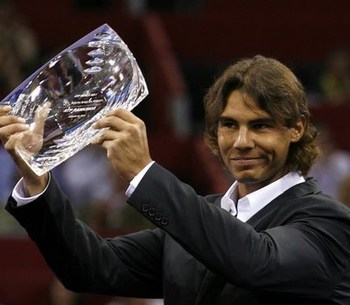 It's been a long year. The words would have surely surfaced in the mind, as a contented smile crept up his face.
Exhausted mentally and physically, he put up his best appearance at the final major of the year to reach the semi-finals before losing to eventual runner up Andy Murray.
As Rafa's ill-luck with injuries would have it, tendinitis struck again in November, giving him no choice but to withdraw.
Yet there was so much to be happy for, these worries seemed little distant for a while. Some good rest, was all he needed.
Ending the season ranked world number one, it was the culmination of effort, courage, belief, all translated into result.
2008, simply an unforgettable year.
It was all he could ask for... And more.
[Part 1: http://bleacherreport.com/articles/261805-rafael-nadal-the-story-inside-out-part-i-the-promise ]
[Part 3(last) to come up]
Keep Reading