Punctuated Equilibrium: The NBA's Greatest One-Year Turnarounds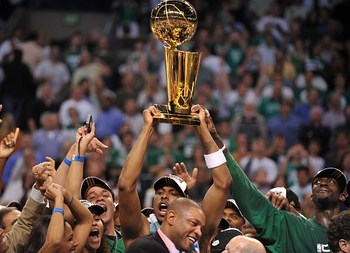 In evolutionary biology, Punctuated equilibrium is a theory which describes speciation (the branching of one species into another) as a sporadic process, characterised by extended periods of stasis, followed by brief, localized and quickly occurring jumps, known as cladogenesis.
In basketball, teams often improve through gradual, incremental processes. You trade for a supporting player here, you draft a future star there, and over time you have yourselves a contender.
Examples of this approach include the most recent Pistons, the Threepeat and current Laker Champions, and the Bulls Dynasty. In evolutionary terms, they improve through what is called anagenesis.
Sometimes, however, teams evolve in a manner which more closely resembles cladogenesis. It's sudden and dramatic.
Often, the team that emerges from the change is a completely different animal, orders of magnitude more evolved, more dominant, and more successful than it once was.
So lets take a look at Punctuated equilibrium, NBA style: The greatest one-season turnarounds ever...
2001-02 New Jersey Nets: 26-56 to 52-30 (26-Game Improvement)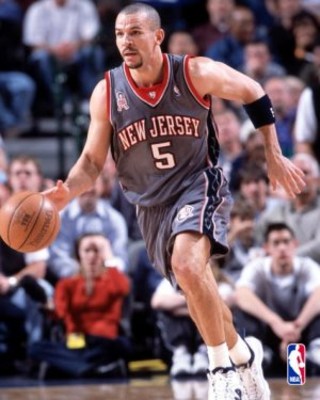 The New Jersey Nets were always the joke of the NBA. In their nine-year history in the ABA, they had won two championships, but the move to the NBA in 1976-77 signaled the beginning of decades of mediocrity.
In fact, at the beginning of the 2001-02 season the team had not made it out of the first round of the playoffs in 17 years, and with the lofty total of 26 wins the year before, that did not look like it was about to change any time soon.
One thing that had changed however, was the team's point guard. In the summer the Nets had managed to trade the talented, former All-NBA Stephon Marbury to the Suns for the gifted, but seemingly volatile Jason Kidd.
It is still my belief that Phoenix were reluctant to part with Kidd, but with the controversy surrounding his personal life, and allegations of domestic abuse against him, the move to New Jersey seemed to be a win-win for both the team and the player, each of whom it seemed needed a fresh start, and change of scenery.
And what a change it was.
Kidd's arrival in New Jersey immediately changed the franchises' fortunes. A team so lacking in accomplishment that some had felt it cursed instantly transformed into the best team in the Eastern Conference.
Doubling their win total they went from almost two decades of either missing the playoffs entirely, or exiting in the first round, to competing in their first-ever NBA finals.
They were swept in those finals by a Lakers team in the midst of a threepeat, but by New Jersey Nets standards the season was, and remains, a shining moment of unparalleled and unexpected success.
Well, except for the next year of course, when they did it again.
1988-89 Phonix Suns: 28-54 to 55-27 (27-Game Improvement)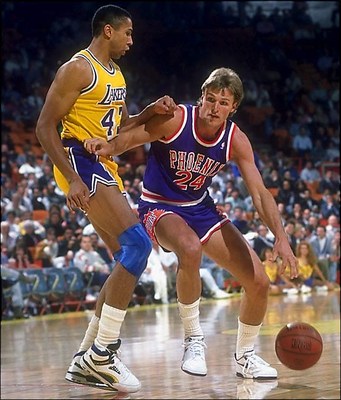 At the end of the 1987-88 season, the Suns finished with a disappointing 28 wins.
In 1988, however, they landed Tom Chambers, the first unrestricted free agent in NBA history, from the Seattle Sonics.
Chambers, a 6'10" forward and former All-Star game MVP, combined with dramatically improved sophomore point guard Kevin Johnson to almost double the Suns win total from the previous season.
The tandem, along with swingman Eddie Johnson, were so successful that they made it all the way to the Western Conference Finals, where they were swept by Magic Johnson's LA Lakers.
Kevin Johnson would go on to become in my opinion one of the best, and most underrated point guards in NBA history, and although the team would remain successful well into the 90s, culminating in a '93 Finals appearance, it all started in 1988 and the signing of Tom Chambers.
It wouldn't be the last time a floppy haired white guy would change this team's fortunes either, as we shall see in a few slides time.
1969-70 Milwaukee Bucks: 27-55 to 56-26 (29-Game Improvement)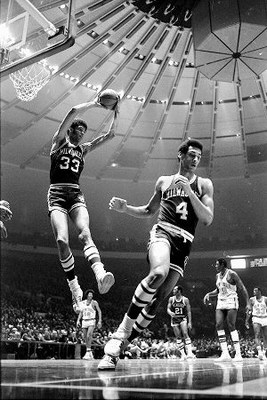 1969 was the year of a couple of major milestones for 20th Century human endeavour.
Neil Armstrong took a walk on the moon, Concorde, the world's first supersonic airliner, had its first trial flights, and the Milwaukee Bucks selected 22-year-old Lew Alcindor (later known as Kareem Abdul-Jabbar) with the first pick in the NBA draft.
I know what you're thinking, how could I put those three together as if they were equally important?
Well, you would be right. Concorde didn't enter active service until 1976, so technically, 1969 was all about Kareem and the moon landings.

As an introduction to one of the most enduring and accomplished careers in all of sports, Cap averaged 28.8 ppg, 14.5 rbg and 4.1 apg as a rookie.
He led the Bucks to a 29-win leap in the standings, and only an unsuccessful bout with the eventual Champion New York Knicks in the Eastern Division Finals stopped him from dragging them all the way to the Championship in his very first season.
1979-80 Boston Celtics: 29-53 to 61-21 (32-Game Improvement)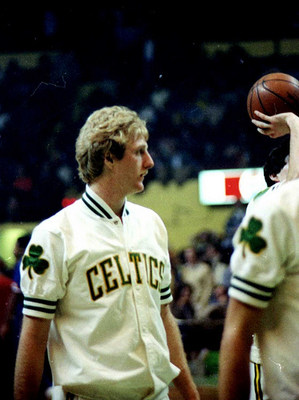 The 1978-79 season was a turning point for the Celtics. The teams best player, the all-time great Dave Cowens, had seen his productivity decline after leading the team to two championships during the 70's.
Only 30 but undersized for his position, he was not built for longevity, and with a lack of their customary success, the Celtics were now at a crossroads.
Luckily for them however (very luckily when you consider they only had the sixth pick in the draft), they reached these crossroads at the same time as the 'Hick from French Lick', Larry Legend, came out of Indiana State.
How he was still on the board this late is a mystery to me, but I think it is pretty well established by now that the 'Basketball Gods' seem to favor the Celtics.
Larry Bird averaged 21 points and 10 rebounds per game in his rookie year, and the changing of the guard from Cowens was practically completed in one fell swoop.
Boston jumped up the standings by 32 games, more than doubling their win total from the last season.
Although they lost in the Eastern Finals against the 76ers, this season marked the beginning of a new golden age for the Celtics.
With the rivalry of new Rookie of the Year Larry Bird, and Finals MVP Magic Johnson translated brilliantly from the NCAA, it was to be a golden age for the league as well.
2004-05 Pheonix Suns: 29-53 to 62-20. 33 Game Improvement.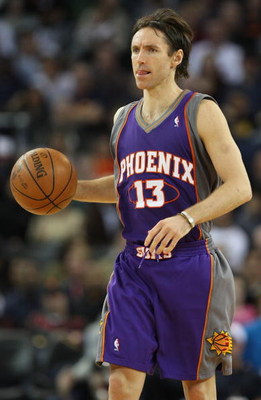 Question: When is the whole less than the sum of it's parts?
Answer: When that whole is the Dallas Mavericks, prior to Steve Nash's departure in 2004.
Seriously, can you think of a situation where two very good players BOTH became great AFTER THEY STOPPED PLAYING TOGETHER? It's a mystery, although for the Suns it was also a coup.
But is it really that suprising? Picture the scene:
You've just turned 30. You've been playing well for your team for several years, doing very solid, but not great work. You're happy with the status quo, but something seems off.
Your contract is up and your team doesn't seem to be that commited to keeping you. Sure, they go through the motions, but you know you deserve better, after all you're a solid player.
All of a sudden another team appears on the radar who are VERY interested. They offer you more money, more years, more control, more everything. They seem to really want you, but your not really sure why. I mean you're really good, but lets be honest, you know you're not great. Your current team however, seems kind of apathetic, you are getting old after all.
Still, their attitude is annoying as you'd like to stay with them, but you accept the new team's deal because they clearly want you more.
But now what? Your a 30 year old guy on the downside of his career and your in over your head! Yes you've always been good, but your new team sucks, they really need you to be great.
They showed so much faith in you, you really can't let them down now. So you hit the gym like a demon. You work, work, work until you are ready for the next season in the best shape of your life. And you play HARD.
You play so hard that people don't actually quite know what the hell happened, and ask, 'How did he get so good all of a sudden?'
Your stats improve across the board, all of a sudden you are the best playmaker in the league, and the guys around you are making quantum leaps in production. You are winning almost every game you play. Next thing you know, you're the MVP of the whole league!
Your team won 62 games, 33 more than last year all because of you! You reach the postseason and make it all the way to the Western Conference Finals.
On the way you stomp your old team into the ground and knock them out of the playoffs. Nice!
1989-90 San Antonio Spurs: 21-61 to 56-26. 35 Game Improvement.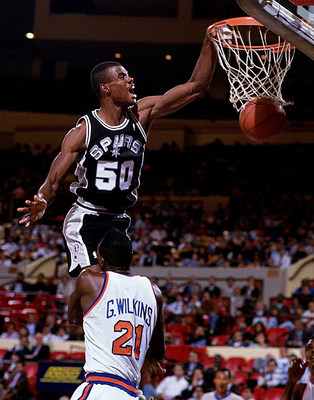 One of the benefits of finishing a season with 21 wins, is you generally get a high draft pick for your trouble.
In 1989 the Spurs made the smart decision, and drafted David Robinson with the first pick.
In his rookie season The Admiral averaged 24 points, 12 rebounds and 4 blocks a game, made All-NBA and All-Defense teams, and won rookie of the year. The Spurs jumped the standings by 35 wins, finishing 56-26.
They would average 54 wins a season over the next 7 years, winning as many as 62 games in 94-95, Robinsons MVP Award winning season.
A player like David Robinson is rare. He came along, and instantly transformed his team from a cellar dweller into a perrennial playoff contender. He was a dominant scorer, shot blocker and rebounder, who once scored 71 points to clinch a scoring title from Shaquille O'Neal.
A member of the original Dream Team, and named one of the 50 Greatest Players in NBA History, he was truly one of the greatest and most underrated centers the NBA has ever seen.
Despite all of that however, his greatest contribution to the Spurs (as we shall see on the next slide) was actually to get injured, and miss almost the entire 1996-97 season...
1997-98 San Antonio Spurs: 20-62 to 56-26. 36 Game Improvement.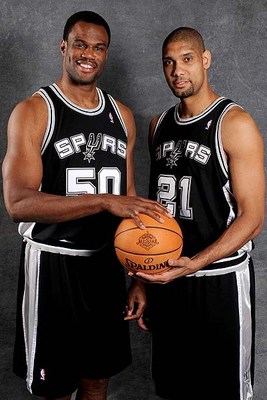 Question: How does a team benefit from a season ending injury to it's best player?
Answer: When said injury causes the team to plummet in the standings, giving it the prospect of a high draft pick and the return of it's star.
The San Antonio Spurs lucked into this ridiculously enviable position in 1997, when -after averaging 54 wins a year since drafting David Robinson in '89- his absence for almost the entire 1996-97 season had thrust the first pick in the draft upon them.
The front office now had to choose who to put alongside their ageing but still great Center to start the next season.
The choice was a non-brainer.
Tim Duncan was a star from the moment he stepped onto an NBA court. Although quiet and unassuming by nature, The Big Fundamental gelled with The Admiral immediately, forming one of the best and most intimidating frontlines in league history. Between the two of them they averaged 42 points, 23 rebounds and 5 blocks per game for the season.
Like Robinson in '89, Duncan won Rookie of the Year honours and made both All-NBA and All-Defensive teams.
The Twin Towers loomed over the Western Conference, and the Spurs franchise was reborn seemingly overnight.
Although the team lost to Stockton and Malone's Jazz in the Conference Semi-Finals, Robinson was finally on his way to a Championship ring, which would surely have eluded him had injury not delivered a certain Virgin Islander to the Alamodome in 1997.
2007-08 Boston Celtics: 24-58 to 66-16. 42 Game Improvement.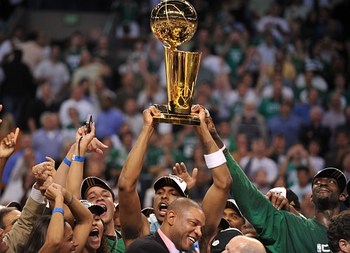 In 2006-07 the Boston Celtics had long passed relevance. The most storied franchise in NBA history had not made the Finals in 20 years, since a disappointing 6 game loss to the Lakers in '87.
Not only was the team bad -finishing the season with the leagues' second worst record- but with a franchise built around the ageing (although still productive) Paul Pierce, and several unproven, unproductive and practically underaged prospects, this did not look to be changing any time soon.
Failing to make the playoffs for the second straight season had left the team with the 5th pick in the draft. Seemingly, they were in full-on rebuilding mode.
Then, there was a shift in momentum.
On the other side of the country a group of unscrupulous business types, led by Clay Bennett, had begun the process of blowing up the Seattle Supersonics, a well planned process which was designed to simultaneously increase financial flexibility (by decreasing fixed player salaries), and also to attempt to reduce the city's attachment towards the team (by ruining it's chances of success.)

As part of this process the Sonics accepted a trade for Allstar Ray Allen, essentially swapping him for the 5th draft pick (which became Jeff Green), Delonte West and filler.
Things were suddenly interesting.
Simultaneously, and also out west, a basketball tragedy of epic proportions was finally coming to a head.
Kevin Garnett -one of the best players in league history- had been mired in basketball purgatory for the best part of 12 seasons. (Imagine if Michael Jordan had been drafted by the Clippers, and you see how heartbreaking those years really were.)
Sports journalists had written articles with titles like 'An SOS for Kevin Garnetts' career'. It really was sad. Now 31 years old, and with his dominance surely about to fade, we were witnessing another Charles Barkley, a player who -despite their individual dominance- was doomed to be talked of derisively as 'one of the best not to win a title'.
Except we weren't. Things had changed. Timberwolves owner Glenn Taylor was finally open to letting him go.
When Danny Ainge swept in and offered almost the entire remaining Celtics roster (5 players plus 2 draft picks) a deal was done, and Garnett was to join Allen and Pierce in Boston.
So, what happens when a team adds an Allstar Shooting Guard, and a former League M.V.P Forward to it's roster, whilst keeping hold of its' Allstar Small Forward and a promising young Center and Point Guard?
It wins 42 more games and secures its' franchises first NBA Championship in 21 seasons.
After it was done, finally vindicated and his legacy as an all time great now secure, Garnett told reporters 'Anything is Possible.'
Hows that for a turnaround?
Keep Reading