Arsene Wenger: The Master Economist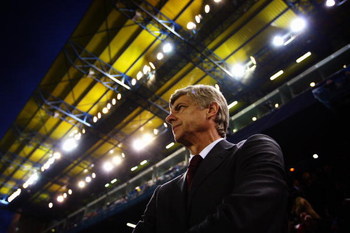 With Arsene Wenger completing 13 years with Arsenal I wanted to do a tribute article but, in doing so, one thing became ever so clear.
Arsene has become a master of this money-centric world we live in today, finding young, cheap talent and developing and subsequently turning in a huge profit for the club.
Not surprising, considering his Master's degree in Economics from Strasbourg University.
This is a list of some players Arsenal paid a minimum ammount only to receive a huge sum of cash years later.
Emmanuel Adebayor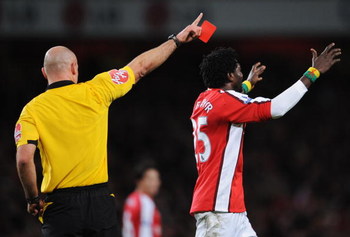 Their ungrateful summer departure leads off the list.
Adebayor was just another player in Ligue 1 until Wenger paid AS Monaco £4m for the Togolese striker and brought him over to the Premier League and turned him into the star he is today.
How does Adebayor repay Wenger? By shopping himself around to every club willing to lay the money.
No problem, said Wenger, we'll just sell you to Man City for £25m pounds.
Profit = £21m.
Kolo Touré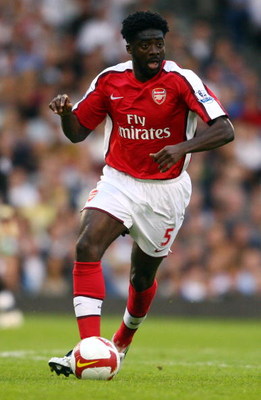 One of Arsenal's top performers for many years, Touré was a rare find, even by Wenger's standards.
The Côte d'Ivoire product was originaly a striker playing for Ivorian side ASEC Mimosas and after a tryout he was signed for...(Wait for it).....£150,000
Yeah, talk about a bargain. Especially considering he was then sold to City (after years of productive, steady play) for...(Wait for it)....£14m.
So there, a £13,850,000 profit.
Nicolas Anelka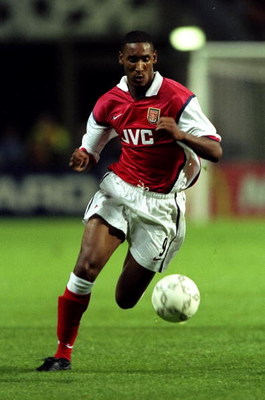 Anelka has had as many teams as Paris Hilton has had...er, moving on.
He was signed by Wenger out of French side Paris Saint-Germain, even though he only was 17 years old and had only ten matches with the first team. Hence the £500,000 price tag.
Two years later, in 1999, after demanding a bigger salary and ticking off the fans (sounds familiar?) he was sold to Real Madrid for just £22,2m - yeah, just.
What makes this deal the best of the bunch is the fact that with the money they made Arsenal purchased a couple players by the names of Thierry Henry, Robert Pires and Sylvain Wiltord, you might have heard of them.
Thanks Real.
Profit = £21.7m.
Patrick Vieira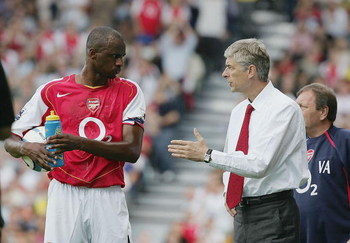 Wenger basically demanded the purchase of Vieira when he came in as Arsenal manager; a pretty bold statement for a guy who was dubbed Arsene Who at first.
Since Vieira played for AC Milan and was expected to be a part of the first team in the following season (until then he had played only in two first team matches for the Italian side) Arsenal had to "pony up" £3.5m to acquire him.
Turns out it was the best spent £3.5m in the history of humanity. Vieira became the heart and soul of Arsenal.
While Henry, Pires and Bergkamp wreaked havoc in the opponents defensive ends, Vieira patroled the midfield with the ferocity of a Dobberman who hasn't been fed in a week.
In short, the dude was intense, and yet very technical. Kind of like a dancer on acid.
When Cesc began to flourish and it became clear that it was time to part ways, Wenger did what he does best and got the most out of his former captain. Juve decided to be so very generous and £18m were received for Vieira's services.
Profit = £14.5m.
Marc Overmars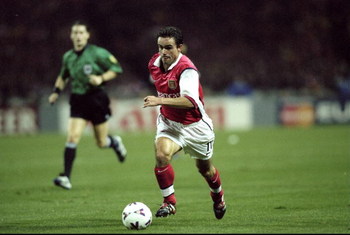 Overmars was one of Wenger's earlier signings, being plucked from Dutch-side Ajax for £5.5m.
In his first season (97-98) he played an important role in helping Arsenal reach the first Double of Wenger's career.
Such was his impact that after only three seasons he was sold to FC Barcelona for £25m, a record for a Dutch player at the time.
Profit = £19.5m.
Robert Pirès
Pirès was one of the purchases made with the Anelka money, brought in after playing for the French side Marseille for a £6m fee.
Pirès was a key player in Arsenal's forward line, teaming up with Henry to create a nearly unstoppable 1-2 punch, especially during the 2003-04 season.
In his career with Arsenal, Pirès scored 62 goals in 189 matches.
Although Pirès left on a free transfer because his contract expired with Arsenal, six million pounds was a bargain for his production and popularity (In 2008, Arsenal fans voted Pirès as the club's sixth greatest player of all time).
Thierry Henry
The Greatest Gunner shouldn't even be on this list, Arsenal could've paid an ammount equal to Great Britain's budget and it would've still be worth every Pound.
But Wenger did not, he re-united with Henry by paying Juventus £10m.
The rest was made for Hollywood (No, seriously, if I have my way, Henry will have a multi-million dollar movie made about him; heck, I'll write, direct and produce if it's necessary).
Henry only became the best modern Gunner ever (I say modern so that no one starts an argument about who IS the best Arsenal player ever, cause that would take for-freakin-ever) and brought two Premiership, 3 FA Cups and a UEFA Champions League final appearance.
He departed after eight glorious years, and I could care less for the fee, because it was one of the saddest days in Arsenal history, but for the sake of this article, I will proceed.
Barca paid €24m (£21.8m) for Henry's services.
Profit = £11.8m.
Conclusion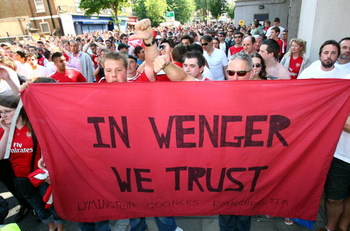 Let's crunch the numbers shall we?
Using these six players only Wenger spent £29,65m
He received, for the same players, £126m (And remember that he received nothing for Pires)
The total profit for this experiment? £96,38m (that counts the -£6m lost when Pires left for free).
So, what did we learn? That the banner says it all. Wenger knows football on and off the pitch.
In Wenger We Trust.
Keep Reading

Arsenal: Like this team?