NBA Super Sophomores: Who Will Be the Best in Year Two?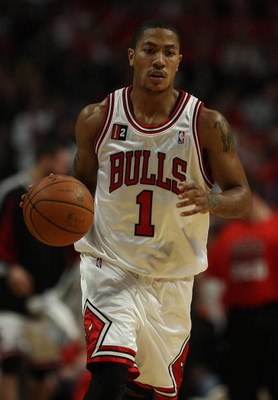 The 2008 NBA rookie class was one of the better talent laden groups we have seen come into the NBA in some time.
The likes of Rose, Beasley, and Mayo continue to give this league a bright future, and appear ready to usher in a new era of talent.
Having said that, there always seems to be some surprises in the sophomore campaigns and players tend to either begin to separate themselves from the rest of the league, or they become mired in mediocrity.
Let's take a look at who is set to have monster Sophomore seasons.
10 - Courtney Lee (New Jersey Nets)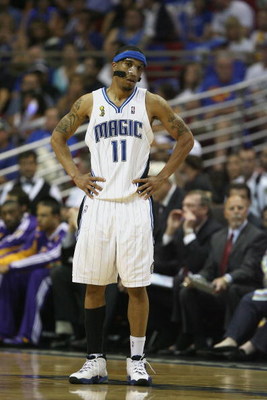 Lee had a breakout season in his rookie year, playing a key role in the Magic's unexpected run to the NBA Finals.
Unfortunately, he might best be remembered for the missed layup against the Lakers in Game Two, but what might get lost in this narrow view are his key contributions, especially in the 76ers and Cavs series.
In the offseason, Lee was moved in a multi-player trade sending himself, Rafer Alston and Tony Battie to New Jersey in exchange for Vince Carter and Ryan Anderson. Lee was very vocal in his opposition of the move, but I think he will play with a chip on his shoulder this year and try to show the Magic that they made a mistake.
He will be very good this year, even if it is for a bad team. Expect him to continue his defensive excellence and improve on his offensive numbers. He should be a double-digit scorer this year.
9 - D.J. Augustin (Charlotte Bobcats)
With the contract negotiations for Raymond Felton still up in the air, I expect Augustin to step in this year and make his case to be the starting point guard of the future.
Last year he averaged 11.8 points and 3.5 assists per game in limited playing time. In his 12 starts, he averaged 17.8 points and 5.8 assists showing his potential in that role.
Expect his minutes to increase significantly this year, and don't be surprised if Felton is moved at some point, clearing the way for Augustin .
8 - Mario Chalmers (Miami Heat)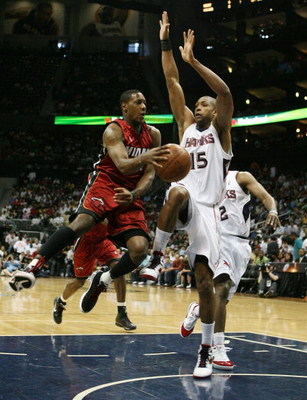 Chalmers had a surprisingly productive rookie season. After being drafted in the second round, 34th overall, Chalmers started all 82 games for the Heat and averaged 10.0 points, 4.9 assists, and 1.95 steals per contest.
He lead all rookies in steals and on Nov. 5, he set a new team record for steals with nine.
The arrival of Carlos Arroyo could be construed as a threat, but I expect it to light a fire under Chalmers to prove his worthiness in the starting spot.
Expect Chalmers to remain the starter and improve on his 2008 output in all categories.
7 - Kevin Love (Minnesota Timberwolves)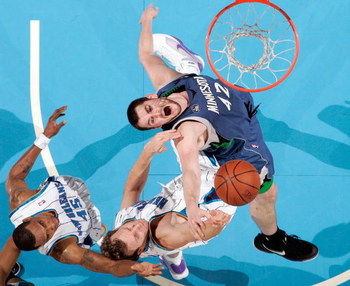 Love had a solid rookie campaign and filled in admirably for the injured Al Jefferson, averaging 11.1 points and 9.1 rebounds per game.
His stats significantly improved over the last fourth of the season, and even with the return of Jefferson this year, I would not anticipate Love losing much production.
He has young and inexperienced players around him and he will be relied upon heavily to pick up many of the offensive and defensive boards.
Expect Love to more closely resemble the player who ended the year, averaging close to a double/double.
6 - Michael Beasley (Miami Heat)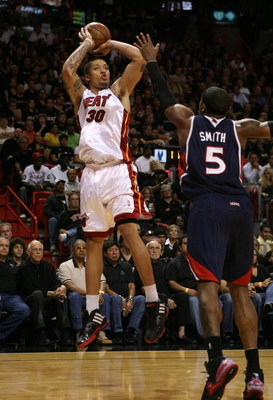 Beasley came into last year with high expectations and didn't do anything to disappoint, on the court at least.
While not a dominant year, he averaged 13.9 points and 5.4 rebounds per game, and showed flashes of brilliance.
He was way too erratic and unpredictable and didn't display any kind of defensive fortitude, all of things he will need to improve upon if he wants to become elite.
This guy has All-Star written all over him, and if he can find a way to adapt to the NBA lifestyle off the court, he should have no problem getting to that level.
Expect him to dominate offensively this season, going for 20 a night, but struggle defensively and on the boards.
5 - Eric Gordon (Los Angeles Clippers)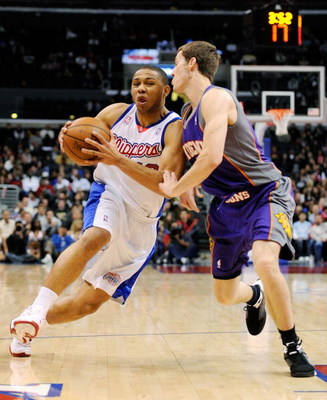 Eric Gordon can flat out score.
He proved himself to be a threat to drive to the hoop as well as pull up from anywhere on the court to nail the jumper.
While slightly undersized, Gordon is a pure 2 guard. He doesn't excel in any other areas besides scoring, but he can put points on the board with the best of them.
Many comparisons have been made to Mitch Richmond and rightly so. This guy is flat out lethal.
Last year he averaged 16.1 points per game in 34 minutes. Expect him to get some more minutes this season and threaten to go for 20 a night.
4 - Russell Westbrook (Oklahoma City Thunder)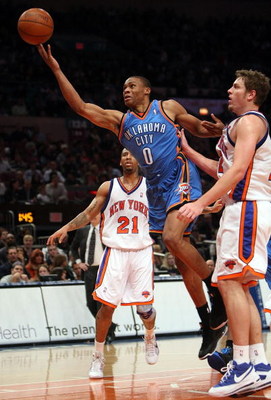 I think this guy is a superstar in the making. He excels in all areas that a point guard should.
He averaged 15.3 points, 5.3 assists, and 1.3 steals per game last year, and solidified his spot as the point guard of the future.
He may not improve too much upon his scoring average, but he will definitely improve his assists and steals. He also rebounds very well for a point guard.
Expect him and Durant to be a one-two combo that will make some serious noise this year, on the court and on the highlight reels.
3 - O.J. Mayo (Memphis Grizzlies)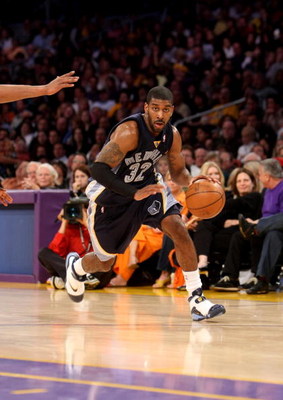 Mayo is a playmaker, plain and simple.
He spent part of the season competing with Rudy Gay as the top-dog on his own team, but as soon as he began to assert himself in that role, he was impressive.
He can score with the best of the 2 guards in the league and he is above average in other aspects of the game, too.
He averaged 18.5 points, 3.8 rebounds, and 3.2 assists per game last year.
There is some concern with Allen Iverson being brought in, that he will lose some of his mojo, but I don't see that happening with AI in the waning stage of his career.
Expect Mayo to hit the 20 ppg mark this year and improve upon his assists and rebound numbers as well.
2 - Brook Lopez (New Jersey Nets)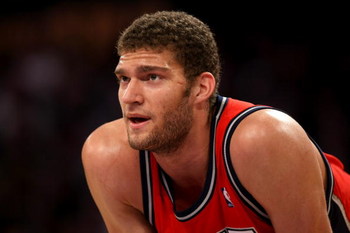 Lopez has the makings of the next truly dominant center.
He is a true back-to-the-basket threat and is learning how to use his gigantic frame to his advantage. He is a good free throw shooter, and he is mentally tough and aware, which keeps him on the court out of foul trouble.
Lopez averaged 13.0 points, 8.1 rebounds, and 1.9 blocks per game in an impressive rookie season in which he finished third in the rookie of the year voting.
Tony Battie seems to think that Lopez can dominate the league in the same vein as Dwight Howard, but I'm not ready to go that far yet.
Expect Lopez to average a double/double this year, moving into the 16.0 points, 10.0 rebounds per game territory.
1 - Derrick Rose (Chicago Bulls)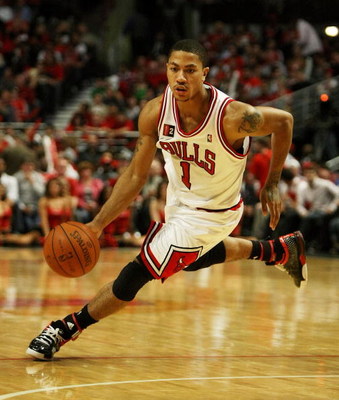 Derrick Rose had one of the more impressive rookie seasons in recent memory.
He took a previously average Bulls team to the playoffs and was the clear leader in that classic first round series against the Celtics.
Rose is incredibly blessed with a rare blend of size and speed. He has superior court vision and awareness, and has established himself as a court general.
If he can begin to develop a reliable jumper, Rose has the potential to develop into a top tier point guard in the same class as Paul and Williams.
Expect Rose to improve upon his 16.8 points and 6.3 assists this year and truly ingrain himself as a All-Star fixture.
Keep Reading