10 Best Rivalries in International Football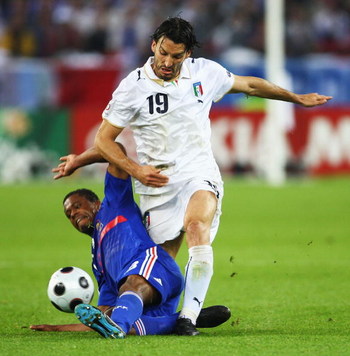 Throughout the world, there are many great rivalries that exist in football, but there is no better rivalry than a rivalry between two nations.
Many of these rivalries have existed between these nations for a long period of time, and in most of their matches, a spot in a major tournament or a major trophy have been on the line, along with the satisfaction that your country have defeated their biggest rival.
In this list, I included no rivalry from two countries in two different continents, and used criteria such as matchups in cup finals, existing rivalries from earlier time periods, and how important this matchup is for each country. So here they are, the 10 best rivalries in International Football!
Honorable Mentions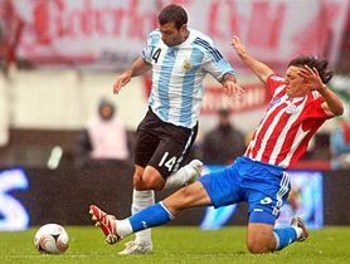 Before I start the Top 10 countdown, I want to list several rivalries that weren't able to make my list for the Ten Best Rivalries in International Football.
Paraguay vs Argentina
Chile vs Peru
China vs South Korea (Koreaphobia)
No. 10 El Salvador vs Honduras
In one of the biggest rivalries in CONCACAF, El Salvador and Honduras are two neighbors that have played many major matches throughout the years that have had Gold Cup and World Cup implications throughout the years.
This was not more apparent than in qualifications for the 1970 World Cup, in which these two sides met each other in a three game playoff, with the winner going to the World Cup.
In the first game in Honduras, tensions were starting to build but during the second match in El Salvador, when the home supporters started attacking the Honduras supporters, which coupled with the tensions over land, caused El Salvador to start the "Soccer War" with Honduras which lasted for four days with several thousand casualties before the war ended.
More recently during 2010 World Cup qualifying, Honduras won 1-0 in El Salvador, which coupled with a Costa Rica draw with the United States, Honduras was able to clinched their first World Cup birth in 28 years.
No. 9 Turkey vs Greece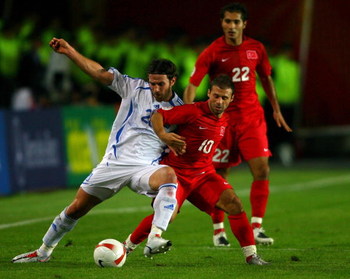 In a matchup between two southeastern European nations that have achieved success within the last decade in the European Championships and the World Cup, Turkey vs Greece is a matchup that continues to get better.
During this decade, Turkey has finished third in the 2002 World Cup and had a miracle run in Euro 2008 that ended in the semifinal, while Greece won Euro 2004. Also, these two sides were paired together in Euro 2008 qualifying, where Turkey beat the defending champion Greece 4-1, which was key for Turkey for qualifying for Euro 2008.
No. 8 Denmark vs Sweden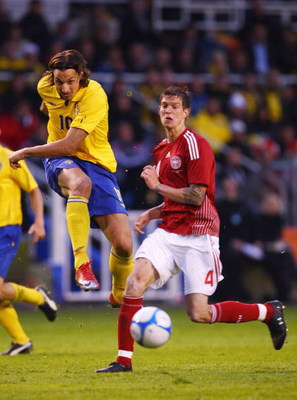 Denmark and Sweden has been a rivalry that has gone back nearly 100 years, but has become a stronger rivalry within the last several years. The "bad blood" between the two became came up in a qualification match for Euro 2008, when Sweden held a 3-0 lead, but Denmark made a great comeback and scored three late goals.
But after Christian Poulsen hit Markus Rosenberg in the stomach, causing German referee Herbert Fandel to red card Poulsen. Afterwards, a Danish fan ran onto the pitch and tried to punch Fandel, but failed.
After that incident, Fandel decided to abandon the match with Sweden winning 3-0, and in a memorable first UEFA qualifier between the two.
However, Denmark got some recent revenge on Sweden by defeating them 1-0 to finish first in Group One and by doing this, they gained an automatic spot to qualify for the 2010 World Cup, and the loss was the deciding factor for Sweden to miss going to a playoff to go to the World Cup.
No. 7 USA vs Mexico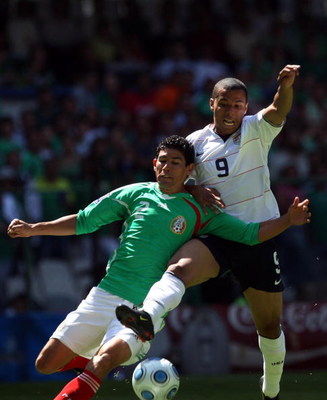 The biggest rivalry in CONCACAF, USA vs Mexico is another rivalry that has grown big in a short amount of time. Originally, Mexico were superior to the United States in international competition, as they lost only one match against the United States from 1937-1990.
However, in recent years, the United States have become a way stronger side in international competition, as they have been able to qualify for five straight World Cups, and they also have been able to defeat Mexico on American soil in World Cup qualifiers.
Also, the United States beat Mexico 2-0 in the round of 16 of the 2002 World Cup, and matches in recent years have grown in significance each time.
No. 6 Spain vs Portugal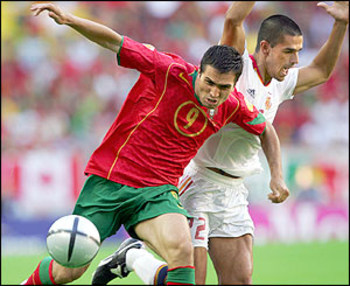 A matchup between the two countries that are located on the Iberian Peninsula, Spain, and Portugal have had a rivalry that has existed for hundreds of years, and has naturally spread onto the football pitch.
Over the years, both of these sides have had many memorable match ups, with the most recent one being in Euro 2004, which was located in Portugal.
In that matchup, Spain were tied with Greece at top of the Group A table with four points, and needed only a draw over Portugal (who had three points) to get into the next round.
But Portugal were able to defeat Spain 1-0 to go onto the next round and eventually to the final, where Greece beat them.
However, Spain made up for this loss in Euro 2008 by winning the tournament, and now with some of the best players in the world in Fernando Torres and Cristiano Ronaldo playing for both sides, this rivalry only continues to get better.
No. 5 Netherlands vs Germany
Another rivalry between two nations that share a common border, Netherlands vs Germany is a contest between two of the top sides in European football. Their first memorable matchup was in the 1974 World Cup final, where the Dutch were expected to win but lost to Germany.
In the 1988 European Championships, both sides met in a hotly contested semi-final in which the Dutch came from behind to win 2-1 in a hotly contested battle and went on to win the final.
After coming back to Amsterdam after the final, manager Rinus Michels told the crowd "We won the tournament, but we all know that the semi-final was the real final."
Since then, both sides have met in another hotly contested 1990 World Cup round of 16 in which two players were red carded and Germany won as they went on to win another World Cup, and also met in Euro 2004, which ended in a one all draw.
No. 4 England vs Scotland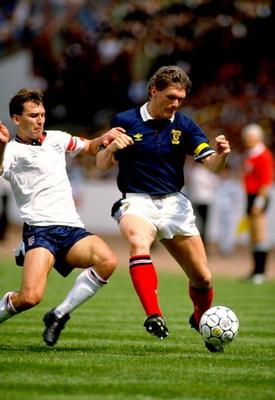 The oldest international football fixture in the world, England vs Scotland is a bitter match that exists between two longtime British rivals. Ever since the first match in 1872, the two sides have met each other 109 other times, with the English winning 45, Scotland winning 41 and 24 draws.
Even thought these two sides haven't met each other since 1999, these two countries have met each other more times than any other country in history, mainly due to the yearly British Home Championship that used to be played between the two up to 1989.
Also, Scottish and English fans usually support their arch rival's opposition. Even though these two sides haven't met each other in the yearly match since 1989, there are rumors that these two sides could resume their yearly matchup as early as 2011.
No. 3 Germany vs England
A long-time rivalry between two great European sides, Germany vs England is a matchup that has existed for over 100 years. For the first 70 years of this rivalry, these countries only met each other in friendlies, but that all changed in 1966, as both sides met each other in Wembley Stadium in the World Cup final.
During the final, Germany were able to tie the game at two in the dying minutes, which led the game into extra time. During extra time, England striker Geoff Hurst had a shot on goal which bounced down from the crossbar and then out of the goal, before being cleared away by the German defenders.
After the play, the referee's consulted each other and decided to go with linesman Tofik Bakhramov's decision that the ball went into the goal and then out, giving England a 3-2 lead, which they would later add onto and gave England a 4-2 win and their first and to date, their only World Cup.
Since then, Germany have been in control of the rivalry, as they have beaten England in the 1970 and 1990 World Cup, and also beat England in Euro 1996.
Even though England beat Germany in Euro 2000, Germany beat England in the final international match at the Old Wembley Stadium and became the first team to defeat England in the New Wembley Stadium in 2007.
No. 2 Italy vs France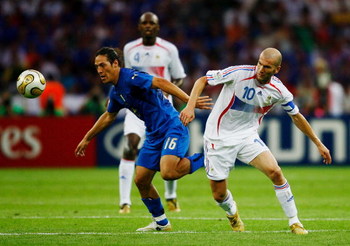 A matchup between two major European football nations that are neighboring countries, Italy vs France is a rivalry that has always had major implications on the line each time that these two sides meet.
For the first 72 years of the rivalry, Italy dominated with a 17-6-2 record (which included victories over France in both the 1938 and 1978 World Cups).
But France turned the tables, starting with a 2-0 win over Italy in the 1986 World Cup, and continued onto the 1998 World Cup in France, in which France defeated Italy 4-3 on penalties in the quarterfinal, as they went on to win their first World Cup.
After winning the World Cup, France continued their dominance over Italy, beating them 2-1 in Euro 2000 (which France also won), but the two countries didn't meet again for another six years.
The next time that Italy and France squared off with each other, it was the 2006 World Cup final in Berlin, and it turned out to be one of the most memorable World Cup finals of all time.
During the match, France, on the power of a Zinedine Zidane goal off of a penalty in seventh minute and Italy, on the power of a Marco Materazzi goal in the 19th minute, the game went onto extra time.
In the 110th minute, Materazzi started to insult Zidane, which caused Zidane to headbutt Materazzi in the chest, causing Zidane to get red carded in his final ever career match.
After the end of extra time, the game went to a penalty shootout, in which Italy won 5-3, and won their fourth ever World Cup. Since then, France and Italy played each other in Euro 2008, in which Italy beat France 2-0.
No. 1 Brazil vs Argentina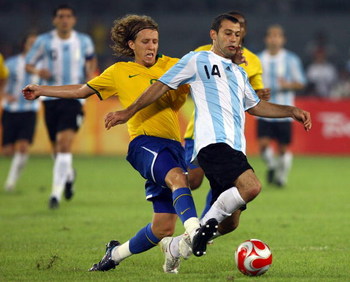 The greatest international football rivalry in the world, Brazil vs Argentina is a battle between two of the strongest countries in international football.
Ever since these two countries first met in 1914, Brazil lead Argentina in the competition 37-34, and the two countries have also had 23 draws between each other.
These two countries quarrel over who was the best footballer of all time (Pele or Maradona), and each match between these two titans has humongous implications on the line.
These countries also met in several World Cups in 1978, 1982 and 1990. In 1978, "The Battle Of Rosario," Brazil and Argentina had a scoreless draw but in the final match of the second group stage, in which Brazil beat Poland 3-1, forcing Argentina to beat Peru by at least four goals to advance onto the final.
Argentina subsequently beat Peru 6-0, and advanced to the final, where they defeated the Netherlands, and won their first World Cup. There are claims that Peru allowed Argentina to beat them the way they did, but no proof of this claim has been proven.
In 1982, Argentina and Brazil again met in the 1982 World Cup, where Brazil dominated Argentina 3-1, and were able to advance out of the Group of Death into the next round.
And in 1990, Claudio Caniggia scored the match's only goal off a pass by Maradona, which gave Argentina a 1-0 victory over their arch rival.
After the match, Brazilian player Branco accusing the Argentina training staff of giving him a bottle of water laced with tranquillizers while they were tending to an injured player, which the Argentine Football Federation claims never happened.
These clubs have also met in the Copa América several times, with Argentina leading the all time series in that tournament 3-2. With its great history of international football and the long existing rivalry between each other, this is the best international football rivalry in the world.
Keep Reading