NASCAR's 20 Coolest Pit Crew Helmets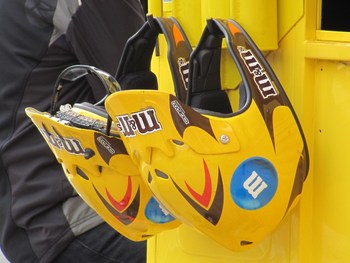 Safety innovations and improvements have been the watchwords for NASCAR since the time of its inception. In recent years, however, such safety concerns have become paramount.
Drivers are now encircled in carbon-fiber fitted seats, wear thickly padded helmets along with fire-resistent suits and gloves, and they drive in arguably one of the safest race car designs ever—the "Car of Today."
Watching replays of crashes these past few years by Joey Logano, Carl Edwards, Kyle Busch, Michael McDowell, and many others bear witness to this fact.
But those who seemingly take the most risk are those crew members who go "over-the-wall" at every pit stop. Pit road is a chaotic place with cars shooting by between 35-65 mph or higher, sliding to stops in and peeling out of pit boxes that are often small and narrow.
Wearing as much "body armor" as possible while still being able to perform their jobs as crew members is a necessity.
One can only imagine the number of concussions, skull fractures, and deaths that have been avoided by the requirement that all crew members who go over the wall wear proper head protection.
But mere functionality isn't enough anymore. The helmets have become in many ways both works of art and yet another way to display their sponsors as much as possible throughout a race broadcast.
What follows are the 20 helmet styles and designs I found to be most eye-catching as I wandered pit road at the Auto Club Speedway for the Pepsi 500.
Also, this group contains only a couple kinds of helmets; there were more but these were the most eye-catching. And as stated above, these are also the helmets that were used for the Pepsi 500.
This is important, as for the next race, some teams will be running different paint schemes—some even for different sponsors. And for some teams that means different pit crew helmet designs.
Although I did my best to capture the most representative sample of helmets from the teams that day, if I have left one out, please let me know.
All Photo Credits: M Brian Ladner
The Generic "Pit Warrior" Helmet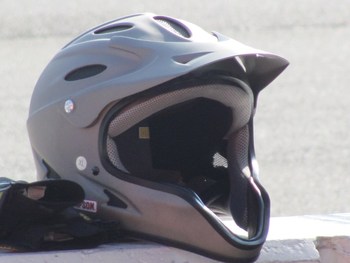 A Standard Pit Crew OTW Helment, with full face protection, good peripheral vision, and plenty of cooling vents. Simpson makes a fairly standard one known as the "pit warrior," which I would bet is the basis for most of the other helmets on this list.
The No. 2 Miller Lite Full-Face Helmet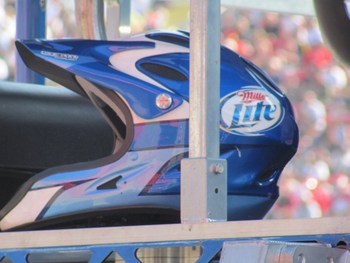 Again, a wide field of vision and plenty of protection for the head and face of Kurt Busch's crew members, particularly along the jaw-line.
The No. 5 Kellogg's/Carquest Full-Face Helmet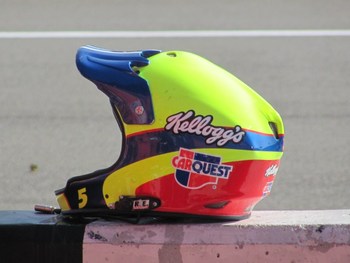 Mark Martin's team uses a slightly different version of the full pit crew helmet, although I'm sure it is equally functional.
The No. 7 Monster Full-Face Helmet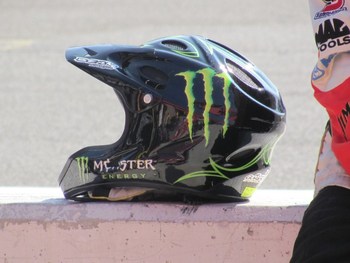 Robby Gordon's crew would look equally appropriate wearing this Monster helmet on either a NASCAR oval or a course in the desert.
The No. 11 Fedex Full-Face Tire Changers Helmet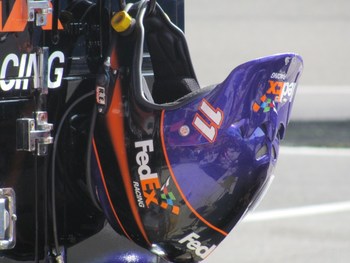 Denny Hamlin's crew uses a highly stylized full-face helmet for protection featuring his main sponsor, FedEx. Note the yellow lug nut attached to the left side of the helmet near the chin for easy access should a lug nut fall off the wheel and roll away...
The No. 14 Office Depot/Old Spice Full-Face Helmet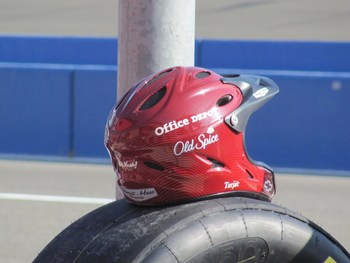 Tony Stewart's PIt crew manages to get both their main sponsors listed on one helmet, an effort no doubt aided by the fact that both sponsors use the same primary colors.
The No. 17 R & L Carriers Full-Face Helmet
This helmet, used by Matt Kenseth's crew during the Pepsi 500, begs the question, does each crew member own multiple helmets or do they have some way of swapping out parts or wrapping the helmets differently for each sponsor...
The No. 18 M&M's Full-Face Helmet
Easily one of the more recognizable helmets, by designing them this way, Kyle Busch's crew helps him find his pit area while getting his sponsor maximum exposure. Truth be told, the helmet looks like it might be covered by a candy covered shell.
The No. 18 M&M's "Shorty" Helmet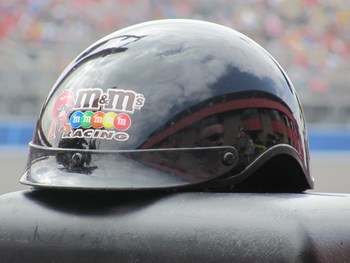 A little research shows that there are such things as over-the-wall "shorty" helmets. Who can wear these and who can (or must) wear the full-face helmet, I do not know.
The No. 20 Home Depot Full-Face Helmet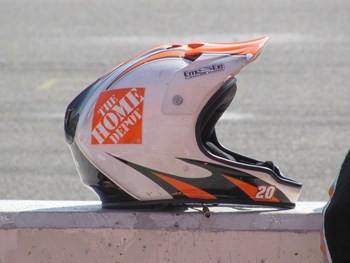 Joey Logano's crew wears wide-vision full-face helmets painted using the sponsor's main colors.
The No. 20 Home Depot Tire Changer's Helmet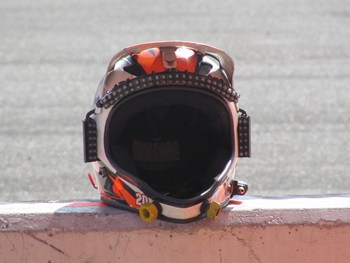 Front view of one of Joey Logano's tire changer's helmets. Note the yellow lug nuts affixed to the front as well as the arrays of LED lights for lighting the wheel during night race conditions.
The No. 24 Dupont Full-Face Helmet
Jeff Gordon has always liked the blue, red, and black with flames and the Pepsi 500 gave him a chance to integrate the design with not only one of his sponsors, but the sponsor of the event as well.
The No. 26 Crown Royal Full-Face Helmet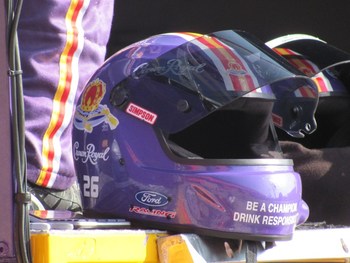 This more "standard" motorcycle-type helmet is used by at least one member Jamie McMurray's crew, as well as by many other teams (in their own color schemes of course).
I find it interesting that alcohol companies can still sponsor cars given the strong anti-drunk driving sentiment in the country, but tobacco companies can't. Even the slogan on the front, "Be a Champion. Drink Responsibly," seems a bit odd.
I'm sure the drivers themselves (and NASCAR) prefer that their champions (and all the other racers) as well as their crew members don't drink at all for long periods before a race.
The No. 39 U.S. Army Full-Face Helmet
Ryan Newman's crew looks menacingly like they are preparing for battle while donning these digitally-camouflaged "goarmy.com" helmets.
The No. 42 Target Full-Face Helmet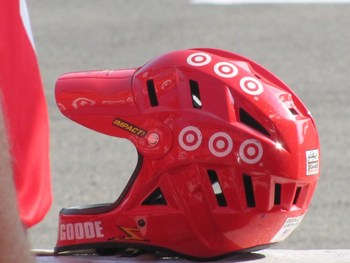 Although I'm sure this helmet is just as strong and comfortable as all the others, the Target logos and shiny plastic appearance makes this look more like a kid's helmet than that a crew member preparing himself to hop in front of a number of fast-moving, 3,400-pound cars.
But the red color does stand out, helping drivers see pit crew members—particularly if only their heads are sticking out above the car...
The No. 48 Lowe's Full-Face Helmet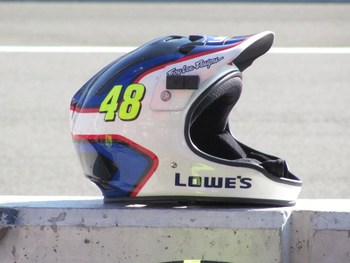 The helmets used by Jimmie Johnson's crew are products of Troy Lee Designs, a high-end race gear manufacturer.
The No. 77 Mobil 1 Full-Face Helmet
Sam Hornish Jr's crew uses helmets nicely stylized to include both Mobile 1 and AAA.
The Red Bull Full-Face Helmet
Definitely a different look given the shape, these helmets are used by Brian Vickers' crew and possibly by Scott Speed's as well.
The No. 98 Menard's Full-Face Helmet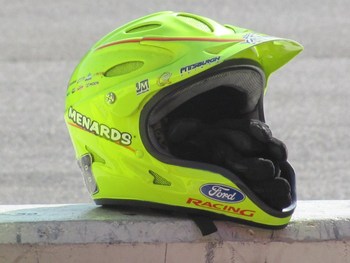 The neon yellow-green of Paul Menard's crew helmets serve a couple different purposes. Not only are they easy to see by the drivers while coming down pit road, but they also manage to get a sticker for nearly very sponsor somewhere on the outer shell.
The No. 88 AMP/National Guard Full-Face Helmet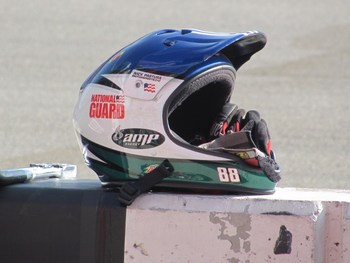 A fan favorite, Dale Earnhardt, Jr. wears a helmet designed by Nick Pastura Motorsports. Other clients of theirs include Clint Bowyer and NHRA star Antron Brown.
Keep Reading