Five Greatest University of Florida Football Players of All Time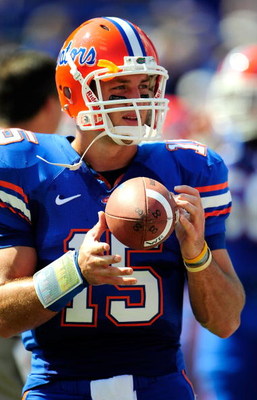 The University of Florida has established itself as a national football powerhouse. With two national titles in three years and the possibility of a third in four years, the Gators are at the pinnacle of college football.
Currently the No. 1 ranked team in the country and coming off a win at No. 4 LSU, UF seems well on its way at attempting to repeat. But success isn't an overnight thing. Let's take a look at some of the faces—five to be exact, that helped put the program on the map and have kept it there.
No. 5 Steve Spurrier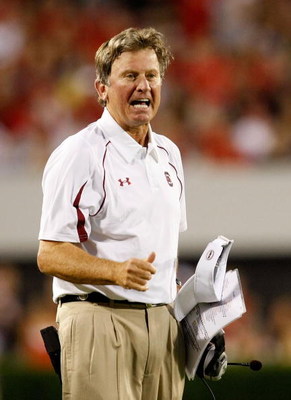 Years before he became the "ole ball coach," and coached the Gators to their first national championship, Spurrier was a nationally touted quarterback at UF from 1963-1966.
His three-year career lasted 31 games and in that time Spurrier completed 392 of 692 attempts with 4,848 passing yards and 37 touchdowns. He could run it too and finished with 442 yards on the ground.
He won the Heisman Trophy in 1966 and was selected as a first-team All American in 1965 and 1966.
Spurrier's name hangs in Florida's Ring of Honor at Ben Hill Griffin Stadium (along with the four other players on this list), honoring the most successful football alumni.
No. 4 Jack Youngblood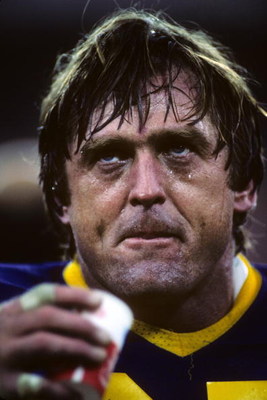 With a last name like "Youngblood," it was a no-brainer that he'd be great at something physical.
The Jacksonville, Fla., native went to college about an hour and a half away from his hometown. Youngblood, who played linebacker in high school, transferred over to the defensive line at UF.
Blossoming into a menacing defensive end, he would finish his career at UF with an All-American honor in 1970, led the team in sacks in 1969 and 1970 and was voted the Southeastern Conference lineman in 1970.
No. 3 Emmitt Smith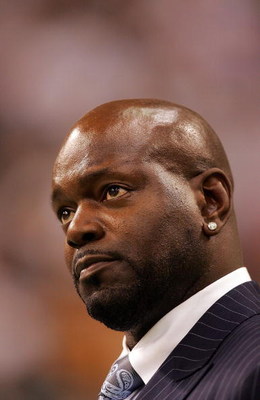 Viewed as perhaps too small and slow to make an impact in the NFL, Smith went on to become the NFL career rushing leader with 18,355 yards, surpassing Chicago Bear Walter Payton. Before he made it to the pros, Smith carried the ball for UF.
As a Gator from 1987 to 1989, Smith finished twice in the top 10 for the Heisman Trophy and was the Southeastern Conference (and national) Freshman of the Year.
In his junior year, his last year at UF, he was chosen the SEC Player of the Year and was on numerous All-American lists.
By the time he left, Smith owned school records for rushing yards in a season (1,599), career rushing yards (3,928), and career rushing touchdowns (36), among many others.
No. 2 Danny Wuerffel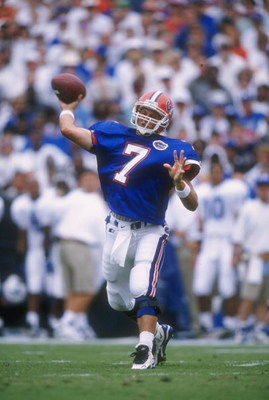 Danny Wuerffel did everything a college quarterback could. Under the coachful eyes of No. 5 on this list, Steve Spurrier, Wuerffel won the Heisman Trophy in 1996, was a two-time All American, and won a slew of other awards praising the quarterback position.
Wuerffel's Heisman year was the same year the Gators won their first national championship—over instate rival FSU. UF won the SEC each year Wuerffel was at the helm, from 1993 to 1996.
Wuerffel was named to the Gainesville Sun's UF Team of the Century in 1999 and was also a member of the Florida Gator's 100th Anniversary Team, which was chosen in 2006.
Wuerffel's career includes throwing for 10,875 yards with 114 touchdown passes, the best in SEC history and second-most in major college history.
No. 1 Tim Tebow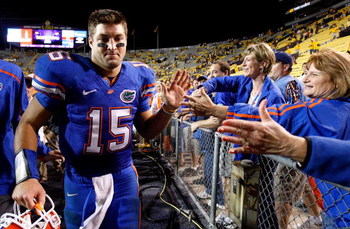 It's more than the passing titles. It's more than the countless trophies and revenue he's brought in, it's even more than the national titles. It's more than the devout Christian he is.
The current senior quarterback for the Gators, Tim Tebow has arguably already cemented his legacy as the best Gator football player of all time.
In his freshman year, he was seen lobbing up a jump pass for a touchdown in the Gators 2006 BCS National Championship win over Ohio St.
His sophomore year witnessed history as Tebow became the first ever sophomore to win the Heisman Trophy.
In his junior year, with a title and a Heisman under his belt, Tebow delivered a speech that rivaled religious sermons after a home loss to an un-ranked Ole Miss team in the fourth week of the 2008 season.
The Gators haven't lost since.
Tebow, who currently is one touchdown shy of tying the Southeastern Conference record for rushing touchdowns (remember, he's a quarterback), has also put up efficient numbers.
In his ongoing career, Tebow has completed 65.8 percent of his passes for 7,167 yards, 74 TDs to just 13 interceptions.
But it's what Tebow has done for the program off the field that makes him No.1. He has become the face of the University of Florida and arguably, college football.
Keep Reading

Florida Gators Football: Like this team?