7 things we saw in the first round of the MLB playoffs.
The first round of the baseball playoffs has come and gone with not too many surprises. The Yankees swept the Twins. The Phillies beat the Rockies. The Red Sox previously owned the Angels in post season but they were still coming in to the playoffs as the wild card, and the Dodgers beat the Cardinals two aces. Lets take a look at seven other things the post season has brought us so far.
1. Dexter Fowler made the greatest post season play since Derek Jeter's back handed throw to get out Jeremy Giambi at home (I still don't know why Giambi didn't slide).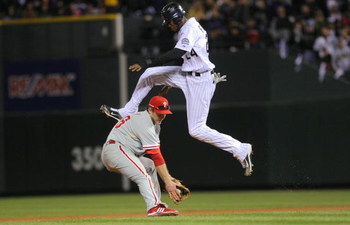 Dexter Fowler some how managed to leap over Chase Utley in the eighth inning last night to avoid being tagged out while staying in the base line. It was an incredible display of athleticism, sadly nobody will remember thanks to Huston Street giving up three runs in the ninth which caused Rockies to get eliminated by the Phillies.
2. Sometimes closers are as important as starters.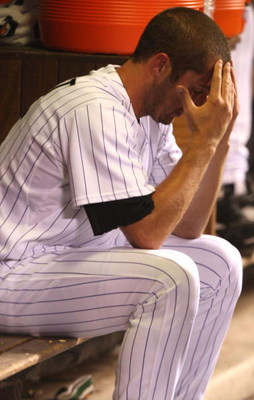 The Cardinals had two Cy Young candidates and they still got swept. In part thanks to Cardinals closer Ryan Franklin giving up two runs in the ninth in game two. Rockies closer Huston street gave up three runs last night and they lost. Red Sox closer Jonathan Papelbon gave up three runs in two innings and they lost. Twins closer Joe Nathan gave up two runs in two innings and they lost. Meanwhile the winning teams closers pitched a combined 10 innings and gave up one run.
3. Alex Rodriguez has finally delivered.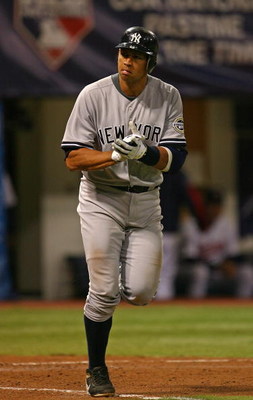 A Rod blew up against the Twins hitting .455 with two home runs and six RBI while slugging 1.000 and having an OPS of 1.500. Without a doubt the best playoff series of his career.
4. Brad Lidge is back, sort of.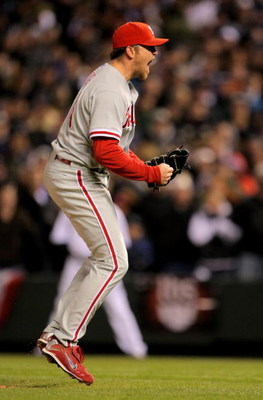 Phillies closer Brad Lidge had a 7.21 ERA in the regular season and was a big question mark entering the playoffs. In his series against the Rockies Lidge didn't allow a run and recorded a save, but he only pitched one inning and walked two batters so don't get too excited.
5. The Dodgers don't need Manny to win.
Manny had a very pedestrian first series batting a modest for him .308, hitting zero home runs and only driving in 2 runners. A significant drop from his past two post season series where he hit .533 and .500. The Dodgers have enough hitting and pitching that they don't have to lean on Ramirez anymore.
6. Joe Mauer is a great player on an average team.
If this post season didn't display just how valuable Mauer is to the Twins I don't know what will. The Twins got swept by the superior Yankees, but Mauer still hit .417 and had an on base percentage of .500.
7. The first round of the postseason wasn't that good.
Sure their were close games, in the playoffs their always are. If you were to listen to the experts on ESPN (I'm talking to you Tim Kurkjian) you would think that we just watched a classic week of baseball. For starters three of the series were sweeps and the other one was wrapped up last night 3-1, no game fives and no games that had dire consequences for both teams. Secondly the umpiring wasn't very good. Kevin Youkilis got hosed on two calls and Twins catcher Joe Mauer was robbed of a sure double by a poor foul ball call by and ump.
Keep Reading