96 Packers vs 09 Vikings: Which Team is Brett'er'?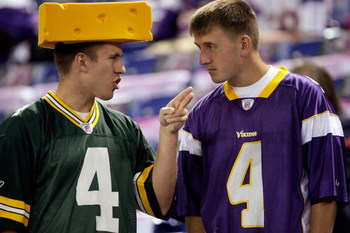 In a press confrence on Sunday Brett Favre said this Vikings team was the best he has ever played on.
In this slide show article I will compare the 96 Packers to this current Vikings team. The Packers team won the Super Bowl but this Vikings team that Favre is a part of is 5 -0 and that is the first time in his 19 year career.
Defense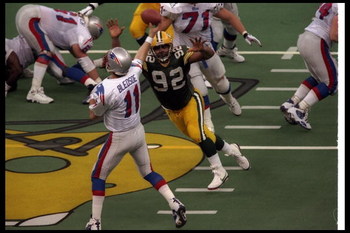 The element that both of these defenses have in common is a dominant pass rusher.
The Vikings are led by Jared Allen "The Mullet Man". The 4.5 sack performance that he showed in a Monday night prime time game verses the rival Packers was reminiscent of the "Minister of Defense" Reggie White.
Reggie White is the greatest pass rusher of all-time, even though he no longer holds the career sack record. White rushed the pass with a force that appeared like he could move buildings.
Other similarities of the two defenses are big run stoppers like Pat and Kevin Williams for the Vikes and Gilbert Brown for the Pack. Also Great secondary leaders in Antoine Winfield for Minnesota and Leroy Butler for Green Bay.
After reviewing the two Defenses, I would have to consider this a push because both seem to have little to no weaknesses.
Special Teams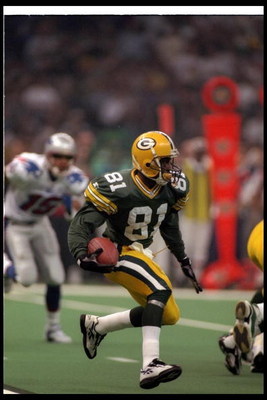 The Vikings have good special teams led by rookie Percy Harvin who has already returned a kickoff for a touchdown this season.
As big of a threat that Harvin may be I have to give the edge to Desmond Howard. That year Howard was with the Packers he had the best year of a punt returner to that date. Howard was a great field posession weapon not only in the punt but in the kick return game.
He also had the greatest kick return of my life in the Super Bowl against the Patriots, winning him the honors of MVP.
Coaching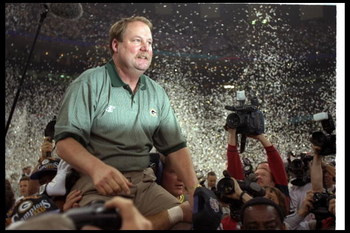 Brad Childress has a short head coaching resume compared to his counterpart in this scenario, Mike Holmgren.
However Childress has done a lot with a team that was missing a major piece in a legitmate quarterback. Over time he could prove to be a better big game winner than Holmgren.
Even though Holmgren has a losing record in the big game, I would have to give a coaching edge to the guy who has been to three Superbowls.
Offense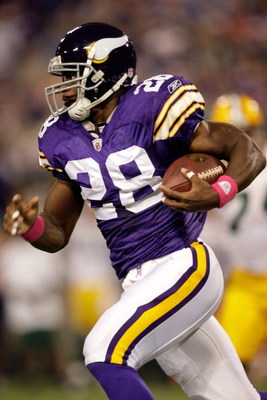 One name aught to sum this up, Adrian Peterson! No offense to Edgar Bennett but its not even close in regards to running the football.
If Peterson is to stay healthy for his entire career he could be one of the best runners in history. He gives Favre something he never had, a truly great back, although Ahmad Green and Dorsey Levens where solid backs they definitely benefited from the respect defensive coachs gave Favre and the passing game.
When I look at the rest of the offense its pretty close, wide outs Robert Brooks and Andre Rision for the Pack and Bernard Berrian and Sidney Rice for the Vikes are pretty comparable.
The tight end position I give a slight edge to Mark Chmura over Visanthe Shiancoe but the vikings TE is improving every week.
Young vs Old Favre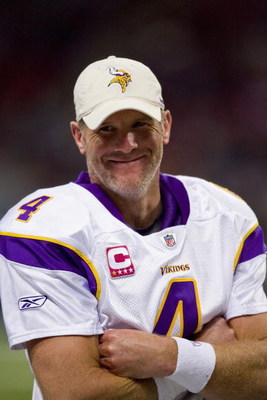 My thoughts on this one might shock some of you, but I think Favre is a better QB now.
I choose the current Favre for two reasons, the first being the AP factor. At no time in his career do I believe he could have taken pressure off of himself and actually do so by giving the duties to someone who is more capable than he is.
The second reason is that even though he might not be as mobile as he was at 26 or 27, nor does he have the same heat on the fastball, he now uses experience and slightly better descision making abilities to get rid of the football.
Its close but I have to give the slight edge to Favre on the Vikings when considering the complete thought of team football.
This thought can only be true with a Vikings Superbowl.
Vikings Need Superbowl for Validation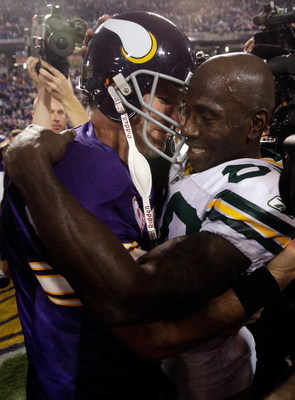 Heres how I add things up, I give the edge to packers on special teams and coaching.
Advantage to the Vikings on offense and the current Favre.
Push on the defensive side of the ball, leaving my tallies with a tie, 2-2-1.
But no one likes a tie so I'll tell you what I really think... This is contingent on the Vikings winning the Superbowl. I just feel that over all this is the best team Favre has played on due to Adrian Peterson.
Like I said anything less than the Bowl and Favre and I are both wrong. Superbowl or bust!!
Keep Reading

Minnesota Vikings: Like this team?