Heisman Race: Razorback Ryan Mallett Cracks the Ballot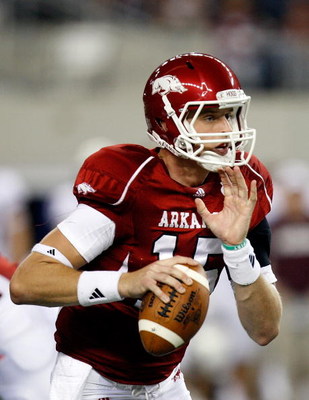 In this edition of the Heisman Trophy Race, the list has been chopped in half, from 12 to six.
In this edition, Texas quarterback Colt McCoy and Boise State quarterback Kellen Moore are on the outside looking in while Tim Tebow could be in jeopardy as far as his Heisman hopes are concerned.
Also, Arkansas takes on Florida and Notre Dame faces USC this week in what could become Heisman-busting showdowns for three of the candidates.
Furthermore, a complete listing of all Heisman candidates has been posted at Pete Dymeck's blog, BoiledBacon.com, so the readers can see where he stands on the candidates.
6. QB Jerrod Johnson (Texas A&M)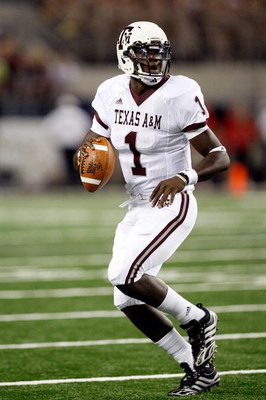 Stats: 5 G, 127/211, 1579 yards, 60.2%, 14 TD/0 INT, 10 sacks
Texas A&M: 3-2 (next: at Kansas State)
The Texas A&M Aggies may not be having a great season but their quarterback Jerrod Johnson is.
Johnson is ranked third nationally in yardage and of the top 40 leaders in passing yardage, he is the only one in the country to not have thrown an interception.
If that wasn't impressive enough, he is on pace to destroy the touchdowns thrown record at Texas A&M, the same record he holds.
One does not have to give Texas A&M any credit until they beat someone good but Johnson, who has 18 total touchdowns in five total games, should be getting as much praise as anyone in America right now.
5. RB Ryan Williams (Virginia Tech)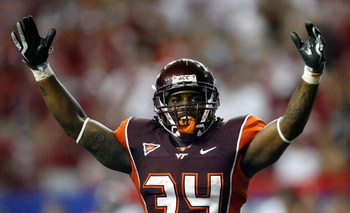 Stats: 6 G, 126 carries, 734 yards, 9 TD, 7 receptions, 143 yards
Virginia Tech: 5-1 (next: at Georgia Tech)
It is hard enough to be a freshman and win the Heisman Trophy but in recent memory, it is hard to win it at any position other than quarterback.
Ryan Williams is on a tear this season, averaging more than 100 yards per carry while shouldering the Virginia Tech offense as its passing attack improves each week.
With a loss here and there for Florida, Alabama, and Texas, and by Virginia Tech winning out, Williams will more than likely lead the Hokies to the national championship.
4. QB Ryan Mallett (Arkansas)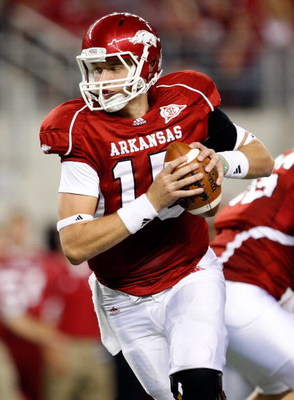 Stats: 5 G, 91/160, 1422 yards, 56.9%, 13 TD/3 INT, 8 sacks
Arkansas: 3-2 (next: at Florida)
So far this season, Ryan Mallett has terrorized his opponents in every game but the Alabama matchup, where the Crimson Tide stymied Mallett and forced him to complete just 34.3 percent of his passes.
Mallett has moved on from that game. He is tied for sixth nationally in touchdown passes thrown and is 15th in passer rating.
This coming week the Razorbacks travel to Florida to face a defense that has shut everyone down so far this year. Ryan Mallett needs a coming out party as this game could cement his position for the Heisman Trophy.
3. QB Jimmy Clausen (Notre Dame)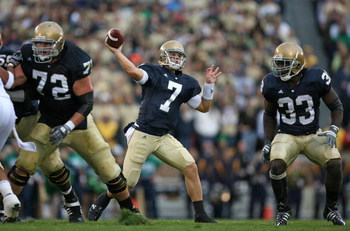 Stats: 5 G, 100/148, 1544 yards, 67.6%, 12 TD/2 INT, 8 sacks
Notre Dame: 4-1 (next: USC)
Jimmy Clausen leads the nation in passer rating. He is also 12th in yards and 14th in touchdowns thrown.
He is leading the Fighting Irish back into the national scene in hopes of earning a Bowl Championship Series bid.
This past week, Notre Dame was off so no stats were accumulated for Clausen but coming up they have the USC Trojans at home in a game which could be a Heisman-breaker for Clausen.
2. QB Tim Tebow (Florida)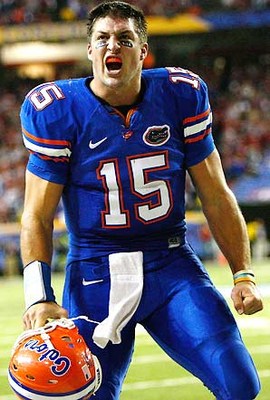 Stats: 5 G, 55/84, 777 yards, 65.6%, 7 TD/2 INT, 6 sacks, 5 rushing TD
Florida: 5-0 (next: Arkansas)
Tim Tebow is third in America in passer rating but his main selling point, his aggressive running, may cost him a chance at winning another Heisman Trophy.
Since suffering from a concussion, Tebow lacked the aggressiveness that he usually showed when carrying the ball.
Passing-wise, he is already at a disadvantage as compared to the rest of the quarterbacks in the Heisman race due to his insufficient numbers.
We will see how the season pans out right now for Tebow and his No. 1 Florida Gators but right now, he still has earned the No. 2 spot in the Heisman race.
1. QB Tony Pike (Cincinnati)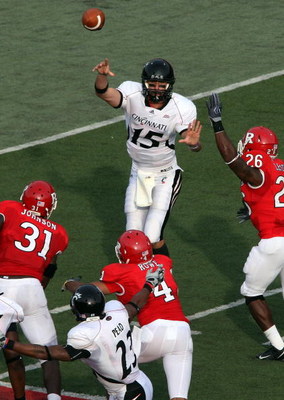 Stats: 5 G, 116/174, 1493 yards, 66.7%, 13 TD/3 INT, 3 sacks
Cincinnati: 5-0 (next: at South Florida)
Cincinnati quarterback Tony Pike was off this past weekend but he will face his most daunting task of the season when he faces South Florida this week.
Pike, a Big East gunslinger, has taken the Heisman race by storm and could continue to improve on his standing as long as the other players not included in this list continue to underperform, most notably Colt McCoy and Jacory Harris.
Keep Reading

Arkansas Razorbacks Football: Like this team?