Case of the Mondays: Zorn, Riverdancer, Jauron, Nutcase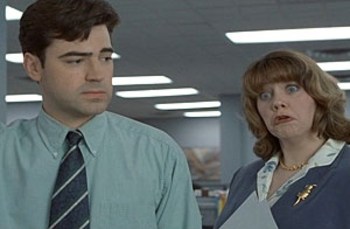 Happy (or not so happy) Monday. Did you get the memo about your TPS reports?
Everyone has seen the movie Office Space, and everyone's had a Case of the Mondays as well. Each Monday, I'll go through to world of sports to pick out candidates who may have a bad Case.
This week, I debate the merits of Jim Zorn and his weekly firing watch after collapsing against the Panthers, Jonathan Papelbon and why he won't be doing any Riverdancing, Dick Jauron and his Bills, and finally Delmon Young and his crotchal region.
Jim Zorn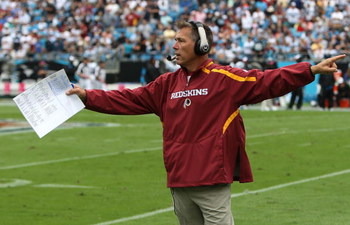 Let the weekly debate of when Zorn will be fired begin. This week, his Redskins blew a 15-point lead to the Carolina Panthers, one of those teams that was supposed to be good but hasn't been. Daniel Snyder reportedly met with Joe Gibbs this weekend to discuss things. I doubt they were discussing Gibbs' return to coaching, but I can assure you they talked about Zorn's immediate future.
If all Redskins fans are as crazy as this guy, Zorn had better watch his back when he leaves the stadium:
Jonathan Papelbon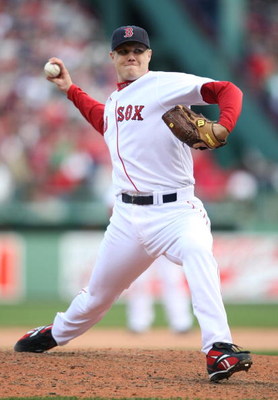 The Red Sox closer came into the 9th inning with a two run lead and quickly retired the first two Angels he faced. Then the wheels came off. A single, a walk an RBI double, an intentional walk, and a two-RBI single netted the Angels three runs, and a 1-2-3 bottom of the ninth wrapped up the sweep of the Red Sox.
It's one thing for a closer to blow a save. But to blow a two run lead when there are two outs and nobody on in the ninth is pretty bad. Guess there won't be any riverdancing in Boston this year.
Dick Jauron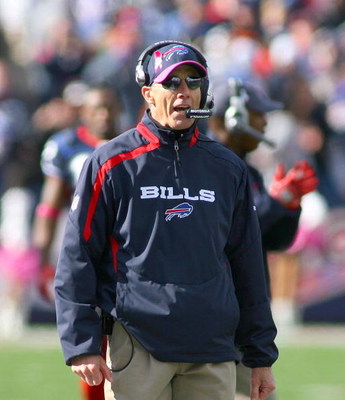 Oh boy, the Bills are in trouble. They were supposed to be better this year after picking up TO. But they still have an unproven quarterback, and they fired their offensive coordinator before the season started.
Yesterday, they only gave up six points to the Browns. Problem is, the Bills only scored three. What's worse, is they lost to a quarterback who only completed two of his 17 passes for 23 yards.
Hey, I think the UFL is looking to expand.
Delmon Young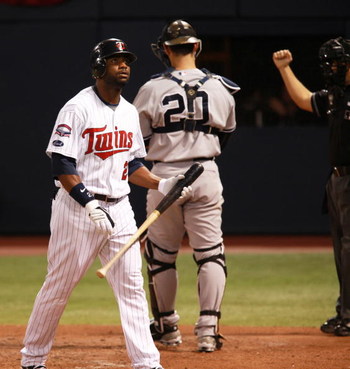 Poor Delmon. I have a hard time making fun of him for this one, but I'll do it anyway. Last night, Young fouled a ball at the plate, it bounced up and hit him in the crotchal region. What's worse, the trainer was definitely caught on TV laughing as he came out to check on Young.
Most outfielders don't wear cups, and it came back to bit Young last night.
Young did hit a double in that at-bat, but was still in obvious pain after reaching second base. Compounding things was the Twins' loss to the Yankees, ending their season.
So that's it for this week. Who's got the worst case of the Mondays? I'll go for Dick Jauron. What do you think?
Keep Reading