OMG! The Top 10 Sideshow Bouts in MMA History.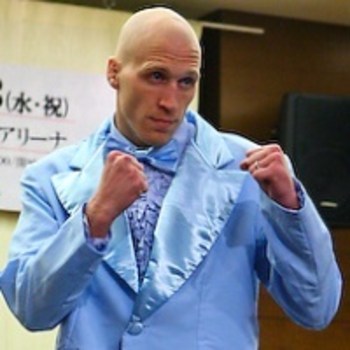 Like Nick Thompson's suit (Which I'm guessing Joesph Lupoli loaned him, after he wore it to his 25 year high school reunion... in 1977) these fights will make you laugh, cry, or feel copious amounts of physical and psychological pain (like a Ken Shamrock fight).
You've been warned.
No I'm serious, this isn't a Saw movie where you can die of brain cancer while having your head cut off, and come back to do umpteen more movies. This is long lasting scar tissue folks...
Number 10: Shannon Ritch vs. Kazushi Sakuraba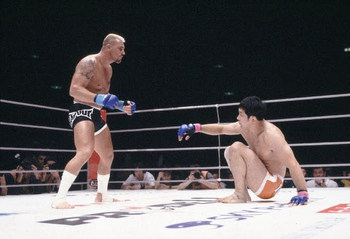 Oh Pride, I will miss you so. For only you could matchup everybodies least favorite can with your best middleweight.... Predictably "The Cannon" was dismantled and shamed. However, that's what he does for a living so he's used to it.
This was a main event, and a title match... yes thats right 13-18 Shannon Ritch fought for the Pride Middleweight title. He's also the first one to bring it up whenever he can.
Number 9: Sean Gannon vs. Brandon Lee Hinkle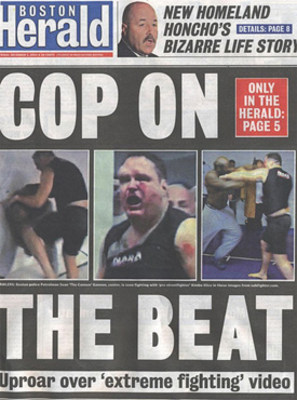 Back when Kimbo was the most requested UFC signing in the history of time. The UFC decided to sign much cheaper Sean Gannon to star in a headline bout.
Under threat of suspension, Gannon entered the octagon to be TKO'd in the first round.
He would never fight again.
Number 8: Kevin Ferguson vs. James Thompson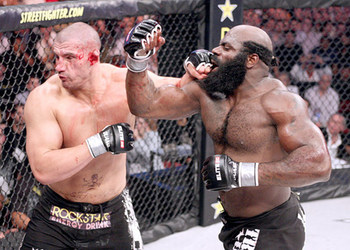 What I believe is the bout(and orginization) that scared our sport, Kevin Ferguson entered the cage undefeated to take on competitive can James Thompson.
What ensued was the most ridiculous fight ever taken seriously.
When I think of reasons why the media doesn't run up and embrace the sport, this is the reason that always comes to mind.
It's like the Clinton scandal of the 90s. Can you really just look at his sparkling presidential record of deficit cutting and economic growth? Or will he be "the Viagra" president? Exactly, whenever we bring up UFC 100, we'll always have Kimbo vs. James Thompson as a Scarlett letter burned into our chest.
Thanks interweb.
Number 7: Keith Hackney vs. Emmanael Yarborough
I promise that's the only photo of Miley Cyrus i'll ever subject you to.
The UFC was a badlands of combat, a mess of single flawed styles, that met on the basis of luck.
Well, Lady Luck was smiling for us when sumo wrester, and my favorite Conan O'Brien guest ever, was drawn against the smallest man in the field Keith Hackney in the first round.
Hilarity would ensue.
Number 6: Sentoryu Miller vs. Giant Silva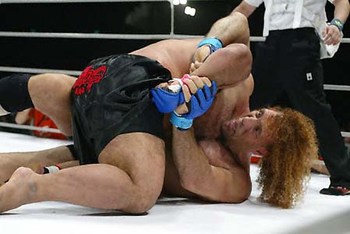 In the annuals of how to lose... kimura from side control takes the cake. Then add in the fact this was a giant pro wrestler submitting a midget sumo wrestler.
Number 6 maybe too low.
Number 5: Tank Abbott vs. John Matua
Billed as a 400 lbs. Samoan bonebreaker John Matua entered the Octagon... What we learned was like records pre-scale weights are mostly lies.
While the fight itself is summed up basically by the photo. What moves this past others is all the fallout from it.
From Tank getting "aroused" to what the then UFC president said about gloves. It's possibly the most hilarious fight in UFC history.
Number 4: Minowa vs. Zuluzinho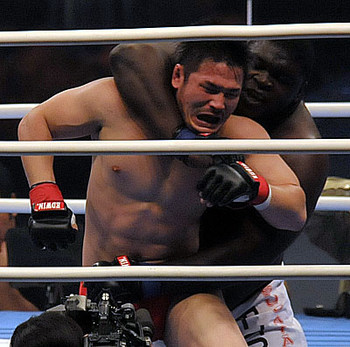 One of many Minowa bouts to be considered. The Japanese guy in his red underpants might as well lept a tall building in a single bow, when he exacuted a flawed Seoi Otoshi on the goliath.
It only gets better in gif form ladies and gents.
Number 3: Hong Man Choi vs. Jose Canseco
Picking up right where Pride left off, DREAM announced their Super Hulk Tournament. The cream of the crop was steriod dime dropper Jose Canseco.
Auditioning for a career making kung fu movies that only he thought was actually on the table. He took his Lousville Slugger down to Japan to take on the Techno Goliath. If Jose could fire himself... he should.
Number 2: Minowaman vs. Hong Man Choi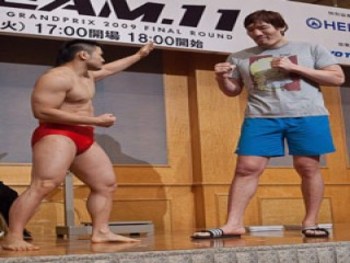 I know what your thinking. Kenny we all know you made this list because of the awsomeness of this fight... How could it possibly be number 2?
Well....(hit the arrow)
Number 1: Megumi Yabushita vs. Svetlana Goundarenko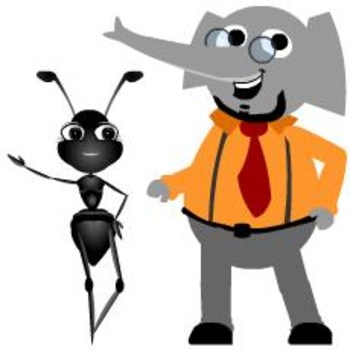 Because this fight happened. Google it.
This fight makes Manny Y vs. Hackney look like the warm up act to a current KISS show.
It may only last about a minute, but like your first sexual encounter you'll be scared for life.
Keep Reading