MAAC 2009-10 Season Preview: Siena to Threepeat?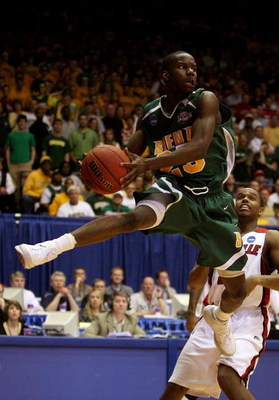 Not much about the Metro Atlantic Athletic Conference has changed between last season and today.
Sure, Kenny Hasbrouck, Devon Austin, Gary Springer, Ryan Schneider, Benson Egemonye, and Marquis Sullivan all graduated. Chris Smith transferred, Fairfield dismissed Jon Han, and David Devezin is gone due to eligibility issues.
But all that is normal. Seniors graduate; others leave for various reasons.
It will take some time for MAAC followers to become accustomed to the absence of the Hasbroucks and Austins, but, even without the familiar faces, the general theme of the league will be almost identical to what fans are used to.
Once again, Fran McCaffery's Siena Saints are slated as the obvious preseason favorite and Joe Mihalich's Niagara Purple Eagles are close behind in second. After those two, though, spots three through 10 can be taken by anyone.
The order of this slideshow is based on last year's final standings.
Siena Saints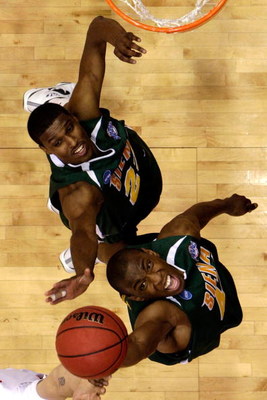 2008-09 record: 27-8, 16-2 MAAC
Key loss: Kenny Hasbrouck
Overview: The Saints return four starters and have a well-prepared Clarence Jackson to fill Hasbrouck's hole at shooting guard. Point guard Ronald Moore is the best floor general in the MAAC, Edwin Ubiles and Alex Franklin will be in competition for the conference's Player of the Year award, and Ryan Rossiter will out-hustle any opponent.
In-depth preview: http://bleacherreport.com/articles/239459-siena-preview-saints-poised-to-reach-big-dance-for-third-straight-year
Niagara Purple Eagles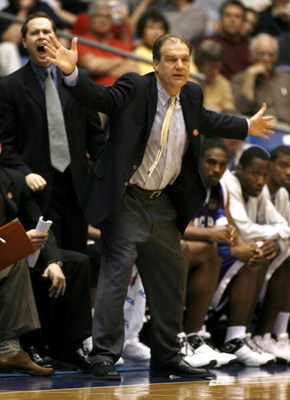 2008-09 record: 26-9, 14-4 MAAC
Key loss: Benson Egemonye
Overview: There's no way to sugarcoat the loss of Egemonye. Without an established big man, the Purple Eagles will be at a disadvantage when they play the Saints. Freshmen Andre "Scooter" Gillette and Eric Williams will compete to fill the void.
Even if the Purple Eagles don't have a great center, their guard play alone should take them deep into the MAAC tourney. Led by Tyrone Lewis, Bilal Benn, Anthony Nelson, and Rob Garrison, Niagara's backcourt is arguably better than Siena's.
Rider Broncs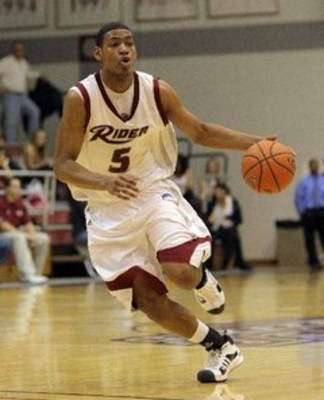 2008-09 record: 19-13, 12-6 MAAC
Key loss: Harris Mansell
Overview: The Broncs return four of their top five scorers, including Preseason Player of the Year favorite Ryan Thompson. Losing Mansell is not a tragedy for Rider, especially because Monmouth transfer Jhamar Youngblood's career averages are nearly identical to Mansell's.
Forward Mike Ringgold steadily progressed during his first two seasons in Lawrenceville and should be ready for a productive junior season. Sophomore Novar Gadson was named to the MAAC Rookie Team after his impressive freshman campaign.
Rider is not as deep or talented as Siena and Niagara, but they are good enough, especially when they're hot from deep, to defeat the top two teams.
Manhattan Jaspers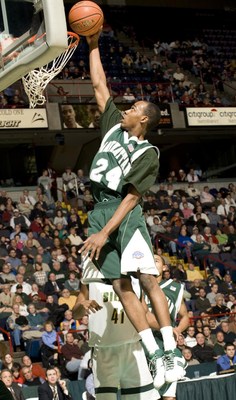 2008-09 record: 16-14, 9-9 MAAC
Key losses: Devon Austin, Chris Smith, Herve Banogle
Overview: Losing about 32 points per game is certainly not easy to overcome, but coach Barry Rohrssen kept himself busy this offseason, signing a few players who will be able to contribute immediately.
Junior Rico Pickett, who transferred from Miami Dade Junior College, might be Rohrssen's point guard from day one. For more on Pickett, read this: http://bleacherreport.com/articles/240667-rico-pickett-to-have-enormous-impact-on-manhattan-jaspers-basketball
An athletic scorer from Roslyn High School, George Beamon will compete for a starting spot. By now, almost everyone has heard of the one-handed Kevin Laue, who will provide a much-needed presence down low on defense. Rumor has it that Mohamed Koita, an athletic shooting guard who was recruited heavily by UCLA, is awaiting NCAA clearance.
Other than the incoming recruits, senior Darryl Crawford, who emerged as a scorer last season, will be a major contributor. Antoine Pearson needs to revive his game to where it was three years ago, Laurence Jolicoeur needs to play bigger, and Rohrssen needs to let this athletic team run.
Fairfield Stags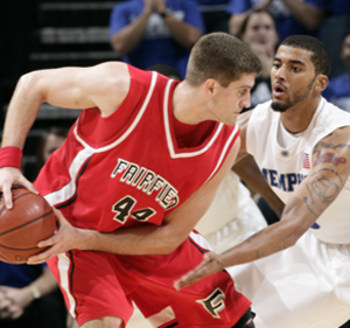 2008-09 record: 17-15, 9-9 MAAC
Key losses: Jon Han, Herbie Allen
Overview: A run at a 2009-10 MAAC Championship depends on whether or not senior Greg Nero is able to play. After playing hurt during the second half of 2008-09, Nero developed some serious sinus problems that could potentially force him to miss all of this season. If he can't play, the Stags will have lost their top three scorers. Nero is the team MVP.
Warren Edney, Anthony Johnson, and Yorel Hawkins will need to consistently step up in order for the Stags to be a tough competitor with the upper tier of the MAAC.
Edney, who missed 16 games last season, is not yet 100 percent recovered from a foot injury, but should be the Stags' go-to guy on offense.
Johnson reached double-figures in half the games he played prior to sitting out the final 11 with a blood clot. The 6'8" forward will need to be more consistent on the offensive end this year.
After Johnson got injured, Hawkins emerged as an inside force, scoring in double figures in 10 of the final 11 contests and posting four double-doubles. Hawkins must be in his final-third form in 2009-10.
Even with these three talented ballplayers, Fairfield desperately needs Nero to play. Otherwise, there is a chance they might finish in the lower half of the standings. If Nero returns at full-strength by MAAC play, the Stags could compete with Rider for third place.
Saint Peter's Peacocks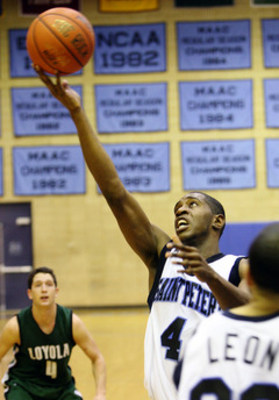 2008-09 record: 11-19, 8-10 MAAC
Key losses: none
Overview: The Peacocks play solid defense. An inefficient offense (ninth in the MAAC) is the reason they are a middle of the MAAC team instead of a top of the MAAC team.
Ryan Bacon is the best player on this team. Not only can he score (11.5 ppg), but he can also rebound (7.9 rpg), block shots (2.4 bpg), and shoot for a high percentage (52.7 percent) from the field.
Wesley Jenkins and Nick Leon run the backcourt and need to be more productive on offense. Both guards averaged over 15 ppg last season, but must raise their sub-.400 conversion rates.
A lack of depth and experience could hinder the Peacocks. Akeem Gooding, the team's fourth-best scorer, graduated. Other than Bacon, Jenkins, and Leon, only three Peacocks played 10-plus minutes per game last year.
Iona Gaels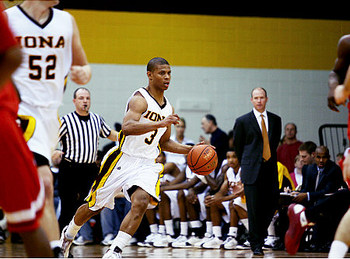 2008-09 record: 12-19, 7-11 MAAC
Key losses: Gary Springer, Devon Clarke
Overview: Like Saint Peter's, Iona needs a more productive offense. The Gaels don't return any players who averaged over 10 ppg in 2008-09; therefore, they need a few to step up their scoring game.
Scott Machado, Milan Prodanovic, and Jonathan Huffman are the likely candidates to lead the offensive attack.
After winning the 2008-09 MAAC Rookie of the Year, Machado has a bright future ahead of him. He'll be a great team leader and is a three-point shot away from being considered an elite MAAC player.
With games against Boston University, Florida State (one of three in the Old Spice Classic), Providence, and UConn, the Gaels play a tough OOC. If they fare well in the OOC, expect their confidence to be high entering MAAC play.
Loyola (MD) Greyhounds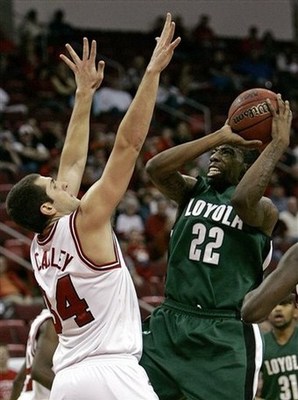 2008-09 record: 12-20, 7-11 MAAC
Key losses: Marquis Sullivan, Isaac Reid
Overview: The Greyhounds have a lot to improve. Jamal Barney is their best player, but his erratic shooting tends to hurt Loyola. Brett Harvey and Brian Rudolph are solid offensive players, but neither are too effective on defense. Anthony Winbush will need to improve his offensive game, but at least his defense is valuable.
Loyola fans should not have high expectations for 2009-10; a top-six finish is out of the question.
Canisius Golden Griffins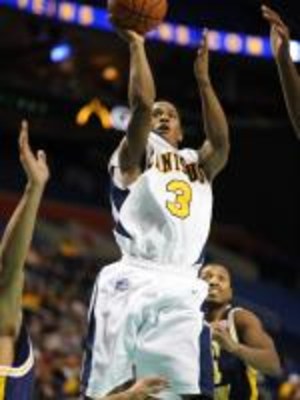 2008-09 record: 11-20, 4-14 MAAC
Key losses: None
Overview: The Golden Griffins are this year's sleeper team after finishing tied for last place in 2008-09. This team has already played two seasons together and every key component is back for a third.
The chemistry between Frank Turner, Julius Coles, and Greg Logins developed tremendously between 2007-08 and 2008-09 and further improvement should be expected. If Turner can find the long range form he had as a freshman, these three offensive weapons could be extremely difficult to defend.
Logins, Chris Gadley, and Tomas Vazquez-Simmons return as the MAAC's best rebounding frontcourt.
Marist Red Foxes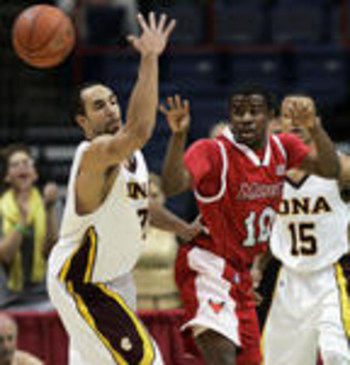 2008-09 record: 10-23, 4-14 MAAC
Key losses: Ryan Schneider, David Devezin, Lawrence Williams
Overview: Schneider and Devezin led the Red Foxes in scoring and Williams was the team's second-best rebounder. That's pretty hard to replace, but, fortunately, Villanova transfer Casiem Drummond and Boston College transfer Daye Kaba are eligibile for 2009-10 and should alleviate the loss of the trio.
Neither Drummond nor Kaba posted outstanding statistics with their previous schools because of little playing time, but they are expected to perform at a high level in the MAAC. The addition of Drummond, a bulky center, is key because the Red Foxes have locked a dominant post force during the last two seasons.
The Red Foxes, who led the MAAC in three-point shooting, return R.J. Hall and DeJuan Goodwin, two of their best shooters from a season ago.
Projected Conference Standings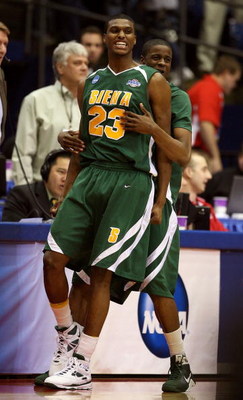 1. Siena
2. Niagara
3. Rider
4. Fairfield
5. Manhattan
6. Saint Peter's
7. Canisius
8. Iona
9. Loyola
10. Marist
Keep Reading