WYR: College Football Rivalry Edition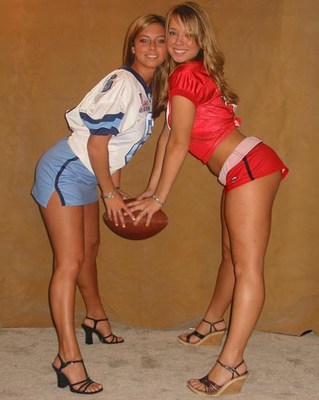 With college football in full swing, one thing I always look forward to each year are the rivalries. There's nothing better than two teams that just plain don't like each other fighting it out on the gridiron.
Oh, wait a minute, there is something better. What if those teams fought for supremacy by how hot their cheerleaders were? Well, if you had that thought as well, consider your wish granted.
In this edition of "Would You Rather," we take a look at some of the most heated rivalries and make them even hotter by asking, which team's cheerleader would you most want to rah rah rock your world?
Texas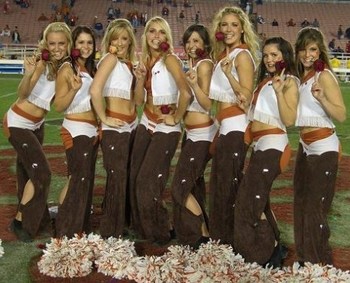 A Rose Bowl by any other name would smell just as sweet, but nothing could be as sweet as this lineup of Texas cheerleaders rocking the chaps and the bare midriff.
Sometimes the trick is letting us guys see just enough skin to get us interested, but leave the rest a mystery.
Or would you rather have...
Oklahoma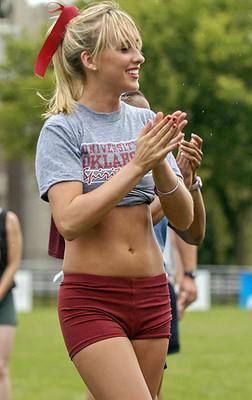 Sometimes the more skin, the better.
Who wears short shorts? This OU cheerleader wears short shorts. Let's everybody clap our hands for this Midwest beauty and her wonderful wardrobe choice.
Arizona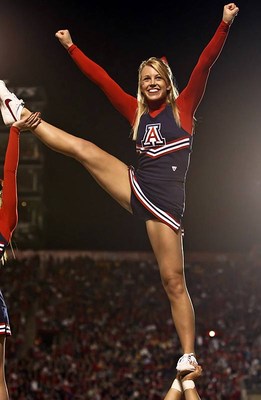 One reason men love cheerleaders so much, other than the hotness and the outfits? Flexibility.
Men love women that are flexible for obvious reasons. Sometimes they may want Chinese food, but we're really in the mood for a burger. If they're flexible, that just makes things so much nicer for us.
That's what you think when you see this picture, right?
Or would you rather have...
Arizona State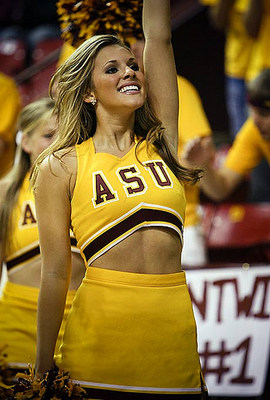 Look, this cheerleader really wants to win this matchup. She's even reaching her hand as high into the air as she can as if to say, "Ooooh, pick me! Pick me!"
Or she's waving to her douchey boyfriend in the stands. I tend to favor the former.
Auburn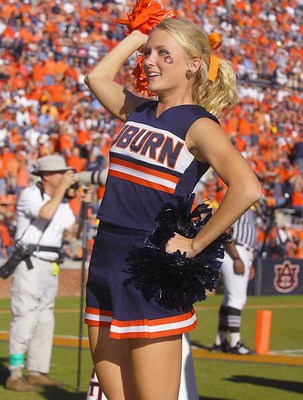 Auburn is off to a surprisingly hot start this year. Many people credit new head coach Gene Chizik, but I think it may have something to do with this cheerleader. Hotness begets hotness. It's just the laws of physics.
Or would you rather have...
Alabama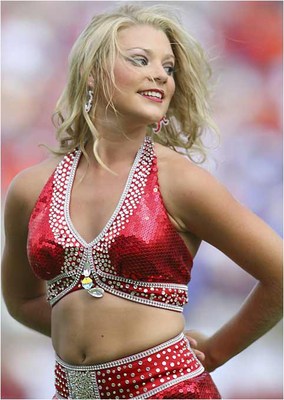 Bama cheerleaders always seem to have more rhinestones than your average cowboy on their uniforms. But all of the shiny and dazzling lights aren't as bright as when this sexy coed flashes you a smile.
Either way, it can be very distracting during a game. Wow, the running back just broke a tackle, and he's heading right for the end zo...ooh, shiny!
Cal Berkely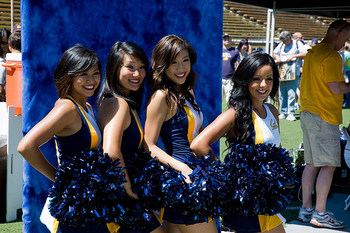 Cheerleaders are like animals sometimes. They make loud noises to confuse their opponents, wear bright colors to attract males, and they just naturally know that they will have more power if they move in packs.
One of these Berkeley girls would be nice, but four? It's hard to look away.
Or would you rather have...
Stanford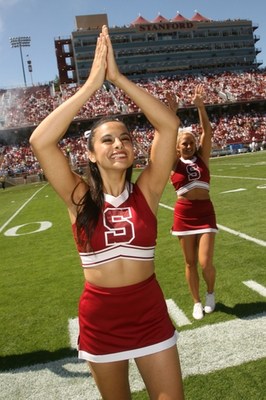 You know when you're describing a girl that you like to people, you always have to add in "smart" just so you don't seem like a completely shallow jerk? Well, if you're talking about a Stanford girl, you definitely wouldn't be lying.
Not only is this girl hot, but she could also tell you the best way to figure out the angle that her elbows are making just by eyeballing it. Hey, I never said that those smarts had real-life application.
Florida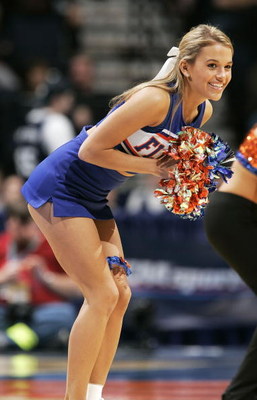 Unlike football players, hotness is immune to most injuries. For example, Tim Tebow may not play this week because of his concussion, but whether this girl is concussed or not (I love that word, concussed) she is still just as hot.
In fact, it may actually work to your advantage if a hot girl is concussed. She may be more easily persuaded to go out with you.
Or would you rather have...
Georgia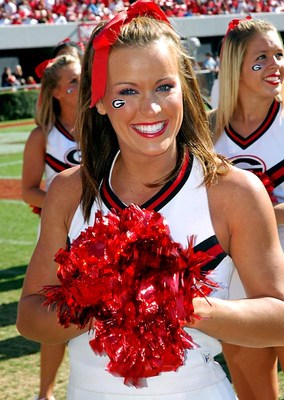 At the World's Largest Outdoor Cocktail Party, you might just be fortunate enough to run into one of these girls. Actually, you'll run into a lot of these girls.
In the South, the one thing women love more than football is a reason to wear a dress and get drunk. It's a beautiful thing.
Florida State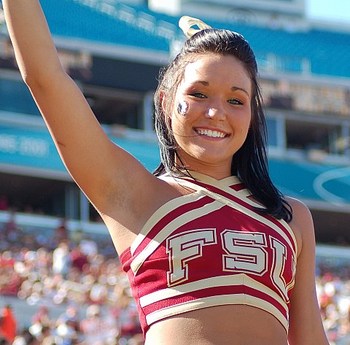 At Florida State games, most people tend to get distracted by the cowgirls in the stands. But whatever you do, don't sleep on the Seminoles' cheerleaders. They don't need cowboy hats or shirts cut for optimal cleavage to be hot. Well, it wouldn't hurt, but this girl is definitely fine just the way she is.
Or would you rather have...
Miami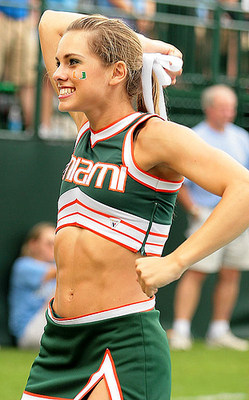 Miami cheerleaders are tough. They draw you in with their hotness, but they can kick your butt too. Just look at this girl. What seems like a harmless cheer is actually her ready to drop some 'bows on your ass.
Eh, it's worth the risk. She can beat me up any day.
Kansas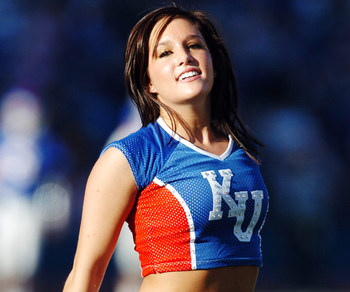 I don't know what else to say. If I got the chance, I would let this Jayhawk rock AND chalk me.
Kayyyyyyyy Youuuuuuuuuuu.
Missouri
Mizzou definitely has plenty of talent with their cheerleaders. The thing about this picture is that if it didn't cut off where it did at the bottom, you would see that this girl's legs go on for at least a few more miles.
Cheerleaders are the reason short skirts were invented.
Or would you rather have...
Kentucky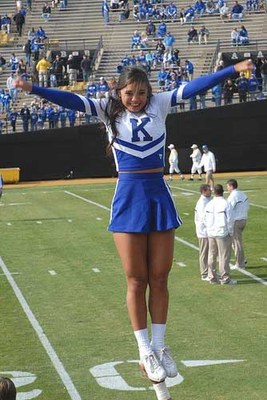 Kentucky cheerleaders are really, really ridiculously good (as in winning 17 of the last 25 national championships), but they're also really, really ridiculously cute. I mean, come on, who couldn't love that face?
Or would you rather have...
Louisville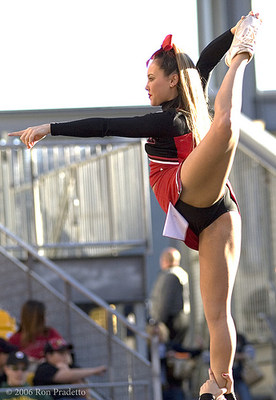 If you think that football players are competitive, they've got nothing on the cheerleaders.
I asked this one to make a "P" with her body, and instead of just using her arms, she decided to get super competitive and fancy.
That's her pointing to me defiantly. You win Mandy. Do you hear me? You win!
Michigan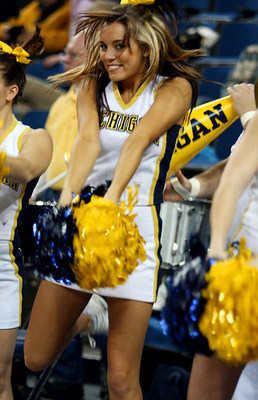 A female friend of mine was recently showing me the three kinds of dance moves that girls use to drive men crazy. One of them was just as simple as pushing her hair into her face from behind her head.
I don't know what it is, but something about seeing a girl with her hair flying all over the place just does it for guys. This cheerleader is no exception.
Or would you rather have...
Ohio State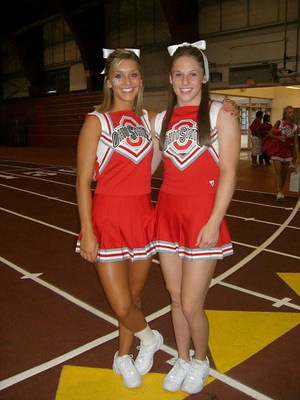 It's a sad reality, but in fact, many cheerleading squads around the country are having their budgets cut. Ohio State is no different.
The most devastating hit? As you can see from the picture, they were only able to send half their girls to the tanning bed.
Oregon State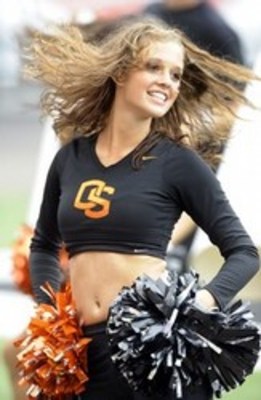 You may think that this picture is of an Oregon State cheerleader spinning around quickly, but actually she's standing perfectly still and just slept on her hair really funny.
Okay, even if that was true, she's pretty cute, right?
Or would you rather have...
Oregon
Did you really think I'd be able to keep my girl Amanda out of this slideshow? No way.
In fact, I'm not even going to wait for you to make your decision. It's Oregon. You would rather have Oregon over Oregon State.
You're welcome.
USC
I would like to take this time to thank Southern California just for existing.
Because you know what? Whether you take USC or UCLA...
UCLA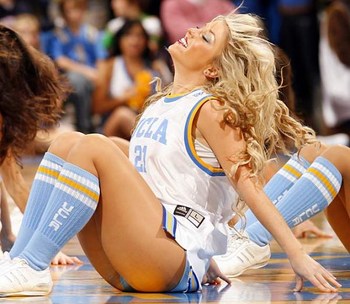 Keep Reading