10 things I've learned from the first quarter of the NFL season.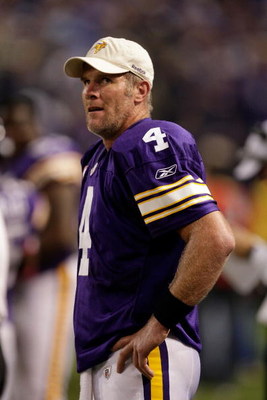 This season has had many surprises. The Broncos starting out 4-0 against the Bengals, Browns, Raiders and Cowboys. The Titans starting 0-4, Drew Brees throwing 6 TD's in week one and the Raiders playing terrible (OK so that one isn't surprising). Somethings have stood out and hit me like a brick while enjoying fall football.
1. The Jets defense is great.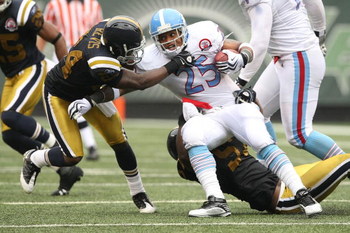 The Jets D was very underrated last season in the shadow of Favre. This season they have stepped out of the shadows and into the sunlight. The have played 3 top tier offenses (Patriots, Texans and Saints) and have yet to allow more than 343 total yards in a game. The Texans scored only once while rushing for 38 yards. The Patriots couldn't even score a touchdown. They forced 4 turnovers against the Titans and held Uber Quarterback Drew Brees to one touchdown and 190 passing yards.
2. Frank Gore is the Most Valuable Player.
Not that he's going to win the MVP but without Gore the 49ers offense is terrible. The Niners ran for 256 yards against the Seahawks in week 2. In week 3 Gore went out and they have yet to eclipse 100 yards since.
3. Tony Romo misses a number 1 receiver.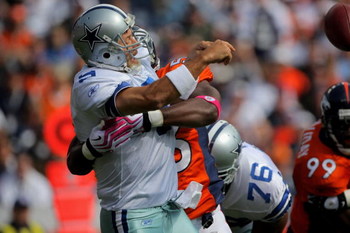 I doubt he misses TO but he misses a receiver that can get open. Teams are keying in on Witten and Roy Williams isn't the player they thought he would be.
4. Chad Johnson's focus is back.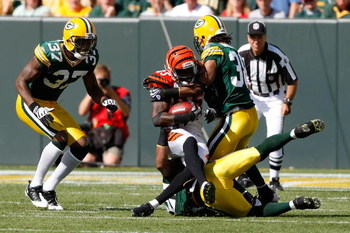 It helps that Carson Palmer is getting back to form and TJ Houshmandzadeh is in the emerald city, but Chad Johnson has rededicated himself to football. He is already more than half way to his 2008 season totals in yards and touchdowns.
5. Peyton Manning is the man.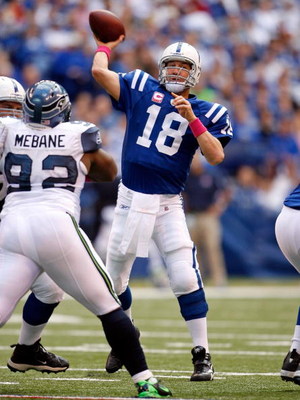 This isn't exactly a new idea but Peyton has asserted himself at the top of the QB heap. He lost Marvin Harrison and Anthony Gonzalez and is still leading the league in passing. The true sign of a good player is that he makes others around him better. Peyton has elevated Pierre Garcon a 6th round pick last year into a pro bowl worthy receiver.
6. Eli Manning is not far behind.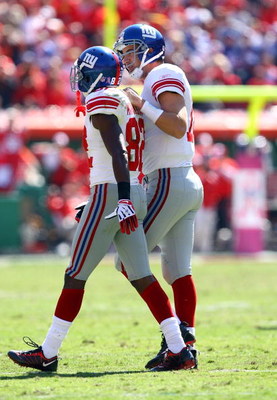 Comparisons between the two Manning's is unfair. Two completely different Quarterbacks on two completely teams. It's like comparing Montana to Marino. None the less Eli has elevated all his receivers. Steve Smith went from a 3rd down receiver to leading the league in receptions. Eli's QB rating this year is 104.
7. Ladainian Tomlinson isn't healthy.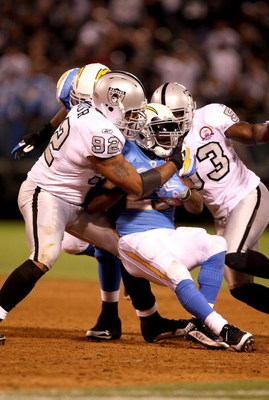 He has 70 total yards and 1 touchdown threw 4 games this year. He is also averaging a career low 3.5 yards per carry. Quite the drop off for the best running back in the league.
8. Philip Rivers is top level Quarterback.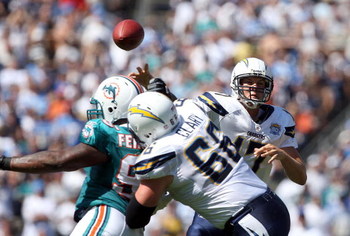 Last year he led the league in Quarterback rating last year. He is doing better this year. Maybe not statistically but as a leader. With one of the worst Defenses in the league so far and their star running back on the mend Phillip Rivers is keeping the Chargers in contention.
9. Jon Gruden is great on Monday Night Football.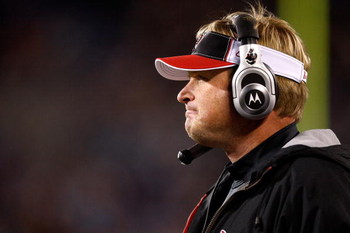 ESPN finally got the mix right. Mike Tirico is one of the best play by play guys out there and they have surrounded him with two great football minds. The Kornheiser/trying to get women to watch football experiment failed and they made the right choice by appealing to football fans again.
10. The Packers made the right choice at Quarterback.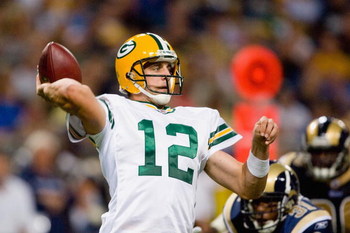 The Packers had a very difficult decision to make when Favre unretired the first time. They made the right choice by thinking with their heads and not their hearts. Aaron Rodgers is playing his heart out behind an injured terrible O-line with a below average running game. Luckily for Rodgers he will be able to step out of Favre's now tarnished shadow.
Keep Reading