Turning the Corner: What the Syracuse Orange Have to Improve if They Want to Go Bowling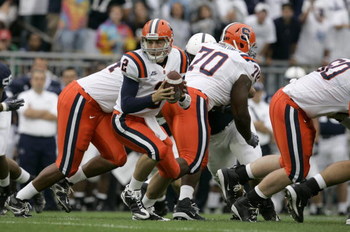 Now five games into the season, with a better than expected record of 2-3, the Orange still have an outside chance of making their first bowl game since 2004.
We've learned a lot about this team so far, and while it's clear the Orange are a vastly improved team under new head coach Doug Marrone, it's also become apparent that the team still has some issues to work on.
These are five key points that the Orange must improve upon if they are going to make some noise in Big East play and get back to bowl eligibility.
A Solid No. 2 Receiver Has to Step Up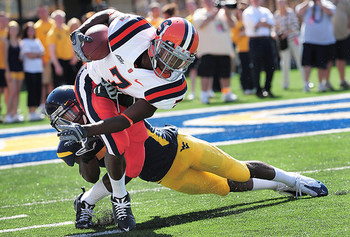 It's fitting that Mike Williams wears the number one on his uniform, because he's clearly Syracuse's top offensive threat and also one of the best receivers in the entire country.
Aside from a few dropped passes, Williams has been nothing short of brilliant in the first five games of the season, compiling the nation's third best total with 623 receiving yards and five touchdowns already.
However, the performances of the rest of the receivers have been mostly underwhelming.
The second leading pass catcher on the team, Donte Davis, has made only 12 receptions this year for a total of 135 yards. Davis is currently the only player not named Mike Williams who has over 100 receiving yards this season.
There are other talented receivers but so far like most young players, they've lacked consistency.
Sophomore Marcus Sales looked primed for a breakout season in the spring but has been almost a total non-factor with four catches for 51 yards on the year, with his lone touchdown coming against Maine. True freshman Alec Lemon also appears to have all the tools to succeed, but so far he has yet to make a major impact.
Cut Down the Turnovers
The numbers are skewed quite a bit by the seven turnovers that the Orange gave up in their loss to South Florida this past week, but with Big East play officially started, they're going to have to make sure they're more careful with the ball.
A fair argument can be made that Syracuse could have beaten USF at home if not for all of the turnovers. In past years, if they'd lost the ball that many times, the Bulls would have hung 50-60 points on them. Instead, Syracuse managed to stay within two scores of USF in the 34-20 loss and even out-gained the Bulls in total yards.
Greg Paulus was mostly responsible for Syracuse's woes in the ball security department by turning in by far his worst performance so far with five interceptions. That single game more than doubled his interception total for the year, going from a respectable four picks in the first four games to nine on the season.
The Offensive Line Must Provide Better Run Blocking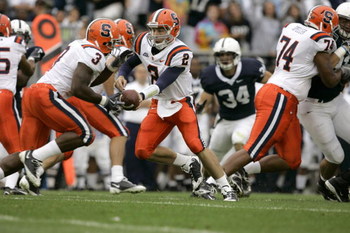 With Delone Carter and Antwon Bailey in the backfield, Syracuse has the horses to produce a dominant running game.
However, thanks to a serious lack of running lanes opened up by the offensive line the Orange rank 108th in the country in rushing.
Carter is a powerful back who is almost impossible to bring down with only one defender and Bailey brings speed and the lightning to Carter's thunderous running style.
Despite this dynamic 1-2 punch, Syracuse has managed only 470 total yards on the ground though. Carter has run for 327 of them on 3.7 ypc and five touchdowns while Bailey has managed 136 yards on 5.0 ypc.
If the offensive line improves its run blocking and unleashes these two backs on Big East defenses, it will add another much needed dimension to the Syracuse offense which will take a lot of pressure off of Greg Paulus and the passing game.
Convert on Third Down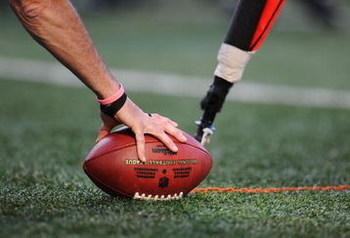 Despite a solid nine for 15 on third downs in the loss to South Florida, the Orange have been just plain bad at converting their third down attempts this season.
On the season they've converted 18 of their 60 third down attempts (30%), tying them for 103rd in the nation. This has been a huge reason for Syracuse's struggles this year, but if the effort against South Florida is any indication, they may be improving.
If they convert their 3rd downs the way they did against the Bulls, and cut out the turnovers, Syracuse will be in a position to score a lot of points the rest of the season and even more importantly, win some games.
Don't Give Up the Big Play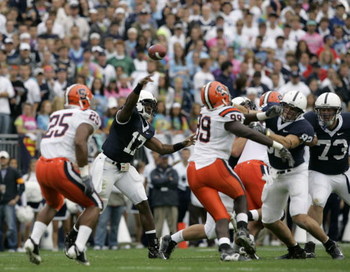 So far this year, the Syracuse defense has been victimized by the big passing play. In the past four games the weakness of the Orange secondary has been exposed and they've given up passing touchdowns of 33, 39, 49, 56, and 85 yards.
Defensive coordinator Scott Shafer has readily admitted that his scheme willingly leaves his cornerbacks in a lot of 1-on-1 coverage, and he's okay with allowing a handful of big plays in order to shut down the opponent's running game.
In that regard, his game plan has been incredibly successful. The Orange went from having one of the worst running defenses in the country last season, to being the 15th best so far this year and allowing only 2.9 ypc to opposing offenses.
Da'Mon Merkerson stepped in to replace struggling cornerback Nico Scott in the third quarter last week, after Scott was beat deep for an 85 yard touchdown pass. At this point, Scott is probably still the starter but if Merkerson proves to be an upgrade at that spot, the defense could suddenly become one of the better units in the Big East and could go a long way in helping Syracuse's quest for a bowl game.
Keep Reading

Syracuse Football: Like this team?