Top Fantastic Finishes in Cardinals History
Now, before you haters and nay-sayers suggest that the Phoenix/Arizona Cardinals don't HAVE five fantastic finishes in their ..ummm, spotty history, let me tell you, as a long suffering fan, how wrong you are.
You see, while prior to 2008, the Cardinals haven't spent much time being mentioned in the same sentence as 'success' or 'playoffs' ..or (of course) 'Super Bowl', any long time fan can tell you that they have been in some really exciting, fun, and meaningful games.
So I figured I'd take this bye-week opportunity to share the ...okay, MY top 5 Cardinals fantastic finishes, that come to mind.
Note that these tidbits will be confined to the Cardinals history JUST from the time they've been in Arizona. No "Night Train" Lane tales, no Paddy Driscoll stories,.. but a look at guys that gave their long time Arizona fans, all 23 of us that were there from day one, some wonderful moments to re-live forevermore.
Also note that this do not include their 2008 Super Bowl Season.
So, let's get started, shall we?
Cardinals-49ers: Nov. 6, 1988 - Sun Devil Stadium, Tempe, Ariz.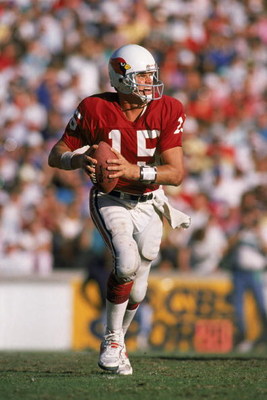 This was a game for the ages. The mighty San Francisco 49ers, who had to send separate planes to carry all their rings, come into Sun Devil Stadium (here on out referred to as "SDS") to play this vagabond, gypsy team in their first go-'round in the desert.
The heavily favored 49ers, with Joe Montana, Jerry Rice, and all those Hall of Famers from that era, were all there. And being the justifiably heavily favored 49ers, they came out swinging, and took a commanding lead.
But as the late November Arizona sun was setting, a funny thing happened on their way to an easy victory over this rag-tag group. The Arizona Cardinals refused to lose.
The 49ers, going into the fourth quarter with a comfy 23-7, either relaxed, or were just the victims of an amazing fourth-quarter rally that gave the home team some much needed credibility.
The Cardinals were fresh off a payback win (of sorts) in God's Toilet in Irving, Texas. They were 6-4, and still in the thick of the NFC East race.
"The Comeback" all started late in the third quarter, when QB Neil Lomax hit WR Roy 'Jet Stream" Green on a 30 yard pass that took the goose-egg off the board, giving the Niners that 23-7 lead going into the final period.
After an Al DelGreco field goal out the Big Red in double digits, Lomax hit Ernie Jones (remember him?) with a 5 yard slant pass for a TD with just over five minutes left in the game. This pulled them within six at 23-17.
And although the 49ers had Montana, Rice, Tom Rathman, Roger Craig, and all the rest, the Cardinals defense had to stop them if they were to have a prayer.
They held Rice in check the whole game (1 reception, 5 yards), but Craig had amassed over 150 yards on the ground at that point.
But stop them they did.
Then, with time running down, Lomax lead the team on 'The Drive' (shush, every team has one).
With under 20 seconds to go, Lomax hit Green on a play called a "89-69 seam" for a 9 yard touchdown pass with just three ticks left on the clock! It was pandemonium! It was bedlam! It was riots in the streets!
Ok, maybe not. But it DID give the Cardinals an amazing 24-23 victory, and a 7-4 record. Their coming-out season in Arizona had 'Playoffs' written all over it!
Sadly, they went on to lose their last five games, and finished ahead of the pathetic 3-13 Dallas Cowboys in 3rd place in the NFC East, missing the playoffs.
Cardinals-Redskins: Nov. 10, 1996 - RFK Stadium, Washington, D.C.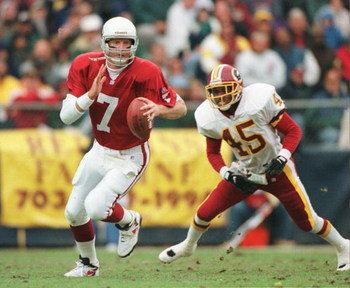 In what was one of the NFL's most entertaining games in history, the Cardinals went into the last game ever played at RFK Stadium in Washington, and came out with a victory in a see-saw overtime battle for the ages!
A game that had 1,031 yards in total offense, 71 points, 17 penalties, 7 turnovers (six by the Cardinals), and four overtime field goal attempts that were missed or nullified by penalties, Arizona walked away with an overtime win with just 0.33 left in the 5th (OT) quarter.
Cardinals QB (Baby) Boomer Esiason threw for a total of 522 yards and three touchdowns, but also was sacked twice, and had four passes picked off.
No team had any more than a seven-point lead until Washington turned a 13-13 halftime tie into a 27-13 lead at the end of third quarter lead.
After Cards RB Larry Centers scored from one yard out to narrow the gap, Redskins RB Terry Allen matched that with one of his own, giving Washington a 34-20 midway through the fourth quarter.
All looked lost, but Esiason led the Cards on two drives, one ending in a TE Johnny McWilliams 13 yard TD, and a 12 TD pass to WR Anthony Edwards as time ran out, to tie the game and send it into OT.
This is where things got really weird. Washington won the toss, and drove for for what looked to be a game ending 34-yard field goal. But Redskins kicker Scott Blanton missed it, giving the Cards life.
After Rob Moore and Esiason connected on a 42-yard pass, it was the Cards turn for a 'gimme' FG attempt. But Cardinals kicker Kevin Butler missed the field goal too, and it went back to the 'Skins.
Butler got another chance to win if 5 minutes later, but AGAIN missed a makable field goal attempt! The Radskins got the ball back as Gus Frerotte drove Washington into field goal territoey once again. This time, Blanton split the uprights, and all looked lost for the Big Red.
But there was a holding call, which nullified the game winner, giving the Cards life with under 2 minutes to play. Esiason was called on one more time, and managed to come through, setting up Butler with a shot at a game winner from 37 yards out.
Butt-head redeemed himself this time, giving the Cardinals a 37-34 win with just 33 seconds left, avoiding the tie.
I don't know about you, but I, for one, was exhausted after that game. I still, to this day, am not sure how they managed to pull it off, but in doing so, landed this classic into my Top 5 Fantastic Finishes!
Cardinals-Cowboys: Sept. 7, 1997 - Sun Devil Stadium, Tempe, Ariz.
It was a rare nationally televised affair for the Cardinals, as the Dallas Cowboys came to town on a steamy night where the thermometer stood at 101 degrees at kickoff, to do what they had done for almost seven straight years, and 13 straight victories.
It looked like a typical Cards/Cowboys game as Cards QB Kent Graham was harrassed, bashed, beaten, and booed relentlessly after fumbling three times, losing all three, with one directly leading to Dallas' only TD of the night just before half time.
This was a game that the defending Super Bowl Champs, who beat the Pittsburgh Steelers just seven months earlier to take home the Lombardi Trophy on this same field, just couldn't give away. The champs were 10 point favorites, too.
The Cowboys had 13 penalties for 115 yards, including a 15-yarder when Emmitt Smith himself was caught and flagged under what came to be known as "The Emmitt Rule", taking his helmet off while on the field.
Despite not scoring an offensive touchdown, Dallas held a 19-7 lead at the half. They increased it to a 15-point lead before the Cards scored on a seven-yard Graham to Frank Sanders TD pass.
But Dallas held a 22-14 lead after three quarters. They had a chance to go on top 25-14 with 3:42 left, to lock up victory in regulation, but a blocked field goal kept the reeling Cardinals faint hopes at victory alive.
The beleaguered Graham, ignored the smattering of boos as he came on to the field, and went to work.
Arizona pulled within 22-20 with 1:06 left in regulation on a one-yard touchdown pass from Graham to tight Pat Carter, who beat linebacker Vinson Smith.
They tied the game on a Graham to Rob Moore 2 point conversion that had the faithful smelling victory.
Sherman Williams, in for rib-bruised Emmitt during overtime, fumbled to set Arizona's game-winning drive in motion.
The Cardinals had a second-and-7 from the Dallas 32 yard line. Graham hit Larry Centers with a 29-yard pass to the 3-yard line when Dallas blew their coverage.
The Dallas defense held, but Kevin Butler kicked the ensuing 20 yarder off, and then through the uprights, giving the Big Red an amazing comeback victory.
After losing 13 straight times to the team most fans hated the most is bound to set up an emotional response when that albatross is finally extinguished.
Cardinals fans poured onto the field to celebrate with the team in the North end zone. I was one of them.
The fans ended up pulling the goal post out of the ground at SDS, and dragged it out the building as the rest of the faithful inside cheered them on relentlessly!
The crowd, apparently oblivious or just not caring, dragged the stolen artifact right past the Tempe Police Station, before heading up Mill Avenue with it.
It was found the next morning resting on the edge of the Salt River in what turned out to be a not-so-proud moment in Cardinals history.
But I, for one, couldn't possibly care less what anyone thought. The Cardinals beat Dallas, and the monkey was off our back!
Cardinals-Vikings Dec. 28, 2003 - Sun Devil Stadium, Tempe, Ariz.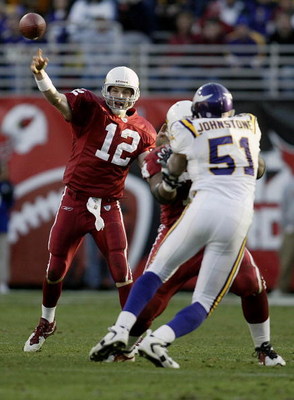 In what would seem to be a meaningless final game, the Cardinals, 3-13 and heavy underdogs to a Vikings team that started out the season 6-0 and just needed a win to secure a division title, pulled out the improbable, if not the impossible.
While Minnesota had the likes of Dante Culpepper, Chris Carter, and Randy Moss on their offense, the Cards, under head coach Dave McGinnis, played a strong defensive game and beat the Vikes on a last-second play that made the Cardinals and WR Nathan Poole fan favorites in Green Bay, Wisc.
It seemed like the Cardinals were determined to avoid allowing themselves any chance as the Vikings held a 17-12 lead, and their defense was in no mood for any heroics.
With just over a minute to play, no timeouts, and facing a 1st and 10 at the Minnesota 12 yard line, an incomplete pass fell softly as the stands started to empty of red jerseys.
An already large Vikings fan base started really whooping and hollering on second down, when Cards QB Josh McCown was sacked.
The clock ticking, the Cards scrambled to the line, and as McCown backed up in a 5 step drop, Hall of Fame DE (and former ASU Sun Devil) Randall McDaniel grabbed him from behind, and sacked him again.
Its now fourth down, time running out, and the Cards are 25 yards away from a chance. McCown again backed up in a 5 step drop, and saw Poole, a college teammate of Moss, in the corner of the end zone.
McCown launched a pass that pulled Poole caught, but appeared out of the end zone, and a challenge ensued.
With Vikings fans cheering what they thought was a preserved 17-12 victory, and giving them the NFC North title, what few of us Cardinals fans that stuck around, awaited the replay.
Nathan Poole, the new toast of Green bay, had managed to keep both feet down, giving the Cardinals an 18-17 victory with 0.00 left on the clock!
This not only took away the Vikings division title, but ensured the Vikings were the first team in NFL history to start a season 6-0, and not even make the playoffs.
Cardinals-Chargers: Dec. 27, 1998 - Sun Devil Stadium, Tempe, Ariz.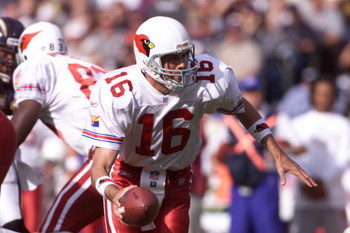 After the Cardinals dispatched the New Orleans Saints the week before, they played in an 'all or nothing' game against the Chargers before a rare sellout crowd in SDS in Tempe.
A win meant the Cards would finish second in the NFC East, and earn a Wild Card playoff spot for a chance to avenge an earlier disputed loss to the hated Dallas Cowboys, this time in God's Toilet in Irving. A loss would mean another non-playoff season for the 'same old' Cardinals.
Cardinals safety Kwamie Lassiter set a Cardinals record while tying an NFL record with four interceptions, but even that almost wasn't enough to beat the Bolts, and make a playoff date in Big D.
It didn't look much like the Cards wanted it. QB Jake Plummer threw the ball 41 times, completing just 19 passes for 264 yards until the final drive.
The Chargers amassed 174 yards on the ground to Adrian Murrell's 25 yards on 18 attempts. The Chargers had five turnovers to the Cardinals zero.
And yet, despite those less than impressive numbers, the Cardinals held the 13-3 lead heading into the final quarter.
But following a John Carey FG to close the gap to seven earlier in the fourth, Chargers QB Craig Whelihan broke the hearts of the faithful when he hit Ryan Thelwell with a 30-yard touchdown pass with just 16 seconds left in the game to tie it up.
The Cardinals, aided by one of best return men in the game in Eric Metcalf, still had a prayer. And the 72,000 plus in the stands were praying.
Carney kicked off to Metcalf, who gathered the bouncing ball in at the 10, and took off up the right sideline, weaving his way in and out, and was finally brought down just beyond midfield to the San Diego 45 yard line. The crowd was electric!
The Cards had two timeouts, but would only need one as Jake the Snake had just 7 ticks on the clock to work with. Thoughts of everything from sideline shots, to flea-flickers, to hook-and-ladders, to a bomb to the end zone danced in my head as I was trying figure out the best plan to get the ball in the position to win and avoid overtime.
I was kind of hoping the California marching band would start gathering in the north end zone.
But Plummer calmly got behind center, and the ball was snapped. He his WR Frank Sanders for a 10 yard pass to the San Diego 35, and called a timeout.
With just 3 seconds left in regulation, Cards kicker Chris Jacke came on the field. As he stared down a 52 yard FG on a suddenly windy field,
Jacke was able to boot the ball which started right, but miraculously then hooked back left, and squeezed just inside the right upright for the win!
For the first time in their 11 years in the desert, Cardinals fans were FINALLY able to say they had a playoff team!
The faithful stormed the field, players like Aeneas Williams had tears running down their cheeks. It was an amazing scene. The ARIZONA CARDINALS were IN the PLAYOFFS!
Keep Reading

Arizona Cardinals: Like this team?