2010 NFL Draft: Top 10 QBs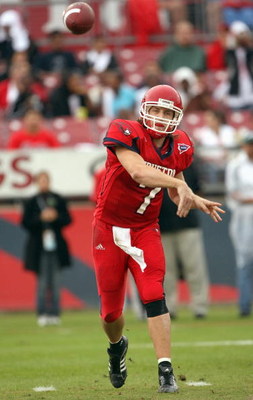 Well, I've decided I'm not going to do another mock draft for a couple months. So, I need something to do. Hey, why not do a position ranking?
Of course, I'm going to start with the glory position—quarterback. At present, it looks like Cleveland, St. Louis, Minnesota, Washington, Miami, Buffalo, Denver, Jacksonville, Tennessee, Oakland, Carolina, Dallas, Arizona, Seattle, and San Francisco could all very well be looking for a new franchise QB this offseason. That's 15 teams. I'm not even mentioning teams like Indy, who could take a QB and start breeding him to replace Peyton (a la Aaron Rodgers) or a team like KC who has a lot of injury-prone QBs and may want some added insurance.
This is how I'm going to break it down. The top 10 QBs I will put on their own slides (as I will all other positions when I get to them). I will give their School, Year, Height, Weight, 40 Time (projected), Projected round (based on where I would take them), and team I currently have them mocked to.
After that, I will put the other QBs on the last slide who I currently have being drafted in the first four rounds.
Let me know what you think.
1. Jimmy Clausen
School: Notre Dame
Yr: Juinor
Ht.: 6'3"
Wt.: 215
40 Time: 4.80
Projected Round: Top five Pick
Currently going to the 49ers in round one
Through four games, Clausen has a YPG of 287, a YPA of 9.6, a 65.8 percent completion percentage, and a 10/1 TD/INT ratio. Michael Floyd is gone for the season, but Clausen still has Tate and Kyle Ruldolph. Plus freshman Shaquelle Evans has been impressive and will be looked upon to step up.
2. Jevan Snead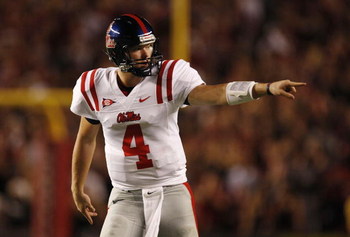 School: Ole Miss
Yr: Junior
Ht.: 6'3"
Wt.: 215
40 Time: 4.72
Projected Round: Top 15 Pick
Currently going to the Browns in round one
Jevan Snead has been less than impressive thus far. He looked completely lost against Memphis, and was abused by Eric Norwood against South Carolina, but I think it has a lot to do with the O-line that is really missing Michael Oher. He still has tons of talent and will be one of the first QBs taken, assuming he declares.
3. Sam Bradford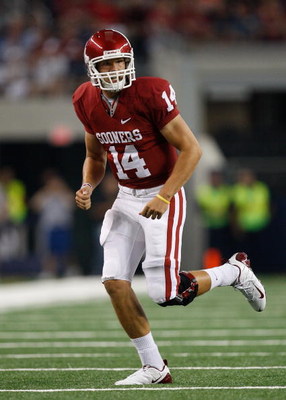 School: Oklahoma
Yr: Junior
Ht.: 6'4"
Wt.: 215
40 Time: 4.79
Projected Round: Top 15 Pick
Currently going to the Rams in round one
Bradford probably won't declare now, but if he does, he's close to a first-round lock. He's probably going to be a work-in-progress, but the raw talent is there. His sub-par O-line and no TE Jermaine Gresham for the year really hurts him. Status as the No. 3 QB may be in jeopardy soon.
4. Pat Devlin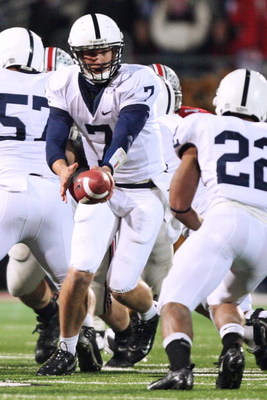 School: Delaware
Yr: Junior
Ht: 6'4"
Wt: 220
40 Time: 4.84
Projected Round: 1-2
Currently going to the Vikings in round one
Delaware? Is this guy the next Joe Flacco? No, he's better. He has the same elite arm strength, but has better touch and is more athletic. Mechanics and awareness need some work, which is probably why he won't declare, but he's going to be a stud.
5. Jake Locker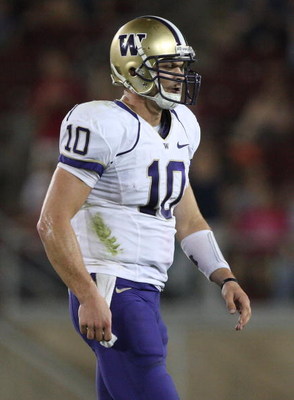 School: Washington
Yr: Junior
Ht: 6'3"
Wt: 225
40 Time: 4.59
Projected Round: 2
Currently going to the Raiders in round two
Locker is an intriguing prospect. Of the top echelon QBs, he's probably the most athletic. He also has a NFL-level arm, though not to the level of a Joe Flacco or a Matt Stafford. He's got some accuracy issues, but that may be more his team's fault. There's a good chance that all my top five QBs will stay in school, meaning the QB class of 2011 would be rocking.
6. Dan LeFevour
School: Central Michigan
Yr: Senior
Ht: 6'3"
Wt: 225
40 Time: 4.80
Projected Round: 2
Currently going to the Seahawks in round 2
If, as I said before, all the Juinor QBs stay in school, then Dan LeFevour would be my No. 1 QB. After watching the Michigan State game, I immediately started loving this kid. He may not be as physically talented as the aforementioned QBs, but he's got all the intangibles that an NFL team looks for; awareness, poise, calm under pressure, and finds ways to win. With an impressive showing this year, he could sneak into the first round.
7. Tim Hiller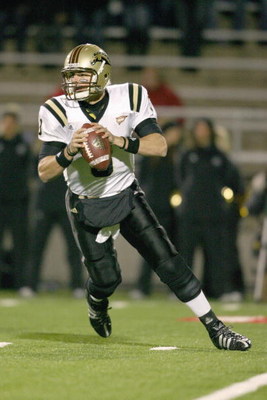 School: Western Michigan
Yr: Senior
Ht: 6'5"
Wt: 230
40 Time: 4.94
Projected Round: 2-3
Currently going to the Bills in round three
I really don't understand the hype this guy is getting. He looked downright awful against Michigan. He has below average arm strength, limited mobility, and accuracy issues. He's essentially Kyle Orton. And without Jamarko Simmons to throw to, he's being exposed.
8. Tony Pike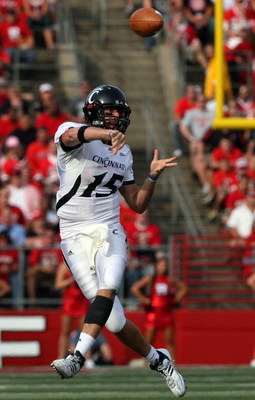 School: Cincinnati
Yr: Senior
Ht: 6'6"
Wt: 225
40 time: 4.91
Projected Round: 2-3
Currently going to the Colts in round two
I'm going to take a wait-and-see approach on Tony Pike. I haven't got a chance to watch him yet, but a lot of people are raving about him. He's got ideal size for a pocket passer. I'll be able to tell you more after the Syracuse game (one of the games on my scout list).
9. Max Hall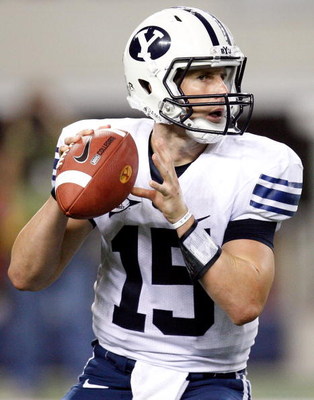 School: BYU
Yr: Senior
Ht: 6'1"
Wt: 200
40 Time: 4.73
Projected Round: 2-3
Currently going to the Panthers in round two
Looking to become the next Steve Young, Max Hall makes up for what he lacks in size with accuracy and intelligence. A candidate to go in the first round if a team like the Panthers trades up for him (don't project trades yet).
10. Tim Tebow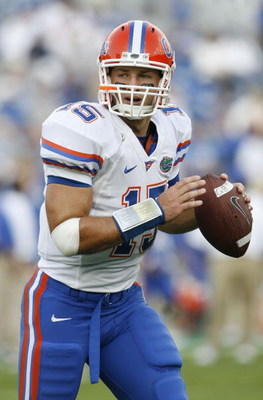 School: Florida
Yr: Senior
Ht: 6'3"
Wt: 235
40 Time: 4.54
Projected Round: 3
Currently going to the Jaguars in Round one
I know, I know, "Why do you have a third-round prospect in round one?" Because it's Tim Tebow. The Jaguars have already bet the franchise on him. There's little chance he goes to anyone before the Jaguars' pick, and there's also little chance he passes Jacksonville. Whether or not you think he'll be a good QB is irrelevant. The Jaguars need to put butts in the seats. Tebow would do that.
The Best of the Rest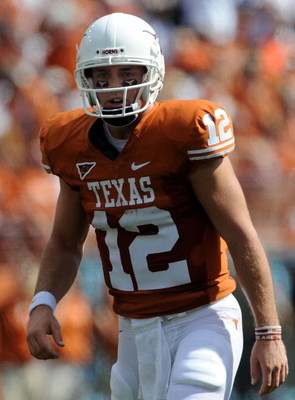 Zac Robinson, Oklahoma St.
Yr: Senior
Ht: 6'3"
Wt: 210
40 Time: 4.62
Projected Round: 3-4
Currently going to the Redskins in round two
Darryl Clark, Penn St.
Yr: Senior
Ht: 6'2"
Wt: 230
40 Time: 4.70
Projected Round: 3-4
Currently going to the Dolphins in round four
Case Keenum, Houston
Yr: Senior
Ht: 6'1"
Wt: 210
40 Time: 4.83
Projected Round: 4
Currently going to the Bengals in round four
Colt McCoy, Texas
Yr: Senior
Ht: 6'3"
Wt: 215
40 Time: 4.71
Projected Round: 5
Currently going to the Broncos in round one
Keep Reading