A Tribute to One of My Favourite PPVs: Survivor Series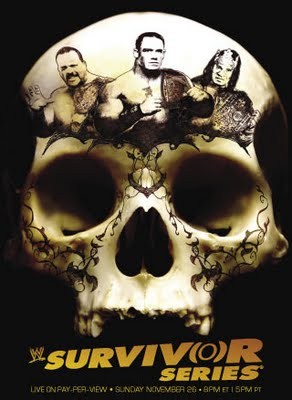 One of my favourite ppvs was the survivor series mainly because of the fantastic elimination matches.
In my article, you will see all the survivor series main events from 1987 until 1994(wwe best times mainly becasue of guys like hogan andre bret hart hbk etc.) there are a lot of memorable matches at that period.
In case you wonder, I will try to make a 1995-2008 if I have time.
ANYWAYS let get started:
Survivor Series 1987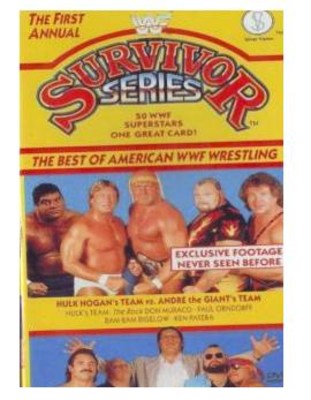 This one took place at the Richfield Coliseum at Ohio with the main event being a 5 on 5 classic Survivor Series elimination match between Team Andre the Giant (Andre, One Man Gang, King Kong Bundy, Butch Reed and Rick Rude) and Team Hogan (Hulk Hogan,Paul Ordnoff,Don Muraco,Ken Patera and Bam Bam Bigelow).
The winning team was team Andre with Andre being the last man standing after eliminating Bigelow. Of course, after that, Andre and Hulk continued to feud over the title.
Surviror Series 1988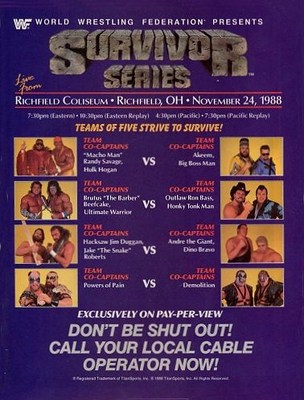 This one also took place at Richfield Ohio with the main event being a 5 on 5 elimination match with Hogan, Randy Savage ,Koko B. Ware, Hercules and Hillbilly Jim against Akeem, Big Boss Man, Ted DiBiase, Haku and the Red Rooster with the first team winning with Hogan and Savage as survivors after Hogan pinned Haku.
One year later, Hogan and Savage would feud over the WWF title.
Survivor Series 1989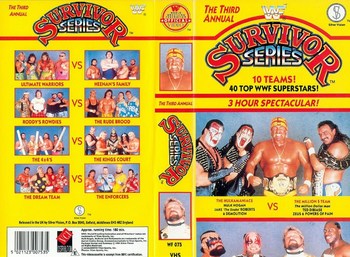 Survivor Series 1989 hade a historical impact as it was the first ever survivor series which featured team names.
\
It took place at Rosemont Illinoisand the main event was a 4 vs 4 survivor series elimination match with the Ultimate Warriors (Ultimate Warrior, Shawn Michaels, Marty Jannetty and Jim the Anvil Neidhart) against The Heenan Family (Andre the Giant , Bobby the Brain Heenan, Arn Anderson, and Haku).
The Ultimate Warriors took the victory after Warrior pinned Heenan.
Survivor Series 1990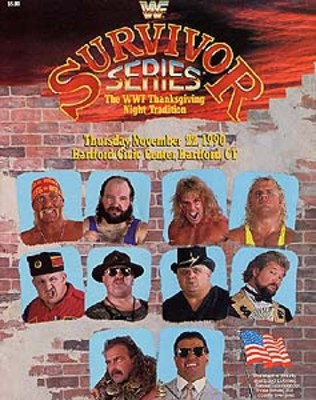 1990 Series took place in Hatford Connecticut and the main event was a match between team face (Hogan,Tito Santana and the Ultimate Warrior) and team heel (Ted DiBiase, Rick Martel, The Warlord, Hercules, and Paul Roma).
Team face dominated even though numbers were against them (3 vs 5) with Hogan and Warrior being the survivors after the Ultimate Warrior eliminated Hercules.
Survivor Series 1991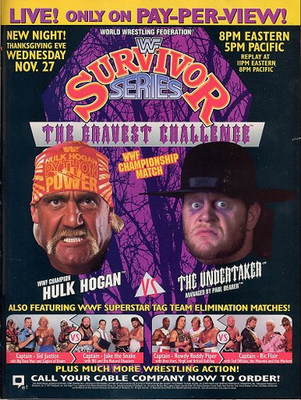 Survivor series 1991 ( took place at Joe Louis Arena at Detroit) was the first survivor series that did not feature an elimination match as a main event.
The main event was a singles match for the WWF title with The immortal Hulk Hogan defending his title against the Undertaker.
The Undertaker managed to defeat Hogan and win the WWF title.
Survivor Series 1992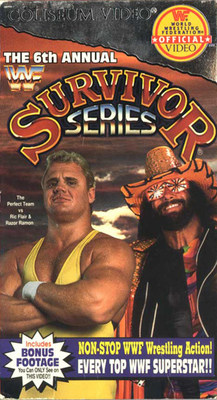 Survivor Series 1992 returned back to Richfield Ohio and unlike previous Survivor series it featured mostly singles matches.
The main event was a singles match beetwen Bret Hart and Shawn Michaels for the WWF title.
The Hitman successfully defended his title against Michaels. Michaels would later enter a feud with Jannetty.
Survivor Series 1993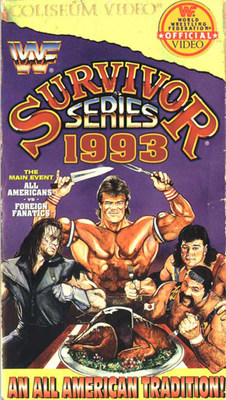 Survivor Series 1993 took place at Boston Garden and its main event featured a 4 on 4 survivor series elimination match between the All-Americans (Undertaker, Lex Luger, Rick and Scott Steiner) and the Foreign Fanatics(Yokozuna, Crush, Ludvig Borga and Quebecer Jacques).
The All Americans managed to defeat Foreign Fanatics with Luger being the last survivor after eliminating Ludvig Borga.
Survivor Series 1994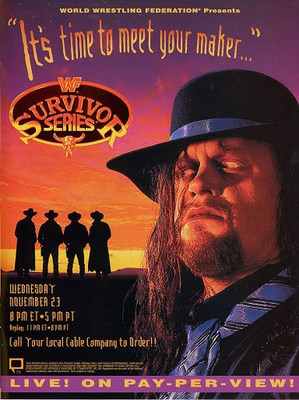 This one took place at San Antonio and the main event was a casket-match beetwen Undertaker and Yokozuna.
The Undertaker proved his domination after rolling Yokozuna in the casket after a DDT wich shook the ring!
This was Yokozuna's last main event.
Keep Reading