5 Reasons Kobe Bryant will be the GOAT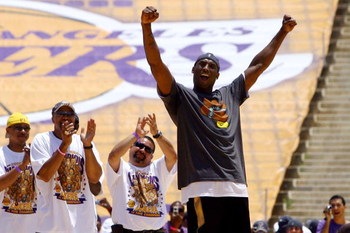 This is a slideshow explaining why Kobe will be the GOAT by the end of his career. Not to be misunderstood, Kobe is not the GOAT now. He still has a good way to go but he is undoubtedly on his way.I know that the millions of Michael Jordan fans out there will not like this because no one wants to see a king lose his throne, but it is inevitable. So Kobe lovers and Kobe haters alike, tell me what you think.
Toughness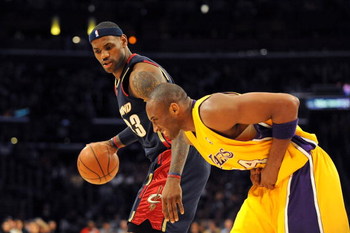 Kobe Bryant is one of the toughest basketball player on this earth. Kobe Bryant is constantly playing injured. The picture explains it all. After reaching for a steal, Kobe suffered a dislocated finger, which he described as the worst pain of his life, and shortly after having it popped back in by Gary Vitti, he proceeded to torch King James. There are very few players in history with Kobe Bryant's toughness.
Work Ethic
Simply put, Kobe Bryant is the hardest worker in basketball, and is the perfect example of work ethic. How many people can truly say that they work out 6 hours a day, 6 days a week, for 6 months out of the year? A lot of NBA players have a good work ethic but Kobe is the only one who rivals that of MJ.
Desire to Win
Kobe Bryant will be the GOAT because he wants it more than anything in the world and has wanted it since he was a little boy watching Magic Johnson on television. His desire to win and his willpower has allows him to take over games and win them, especially in the playoffs. We all remember him putting the finishing touches on the Orlando Magic in the 2009 Finals
Basketball IQ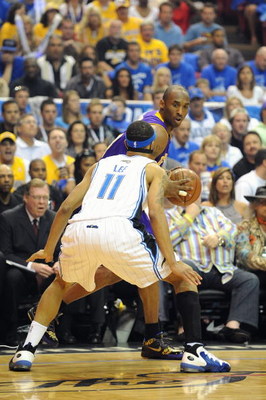 On the court, Kobe is one the smartest and there are few out there today who has his basketball IQ. Its something that he didn't have as a rookie, but as a 13 year veteran, it is one of his greatest assets. Many people don't understand the importance of having high basketball IQ but it could cost your team dearly if you get in the game and don"t know what to do. To me, basketball IQ is what separates Kobe and LeBron.
Talent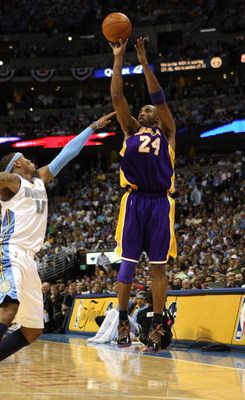 Kobe Bryant is the most talented player in the NBA. Few people will admit it, but Kobe Bryant is a better player than Michael Jordan. He doesn't have Jordan's legacy and accolades but he is no doubt a better player than Jordan, which was even admitted by Phil Jackson. The NBA is filled with talented NBA players but Mr. Bryant is on a whole other level. Only superior talent can score 81 points in one game. Only superior talent can score at least 50 points in 4 consecutive games. Only superior talent can allow you to score 12 3 pointers in a single game. Kobe Bryant is the best all around player out there because he simply has no weaknesses. he has the best all around game. Only one other man could boast that, and Kobe is closing in on him fast
Keep Reading

Los Angeles Lakers: Like this team?