For Hire: 10 Coaches to Replace Jim Zorn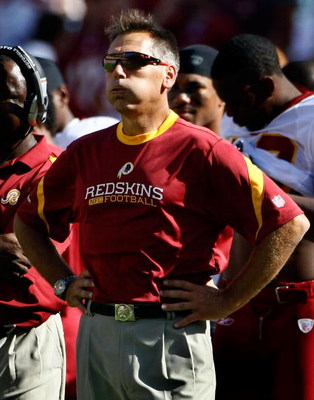 We will not witness this anymore
This is the end for you my friend
I can't forgive, I won't forget
-Anti-flag "This is the End"
Jim Zorn, this "experiment" concocted by the mad scientist Vinny Cerrato and his loyal supporter Danny Snyder is not working. You weren't ready for the jump. Last season ended in an offensive nightmare and it's been a recurring one this season as well. You've lost the team and your obstinance to your maladroit playbook or lack there of is not a sign of coaching resilience but rather sophomoric ego.
You're not to be blamed for all of this. That would be unfair to do. As mentioned, Cerrato and Snyder have only aggravated the situation with questionable moves and spending. But, you are the coach and the team responds to your leadership.
Sunday's loss to the lowly Detroit Lions was the capstone to debate as to whether you deserve more time on the job. You don't. Your attitude post game and your comments that the Skins are getting better were dull. No wonder the team doesn't respond to you or your style. Attitude reflects leadership.
There are a number of coaches available better suited for the Redskins job. Washington is a football haven and has a storied tradition that makes it ripe for winning. Some of these coaches probably aren't interested in the job, because of the front office situation, but can't a fan dream a little?
Herman Edwards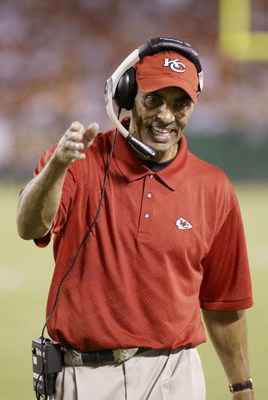 I'm not completely sold on Herm, but he'd be an upgrade from Zorn. Edwards has enjoyed mixed success, with playoff runs four out of the eight seasons he's been a head coach. His teams traditionally have not been strong offensively but have always emphasized strong running attacks. He's also enjoyed mild success in the NFL Draft, especially with defensive players. Edwards is intense, and the Redskins are in dire need of intensity.
Ron Meeks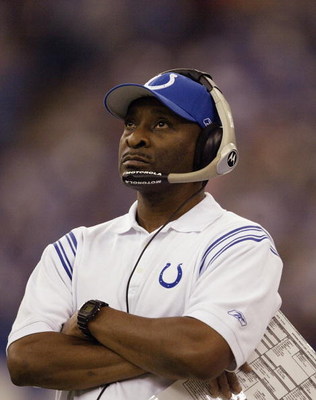 Now serving as the Panthers defensive coordinator, Meeks served in the same capacity for the Colts for seven seasons. Though the Colts are known for their Manning-led high powered offense, under Meeks their defense finished in the top seven in points allowed five times and in 2007 led the NFL in scoring defense. Meeks helped win a Super Bowl in 2006 and is a part of the Tony Dungy coaching tree. Meeks also coached the defensive backs for the Redskins in 2000. He is a highly regarded veteran coach, which suits a veteran team such as the 'Skins, and has been a part of winning teams in the past.
Gregg Williams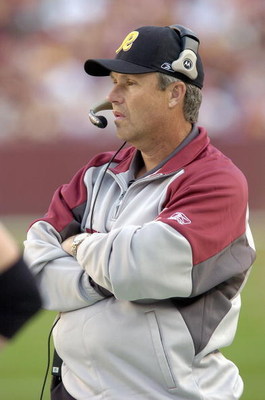 Dear Gregg,
Sorry we seduced you into coming to Washington with pipe dreams of succeeding Joe Gibbs and then hiring some guy named Zorn to inhabit a job that was rightfully yours. Can you forgive us?
Your Friends,
Dan Snyder and Vinny Cerrato
Williams was the right man for the job two years ago and still is. He helped build this team and the players all respect him. Greg Blache still runs Williams' defense. Williams is currently with New Orleans as their defensive coordinator, but Sean Payton is going nowhere any time soon. Williams deserves his chance at the helm.
Steve Mariucci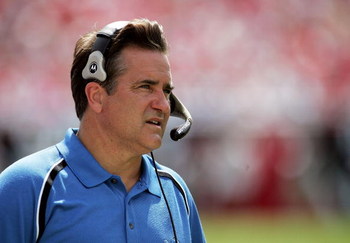 Mariucci is a quarterback friendly coach who took San Francisco to the playoffs four of the six seasons he was in the Bay, including a trip to the NFC Championship game in his rookie head coaching season. Overlook the three seasons in Detroit. He was handcuffed to a bad team and the six wins he led them to in 2004 seems like a success now. Mariucci knows offense and the 'Skins lack that facet of the game the most.
Jon Gruden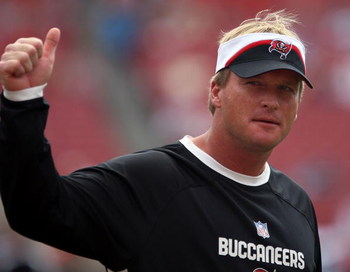 What about "Chucky" in DC? He's a proven winner with five playoff trips during his 11 head coaching seasons and a Super Bowl winner. Gruden knows how to rebuild a team, as he did with the Raiders, and further lead a proven team, as he did with the Bucs. He's a product of the Bill Walsh-inspired Mike Holmgren coaching tree, meaning he's a West Coast offense student. Most will associate his coaching the Bucs with a stifling defense, but his offense was above average and with the Raiders, it was actually potent. Gruden is a fiery character and the 'Skins need a coach who will light a fire underneath them.
Tony Dungy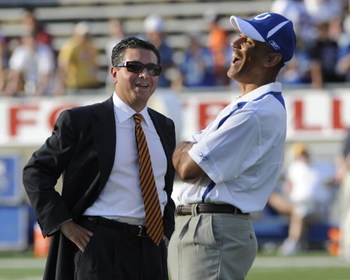 Dungy is retired, and I honestly believe he really means it (that's a Favre jab). He is one of the most well respected men in the NFL and his mentorship of Michael Vick further proves how dedicated he is to bettering players. I actually included Dungy because he'd be a great GM for the Redskins. Dungy understands what it takes to build teams and he would be a great addition to the franchise in a front office position. Think what Bill Parcells has done with Miami. Dungy has won a Super Bowl, plenty of playoff games, is one of the best drafters in all of football and has the admiration of most of the NFL. Dungy knows what it requires to win and would immediately restore legitimacy to the Redskins, an organization lacking both identity and focus.
Brian Billick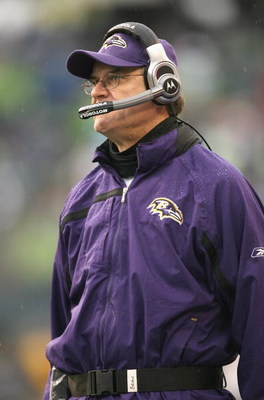 Billick would be a great fit for the Redskins. Billick coached down the Beltway in Baltimore and knows the football culture of the DC area. In his nine seasons with the Ravens, he took them to the playoffs four times and won the Super Bowl in only his second season with the team. Under Billick, the Ravens were a disciplined team and he commanded the respect of all his players. Despite the Ravens being known for their great defense, Billick is an offensive mind. As offensive coordinator with the Vikings from '92-'98, Billick's unit set several offensive records. Also notable is the Billick's NFL draft success. Several of his players (Ed Reed, Adalius Thomas, Terrell Suggs, Todd Heap, Jamal Lewis, Chris McAlister) have enjoyed Pro Bowl seasons.
Russ Grimm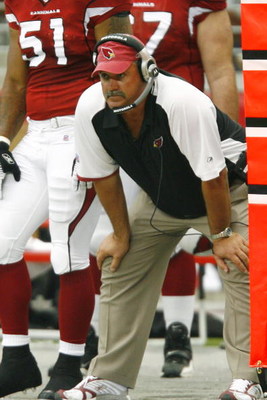 Who doesn't love a homecoming party?! Grimm is no stranger to DC, having played 11 seasons with the Redskins as their starting guard on the legendary "Hogs" offensive line. The future Hall of Famer was a part of the Super Bowl days of the Gibbs area and what better way to return to glory than with a guy who helped lead it there. He also spent nearly a decade in DC as a coach before journeying to Pittsburgh and now Arizona. He's enjoyed great success with both of the latter, including a Super Bowl win with the Steelers and a Super Bowl trip with the Cardinals. With Grimm, teams' offenses are always improved including steady offensive line play, strong rushing attacks and considerably more discipline. Grimm is ready for a head coaching opportunity and there is no better team suited to grant than his first NFL home.
Mike Holmgren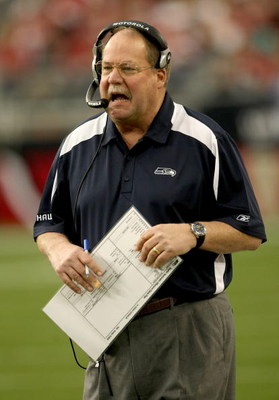 Holmgren is regarded as one of the best NFL coaches in history and plans on returning to football in 2010 after a much needed short break. His head coaching tenures with both Green Bay and Seattle produced 12 playoff trips, a Super Bowl win with the Packers, and another Super Bowl trip with the Seahawks. A descendant of the Bill Walsh coaching tree, Holmgren's own coaching pedigree has produced Andy Reid, Steve Mariucci, Dick Jauron, Ray Rhodes and John Gruden. Holmgren has always gotten the most out of his players, especially true in his Seattle years where he molded Matt Hasselbeck into a Pro Bowl quarterback and Shaun Alexander into the NFL's MVP in 2005. He was also influential in shaping Brett Favre into a Hall of Famer. Like Dungy, Holmgren would also excel in the Redskins front office as GM. His drafting skills and experience turning franchises into consistent winners is much needed in DC.
Mike Shanahan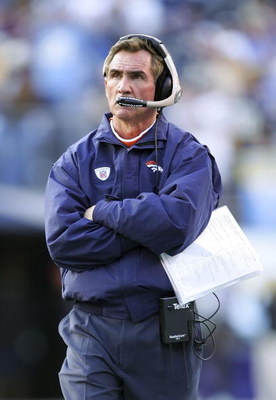 The former longtime Broncos coach is one of the most winningest coaches in NFL history and one of only a handful of coaches to ever win back-to-back Super Bowls. As the 49ers offensive coordinator, he helped them win a Super Bowl in 1994. When it comes to Super Bowls, only a few coaches have more experience than him. In some coaching capacity, he's been to six Super Bowls. Add the 10 conference championship games and it's no doubt that Shanahan is a flat out winner. He's another coach that adds instant legitimacy by his arrival and his resume commands the respect of players. His run-heavy variation of the West Coast offense would work great in DC (Shanahan drafted Clinton Portis) and his success with veteran players would bode well for the Redskins.
Bill Cowher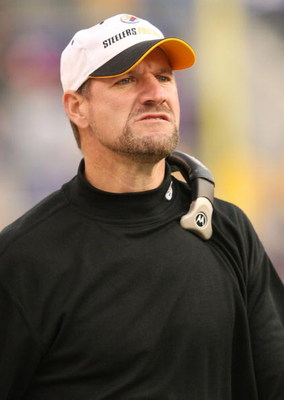 "The Jaw" would be welcomed in DC. His intensity and passion inspires players and the Redskins have lacked that in a coach in a long time. In his 15 seasons with the Steelers, they won the division seven times and made the playoffs 10 times including two Super Bowl appearances and one win. His teams have always been marked by stout defenses but he's also enjoyed offensive success, especially with the run game. His smash mouth style of play would be a nice new touch for the aggression-less Redskins of late. He has also had much success with the NFL Draft and used it to build his teams. The Skins field a team that Cowher could win with. He could also bring the experience and know how of winning on a consistent level and the expectations of a football crazed city.
Keep Reading

Washington Redskins: Like this team?