Robby's Week Five Top 25 Rankings
Was anyone expecting this hectic of a Week Five?
There were SO MANY upsets it was hard for me to keep track of them all! There were some teams that took themselves out of the National Championship discussion, and there were others that VAULTED up the Top 25 and have now put themselves in position to have a shot at the Title.
Along with that, Tim Tebow is facing adversity after getting rocked into a concussion that could hurt him down the road. As an athlete who has gone through a of couple concussions, you never fully recover during the season, so it will interesting to see if Tebow can bounce back!
WARNING: My rankings this week have REALLY shuffled up with all of the upsets. Don't be surprised if the teams that won this week still fall in the rankings.
There are some teams that lost this week that I still feel are better than those that won. I've also added in four other spots for teams that I feel should be in discussion for the rankings but there simply wasn't enough room!
Here's my Week Five Top 25!
(As always, previous week rankings are in parentheses)
No. 25 (24) Missouri (4-0) W 31-21 @ Nevada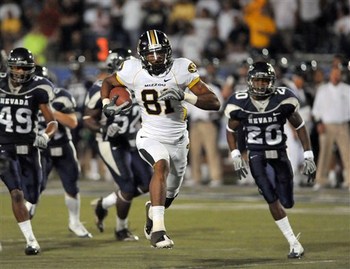 Next game: vs. No. 21 Nebraska (Thursday, 10/8)

The Tigers are still undefeated after a close call against the pistol attack of Colin Kaepernick and the Wolfpack, but Blaine Gabbert was sensational through the air with 414 yards against the worst secondary in the nation.
The rise of Danario Alexander as Gabbert's No. 1 receiver is a great sign for Gary Pinkel that the Tigers will be able to compete in the offense-heavy Big 12.
The defense didn't play too bad against Nevada. In reality, they gave up 13 points since the Wolfpack added on a TD and two-point conversion with two minutes left in the contest.
The Tigers have an extra of couple days to prepare for their showdown with Nebraska on Oct. 8, which will be a primetime game on ESPN for everyone to see.
No. 24 (19) BYU (3-1) W 42-23 vs. Colorado State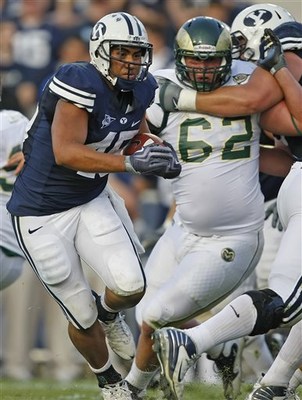 Next game: vs. Utah State
Dropping five spots in the rankings, you would think BYU lost their game against Colorado State.
Much of the opposite actually, but the elevation of a couple new teams in the Top 25 hurts BYU's status in the rankings and ultimately contributed to their fall.
Max Hall still hasn't gotten over the blowout to Florida State, and how bad does that one look now that the Seminoles lost at home to South Florida? Granted, the Bulls are undefeated, but BYU losing to FSU, who lost to USF, doesn't help the Cougars cause whatsoever.
Harvey Unga finally looks to be back in game shape after his 100 yards and three TDs on the ground, so that's encouraging for the men from Provo.
Next week, BYU looks to continue down the comeback trail in the Top 25 as they host Utah State.
No. 23 (21) Michigan (4-0) W 36-33 vs. Indiana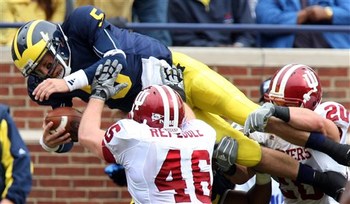 Next game: @ Michigan State
The Wolverines survived a scare against a much better than expected Indiana team that outgained Michigan 467-372 in total offense, a stat Rich Rodriguez can't be too happy about.
Tate Forcier did play well, but his Heisman talk needs to come to rest because he doesn't deserve to be in the discussion if he can't throw for over 200 yards against the Hoosiers.
I will give IU a ton of credit, though. I thought Michigan would roll easily in this one, but the Hoosiers stood tall and hung with the Wolverines the entire game—and with all due respect—probably should have won after a controversial INT call went against the Hoosiers in the final minutes.
But, Michigan once again moves on and stays unbeaten.
They finally travel away from the Big House in an early rivalry with Sparty in East Lansing. Michigan State is reeling after starting the season 1-3 and will be geared up for this rivalry game.
No. 22 (20) Georgia (3-1) W 20-17 vs. Arizona State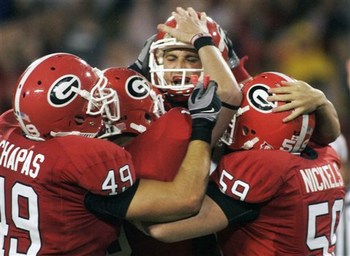 Next game: vs. No. 8 LSU
No folks, Arizona State is not a very good team.
So there was no reason why Georgia needed to hang on against the Sun Devils. The team they had last year that got demolished by the visiting Bulldogs was 10 times better than the one they brought to Athens this season.
Well, the ice water veins of Blair Walsh gave the Bulldogs an important victory to stay in the rankings and not fall out of the Top 25. Joe Cox reverted back to his old self with two picks, but more importantly, was the performance of the rushing attack from the Dawgs.
Just 92 yards on the ground against an Arizona State team that has played Idaho State and Louisiana-Monroe in its first two games is not what Mark Richt likes to see. Dawgs need to put this game out of their memory as LSU is next up on the slate at home this week.
No. 21 (23) Nebraska (3-1) W 55-0 vs. Louisiana-Lafayette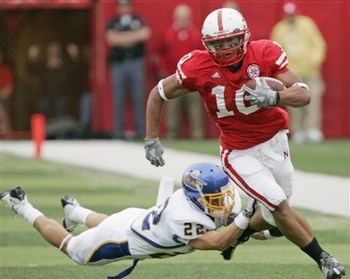 Next game: @ No. 25 MISSOURI (Thurs, 10/8)
No hangover was evident in Lincoln as the 300th consecutive sellout for the Sea of Red went according to plan.
Zac Lee was great tossing the rock, Roy Helu Jr. did his work on the ground, and the black shirt defense may finally be making a comeback with the Children of the Corn.
Now, putting this game in perspective, this Rajun Cajun team was no pushover. L-L had played a decent game the week before at LSU and also beaten Kansas State, who I know isn't a power this season, but still a Big 12 team.
So, for Nebraska to slam the Cajuns the way they did after getting beaten in the final seconds against Virginia Tech, shows this team does have the heart and the fire to make a run in the Big 12 North.
A huge game next Thursday against rival Missouri will be possibly the biggest game of the season for the Huskers if they want to stay in the running for the Big 12 Championship Game.
No. 20 (6) Ole Miss (2-1) L 10-16 @ South Carolina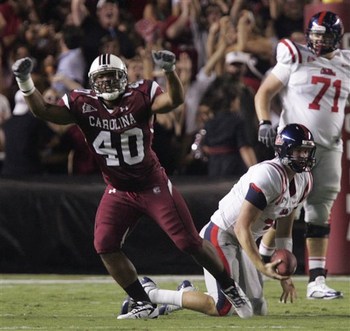 Next game: @ Vanderbilt
There was so much hype about this team at the start of the season, but I never wanted to buy into it.
Unfortunately, ESPN kept plugging it into my mind, thinking that Ole Miss was for real and I went against my better instincts thinking the Rebs would handle the Gamecocks easily.
Wrong again was I.
You could smell the stink Jevan Snead was giving off here in West Lafayette. Gotta give Eric Norwood and the South Carolina front seven credit for getting to Snead and forcing him into errant throws all game long.
Not until the fourth quarter did we finally start to see a glimpse of what we were expecting from Mississippi this year, but by then, it was too little, too late.
You can't wait until the fourth quarter to break out Dexter McCluster and his speed. That was one thing that I was confused about Houston Nutt doing.
This week, the Rebels travel to Vanderbilt to continue their conference season against the Commodores, and they better not be looking ahead to that showdown with Alabama at home next week.
No. 19 (4) California (3-1) L 3-42 @ Oregon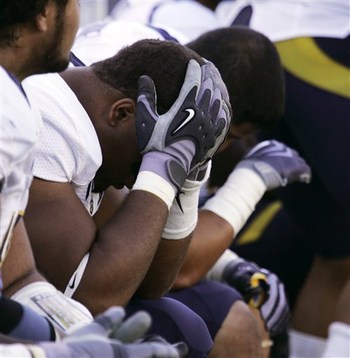 Next game: vs. No. 5 USC
Another team that I was SO high on at the start of the season and thinking might have a shot at running the table and playing for the National Title and it gets thrown right back in my face.
Where was the sturdy Golden Bears' defense that I have seen the past couple weeks? Where was Syd'Quan Thompson against the Oregon passing game? WHERE WAS JAHVID BEST?
All of those are great questions that are left to be answered after one of the worst performances we have seen from Cal in the Jeff Tedford era.
Lucky for Cal, there's no time to fret as USC comes calling this week and it will be a great game for Best to get back in the discussion of the Heisman race after his 55-yard rushing performance against the Ducks.
No. 18 (17) Kansas (4-0) W 35-28 vs. Southern Miss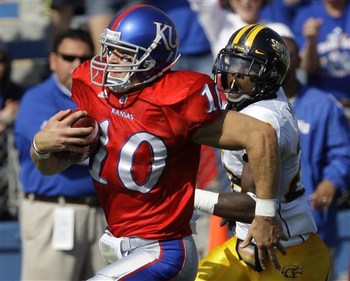 Next game: vs. Iowa State (10/10)
The Jayhawks are really on the border of becoming one of those teams that has a great start in the Top 25, but shoots down the hill after finally facing some decent competition.
Southern Miss was no slouch whatsoever. The Golden Eagles were bringing the second-longest winning streak in the country into Lawrence, but ultimately it was the play of Todd Reesing that led the Jayhawks out of the fire.
Kerry Meier had a phenomenal game, catching 10 passes for 141 yards—and that was important to see with Dezmon Briscoe being double covered for almost the entire contest.
Reesing has also got to stop taking so many sacks and needs to throw the ball away more often. The Jayhawks get a week of rest before they hit the ground running on the conference season, starting with Iowa State at home.
No. 17 (12) Penn State (3-1) L 10-21 vs. Iowa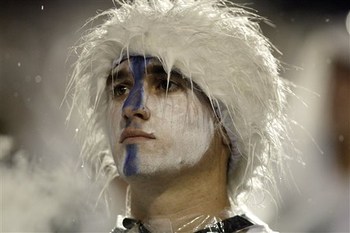 Next game: @ Illinois
It was a shocker, heartbreaker, stunner, whatever other adjectives you can think of that make your mind puzzled as to how Penn State lost at home in front of their white out student section.
Confused at how terribly Daryll Clark played in the elements, stunned watching Evan Royster rush for just 69 yards on 17 carries, and baffled at the four Nittany Lion turnovers.
Penn State teams never do those kind of things at home under the lights in a big time atmosphere.
Well, we finally saw them do it for the first time in awhile and the Nittany Lions now have to regroup and find out what they can do to correct their mistakes.
I'm not going to sit here and say "Well, I knew this was coming, that's why I never had Penn State ranked in the top 10."
I did pick PSU to win, but I knew there were problems with this team from the start. They've still got a long way to go in this season, and next week will be an important contest for them as they look to bounce back against an Illinois team that has yet to find themselves this season.
No. 16 (16) Oklahoma State (3-1) W 56-6 vs. Grambling State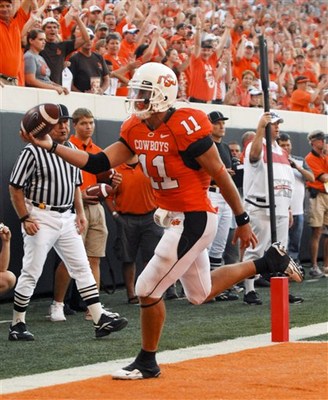 Next game: @ Texas A&M (10/10)
They didn't really do anything to deserve moving up or down the rankings since they played an FCS team in Grambling State, but Zac Robinson looked alright and maybe we are seeing the emergence of a new running back in Stillwater?
Freshman Jeremy Smith blew up the stat board, rushing for 160 yards on 15 carries. They'll need that kind of attack on the ground without the services of Kendall Hunter for a significant chunk of the upcoming season.
Dez Bryant also didn't play for the Pokes against Grambling, but it was more of a precautionary benching for the injured Bryant, who has been taking a whacking from teams every week.
A pretty good test in College Station against Texas A&M next week will give the Pokes time to get ready to go for the start of the conference season. And no, the Aggies will not be able to use the longest basketball shot as evidence that they can compete against the Big 12.
No. 15 (8) Miami (FL) (2-1) L 7-31 @ No. 13 Virginia Tech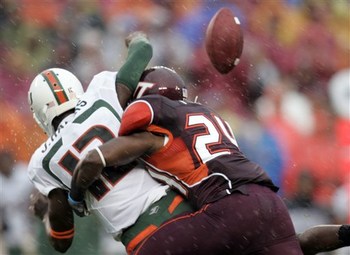 Next game: vs. No. 9 Oklahoma
I thought, since Miami played so well in their road victory at the start of the season against Florida State, they would have no problems in another hostile atmosphere in Blacksburg.
Boy, was I wrong about that statement.
Jacory Harris looked like a scared sophomore and the defense couldn't stop the rushing attack of the Hokies. Harris was battered by the Virginia Tech D-line for four sacks and you've got to protect your quarterback in a road game of that magnitude.
What's great for Miami is they have another HUGE game coming up this week, so there's no time for the Canes to be down on themselves.
The O-line has to play better for the Canes to win, but more importantly, they will need to get pressure on Landry Jones/Sam Bradford if they want to beat the Sooners.
No. 14 (NR) Oregon (3-1) W 42-3 vs. No. 4 California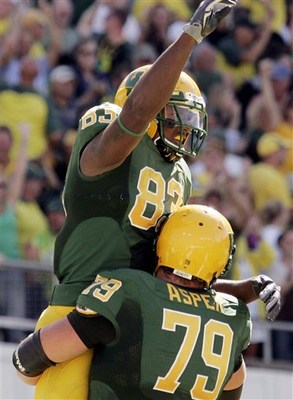 Next game: vs. Washington State
There were some people that saw Oregon beating Cal in Autzen, and I was not one of them.
But if you would tell me that Oregon was going to blow out the sturdy Golden Bears by 39 points, I would have laughed straight in your face.
Where did this Duck defense come from? Is this the same defense that allowed 451 yards of offense to Purdue?
It certainly is. And, wow what a difference three weeks makes!
We all thought Oregon was dead in the water after getting pummeled by Boise State on the national stage, but the play of Jeremiah Masoli and freshman LaMichael James has been outstanding and the emergence of tight end Ed Dickson against Cal was huge.
I said before this game that if the Ducks could stop Jahvid Best, they would have a chance. They did one better, also shutting down the Cal passing game completely, holding Kevin Riley to 123 yards in the air.
One statistic that Chip Kelly has to be just ecstatic over is that his offense totaled 524 yards, but 288 came THROUGH THE AIR!
Oregon was ranked near the bottom of the nation in passing offense at the start of its contest with the Bears, but they have know shown that they can be a balanced offense with a dominant defense.
Note to the Ducks: wear the retro uniforms for every game.
No. 13 (NR) Iowa (4-0) W 21-10 @ No. 12 Penn State
Next game: vs. Arkansas State
I've got to hand it to the Hawkeyes—15 minutes into the game, I thought there was no way they could beat the Nittany Lions after being down 10-0.
All Iowa did was hold PSU to ZERO points the rest of the contest and the Penn State offense to under 200 yards the rest of the game.
Daryll Clark looked like a fish out of water, going 12-of-32 for 198 yards and three INTs. The poor rushing attack that has plagued Penn State through their first three games finally caught up to them with Evan Royster and Stephfon Green not showing up in the big atmosphere.
Granted, Penn State's defense did hold Iowa under 300 yards and nine of Iowa's 21 points came off of its defense and special teams.
However, the win still puts Iowa as the team to beat in the Big Ten for 2009. Circle Nov. 14 on your calendars, ladies and gentlemen, because that's when the Buckeyes travel to Iowa City in what will possibly decide the Big Ten championship for 2009.
No. 12 (14) Ohio State (3-1) W 30-0 vs. Illinois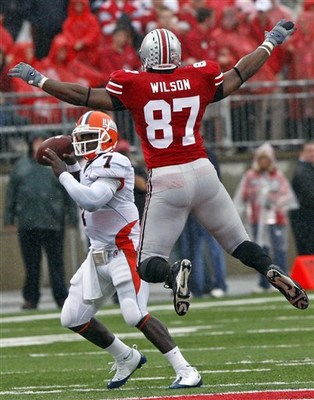 Next game: @ Indiana
The Buckeyes were not going to let 2007 happen again. They certainly made that known to Juice Williams and the Illini early in their 30-0 rout of the Zookers.
At the start of the season, I picked the Illini as my sleeper in the Big Ten and in a way, I was right. Illinois has been asleep in both of their losses this season.
Williams has looked absolutely terrible so far this season, and his 13-of-25, 77-yard passing performance against Ohio State certainly didn't help.
How can a QB who has started since his sophomore season regress this much in his senior season?
Maybe the absence of a running game is hurting Williams, but it might be time for junior Eddie McGee to get his chance under center in Champaign.
Alright, I have been rambling here on the Illini.
Ohio State's defense is starting to earn that 'SILVER BULLETS' name tag and the rushing game is finally starting to break out with the speedy Brandon Saine and Boom Herron.
Dane Sanzenbacher has become Terrelle Pryor's No. 1 receiver and the addition of the option attack on offense in Columbus has been a welcome surprise.
Next week, a trip to Bloomington to take on the Hoosiers could provide a bigger test than some Buckeyes realize without having Kurt Coleman patrolling the secondary.
No. 11(15) TCU (3-0) W 14-10 @ Clemson
Next game: vs. SMU
Nobody thought the TCU defense was good enough to contain CJ Spiller and Kyle Parker, but they were up to the challenge, holding the Clemson attack to just 10 points the ENTIRE game in Death Valley.
Casual college football fans will just see this as another win for the Horned Frogs, but it is more than that. TCU went into one of the most hostile atmospheres in all of college football and beat Clemson on its home turf.
Clemson is also much better than its 2-2 record now indicates. Parker is starting to come along as a QB and Spiller and Ford have speed like you wouldn't believe.
Andy Dalton has this Horned Frog team ready to break out in the competitive Mountain West, but they have one more week before they hit the conference slate with a home game against SMU.
No. 10 (25) Houston (3-0) W 29-28 vs. Texas Tech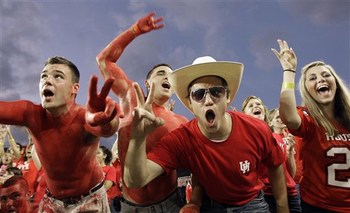 Next game: @ UTEP
Does Houston belong? Answer: Yes.
Case Keenum will shoot up Heisman boards after his fantastic performance against a VERY good Texas Tech team that has been on the wrong end of two pretty close games now.
This one was the closest, as the junior Keenum took the Cougars on his back in the final minute to win it in one of the biggest home games in the history of UH football.
Texas Tech did everything they could, but Keenum continued to rack up yardage, totaling 435 through the air on 38 completions. Bryce Beall was a great compliment on the ground for Keenum and the Cougar defense did just enough, forcing two turnovers and holding TT to 28 points.
Unfortunately, it's going to be very hard for Houston to get into the discussion of the BCS because of Boise State and TCU's play, but they have to hope Oklahoma State continues to win to boost that victory they had over the Pokes in Stillwater.
No. 9 (11) Oklahoma (2-1) Bye Week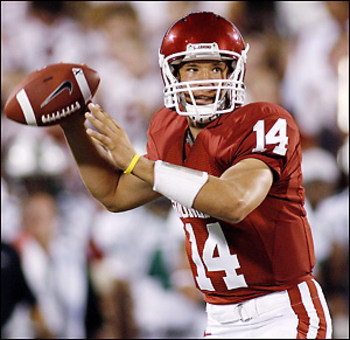 Next game: @ No. 15 Miami (FL)
Another top 10 team that is faced with a road trip against an opponent coming off an ugly blowout on the road.
USC has one, and Oklahoma has the other.
Miami will be none too happy after getting demolished in Blacksburg and will we see the services of Sam Bradford in Land Shark Stadium?
If Oklahoma wants to win, they will more than likely need him as Landry Jones has yet to face a hostile atmosphere in his career in Norman. Yes, he stepped in against BYU, but that was basically a home game for the Sooners.
This time, the freshman might have to step up in what could be Oklahoma's biggest game of the year next to its game against Texas.
No. 8 (7) LSU (4-0) W 30-26 @ Mississippi State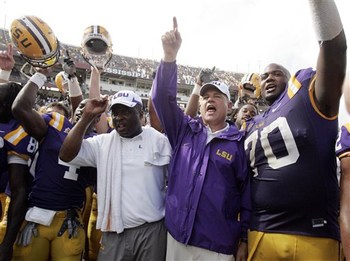 Next game: @ No. 22 Georgia
Here's another team that almost is identical to what Ole Miss is.
They are living off of last season's bowl performance against a good team and right now, it's hard to see if they truly deserve to be where they are ranked.
The Tigers had to escape in Starksville against a motivated Mississippi State team, and they were lucky to get out alive, totaling under 300 yards of offense.
Jordan Jefferson actually played fairly well in the contest, throwing for 233 yards and two scores, but the running game is still looking abysmal without Charles Scott shouldering the load. Scott totaled just 15 yards on six carries, which is not a good sign for Les Miles in Baton Rouge.
LSU will look to have a better game this week as they go Between the Hedges against a motivated Georgia team that might have been looking ahead to the Tigers this past weekend.
No. 7 (13) Virginia Tech (3-1) W 31-7 vs. No. 8 Miami (FL)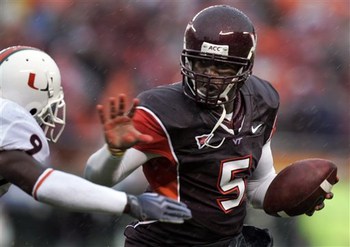 Next game: @ Duke
I've got to give the Hokies credit—I thought they would get blown out by Miami at home, but Virginia Tech always seems to have the Canes number in Lane Stadium.
For the first time all season, we saw Beamer Ball come into play in a big way, holding the highly regarded sophomore Jacory Harris to just 150 yards passing and an interception.
To combat that, Miami tried running the football.
That didn't work either as Graig Cooper and Javarris James combined for just 90 yards between their 25 carries.
I still have concerns as to whether Tyrod Taylor has the will to go out and win a game himself, as he threw just nine passes the entire game with the workhorse freshman Ryan Williams getting 34 carries.
Nevertheless, this is a huge win for the boys in Blacksburg as they have now tallied two straight wins against Top 25 opponents, which is a big for a team that was down after losing to Alabama to start the season.
The Hokies travel to Duke next week to take on a reeling Blue Devil squad.
No. 6 (9) Cincinnati (4-0) W 28-20 vs. Fresno State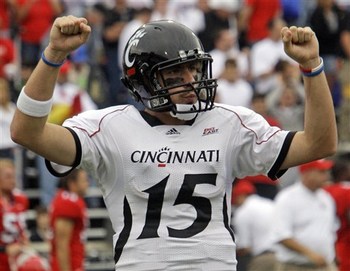 Next game: @ Miami (OH)
Make no mistake about it, Fresno State is probably the best 1-3 team in college football right now.
Almost beating the likes of undefeated Wisconsin, Boise State, and now Cincinnati are not giving Pat Hill the results he was hoping for.
Back to the team at hand, Cincy is once again proving that they have a defense that can hang with the big boys. Unfortunately for that defense, they had to be on the field for 44 minutes of the contest because Tony Pike and the Bearcat offense was scoring too quickly!
Amazing enough, they held NCAA-leading rusher Ryan Mathews to 145 yards on 38 carries! You see the 145, but having to get there on 38 carries is pretty darn good if you ask me.
The combo of Pike and Mardy Gilyard is really starting to heat up at Nippert. Watch out for them to really break onto the scene these next few weeks if more teams continue to lose ahead of them.
The Bearcats have a bye week as they play Miami (OH) this next week (yes, it's a bye week for Cincy).
No. 5 (10). USC (3-1) W 27-6 vs. Washington State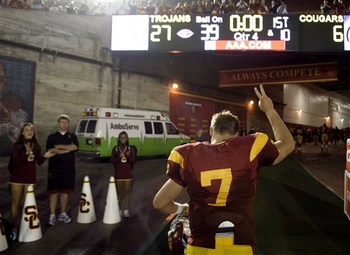 Next game: @ No. 19 California
So the Trojans didn't cover the 35-point spread that was predicted this week. They put up 20 quick points on the Cougars in the first quarter, and that's all Pete Carroll needed to show to get the point across that his Trojans are now back in the Pac-10 race after Cal was knocked off by Oregon.
Matt Barkley is still feeling discomfort in his bruised shoulder, but it certainly didn't show against Wazzu as he passed for 247 and two scores.
The reason why you didn't see a blowout against the Coogs was because next week the Trojans are back on the grind and what a horrible time for USC to have Cal lose in the way they did.
It's USC vs. Cal this Saturday night on ABC, and Jahvid Best is none too happy after getting completely demolished by Oregon this past weekend.
Not having Stafon Johnson for a significant amount of time with the freak accident on Monday could be a bad sign for things to come with SC. Granted, they are extremely deep at running back, it doesn't help losing No. 13 in the backfield for Matt Barkley.
No. 4 (5) Boise State (4-0) W 49-14 @ Bowling Green
Next game: vs. UC Davis
Not much else to say about Boise's performance against the Falcons on the road.
This was certainly far from an easy game for the Broncos, as they had to travel across the country to face BG on its home turf. BSU tallied 29 of their 49 points in the first half and Kellen Moore looked great, passing for 247 yards and two scores.
It was the first ever trip to Ohio for Chris Petersen and his Broncos, but maybe they should schedule more of these long road trips, as the Broncos recorded their highest total offense output of the season at 529 yards.
The two-headed backfield of Jeremy Avery and Doug Martin could be quite the attack when teams fall back and try and stop Kellen Moore. FCS power UC Davis is up next for the blue and orange at home.
No. 3 (2) Texas (4-0) W 63-7 vs. UTEP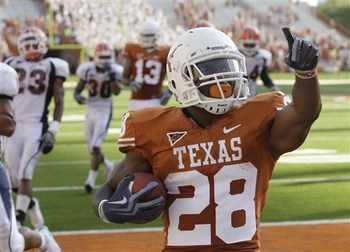 Next game: vs. Colorado (10/10)
Did they deserve to drop after throttling UTEP? No, they didn't.
But in all fairness, I believe Alabama has the better team with the emergence of McElroy at QB and its depth at running back and on defense.
There's no doubt that Texas has a great team this year, and wow, did they show it against UTEP, holding the Miners to just 64 yards of total offense and racking up 639 yards for themselves.
The running game finally looked like it's back on track and we have yet to see the best of Colt McCoy, who has said that he is still battling a flu bug. Good thing for Colt is the Horns have a bye week to get rested up for the conference run which will have Oklahoma, Missouri, Oklahoma State in three straight weeks all on the road (Red River Shootout is a neutral site game).
Get some sleep Colt, because these next few weeks are going to be the ones that will determine if you belong in the National Title picture.
No. 2 (3) Alabama (4-0) W 35-7 vs. Arkansas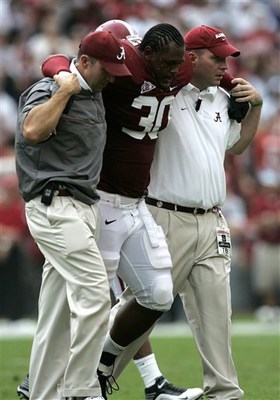 Next game: @ Kentucky
It was a performance that I certainly wasn't expecting, and I don't think Arkansas was either.
People were concerned at the start of the season with new QB Greg McElroy, but he is starting to turn the doubters into believers with his three touchdowns against the Hogs in Alabama's 35-7 rout of Arkansas.
The defense once again stepped up to the challenge, but losing star linebacker Dont'a Hightower is a HUGE blow to the group.
If it was any other team that lost a player of Hightower's magnitude, I would be worried. Lucky for the Tide, they are extremely deep at the linebacker position and Rolando McClain will rally the troops in the middle.
Next week, the Tide travel to Lexington to face a beaten and battered Kentucky team, which will begin a two-game road trip for Bama in the conference.
No. 1 (1) Florida (4-0) W 41-7 @ Kentucky
Next game: @ No. 8 LSU (10/10)
The Gators put up 31 points on UK IN THE FIRST QUARTER.
After that, the Gators held the Cats to just seven points and a total of 179 yards of total offense. That's the defense we were expecting from the Gators this season.
The biggest thing that Florida takes away from this game is not the score, but the status of QB Tim Tebow. TT was lit up by DE Taylor Wyndham, but then fell back and hit teammate Marcus Gilbert's leg, which ended up giving him a pretty good concussion.
Medical personnel are saying it's a good thing the Gators have a bye week this week so that they can get Tebow back and ready for the Tigers on Oct. 10.
Knowing Tebow, he probably still would have played if the Gators had a game this week anyway.
Others Receiving Recognition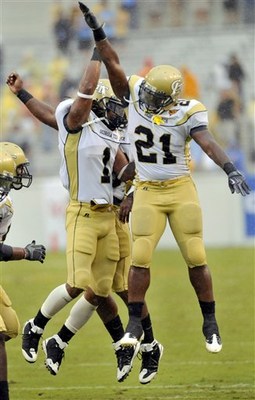 No. 26 Auburn (4-0) W 54-30 vs. Ball State
-They are good enough to be in discussion for the Top 25, but giving up 30 points to Ball State is uncalled for. Finally, we are seeing the offense break out for War Eagle, but the defense will be the Achilles heel for the Tigers this season.
No. 27 Georgia Tech (3-1) W 24-7 vs. No. 22 North Carolina
-The Jackets bounced back in a big way against UNC at home and Josh Nesbitt, Jonathan Dwyer, and Roddy Jones looked like they were back to their old tricks in the option.
No. 28 South Carolina (3-1) W 16-10 vs. No. 6 Ole Miss
-Great win for the Gamecocks and Steve Spurrier. Just think where they would be if they would have won Between the Hedges? Stephen Garcia looks like the man to take them to a bowl this season.
No. 29 South Florida (4-0) W 17-7 @ No. 18 Florida State
-No Matt Grothe? No problem! B.J. Daniels came in for the injured Grothe and threw two big TD strikes of 70 yards or more to upset the in-state rivals on their home turf at Doak.
Dropped from the rankings: No. 18 Florida State, No. 22 North Carolina
Keep Reading