Round 1: Kurt Angle's Secret Signature Move Arsenal Revealed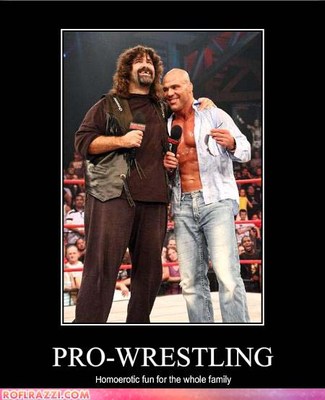 Kurt Angle. What can we say about the man, that hasn't been said already? Without a doubt, he can arguably be considered the greatest technical wrestler today.
Come with me, wrestling fans, and let me take you on a journey of images both stunning and surreal. Today we will bear witness to some of Kurt Angle's less-used finishers and signature moves, some even dating back to his Olympic Gold Medal winning amateur wrestling days.
Are you ready?
No, you're not, but click on the little arrow, anyway, and let's get started, shall we?
The Olympic Schlong Psyche-Out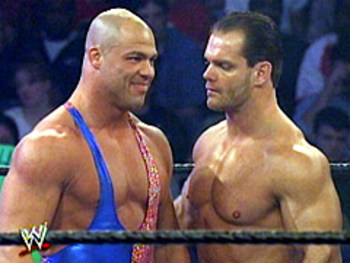 Here we see Kurt Angle preparing to square off with his opponent (Who shall remain nameless, because someone might get offended by the mere mention. You'd think a rabid wolverine tore their heart in two, they get so upset) .
In this particular shot, we see Angle's adversary making the unfortunate mistake of, you guessed it, looking down.
The grin on Kurt's face conveys the message loud and clear. "Mine's bigger, and it's going in your face every chance I get."
The Six-Pack Suplex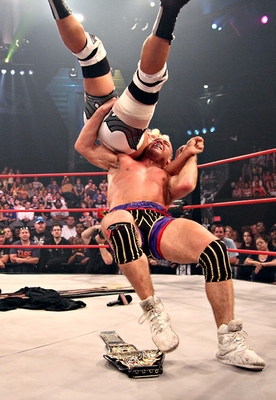 Originally called the Pepsi Challenge Suplex, Kurt decided to change the name to avoid a Trademark Infringement suit from the move's namesake, Pepsi Cola.
This move was named so, because as you can see, the suplexer grabs the suplexee from behind, lifting them up and over their shoulders from a very uncomfortable place. If you notice the positioning and grip of the hand, the opponent is lifted much like "A six-pack of Pepsi".
This move has been known to have very messy consequences if performed in a Mixed Tag Match.
The Figure-Two Testicular Toe Hold
Now, don't let this picture fool you.
Kurt has Ol' Slapnuts exactly where he wants him. It may look like Kurt has been placed in a Figure-Four Leg Lock, but looks can be deceiving.
This is actually one of Angle's most painful moves, the Figure-Two Testicular Toe Hold.
A little known fact about our Olympic Hero is that he was actually born with a prehensile scrotum.
Unfortunately, this move proved to be just as painful to him as it was to his opponents, so he has since removed it from his moveset.
The Back Door Bridge

Here we see Kurt Angle's counter to the lethal Hell's Gate submission hold, The Back Door Bridge.
This reversal is definitely not for the faint of heart. As you can see, it involves getting more than your hands dirty. There's no denying, however, that tasting Undertaker's (or whoever has you in this lock) digested breakfast for the next week is a small price to pay for getting the 1-2-3.
Just watch out for trolls under the bridge, if you catch my drift.
The Cameltoe Clutch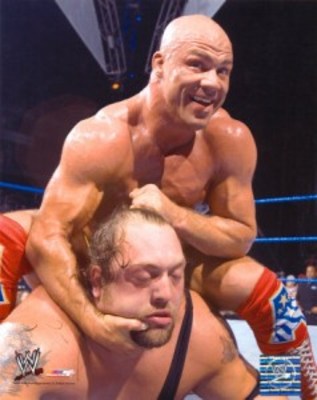 There is almost no need for explanation for this most brutal of submission holds. As you can see, Kurt's placement against the back of his victim's head says it all, for this Signature's namesake.
Not to mention that pie-eating grin on his face.
The Pump-a-Chump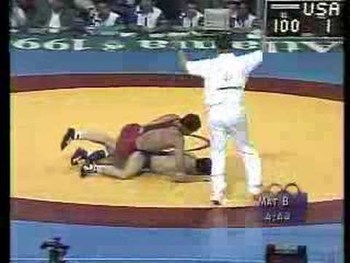 One of the greatest Heavyweight Boxing Champions in the world, Muhammed Ali, had a defensive style called the "Rope-a-Dope", where he would take on his opponents' punches until they tired themselves out, allowing Ali to knock them out with but a few blows.
This move is nothing like it, but Kurt decided he's as great at wrestling as Ali was at boxing, so he named this hold the Pump-a-Chump.
Note: This move has had similar results in mixed tag matches as the Six-Pack Suplex, only with an increased likelihood of legal action to follow.
The Main Event Monocle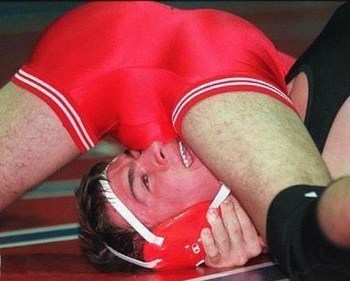 Ladies and Gentlemen, I give you the finisher to end all finishers.
Nothing says, "You got owned, bitch" like this move. Oft times used in conjunction with his top rope moonsault, this signature move has its roots (no pun intended) dating back to Kurt Angle's early amateur wrestling matches in high school, and he has kept it in his sack (pun intended) of tricks to the present day.
The only thing that can be said of the poor victims of this devastating move is that they should have listened to their parents when they were told, "You'll poke your eye out!", because if they don't, Kurt will.
Even though this move is totally demoralizing and humiliating to his opponents, our great American hero isn't without a soul...
Been there, done that...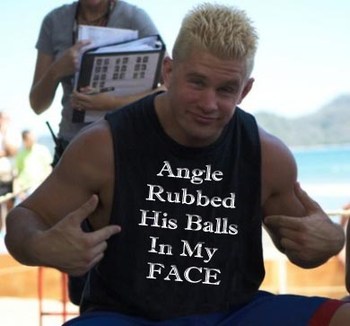 Sometimes he gives them a souvenir t-shirt to take home to the wife and kids...
We (As in, the Royal) hope you've enjoyed this little foray into one of the more obscure move sets in professional wrestling today.
Remember, these are stunts performed by professionals. Don't try this at home.
No, really. Don't. You'll get arrested.
I know.
Keep Reading