The Best of the Rest: NFL's Top Available Free Agents for 2009
This is a list of the best players who have not been signed so far in the 2009 season. When injuries occur, these are the guys that teams should look at to replace the injured player.
Most of them are savvy veterans who have been solid throughout their careers and are now looking for a new team.
Others may be younger players who have not panned out or have had disciplinary issues, but are still worth looking at.
Some of them will even surprise you, as it is a wonder they are unsigned. Whatever the reason may be, these guys are the can't miss free agents for the 2009 NFL season.
Darrell Jackson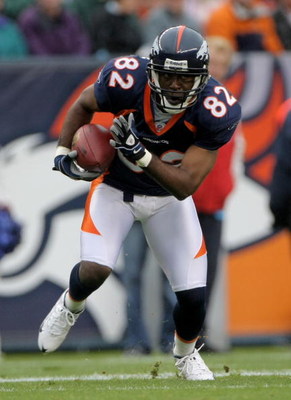 Heading off our list is veteran receiver Darrell Jackson. For the past decade, Jackson has been one of the NFL's better wide outs. Since 2000, when he made his NFL debut in 2000 with the Seattle Seahawks, he has grabbed 499 passes 7,132 yards and 51 scores.
He did the most damage with the Seahawks, for whom he played with from 2000 to 2006. He also played with the San Francisco 49ers and Denver Broncos in 2007 and 2008 respectively. He was fantastic in Seattle, where would accumulate the majority of his stats, but injuries have started slowed him down.
Age is also a factor in his lessened production. But he is still a talented, sure-handed, and experienced pass catcher who could help any team weak at the wide receiver spot.
Matt Stover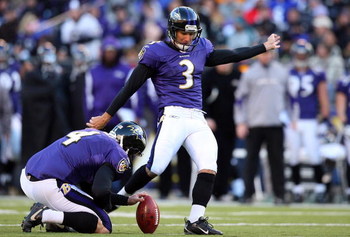 Then we have Matt Stover, the seemingly ancient placekicker. Stover is a 41-year old free agent who might have trouble finding a job with his position being one that only requires one, sometimes two players on a roster.
But if any team were to be in need of a kicker, the first guy they should turn to is Matt Stover. That's because he is extremely accurate with a very strong leg to match it.
He was originally drafted by the New York Giants in 1990, but he barely played. He then went to the Cleveland Browns, where he spent the next five years of his career.
In 1996, Stover joined the Ravens. In 2000, he was a Pro Bowl selection and a Super Bowl champion. He was also a Pro Bowler in 1994, while he was a Brown.
Stover had been a Raven all the way through 2008, but was not resigned this past offseason. So far, Stover has made 462 of his 552 attempts, giving him an 83.7 career percentage, including a long of 55 yards. He has also has converted 558 extra points out of 561 attempts, putting him at 99.5 percent.
Although Stover may not have too many years left in the league, he is a reliable kicker who will get the job done.
David Barrett
David Barrett is the next guy on our list. Barrett is a talented cornerback who has played for the Arizona Cardinals, from 2000 to 2003, and the New York Jets, from 2004 to 2008.
While it is apparent that he is a gifted player, he has been inconsistent at times and lost his starting job with the Jets in 2007. Thus far in his career, Barrett has 460 tackles, 0.5 sacks, 54 passes defensed, 18 interceptions, 162 return yards and a touchdown.
He also has recovered 2 fumbles that he brought back for a total of 51 yards. Over the course of his career, Barrett has primarily become known as a ballhawk who also does well against the run. When he is playing well, he looks like a top-notch defender.
The problem is that he is not always capable of playing at this level. Still, he would be a great addition as a back-up corner in case of injury.
Matt Jones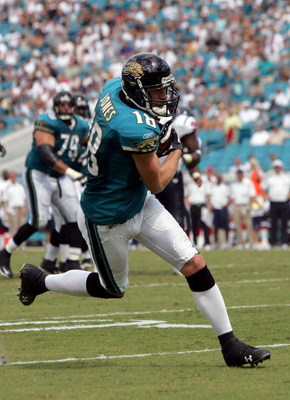 Now we go to Matt Jones. Jones was a wide receiver for the Jacksonville Jaguars from 2005 to 2008. Originally, Jones played quarterback in college for Arkansas.
But when it was apparent that he would play in the NFL as a quarterback, he made the switch to wide receiver because of his incredible athleticism.
In fact, he is so talented that he was dubbed "The Freak" by coaches and scouts due to his combination of great size and athletic ability.
In his first four seasons, he has tallied 166 receptions, 2,153 yards, and 15 yards. While this is not bad for a guy who has just finished learning a new position, Jones could have done better. This is because he missed part of the 2008 season.
This happened because of multiple drug/alcohol related arrests, including that ended in a trip to jail. At the end of the season he was released by the Jags.
Now that he is a free man, Jones is an attractive option at the wide receiver spot, with added value based on the fact that he could possibly play as a Wild Cat quarterback in addition to wide out.
Wayne Gandy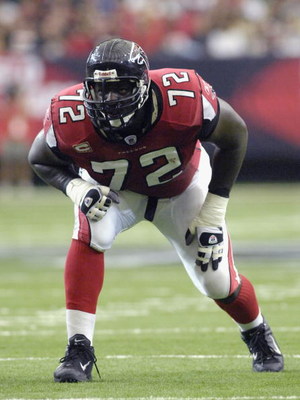 Up next is Wayne Gandy. Wayne is a big boy, weighing in at 308 pounds and standing at 6'5". He is an old, weathered offensive tackle who is now 38 years of age.
Gandy was drafted in the first round of the 1994 draft by the Los Angeles Rams. He stayed with the team when they moved to St. Louis, and remained there through 1998. While there, he blocked for many good players, including Jerome Bettis, and Lawrence Phillips. Bettis was a Pro Bowler in 1994.
He would then move on to the Pittsburgh Steelers from 1999 to 2002, where he was reunited with Jerome Bettis. In 2001, Gandy helped Bettis earn a trip to the Pro Bowl. The next stop in Gandy's career came in New Orleans, where he would pave the way for Saints' running backs from 2003 to 2005.
Deuce McAllister enjoyed running behind Gandy, as his lineman helped him make the Pro Bowl in 2003. Antowain Smith and Aaron Stecker also played running back when Wayne was a Saint.
Most recently, Gandy was a member of the Atlanta Falcons, from 2006 to 2008. Warrick Dunn, Michael Vick, and T.J. Duckett all where able to find success on the ground when following Gandy's lead.
Gandy missed 2008 because of a torn ACL and was released this past offseason. While he is a little old to be used as a starter, he is a great addition for any team looking for depth at the tackle position.
Ahman Green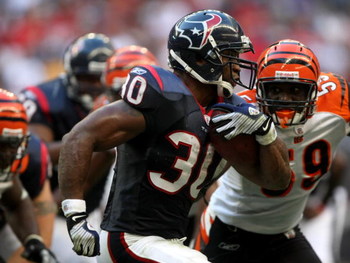 Next up is running back Ahman Green. Green was one of the top running backs in the league at one time. He was a Pro Bowler in 2001, 2002, 2003, and 2004, while being named All-Pro in 2001 and 2003.
All of these selections came when he was a member of the Green Bay Packers. Green's career began with the Seattle Seahawks, where he played for the 1998 and 1999 seasons.
He would then move on to Green Bay, where he become of the league's premier backs. His stay there lasted from 2000 to 2006. Green then signed with the Houston Texans and played there in 2007 and 2008.
In all of his years in the pros, Green has totaled 9,045 rushing yards and 59 touchdowns on a stellar 4.5 average. He's also got 375 receptions for 2,865 yards and 14 scores. He is a valuable speed back who carry the load for anyone who needs him.
Although he is getting up there in age and has always been prone to fumbling, he has a great deal of talent and can significantly improve a team's running attack.
Amani Toomer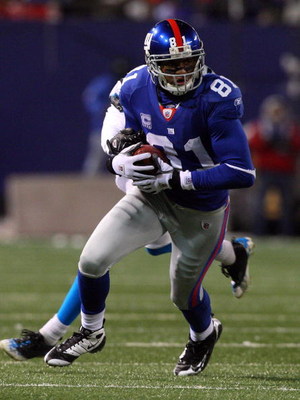 And then there is long-time New York Giants' great Amani Toomer. Toomer is Big Blue's all-time leading receiver, with career statistics of 668 catches, 9,497 yards, a 14.2 average, and 54 trips across the goal-line.
He also has 110 yards on the ground, a 9.2 rushing average, and 1 one running touchdown. In addition, he has 1,060 punt return yards and 3 PR touchdowns.Toomer has made countless big plays for the Giants, including game-winners, over the years.
Before Eli Manning in Super Bowl XLII, Toomer was the symbol of clutch in New York. From 1996 to 2008, Toomer was the Giants' most reliable option.
If things broke down, his quarterback always looked for #81. He also played for the Kansas City Chiefs during the 2009 preseason, but did not make the cut.
Although Amani is starting to get old and has faced injuries over the past couple of years, he is still a viable option for any team looking for a back up split end or an occasional slot receiver.
Willie McGinest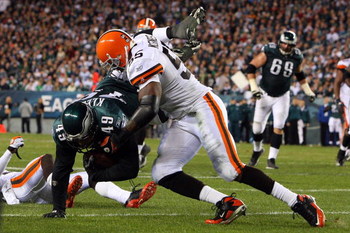 Another high-priority free agent is linebacker Willie McGinest. Willie is an aging 37 year-old who might be long past his prime, but can still be a force for opposing offense.
He is well-built at 6'5", 270 pounds, and is intimidating to line up against. McGinest is a fifteen year veteran, having played for the New England Patriots from 1994 to 2005, and the Cleveland Browns from 2006 to 2008.
Since 1994, McGinest has compiled 798 tackles, 86 sacks, 56 passes defensed, 5 picks, 90 return yards, and 2 TDs. He also has 16 forced fumbles and 17 recovered, two of which he returned for scores, giving him a career total of 4 touchdowns.
McGinest is a solid run defender at the outside linebacker slot, earning two Pro Bowl selections in his fine career. He is also a three-time Super Bowl champion, all coming with the Patriots. His 16 postseason sacks are the best in NFL history.
McGinest is a winner, a leader, and somebody to trust when the game is on the line. He can be weakside and strongside linebacker, and also has played defensive end.
McGinest is an excellent pick-up for anyone in need of an outside linebacker.
Reggie Williams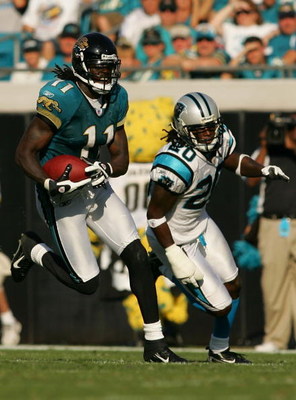 Then we have wide receiver Reggie Williams. Williams is a young talent and is only 26 years old. In his five-year career he has 189 receptions, 2,322 yards, and 18 touchdowns.
He is fast and has a good wide receiver physique, as he is 6'4" and 212 pounds. But at times he has been inconsistent. The Jaguars, whom Williams played for from 2004 to 2008, were expecting him to step up as the team's clear-cut number one receiver. And he did in 2007, when he scored a team record 10 touchdowns.
But he was far less effective, and this led to him being cut at the end of the season. This, and the fact that he has been caught with drugs multiple times are what ended his career as a Jaguar.
After his second arrest, Williams was suspended for two games. Those games were the first two of the 2009 season, but now they have passed and Reggie is eligible to play again.
Any team looking to add youth at the wide receiver position should take a chance on Williams, as he is a good player who has yet to reach his potential.
Shaun Alexander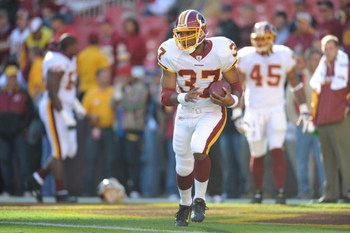 Following that is Shaun Alexander, one of the most prolific rushers in NFL history. He currently ranks no. 26 on the NFL's all-time rushing list.
His career stats go as follows: 9,453 rushing yards, a 4.3 average, 100 rushing touchdowns, 215 receptions, 1,520 yards, a 7.1 average, and 12 receiving scores.
Alexander played for the Seattle Seahawks from 2000-2007 and the Washington Redskins in 2008. He is the Seahawks all-time leading rusher, and has led, or come up just short of leading the NFL in rushing multiple times.
He has also set or tied countless NFL records, although a few have been broken since. He is a three-time Pro Bowler, two-time All-Pro pick, and was both the NFL Offensive Player of the Year and NFL MVP in 2005.
He has earned so many distinctions and has so many achievements that you will have to look somewhere else if you want to know all of them.
The point is: Shaun Alexander is good. So good that he shouldn't have any trouble finding a team. That would be the case, had injuries not ruined his career.
He has been plagued by injuries throughout his days in the NFL, most notably an ankle injury that diminished his ability and caused him to fall out of the top tier of running backs. But don't think there isn't anything left in the tank for Shaun.
If he finds the right team and the right environment, Alexander could still be a decent player for the next few years.
Deuce McAllister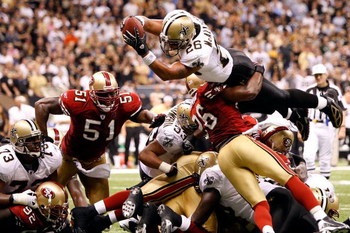 Our next player is Deuce McAllister. Deuce, a life-long New Orleans Saint, is someone many people expected to be picked up before the season began. This is because he is a top-notch power runner with the speed to go with it.
He is a very talented back who was once one of the league's more well-known names. From 2001 to 2008, McAllister rushed for 6,096 yards and 43 touchdowns on a 4.3 average.
He also added 234 receptions 1,720 yards, which comes out to 7.4 yards per catch, and 5 scores as a receiver out of the backfield.
In 2002 and 2003 Deuce made back-to-back Pro Bowls. But lately, McAllister has been battling injuries. His production dropped because of this, and he was released in favor of younger, healthier players.
Now Deuce, age 30, is looking for a new home. Many teams could use his services as a back-up half back.
He fits into the power-running style of offense very well, and is an experienced player that teams should have confidence in turning to if all else fails. He is definitely qualified to be a regular goal-line back for any team interested.
Sam Madison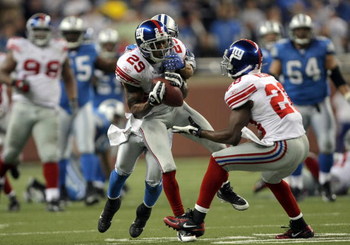 One of the biggest steals on the free agent market right now could be this next guy, Sam Madison. Madison is another ballhawk cornerback, someone who, over the years, has just been an interception machine.
In his career, he has racked up 38 INTs, 595 return yards, and a pair of pick sixes. In addition, he has 476 tackles, 2 sacks, 126 passes defensed, 10 fumbles caused, 6 recovered, 1 returned back to the end zone, and one safety forced.
He played with the Miami Dolphins from 1997 to 2005, and was a New York Giant from 2006 to 2008. He was selected to four straight Pro Bowls while in Miami, coming in 1999, 2000, 2001, and 2002.
He was a member of the Giants Super Bowl XLII winning team back in the 2007-2008 season. Age is probably the sole reason Madison is not currently on a roster because skill certainly is not.
He was injured at the end of last year, but that should be affecting him now. If there is a team looking to bolster their defensive backfield, Sam Madison is there guy.
He is at least still good enough to play nickelback or a dimeback in a prevent defense, but don't think he can't be a full-time starter if needed.
Warrick Dunn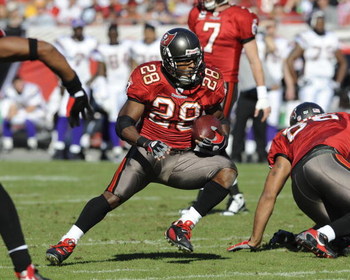 Continuing on with the list, we now have Warrick Dunn. Dunn was once a top-tier NFL running back and still poses a major threat to opposing defenses. He now has the twenty-second highest total of rushing yards in NFL history with 10,967 yards.
He also has 49 rushing touchdowns, 4.1 yards per rush, 510 catches, 4,339 yards, an 8.5 average, and 15 touchdowns. So far, Dunn has played for the Tampa Bay Buccaneers, from 1997 to 2001, and then was a part of a dominant Atlanta Falcons rushing attack from 2002 to 2007, before returning to the Bucs for 2008.
But that second stint in Tampa was short lived, and the three-time Pro Bowler is now a free agent again. In 1997, Dunn was chosen as the AP Offensive Rookie of the Year.
He provides teams with a dual-threat as a runner and a pass catcher, both of which he does very well. Some feel that his age may be a problem, but the truth is that Warrick can definitely be an effective player.
Any team that wants to boost their running game would be foolish not consider signing Dunn.
Zach Thomas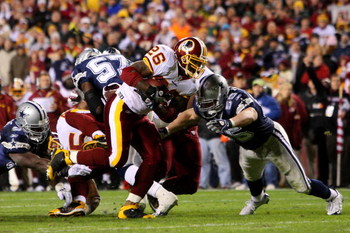 Another big-name free agent who still is available is Zach Thomas. For many years, Thomas was one of the most feared linebackers in the NFL. From 1996 to 2007, he was the staple of the Miami Dolphins defense.
In 2008, Thomas played for the Dallas Cowboys. He also signed with the Kansas City Chiefs, but was cut following the conclusion of the preseason.
As a Dolphin, Thomas made seven Pro Bowl appearances and was an All-Pro selection seven times as well. In all of his thirteen professional seasons, he has a total of 1,720 tackles, 20.5 sacks, 68 passes defensed, 17 interceptions, 170 return yards, and 4 touchdowns.
In addition, he has posted 16 forced fumbles, 8 fumble recoveries, and 29 more return yards. He delivers big hits and shuts down the opponents running game. He is a leader and a hard worker, something every team could use more of.
If any team has a shortage at the inside linebacker position, then Thomas would be the perfect pick-up.
Derrick Brooks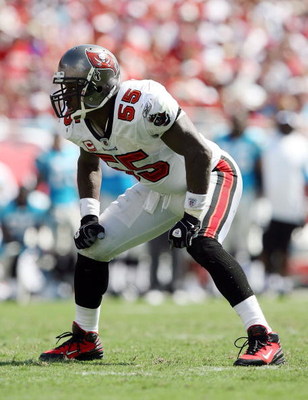 Derrick Brooks is another player who many expected would have been signed earlier than now. That is because Brooks has been one of the most menacing and impressive defenders in the pros since he joined the NFL with the Tampa Bay Buccaneers in 1995.
Since his arrival to the league, Derrick had been the staple of one of the most feared defenses in the NFL. But this offseason, he was let go by the team that he had helped make great for so long. Back in the 2002-2003 season, Brooks won the Super Bowl with the Bucs.
That same year, he was named the AP NFL Defensive Player of the Year. He is an eleven-time Pro Bowler and an eight-time All-Pro pick.
He participated in the NFL's version of the All-Star Game just this past season, and made the trip to Honolulu every year prior to that since 1997, with the exception of 200.
This makes it a surprise that he would be released by Tampa in the ensuing offseason. His 1,068 career tackles don't hurt either. He also has 13.5 sacks, 112 passes broken up, 25 interceptions, 560 return yards, 6 touchdowns, 24 fumbles forced, 4 recoveries, 15 return yards, and another score, giving him a total of seven.
While age is a factor in team's lack of interest in Brooks, he is in very good shape for a 36-year old, although he may only have a couple good years left in him.
But he is a leader in every sense of the word and can provide a spark to any defense he joins. He can take command and dominate any game, making him an excellent decision for any team looking to strengthen their linebacker corps.
Marvin Harrison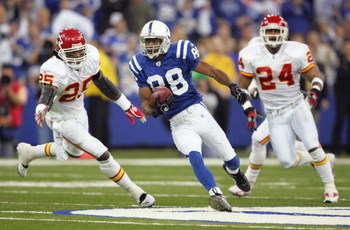 And rounding out our list is wide receiver Marvin Harrison. Wait—what? Marvin Harrison is still a free agent? You heard right.
A couple years ago it seemed that Marvin would never be unsigned at the season's beginning, but that's what injuries and age can do to a guy. But don't think all is lost for the once prolific receiver.
He is still an eight-time Pro Bowler and eight-time All-Pro, with an astounding six of those selections being for the first team. All of these distinctions were earned consecutively, from 1999 to 2006.
He also was a part of the Super Bowl XLI winning Indianapolis Colts team. Up until now, Harrison had played in Indy for his entire career, which began in 1996. During that time, he and quarterback Peyton Manning teamed up to record an NFL all-time high 965 completions/receptions as a pair.
He also holds or is close to breaking tons of NFL records and has already reached some of the game's most prestigious milestones. In his illustrious career, Harrison has compiled 1,102 receptions, 14,580 yards, an 128 touchdowns.
In he were to retire now, you could be sure that he would see him being enshrined into Canton a few years down the road.
But since he hasn't packed it in just yet, look out for Marvin to make an impact the very day he is signed. There are plenty of teams that could use his services.
If any team is seriously contemplating adding a wide receiver in the coming weeks, you can bet Marvin Harrison will be at the top of their list.
Keep Reading

New York Giants: Like this team?