Josh Hagins and the Arkansas-Little Rock Trojans were giant killers in the first round of the NCAA men's basketball tournament, knocking off Purdue. In Georges Niang and the Iowa State Cyclones, however, they ran into giants on Saturday they couldn't slay.
Niang's 28 points and six rebounds led Iowa State to a convincing 78-61 victory over Arkansas-Little Rock in Midwest Region play, securing a berth in the Sweet 16 for the Cyclones.
It was a particularly big deal for Niang, as Lindsay Jones of USA Today noted:
Iowa State is on to the Sweet 16. The first time out of the opening weekend for Cyclones senior Georges Niang.

— Lindsay Jones (@bylindsayhjones) March 20, 2016
Matt Thomas added 16 points, four rebounds, four assists and two steals for Iowa State, while Monte Morris held Little Rock's first-round hero and leading scorer, Hagins, to just eight points on 3-of-8 shooting from the field.
Roger Woods led the Trojans with 19 points and 10 rebounds.
The Cyclones were too good for Little Rock to handle, however. The Trojans became America's darlings after upsetting Purdue in the first round, but Iowa State wasn't about to suffer the same fate, as Jason McIntyre of the Big Lead tweeted:
Hey Purdue, that's how you close a game against Little Rock. Iowa State putting on a passing/shooting clinic. Cyclones looking dangerous

— Jason McIntyre (@jasonrmcintyre) March 20, 2016
Indeed, as Jon Rothstein of CBS Sports noted, Iowa State looks like a team to be reckoned with:
Iowa State is on a mission. Cyclones are as dialed in and focused as I've seen all season. There's only one goal for this team: Houston.

— Jon Rothstein (@JonRothstein) March 20, 2016
Iowa State dominated the first half in just about every facet, hitting seven of its 12 three-point attempts, notching seven assists and turning the ball over just twice. The Cyclones held Hagins to two points in the half, while Niang exploded for 17 points.
Seth Davis of CBS Sports saw just one strategy for Little Rock against the talented Niang in the second half:
Niang is one of the toughest matchups in the country. To stop him, you have to make him defend.

— Seth Davis (@SethDavisHoops) March 19, 2016
Niang didn't seem likely to miss, however, as Tommy Birch of the Des Moines Register tweeted:
Georges Niang could drop kick the ball from the parking lot and it would still go in right now. #Cyclones

— Tommy Birch (@TommyBirch) March 19, 2016
His ability to both drive to the bucket and hit from long range made Niang an overwhelming matchup for the Trojans in the first half. He hit all three of his shots from beyond the arc in the first half, including this deep three:
Meanwhile, Hagins—who scored 31 points against Purdue in the first round, including a three-pointer with just seconds remaining to send the game to overtime—was a non-factor as Morris smothered him on defense.
There was a precedent for Hagins exploding in second halves, however, as Cameron Wolfe of the Denver Post noted:
Iowa State up 40-28 at half. Same situation Little Rock was in Thurs. before Josh Hagins turned into Steph Curry. Hagins went 1-4 w/ 2 pts.

— Cameron Wolfe (@CameronWolfe) March 19, 2016
Hagins and Co. didn't have a comeback in them Saturday as they did against Purdue in the first round—when they overcame a 13-point deficit in the final three minutes, 33 seconds in regulation.
Iowa State extended its lead to 20 points at the 12:27 mark after a Deonte Burton layup. A 7-0 run gave Little Rock some hope, but Niang's jumper and Morris' steal and layup in transition stopped the bleeding for Iowa State.
After Iowa State went up by 20 again following a Thomas three-pointer, Little Rock made one final push, going on a 10-3 run to cut the deficit to 65-52. But Iowa State wasn't about to fall prey to Little Rock's magic, holding off the Trojans down the stretch.
Up next for Iowa State is a Sweet 16 contest against Virginia.
While Iowa State's excellent offense and its floor spacing will present problems for the Cavaliers, Virginia is one of the most balanced and efficient teams in the nation (fourth in defensive efficiency, eighth in offensive efficiency, according to KenPom.com). The Cavaliers are holding opponents to 59.7 points per game, the second-best mark in the nation.
Virginia's methodical pace means the matchup will be a fascinating contrast in styles, as Iowa State can play a half-court game but also is capable of pushing the pace and scoring quickly. One thing is for certain—Niang and Co. will be a confident bunch after their complete victory over Little Rock Saturday.
Postgame Reaction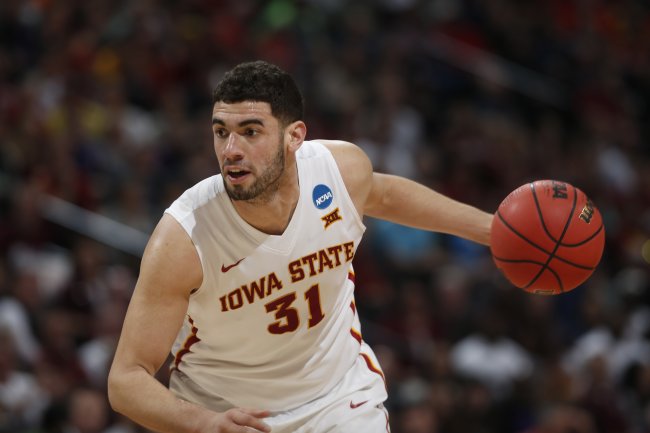 David Zalubowski/Associated Press
After the contest, the Cyclones spoke like a confident bunch.
"I think we're peaking at the right time," Thomas said, per Cyclone Basketball. "We're really locked in, and we're just looking to keep advancing."
Georges Niang and Matt Thomas talk about advancing to the Sweet 16! https://t.co/MWN9kSnsnR

— Cyclone Basketball (@CycloneMBB) March 20, 2016
Iowa State head coach Steve Prohm agreed with that assessment, per Ryan Kaufman of XTRA Sports 1300:
I asked Prohm if this was best #IowaState has played, "We've been getting better all year,I think now we're better as a team, we're unified"

— Ryan Kaufman (@RyanKRadio) March 20, 2016
Little Rock head coach Chris Beard was just as impressed with the Cyclones and Niang:
Chris Beard on #IowaState "They are as good as advertised." Says they can get to Houston @XTRASports1300 pic.twitter.com/UtdF1RBimd

— Ryan Kaufman (@RyanKRadio) March 20, 2016
Chris Beard raves about Niang, says he's going to make some money next year, meaning he thinks he's NBA quality pic.twitter.com/X8WNUqC0Rc

— Ryan Kaufman (@RyanKRadio) March 20, 2016
Niang, meanwhile, spoke about the team's urgency to win and what the opportunity to be in the tournament meant to him, per Cyclone Basketball:
This is a one-game season,. You've gotta put your all into this. You work your whole life to get to these moments. I remember being in the seventh grade, calling my mom to say I was sick so I could watch the games. She never let me come home, but those are the things you dream about as a kid. So to be here, I've gotta take full advantage of every moment.
He certainly took full advantage of the moment Saturday.
Check out Bleacher Report's live updating bracket to track your picks along the road to the Final Four.
You can follow Timothy Rapp on Twitter.