Just when you think you've seen it all from the Golden State Warriors, they decide to blow you away once again.
On Friday night, it was the Splash Brothers putting on a showcase against the Dallas Mavericks, using their three-point shooting to lead the charge in a 130-112 victory that pushed the Dubs to 62-6 on the season. Just read that record and try to let the magnificence of it sink in.
We've literally never seen a team get off to this kind of start, and only 44 different squads have ever won 62 games in an entire season. In fact, the Warriors could lose every remaining contest on their schedule and still post more wins than all but 28 teams throughout NBA history.
That should be surprising. Shocking, even.
But it's not, because we've started to become jaded to this type of unabashed excellence. We expect unmatched dominance from a team starting a pair of guards who can knock down 16 of their 27 attempts from beyond the arc in a single outing.
And that's exactly what Stephen Curry and Klay Thompson did against the Mavericks' porous backcourt defense:
Impressive as the compilation may be, it's worth highlighting a few of those from Curry in a more isolated space.
The presence of mind to steal the ball away and knock down a buzzer-beating triple at the end of the first quarter is just astounding, and it capped off a 42-point first quarter:
Spinning Dirk Nowitkzi into the ground and then somehow banking in a three from the corner is just silly:
If ESPN.com's Tim MacMahon had interviewed the German 7-footer after this outing, he might not have been so quick to levy praise upon the reigning MVP. Some of his words proved awfully fortuitous, as he would've been better off letting Curry drive to the hoop on the aforementioned play:
The thing is, he shoots it so quick off the dribble that you never really know when he's going to pull up. He's kind of like here [Nowitzki pretends to dribble a ball], and then next thing you know he comes up with the ball out of his dribble and the ball is gone within a split second. Obviously, he's still pretty quick off the dribble, so the guy has got to be worried about him just driving by. But he's in such a great groove right now that it's almost better to let him drive by and lay it in. At least that's only two points, you know?
Curry slowed down in the second half, but he still finished with 31 points, nine rebounds, 10 assists and two steals against the Mavs. Perhaps even more impressively, he turned the ball over just once.
Meanwhile, his starting shooting guard recorded his own set of gaudy statistics: 39 points, six rebounds, two assists, two steals and a block on 14-of-22 shooting from the field and a 10-of-15 performance from three-point land.
How do you stop that? How do you slow down a team capable of tying the all-time record for threes in a single half (h/t SB Nation) and ultimately finishing one shy of the single-game record?
The Warriors hit 15 threes in the first half against the Mavericks, tying an NBA record. The record for an entire game is 23.

— SB Nation NBA (@SBNationNBA) March 19, 2016
It's become increasingly clear that you just don't.
To be fair, none of this is particularly new information.
We've known Curry and Thompson can combine for a ridiculous number of triples, since they'd already hit 17 in a game against the Washington Wizards on Feb. 3 and drilled 15 against two different opponents. We're well aware the Warriors as a whole can knock down plenty of shots from downtown, seeing as they'd already hit at least 20 in three different outings during the 2015-16 season—including another 22-triple performance on Nov. 27 against the Phoenix Suns.
But we're running out of chances to see it happen again. The closing stretch of the quest for 73 wins is coming up, and it's almost unacceptable to miss any one opportunity to watch greatness manifest itself on a basketball court.
Enjoy it whenever you can. On Friday night, everyone who watched certainly should've—Dallas fans notwithstanding.
Toronto Raptors Pulling Away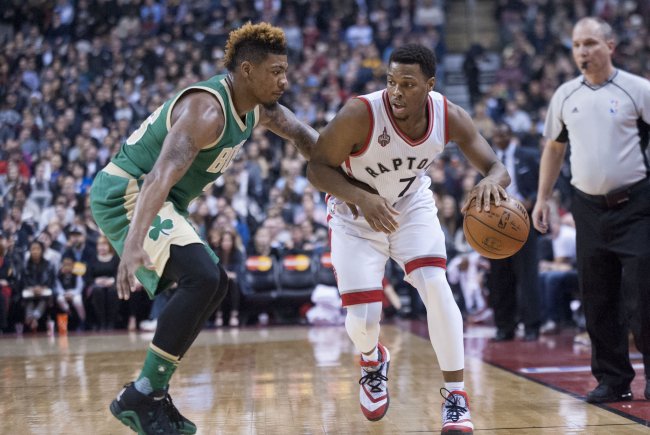 Peter Llewellyn-USA TODAY Sports
Is there any doubt the Toronto Raptors are one of the two best teams in the Eastern Conference?
After their 105-91 beatdown of the Boston Celtics, they created even more separation between themselves and the Atlanta Hawks, who still sit at No. 3. A 7.5-game advantage should be considered insurmountable at this stage of the season, and the Raptors can start looking ahead, not behind.
No one is nipping at their heels. But they are doing a bit of nipping in the quest for No. 1, as this impressive victory kept them a mere two games shy of the Cleveland Cavaliers. And with the Cavs struggling to top the Orlando Magic in the Amway Center on Friday night, it's tough to rule out the Raptors in that pursuit.
That's doubly true with Kyle Lowry continuing to torch everyone he faces.
Against the C's, the dynamic point guard went off for 32 points, four rebounds and five assists, shooting 9-of-14 from the field and 5-of-8 from downtown. Shockingly, that's little more than par for the course since the All-Star break, as Lowry has averaged 25.1, 5.3 and 7.2 following the midseason festivities.
According to Basketball-Reference.com's MVP Award Tracker, which looks at historical correlations between certain factors and the actual voting results, Lowry sits at No. 8 in the standings for the league's premier individual award.
Just imagine how high he could rise if he keeps playing like this and pushes the Raptors into the East's top seed.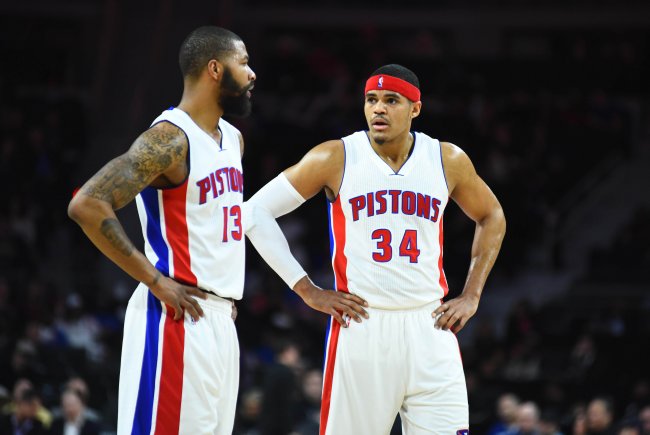 Tim Fuller-USA TODAY Sports
The Detroit Pistons aren't going anywhere.
After beating the Sacramento Kings 115-108 on Friday night, they moved back into a tie for No. 8 with the Chicago Bulls—a tie they currently win by virtue of a 2-1 head-to-head record. The battle should rage throughout the season, and there's a good chance it could come down to the final game of the year.
If that's the case, the Pistons will need contributions from everyone. While the Bulls can rely on Jimmy Butler's offensive prowess and the occasional explosions from Derrick Rose, Detroit doesn't have the same type of go-to options.
Reggie Jackson is averaging 19 points, but it's balance that rules the day.
Allen Einstein/Getty Images
Such was the case in the victory over the Kings, as all five starters managed to log at least 14 points. Marcus Morris led the pack with 24, while Kentavious Caldwell-Pope was close behind with 23. Jackson hit his average on the nose, Tobias Harris added 17, and Andre Drummond lagged behind with "only" 14.
When everyone is clicking like that, the Pistons can be awfully difficult to beat. Their entire offensive strategy is predicated upon surrounding Drummond with capable options who will draw defenders away from the interior, so having threats hitting from all areas just makes them even more dangerous.
A Kevin Durant Appreciation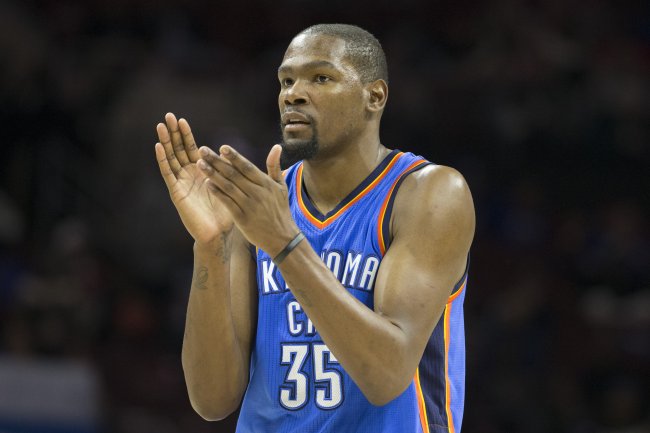 Mitchell Leff/Getty Images
In the grand scheme of things, a 111-97 victory over the Philadelphia 76ers isn't going to matter for the Oklahoma City Thunder. Even though it clinched a playoff spot in the Western Conference, it's not like OKC was in any realistic danger of missing the postseason.
But yet again, Kevin Durant was brilliant. It's easy to overlook just how dangerous he's become on the offensive end because his high-scoring exploits are so commonplace, but not many players are capable of throwing up lines like his against the overmatched Sixers.
While Russell Westbrook recorded his league-leading 13th triple-double and stole the show, Durant quietly produced 26 points, 13 rebounds and six assists on 11-of-16 shooting from the field. To put that in perspective, only 28 different players have logged at least 26 and six without taking more than 16 shots in 2015-16, and this was his third such performance.
At this point, we should put Durant scoring 20 or more points right alongside death and taxes. He's hit that mark in every game this season, save a Nov. 10 outing against the Washington Wizards in which he dropped 14 points in 17 minutes before exiting with an injury.
That's now 54 consecutive contests with at least 20 points—the No. 2 streak in the last five years. The highest mark stands at 56, and it was produced by none other than...this Oklahoma City forward.
Durant scoring 20 doesn't feel significant. It's such a routine event. But don't let the simplicity deter you from recognizing how absurd his consistency has become.
Could the Rookie of the Year Favorite be More Obvious?
Scott Halleran/Getty Images
Karl-Anthony Towns might as well clear off space on his mantle, because once his rookie season ends, he's an absolute lock to add some hardware to his sure-to-grow collection. These days, no other first-year player can hope to keep pace with him.
He continues to sit at No. 1 in Scott Howard-Cooper's rookie ladder for NBA.com, earning rave reviews by virtue of his gaudy stats:
Now he's tops among rookies in scoring as well, one of the few accomplishments that had eluded Towns until he shot 62.5 percent the last six games as part of a greater role in the Minnesota offense. That pushed him to 17.7 points overall—with 21.1 per game in February and 22.0 the first five outings of March—ahead of the 17.5 of Jahlil Okafor after Okafor had led most of the season. Towns was also had [sic] eight blocks the last five games, moving to eighth in the league in that category.
And that came nine days before Towns' latest performance: 32 points, 11 rebounds, one steal and two blocks in a 116-111 loss to the Houston Rockets. His leads in some statistical categories are only growing, and there's little doubt he's become one of the best rookies we've seen in quite some time.
Take a gander at how he stacks up in each of the five major per-game categories, as compared to other first-year contributors:
First in points per game. First in rebounds per game by an even larger margin. Eighth in assists per game despite playing center on a team that struggles to score. Tenth in steals per game. Second in blocks per game, trailing only the unicorn known as Kristaps Porzingis.
Seriously. What more could you want?
Line of the Night: Victor Oladipo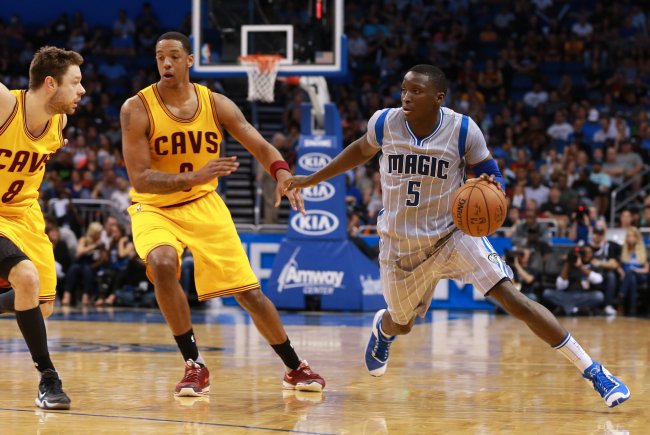 Kim Klement-USA TODAY Sports
Even though the Cleveland Cavaliers rode Kyrie Irving's hot hand and an outstanding fourth quarter from Tristan Thompson to a 109-103 victory over the Orlando Magic, the night's standout didn't come from the winning side.
Victor Oladipo simply couldn't miss, even when Cleveland defenders were draped all over him and he failed to properly set his feet. En route to a career-high 45 points—39 of which came in the first three quarters—the young guard knocked down 16 of his 22 shots from the field, went 6-of-7 from beyond the arc and nailed seven of his eight attempts at the charity stripe.
And thus, the list of players to score at least 45 this season grows to 11. The previous 10 members of the club aren't to be sniffed at:
Is it time to consider Oladipo a star?
He admittedly hasn't earned that designation yet, but maybe we can start thinking about it. Even before this game, he'd been starting to break out for the Magic. In his 10 previous outings, he'd averaged 19.6 points, 4.5 rebounds, 3.4 assists, 1.7 steals and 1.0 blocks while shooting 50.7 percent from the field.
Don't sleep on this 23-year-old.
Adam Fromal covers the NBA for Bleacher Report. Follow him on Twitter: @fromal09.
All stats, unless otherwise indicated, are from Basketball-Reference.com, NBA.com or Adam's own databases and accurate through games played on March 18.