Giannis Antetokounmpo didn't have his most impressive outing of the 2015-16 campaign in Thursday night's 96-86 home victory over the Memphis Grizzlies. But that's not an indictment of his latest showing so much as a testament to the ridiculous nature of his play in recent weeks.
After all, how can you scoff at 15 points, six rebounds, 11 assists, one steal and three blocks from a 21-year-old forward, especially when the points come on 6-of-9 shooting from the field? It's only when his night is compared to his recent outputs that it seems anything less than outstanding.
Antetokounmpo may not have a three-point stroke yet, but his new ball-handling role has unlocked the rest of his game. Ever since head coach Jason Kidd pulled the trigger on that change, the aptly nicknamed Greek Freak has been an unstoppable force for the Milwaukee Bucks.
From Feb. 22 to March 15, he averaged a staggering 20.2 points, 9.5 rebounds, 8.7 assists, 2.0 steals and 2.0 blocks while shooting 50.8 percent from the field. Perhaps most impressively, he turned the ball over just 2.8 times per contest despite shouldering so much responsibility on the offensive end.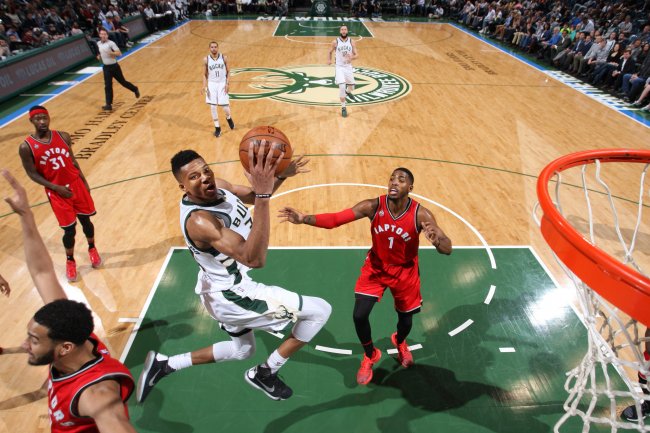 Gary Dineen/Getty Images
That stretch has contained all four of this season's triple-doubles, and we've now seen him produce like this for such a prolonged amount of time that it's valid to accept this as the real Antetokounmpo. The production isn't a mere fluke created by a small sample size but rather a legitimate byproduct of packing so much skill into such an abnormally athletic frame.
That was on display throughout Thursday evening, whether we're talking about his early dime-dropping habits or his ridiculous Eurostep finish in transition:

How many men are capable of driving the length of the floor with only three dribbles, picking up the ball well beyond the free-throw line and taking enormous strides that corkscrew a defender into the ground?
Players with Antetokounmpo's size (6'11", 222 lbs) aren't supposed to move this easily, and yet this play is only the latest in a long line of drop-everything-and-watch-this highlights. Having someone who can take an outlet pass and get to the bucket so quickly while keeping his head up to look for open teammates is quite the luxury.
As Jake Fischer wrote for Sports Illustrated, "When he's leading a break, Antetokounmpo looks like a gazelle wearing a jetpack, galloping past two, sometimes three defenders before making an intrinsic read on the defense."
Against the Grizzlies, he wasn't just finishing by calling his own number. En route to 11 dimes, he found plenty of teammates as well:
That type of vision is exactly why Kidd shouldn't hesitate to keep Antetokounmpo in this exact role. And now that he's had a chance to see his burgeoning star torture defenses with his elastic arms while keeping his eyes open at all times, it doesn't sound like the coach is showing even the tiniest pause.

"I think it's something we are very happy with," the head coach told Charles F. Gardner of the Milwaukee Journal Sentinel. "If you ask him, he's happy with it. And I think his teammates are happy with it. You can see pace of play has picked up for us, multiple touches. He's a player who can go one-on-one and still make a play for a teammate."
It would be one thing if Kidd delivered that quote after Milwaukee's latest victory, but he spoke those words back on March 4. That was before Antetokounmpo put up two more triple-doubles and helped finish the latest five-game stretch with a fourth win.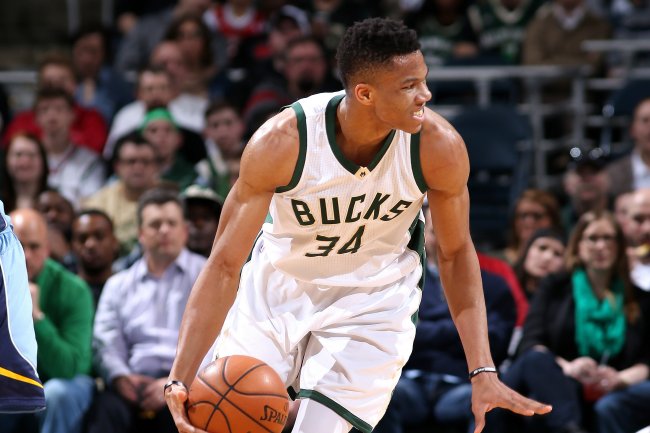 Gary Dineen/Getty Images
Now we should be reaching the point of no return. The questions no longer revolve around whether the Greek prodigy is best utilized as a point-forward (he is) but rather how high his stock could rise in this new role.
"Antetokounmpo is also 21 years old and in his first month of truly playing point guard," Kevin Pelton wrote for ESPN.com while analyzing whether anyone could average a triple-double in the modern era. "Projecting out improvement as a playmaker, he probably has the most realistic chance of averaging a triple-double of any current NBA player."
Do you really want to doubt the developing offensive skills of this unique weapon? Oh, and he can also do things like this on defense:
Enjoy the path Antetokounmpo takes toward superstardom. Given his current trajectory, that seems to be the only logical destination, and the road will undoubtedly be paved with one jaw-dropping highlight after another.
Indiana Pacers Can't Win with Cold Paul George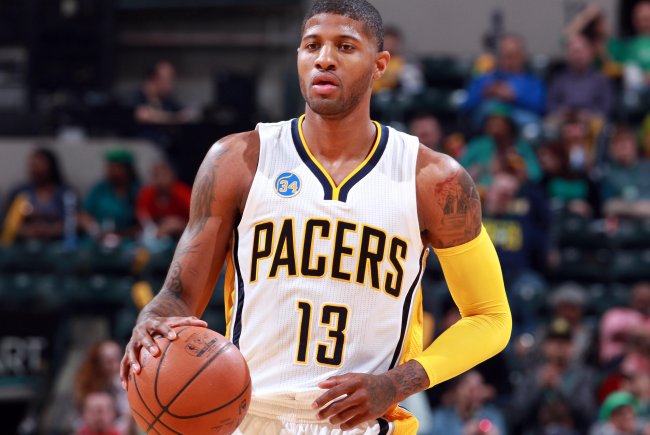 Brian Spurlock-USA TODAY Sports
As many notable lines as the Toronto Raptors produced in their 101-94 overtime victory over the Indiana Pacers—16 points and 25 rebounds from Bismack Biyombo; 28 points, eight rebounds, four assists and three steals from Kyle Lowry—it was Paul George's performance that stood out most. And on Thursday night, that wasn't a positive for the home team.
George's defense on DeMar DeRozan was stellar, but as Vice Canada's Eric Koreen noted, so was DeRozan's on him:
DeMar and Paul George doing nice jobs of controlling Paul George and DeMar, respectively.

— Eric Koreen (@ekoreen) March 18, 2016
By the time the final buzzer sounded, George had produced 18 points on 24 shots from the field. He made only seven of those attempts, including just one of his nine heaves from beyond the three-point arc. Throw in four turnovers, four fouls and the worst plus/minus in the Pacers starting five, and it's clear the bad more than negated the good.
Unfortunately, this has become a trend in Indiana. It's awfully difficult for the Pacers to win without strong contributions from their best offensive player, and his splits in wins and losses are terrifying.
After Thursday's ill-fated outing, the discrepancy is only growing:
Indiana should make the playoffs in the Eastern Conference, and the team has enough talent to hang with most squads it might face. But this season has been a roller-coaster ride for the inconsistent forward, and there's no telling whether he'll be hot or cold when it counts most.
If it's the latter, these Pacers could be in for a quick out.
Portland Trail Blazers Need a 3rd Scorer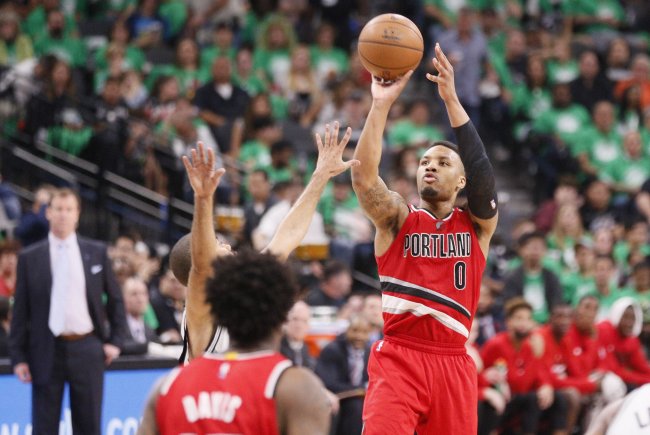 Soobum Im-USA TODAY Sports
Against lesser teams, the dynamic combination of Damian Lillard and C.J. McCollum can usually do enough damage to get by. But when they're playing the cream of the crop, even a combined 49 points from the Portland Trail Blazers' starting backcourt won't get the job done.
Such was the case in a 118-110 loss to the San Antonio Spurs, as the home team exposed Rip City's dearth of tertiary scoring options. Mason Plumlee and Chris Kaman chipped in with 12 points apiece, and Gerald Henderson logged 10 off the bench. But in terms of double-digit scorers, that was it, leaving Lillard and McCollum without enough support against the star-studded, superior squad.
This isn't anything new. Compared to the other seven favorites for playoff spots in the West, Portland's No. 3 scorer, Allen Crabbe, lags well behind the rest:
Until this is remedied, it might not matter how many darts Lillard and McCollum can throw. They'll be fine against inferior teams, but it'll prove quite difficult to win a seven-game series against a true contender unless the guards can produce strings of 50-point outings.
Having a third option emerge would be a far easier solution.
Welcome Back, Jimmy Butler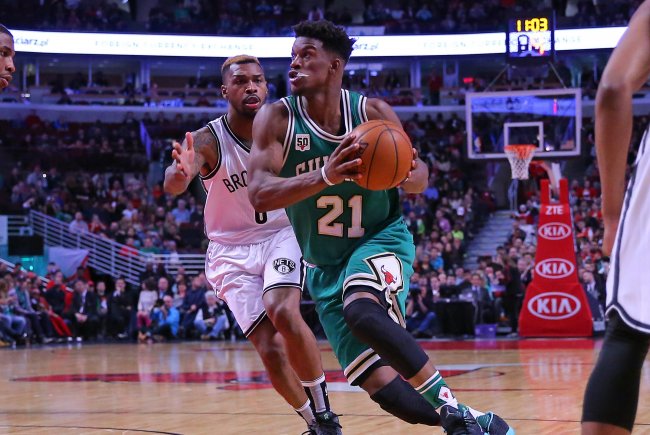 Dennis Wierzbicki-USA TODAY Sports
Technically, this was Jimmy Butler's third game back in the Chicago Bulls lineup. Prior to Thursday night's 118-102 victory over the Brooklyn Nets, he'd suited up against the Toronto Raptors and Washington Wizards to make his return from the hyperextended knee he suffered just before the All-Star break.
However, Butler struggled immensely in both of those outings. In 34 minutes against Toronto, he made just five of his 18 shots from the field and struggled to contain DeMar DeRozan. He followed that up by going only 4-of-12 in the Washington loss.
But when Brooklyn came to the United Center, we got to see vintage Butler.
Aggressive from beginning to end, he finished with 22 points, three rebounds and seven assists, shooting 7-of-12 from the field and making all eight of his looks from the free-throw stripe. This was the version of Butler the Bulls desperately needed while trying to stay close in the Eastern Conference playoff race, as there had been a distinct lack of toughness in previous outings.
It was that exact sentiment the 2-guard had harped upon after losing to the Wizards on March 16, per The Vertical's Michael Lee:
We're not the tougher team. All the way down this roster, we're not the tougher team and it shows, from the jump ball to the end. There's a loose ball, we're not getting it. If there's a rebound people have to fight for, we're not getting it. We're just not the tougher team, and I think it shows a lot of the time. We have a lot of guys that have a lot of potential to play hard; we just forget how hard have we have to play sometimes – a lot of the times, actually.
It's easy to look like you're playing hard against the lowly Nets, but sometimes it takes a cupcake to get back on track. And with the Bulls moving mere percentage points ahead of the Detroit Pistons in the race for the eighth playoff spot, every cupcake helps.
Thank Goodness for the Suns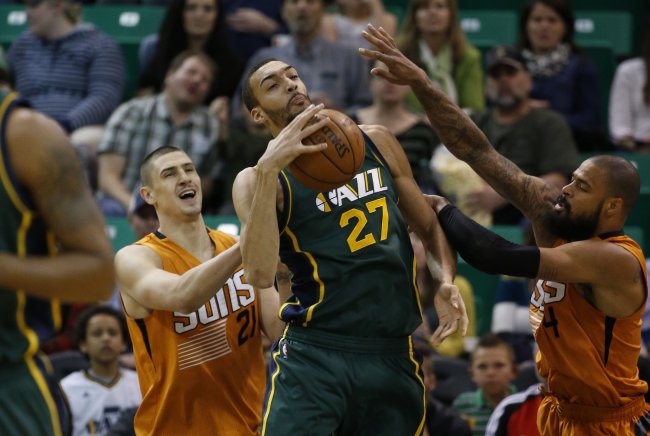 Jeff Swinger-USA TODAY Sports
The Phoenix Suns couldn't have popped up at a better time on the Utah Jazz's schedule.
Behind their vaunted defensive bigs and the efforts of Shelvin Mack, Rodney Hood and a handful of other players, the Jazz are finally building some momentum. Heading into Thursday night, they'd won three consecutive contests at the expense of the Washington Wizards, Sacramento Kings and Cleveland Cavaliers, effectively pushing themselves back into the thick of the Western Conference playoff picture.
Though the Jazz can technically lose more games and make it to the postseason, Phoenix still served as a must-win. Even with Gordon Hayward out of the lineup and battling plantar fasciitis for the second straight game, a playoff hopeful still has to take care of business against bottom-feeding teams.
And that's exactly what Utah did, pushing the streak to four with a 103-69 showing that featured its stingy defense forcing 21 turnovers and contesting nearly every shot.
Now 33-35, the Jazz remain on the outside of the West's top eight. But they're only one game back of both the Houston Rockets and Dallas Mavericks, while the Portland Trail Blazers sit a half game above both of the Texas teams.
If the Jazz can turn this streak into lasting momentum, it's still not entirely inconceivable that the sixth seed could belong to Salt Lake City.
Crossover of the Night: Kemba Walker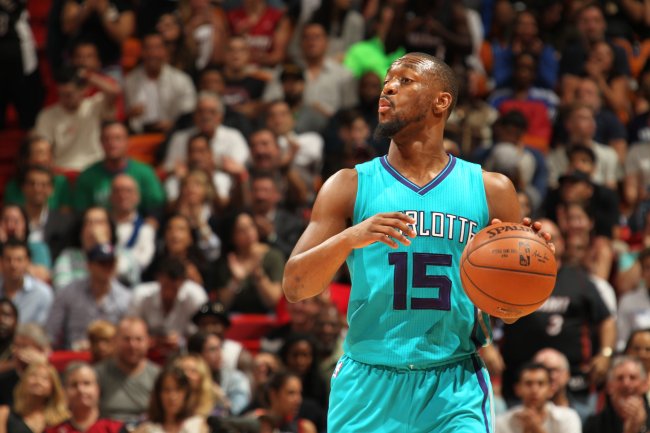 Issac Baldizon/Getty Images
The Charlotte Hornets won't cool off.
Coming at the expense of the Miami Heat, a 109-106 road victory gave this up-and-coming squad its ninth win in the last 10 games. The schedule hadn't been particularly difficult throughout the impressive stretch, but a strong showing against a playoff lock such as the Heat bodes well for the Hornets' postseason chances.
Once more, Kemba Walker was the epicenter of the festivities. He must know it's March, as this performance hearkened back to his incredible 2011 run to the NCAA title with the Connecticut Huskies.
Shooting 7-of-18 from the field and 4-of-9 from downtown, Walker put up 21 points, seven rebounds and seven assists for Charlotte, getting the better of Goran Dragic in a marquee matchup between two strong point guards. But no play stood out more than his embarrassment-inducing maneuver near the end of the first half:
The brutal crossover left Dragic reeling, creating just enough space for Walker to fire a momentum-building triple right before the two foes retreated into the comfort of their locker rooms. Though the Slovenian point guard isn't known for his defensive skills, it's not like many players could handle this much quick misdirection.
It's only fitting. Throughout 2015-16, not many players have managed to handle Walker's game in general.
Weird Game of the Night: John Wall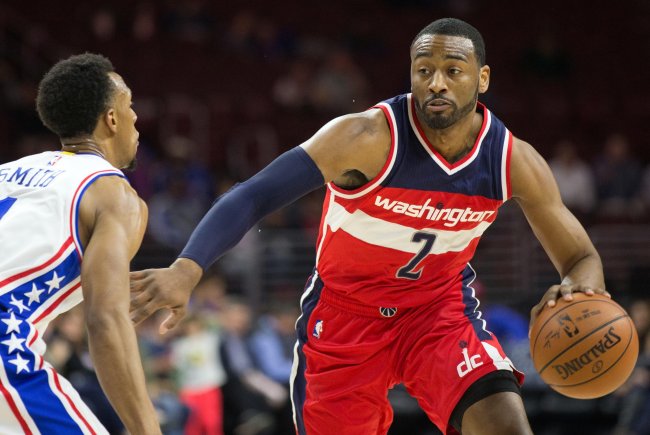 Bill Streicher-USA TODAY Sports
During the first half of a tumultuous victory over the Philadelphia 76ers, John Wall led his Washington Wizards to a 19-point lead while recording some rather gaudy numbers. Though he made only two of his nine shots from the field, he added to those four points with seven rebounds and 12 assists.
It seemed as if Washington would cruise to an easy victory against its overmatched opponent, with Wall sure to record his second consecutive triple-double—only one night removed from his 29 points, 10 boards and 12 dimes against the Chicago Bulls.
The point guard did eventually hit double digits in three categories, but his line was anything but stellar. In fact, it's the perfect example of how a triple-double doesn't necessarily signify an excellent game.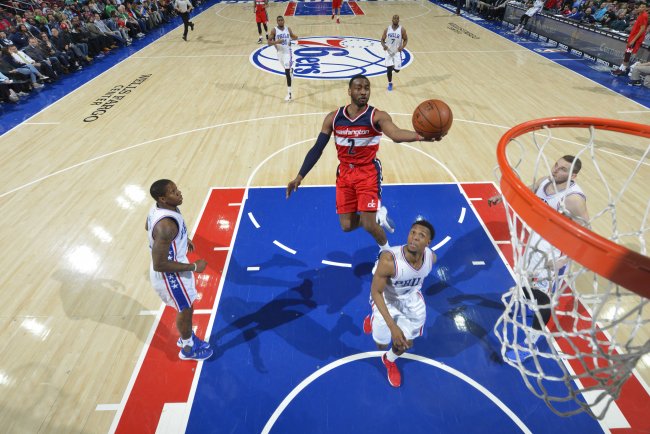 Jesse D. Garrabrant/Getty Images
Wall's final tallies stood at 16 points, 13 rebounds and 14 assists, and he made a couple of big plays down the stretch, including a bevy of clutch free throws and a beautiful steal and fast-break dish to Garrett Temple. But that can't overshadow his nine turnovers—two fewer than the entire Sixers squad—and putrid 4-of-17 shooting performance.
According to his game score (13.8, per my calculations), his performance was one of the 90 least-valuable triple-doubles since 1983. And considering it was the 1,312th such showing during that period, that puts him in the lowly 1st percentile.
A once-promising outing turned sour, even if it still resulted in his fourth triple-double of the year. At least it won't leave too bad a taste in his mouth, since the Wizards still escaped with a 99-94 win that keeps them alive in the Eastern Conference playoff race.
Adam Fromal covers the NBA for Bleacher Report. Follow him on Twitter: @fromal09.
All stats, unless otherwise indicated, are from Basketball-Reference.com, NBA.com or Adam's own databases and accurate through games played on March 16.