Chelsea look set to face a battle with Arsenal in their attempts to sign Bologna duo Amadou Diawara and Godfred Donsah after both Premier League clubs watched the pair against Inter Milan on Saturday.
According to MailOnline's Simon Jones, Chelsea have been following Donsah for more than a year, and the Blues sent representatives to the weekend's game to check on him and Diawara—Bologna lost 2-1 to Inter.

The report added that along with Arsenal, Bayern Munich could also be competitors for Diawara's signature, while Everton, Manchester United and Manchester City had people at the San Siro as well.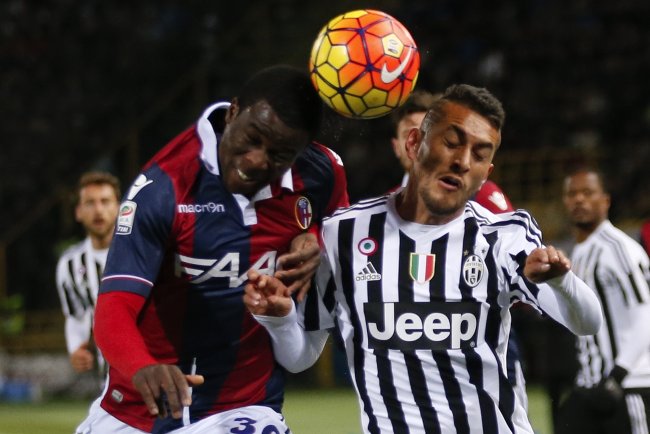 Antonio Calanni/Associated Press
Both Diawara, 18, and Donsah, 19, have truly emerged at Bolgona this season, the former making 27 Serie A appearances in the current campaign, the latter 17, per WhoScored.com.
The pair have shown remarkable maturity in the central midfield areas playing for a top-10 Serie A club.
Diawara has even been compared favourably to Chelsea's former central midfield stalwart, Claude Makelele, per Squawka's Blair Newman.
The Blues need to add further strength in the centre of midfield in the summer as Cesc Fabregas and Nemanja Matic have shown alarmingly inconsistent form this season, per the Daily Mail's Dominic King:
All the talk of Chelsea players dropping standards: how much has Nemanja Matic fallen? Gone from monster to anonymous. Fabregas poor too

— Dominic King (@DominicKing_DM) March 12, 2016
The duo were arguably two of Chelsea's best players last season when they won the Premier League, but they now clearly need added support and competition.
Adding Diawara and Donsah at Chelsea would not only bring the necessary strength to the midfield, but they also would inject some youthful verve into the struggling side.
A new permanent manager is set to take over in the summer and a squad overhaul is likely to be needed—not least up front with Diego Costa potentially set to depart, per Bleacher Report's Dean Jones:
Per James Riach in the Guardian, it is becoming more and more likely Italy boss Antonio Conte will take the reins at Stamford Bridge in the summer.
He will undoubtedly be well aware of both Diawara and Donsah because of his continued links with Serie A and could well give Chelsea the edge if it comes down to a battle to sign them.