Don't let the Washington Wizards do it. Don't let them get you the same way they've gotten you before.
Resist the temptation to see their 124-81 dismantling of the Detroit Pistons as some new level of performance—one that maybe, just maybe you've convinced yourself indicates this season isn't a lost cause. And do not under any circumstances mistake this for a glimpse of the Wizards' true potential.
Monday's win, which pushed Washington's record to just 31-35, was little more than the frantic last gasp of a team straining to end its five-game slide. And it didn't hurt that the Pistons, still two-and-a-half games ahead of the Wizards in the playoff race, played with a start-to-finish effort level best summed up by plays like this one:
Detroit rolled over from the jump, and its lethargy, coupled with a win by the Chicago Bulls, cost it a playoff position in the Eastern Conference. The Bulls now occupy the eighth spot, a half-game ahead of the Pistons.
Back to Washington, though. Basketball writer Danny Leroux knew what was happening, and he resisted:
You're not roping me in again, Wizards.

Not yet, at least.

— Danny Leroux (@DannyLeroux) March 15, 2016
That's not to say you can't appreciate some of what you saw. John Wall slipping lefty behind-the-back passes in traffic is something worth celebrating, and it's absolutely true Washington's All-Star point guard is the kind of talent who could lead a very good team.
He hit his elbow jumpers and pushed the ball up the floor with pace only he and a handful of other lead guards can match. He finished with 15 points, 12 assists and five rebounds, and his follow-through on some strong pregame rhetoric provided another hopeful sign.
"We just keep digging ourselves a bigger hole with 17 games left," Wall told reporters before the game. "We have to go a remarkable 15-2, basically. We have got to find a way just to keep competing and keep fighting. I'm not going to quit, and I know my teammates aren't going to quit."
But little else in this game or, more broadly, in this Wizards season suggests meaningful improvement is coming.
Though Washington has reached the second round of the playoffs in each of the last two years, and though it would be easy to blame the step back this season on injuries, this isn't a young team on the upswing. It's a team with a couple of young players and a whole bunch of questions. It's a team at a crossroads.
Is Bradley Beal (12 points in 25 minutes Monday) really the best max-contract running mate for Wall? Sure, it's a guard's league now, and shooting (which Beal, owner of a career 39.7 percent accuracy rate from deep, provides) is at a premium. But if Beal plays every game the rest of the way, he'll have seen only 58 contests this season.
He missed 19 last year and nine the year before, and he's getting the kid-gloves treatment because of persistent stress reactions in his lower legs. The Wizards must decide what they're willing to gamble on him, as he hits free agency this summer.
Maxing him out might be a mistake.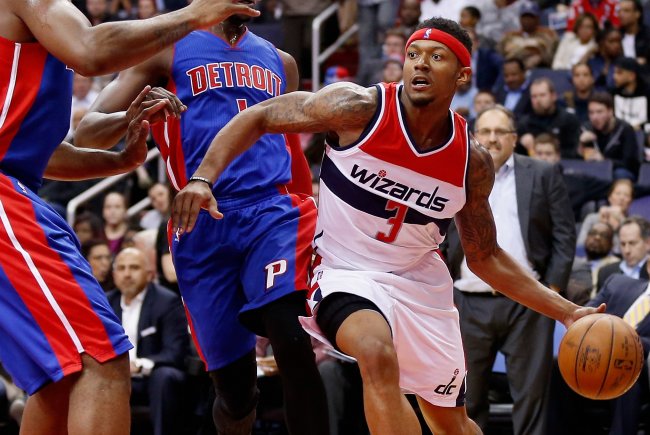 Rob Carr/Getty Images
There's also the Kevin Durant question, though that now seems like such an impossibility that nothing else need be said about it. We've acknowledged it. It's not happening. We can move on.
More immediately, Washington has to decide what it wants to be. It can retool conservatively by finding another shooter or two to fit around Wall while banking on better luck. That might be enough for 45 wins and a mid-tier playoff seed for a few years.
Or it could think about an overhaul.
Nene, Jared Dudley, Alan Anderson, Ramon Sessions and Garrett Temple have all been rotation contributors this year, and all will be free agents. There was a lot of talk in the offseason from head coach Randy Wittman about increasing the tempo. But while the Wizards moved from 16th to fifth in pace, the increased speed hasn't led to more effective scoring. They average 102.3 points per 100 possessions this year after tallying 101.8 last season.
The logical move would be to surround Wall with as many shooters as possible (few point guards find open marksmen better than he does), get younger and consider moving away from Wittman—whose strategic preferences and checkered tenure probably mean he's due for some scrutiny.
That's the reasonable approach. But the Wizards haven't been big on reason this year, per Bullets Forever:
List of things about the Wizards that make sense:

— Bullets Forever (@BulletsForever) March 15, 2016
Washington has some pieces, and its book-clearing for the pursuit of Durant means it'll have loads of cap space to rebuild however it wants. The important thing to remember is that a rebuild is necessary. Wall doesn't need vets on expiring deals anymore. He can be the leader the Wizards require.
He's also the only part about the Wizards that doesn't need to change.
The Wizarding World of Rick Carlisle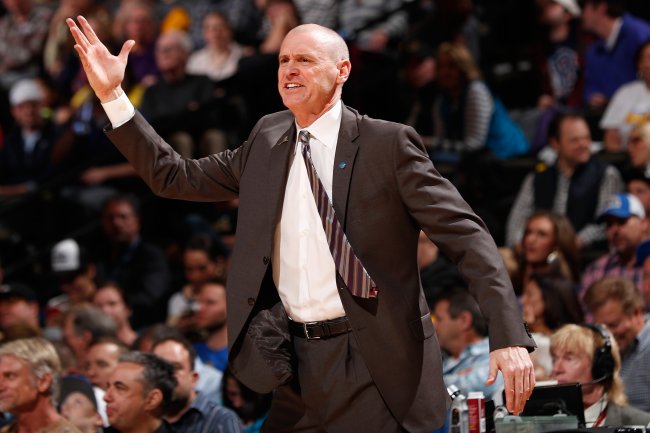 Doug Pensinger/Getty Images
You have to credit the Dallas Mavericks for their boldness—even if the decision to start Dirk Nowitzki at center against the volcanically hot Charlotte Hornets was as desperate as it was inspired. The Mavs came into Monday's meeting having lost five straight, a scary trend.
Especially when facing the Hornets, winners of a league-high seven in a row.
Thanks to a matchup zone, some Charlotte turnovers and Nowitzki's early productivity, Dallas built a lead that somehow held up against a furious Kemba Walker-led comeback. Walker's back-to-back threes to start the fourth quarter tied the game at 71, and his two subsequent free throws put the Hornets ahead—quite a turnaround after Dallas pushed out to a 52-33 halftime lead.
Nowitzki's 23 points and 11 rebounds were big, and Chandler Parsons hit some key shots late to quell the Kemba comeback. He finished with 24 points, one fewer than Walker, in Dallas' surprising 107-96 win.
This was essentially an ambush by the Mavs, though opponents should expect shenanigans from Carlisle by now, as ESPN.com's Zach Lowe noted:
Big, big win for Dallas tonight. Carlisle has a great sense of when to try a lineup tweak. Dirk at C is deadly in right matchups.

— Zach Lowe (@ZachLowe_NBA) March 15, 2016
Dallas' slide is over, though it's still just 15-20 since Jan. 1. You can bet the Mavs' undersized matchup-zone defense will get attention in future opponents' film sessions. Still, it's hard to escape the feeling that as long as Carlisle has Nowitzki and a clipboard, he'll find a way to win.
Maybe the Raptors Should Cool It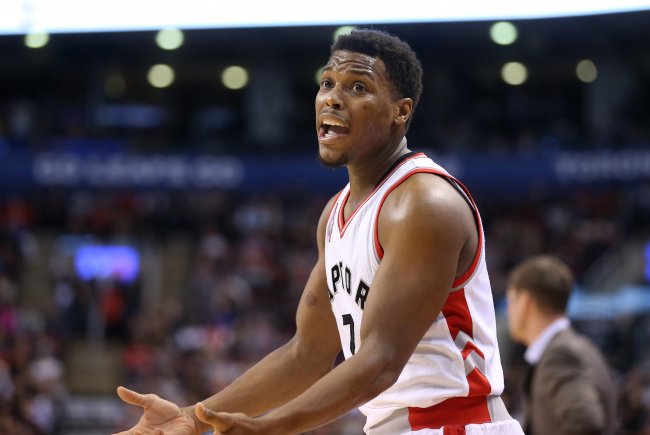 Tom Szczerbowski-USA TODAY Sports
The Bulls completed a four-game season sweep of the Raptors on Monday, notching a 109-107 win in Toronto behind 29 points on 9-of-11 shooting from Doug McDermott. It was the kind of victory that might make the Raps think twice about gunning for that No. 1 seed in the East.
If securing that top spot means a series with Chicago, currently in eighth place, it'll be hard to give Toronto the advantage. The Raptors have lost to the Bulls in their last nine meetings.
Clearly, the Raptors were a team searching for answers, per Nick Friedell of ESPN.com:
See this in college, don't see it often in the NBA: The Raptors just huddled up as a group at halfcourt and tried to collect themselves.

— Nick Friedell (@NickFriedell) March 15, 2016
This win wasn't like the Bulls' other three, as Derrick Rose (groin) and Pau Gasol (knee) sat out. Jimmy Butler returned and scored 13 points in 34 minutes after missing 15 of Chicago's last 17 games with a knee injury, but it was mostly McDermott and E'Twaun Moore (17 points on 8-of-11 shooting) who did the damage.
The Raptors have played as well as anyone in the East for the last three months. Realistically, they shouldn't be scared of anyone. And the Bulls have a lot of work to do with their banged-up roster before we talk about them showing up in the playoffs for sure.
But it's now pretty clear which team Toronto would prefer to avoid.
Hope Is a Dangerous Thing
There was room to believe in the Memphis Grizzlies on Monday, despite their nine-man active roster (which included three players on 10-day contracts). The Houston Rockets had been cold from the perimeter, hitting just five of 26 shots from long range in each of their last two games, and we'd seen this Memphis team pull off the improbable against the Cleveland Cavaliers during a stirring win last Monday.
You know, you could talk yourself into hoping.
And then...hope died.
The Rockets hit their first six three-point attempts and built an early lead. Remarkably, this was the first time since Jan. 30 that Houston had an advantage after the first period. By the final buzzer, the advantage had swelled to 49 points. Memphis lost by a score of 130-81, which put it in rare company, per NBA on ESPN:
The Grizzlies are the first team to lose multiple games by 49+ Pts in the same season since the 1992-93 76ers. pic.twitter.com/G2BIjKXwPY

— NBA on ESPN (@ESPNNBA) March 15, 2016
Nine Rockets scored in double figures, yet nobody had more than 18 points. Jarell Martin led the way for Memphis with 17, and renowned scoring luminaries Alex Stepheson, Ryan Hollins and Matt Barnes joined him in double figures.
The Grizzlies showed remarkable fight in winning a handful of games with a depleted roster. And they played well enough immediately after Marc Gasol (foot) went down to nearly secure a playoff spot. But they're out of bodies now.
It's going to be a rough ride to the finish with this lot.
Russell Westbrook led a refreshingly lively and focused Oklahoma City Thunder team to a 128-94 blowout win over the Portland Trail Blazers, reminding everyone watching he can do pretty much everything.
His 12th triple-double (17 points, 10 rebounds, 16 assists) was a foregone conclusion late in the first quarter, and he officially secured it with 8:58 left in the third period. Oh, and he also punked Mo Harkless' post-up attempt:
It's nights like this that make the Thunder's late-game collapses and frustrating defeats seem like blips instead of systemic failures. Maybe that's the wrong way to think of them. Maybe OKC really does have flaws that'll sink it in the postseason.
But it's surely hard to focus on that when Russ is flying around the floor like a lunatic and swatting forwards.
Mirza Teletovic: Tankbuster
Thanks to a game-winning triple with 1.2 seconds left, the Phoenix Suns beat the Minnesota Timberwolves 107-104 and are now tied for the third-fewest wins in the league.
They are tanking wrong.
That Schedule Will Get You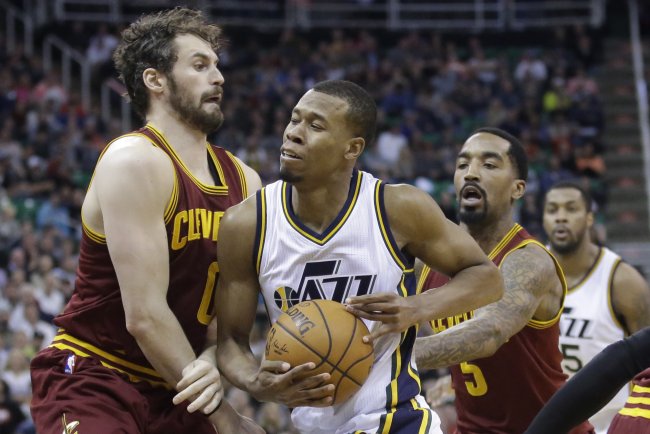 Rick Bowmer/Associated Press
Without Gordon Hayward, the mostly underwhelming Utah Jazz shouldn't have had a chance against a Cavaliers team that looked like it had finally found some harmony during a comfortable win against the Los Angeles Clippers in its last outing.
But the sneaky Salt Lake City altitude was a factor, and the Cavs were worn down on the final leg of a four-game swing out West (which came just a day after that win in L.A.).
Rodney Hood scored 28 points, and the Jazz held Cleveland to 39.8 percent shooting in a chippy 94-85 win. Channing Frye and Trey Lyles were both tossed after a low blow by Lyles triggered a response from Frye that included a pseudo-punch:
The temptation here is to erase all the positives we saw from Cleveland in that win over the Clips. To fall back on that familiar refrain of Cavs discord and sub-championship makeup.
No.
The Jazz outplayed a tired team that didn't need to win. They deserve credit, and their third consecutive victory pulled them to within two games of the slipping No. 8 Mavs. Good for them.
Let's just avoid freaking out about Cleveland after this one.
We've Reached Peak Warriors
This isn't about the 49 straight home wins, the 60-6 record or the scary-casual 27 points on 16 shots from Stephen Curry.
This is about Andrew Bogut hitting a three from the top of the arc mere minutes after he air-balled a free throw in the Dubs' 125-107 win over the New Orleans Pelicans.
We're done. We're all done. It's over. The Warriors have solved basketball. Next sport, please.
Follow @gt_hughes on Twitter.

Stats courtesy of NBA.com. Current through games played March 14.