Five years after Carmelo Anthony forced his way to the Big Apple, folks in the Mile High City still aren't happy with him. Every time he touched the ball at the Pepsi Center on Tuesday night, those few Denver Nuggets fans in the stands sprinkled their former All-Star with boos.
The home crowd had plenty of opportunities to voice their displeasure during the Nuggets' 110-94 win over the New York Knicks. Anthony took 18 shots from the field and 11 from the free-throw line on the way to a game-high 30 points. When he wasn't shooting, Melo was busy rebounding the ball (seven boards) and dishing to his teammates (four assists).
But Anthony's all-around production may not save him from scorn in his hometown if his Knicks, who've dropped 17 of 21 since last sniffing the .500 mark, keep losing—and if he holds firm in his desire to stay.
The script has flipped for Anthony in the last half-decade.
In 2011, he was a disgruntled star on a Nuggets squad destined for its fourth straight 50-win season and eighth consecutive playoff appearance. He wanted to be part of a superteam, after watching his friends from the 2003 NBA draft (i.e. LeBron James, Dwyane Wade and Chris Bosh) form their own in Miami, but was loth to wait for his chance in free agency with a lockout looming. He also wanted an extension, rather than risk his salary to the aftermath of a labor stoppage, but preferred to earn his money closer to home.
So, rather than join an improving roster in New York as a free agent, he and his agent, Leon Rose, pushed...and pushed...and pushed, until the Knicks agreed to gut their group via trade.
Into Madison Square Garden came Anthony, along with a slew of players (Chauncey Billups, Renaldo Balkman, Shelden Williams, Anthony Carter and Corey Brewer) who've long since left Gotham. Out to Denver went Danilo Gallinari, Wilson Chandler, Timofey Mozgov and Raymond Felton, along with four draft picks—the last of which will go to either the Toronto Raptors (as part of the disastrous deal that brought in Andrea Bargnani) or the Nuggets if it turns out to be better than Denver's.
Those disasters have combined to put the Knicks in a bind, one from which they might want to offer Anthony an escape. Barring some real March Madness, New York will spend a third straight spring watching the postseason from afar.
The team, though, figures to have a bright future, with or without Anthony.
Kristaps Porzingis, the Knicks' rookie sensation out of Latvia, looks like a star in the making, despite what his night in Denver (six points on 3-of-11 shooting, five rebounds, three assists, three turnovers in 20 minutes) would suggest. Fellow newbie Jerian Grant (seven points, seven rebounds, two assists) and second-year guard Langston Galloway (seven points, three rebounds) could have key parts to play in the Knicks' backcourt of tomorrow.
If Arron Afflalo (nine points, four rebounds, two assists) and Derrick Williams (15 points, four rebounds, three assists off the bench) opt out of their respective contracts this summer, the Knicks could have close to $35 million in salary-cap space with which to lure free agents, according to Spotrac.
Anthony, for his part, wants to lead the Knicks' recruiting efforts.
"Put me at the head of the table and let's go to work," he said after the Knicks practice in Denver on Monday, per ESPN.com.

"If we want this team to be better, if we want more pieces of this team, I don't have a choice but to go out there and do my job and try to get people to come. And for them to see it from my perspective [more] than anybody else's perspective—see it from a player's perspective."
From Anthony's viewpoint, fellow Oak Hill Academy grad Rajon Rondo would be the perfect fit in New York. Rondo disagrees.
"The triangle's not really a good look for me; I don't think," Rondo said in February, per ESPN.com.
In truth, the Knicks can pursue bigger fish than Rondo, and not just with the mounds of cash that will be at their disposal. A veteran scorer of Anthony's caliber (21.8 points per game this season) could, via trade, fetch a star whose own career arc lines up more closely with that of the 20-year-old Porzingis.
It could be several years before 2015's No. 4 pick peaks to the point where New York can compete for the league's top prize. By then, Anthony, at 31 and plagued by chronic knee problems, could be well past his prime.
Wouldn't the Knicks be better off with a bunch of the Boston Celtics' young athletes growing alongside Porzingis? Or with Kevin Love running Phil Jackson's triangle offense from the post?
And wouldn't Anthony be more useful as the Boston Celtics' next crown jewel? Or as longtime buddy LeBron James' top sidekick with the Cleveland Cavaliers?
Except, Anthony has a no-trade clause and, as of mid-February, he wasn't willing to waive it.
"I have to trust in it. I decided to stay here," he said after the Knicks fired head coach Derek Fisher, per ESPN.com's Ian Begley. "I decided to make that decision to trust in the Knicks and trust in Phil. I have to continue doing that."
He doesn't have to if he doesn't want to, but by all accounts, Anthony wants to stick around. He wants to win in New York, even though he hasn't sniffed the postseason since 2013.
"Doing it in New York is better than doing it any place in the world," Anthony reiterated during All-Star Weekend on Sirius XM NBA Radio, via Begley. "One in New York is better than multiple somewhere else, so that was the reason I wanted to come to New York. That's the reason why I'm in New York, so it just bothers me when I started hearing all these trade rumors and trade talks."
To that end, Anthony might be doing his squad more harm than good in the long run. Unless he can help convince a fellow superstar to sign in New York come July, the Knicks will have to hope Porzingis reaches his prime before Anthony exits his.
And if that doesn't happen, Melo may be faced with the same sparse crowds and smattering of boos from night to night at Madison Square Garden that have greeted him in Denver for the last five years.
Raptors Rediscover D to Beat Brooklyn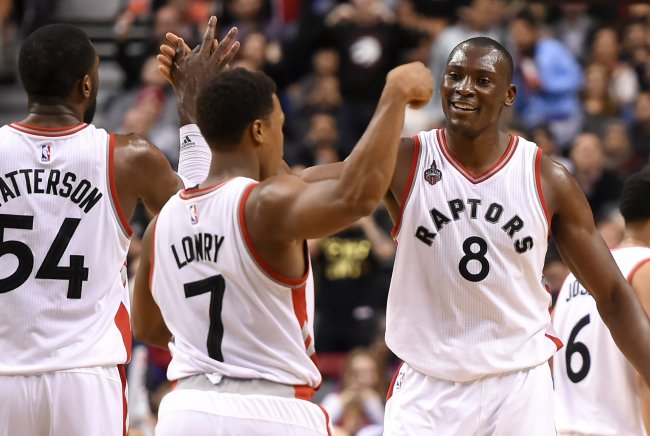 Dan Hamilton-USA TODAY Sports
Before their 104-99 win over the Brooklyn Nets, the Toronto Raptors could think of little more than defense—and for good reason. As TSN's Josh Lewenberg wrote, the Raptors have been slipping considerably on that side of the ball for more than a month:
Ranked 23rd in defensive efficiency last season, the new-look Raptors had been a top-10 team in that category going into February. Since then, things have taken a familiar turn. Over the last 14 games, Toronto is 26th in defence. Only four clubs allow more points per 100 possessions: the Lakers, Timberwolves, 76ers and Nets - four of the league's five worst teams. While those teams are a combined 17-41 in that span, the Raptors are 9-5 thanks in large part to a red-hot offence that ranks first in the association.
Head coach Dwane Casey attributed that decline to, among other things, these being the dog days of the NBA's regular-season schedule, per Lewenberg:
Casey says they've lost edge on D, attributes it to lapses in focus/getting comfortable, human nature this time of year but have to fight it

— Josh Lewenberg (@JLew1050) March 8, 2016
To get that edge back, Casey started recent acquisition Jason Thompson and rookie Norman Powell over Luis Scola, a starter from day one, and James Johnson, Toronto's top fill-in for the injured DeMarre Carroll.
Casey's attempt to spark his squad seemed to backfire early. His Raptors looked lethargic and disorganized on defense during the first half, when they let the Nets torch them for 58 points on 53.2 percent shooting while retorting with just 42 (on 40 percent shooting) of their own.
In the second half, though, Toronto was ready to play, thanks in part to a challenge from Casey in the locker room, per Lewenberg:
Casey said he didnt yell & scream at half but challenged his team, asked them who they wanna be/encouraged them to have fun playing the game

— Josh Lewenberg (@JLew1050) March 9, 2016
Kyle Lowry and DeMar DeRozan led the way, scoring 32 of their 48 points and notching four of their five steals after the break.
Bismack Biyombo brought some much-needed wood to the defensive end, relegating Jonas Valanciunas to spectator duty during the fourth quarter as the Raptors extended a 42-13 run into a commanding 14-point advantage.
Toronto still struggled to contain Brooklyn's Brook Lopez, who poured in 21 of his game-high 35 points after the break. But for a team coming off a disappointing home loss to the Houston Rockets, the Raptors can hope they've found something to light their fire during the doldrums of March.
Meet the New Spurs, Same as the Old Spurs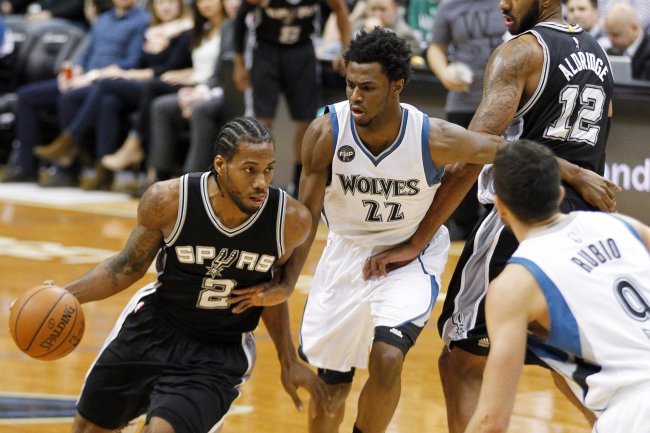 Andy Clayton-King/Associated Press
Playing without three future Hall of Famers would put any NBA team in a bind. The San Antonio Spurs are no exception.
Or weren't, anyway. The Spurs arrived at the Target Center on Tuesday without Tim Duncan, Tony Parker and Manu Ginobili, a situation in which San Antonio had won just five times in 17 previous instances, per Tim Griffin of MySanAntonio.com.
Playing without the Big Three—and without Gregg Popovich, who missed a second game to attend to a family illness—is no longer quite the death knell it used to be. Kawhi Leonard can now claim to be San Antonio's top dog, with LaMarcus Aldridge ready to take over at a moment's notice.
And take over he did during the Spurs' 116-91 win in Minnesota. Aldridge torched the T-Wolves for 29 points on 11-of-13 shooting, including an early poster job on rookie sensation Karl-Anthony Towns.
LaMarcus Aldridge has no mercy on the rook. https://t.co/PTZL3kTvo6

— SLAM Magazine (@SLAMonline) March 9, 2016
Leonard, who tallied 15 points in 25 minutes, did his part to take reigning Rookie of the Year Andrew Wiggins to task.
Those two were joined in double figures by David West, who scored 18 points on 7-of-9 shooting in Duncan's stead, and the newly signed Andre Miller, who chipped in 13 points on 5-of-6 shooting as Parker's stand-in.
Those additions to San Antonio's bench, along with former Timberwolf Kevin Martin, give this squad more than enough depth to survive the occasional absence. And when the Spurs' elder statesmen need rest en masse, Leonard and Aldridge have shown themselves to be more than capable of holding the fort.
Hawks Hang Their Hats on Defense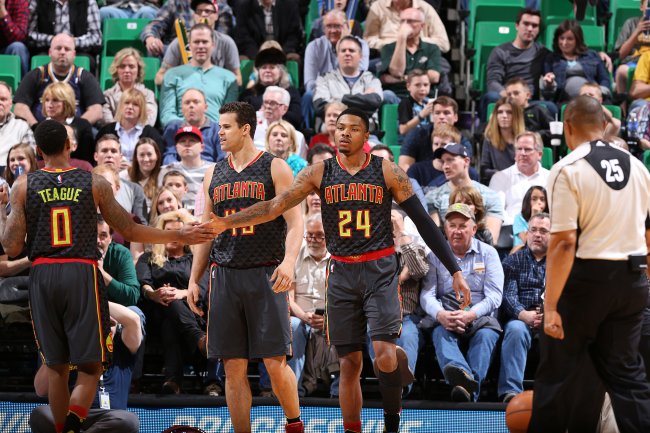 Melissa Majchrzak/Getty Images
Last season, the Atlanta Hawks followed the Spurs' ball-moving, shot-creating blueprint to win a franchise-record 60 games. They won't touch those heights in 2015-16, though they're finding some success by following San Antonio's lead on the other end of the floor.
Atlanta's Spursian defense was on brilliant display during the team's 91-84 win over the Utah Jazz. The home team in Salt Lake City managed to make just 34.9 percent of its shots (26.9 percent from three).
"They did a good job of hawking the ball; no pun intended," Jazz head coach Quin Snyder said afterward, per the Associated Press (via ESPN.com). ... "Their aggressiveness defensively at certain times was a problem for us."
If not for Atlanta's struggles on the glass (54-41 deficit), the Hawks might've come away with an even more impressive victory.
Poor rebounding is nothing new for Mike Budenholzer's crew. According to NBA.com, the Hawks ranked 27th in rebound percentage (48.2 percent) in 2014-15 and have slipped to 29th in that department (47.6 percent) this season.
Despite that decline, Atlanta's overall defense has gotten even stingier. Where once the Hawks ranked seventh in defensive efficiency (100.7 points allowed per 100 possessions, per NBA.com), they now sit second (99 points allowed per 100 possessions) behind only—you guessed it!—the Spurs.
They've been even better than that over the last five weeks. Since Feb. 1, the Hawks have sported the league's stingiest defense, surrendering a mere 94.7 points per 100 possessions.
With the rest of the East still a jumbled mess, that defensive improvement may be enough for Atlanta to give the Cleveland Cavaliers a run for their money come playoff time.
Rain Bros Bring Blazers Back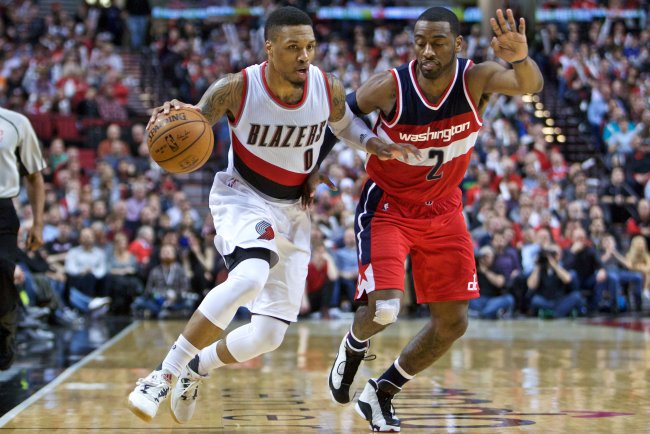 Craig Mitchelldyer-USA TODAY Sports
Another night, another tale in the rich tapestry being woven by the Portland Trail Blazers' brilliant, young backcourt.
Damian Lillard posted game highs in points (41) and assists (11) to drag the Blazers out of a 10-point third-quarter hole against the Washington Wizards. Along the way, the All-Star guard etched his name into the annals of NBA history next to those of LeBron James and Oscar Robertson, according to Trail Blazers PR:
Damian Lillard is third player in NBA history with 1,500+ points and 400+ assists in each of his first 4 seasons (L. James, O. Robertson).

— Trail Blazers PR (@TrailBlazersPR) March 9, 2016
Lillard was particularly prolific in overtime, when he scored nine of Portland's 12 points to secure a 116-109 win for the home team at the Moda Center.
But the Blazers wouldn't have made it to the extra period without some familiar skill work from C.J. McCollum. With time winding down in the fourth quarter, the Lehigh product earned the most important of his 18 points on a stepback jumper to tie the game at 104-all.
That maneuver was but one of many in a bag of tricks that led ESPN.com's Zach Lowe to dub McCollum "a man of 1,000 moves":
Some guys have a magic crossover, in-and-out dribble, hesitation move or up-and-under around the rim. McCollum has all those at expert level, and he uses them to unleash hell from everywhere. He has shot better on off-the-bounce 3s than Damian Lillard. He's a floater master. And he's one of those lucky guys who can drive at full speed, hit the brakes and set his feet for a perfect straight up-and-down pull-up jumper.
Thanks to McCollum's craftiness and Lillard's historic productivity, the Blazers (34-31) can now claim sixth place in the West as theirs and theirs alone.
Lakers' Young Core Coming of Age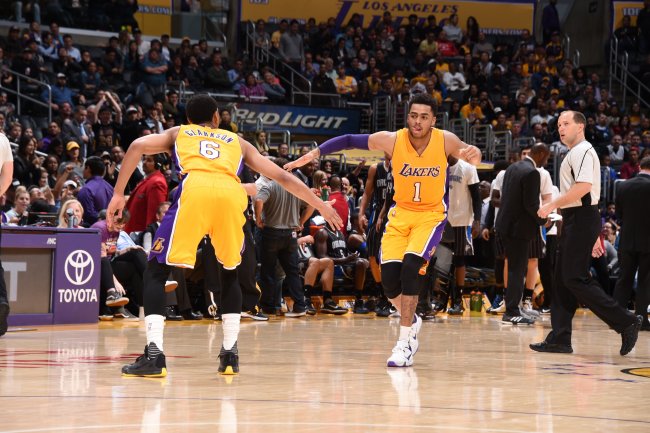 Andrew D. Bernstein/Getty Images
A 107-98 win over a road-weary Orlando Magic team hardly seems like a turning point for a franchise as proud as the Los Angeles Lakers. But given this team's historically uncharacteristic quagmire, the most recent performance put on by its youngsters may portend the brighter future for which its fans are pining.
With Kobe Bryant once again sidelined by a sore shoulder, Julius Randle, Jordan Clarkson and rookie D'Angelo Russell all scored at least 20 points in the same game for the very first time.
"They had the three best players on the floor tonight," Magic head coach Scott Skiles said, per ESPN.com's J.A. Adande. "Generally, when you have that, you win the game."
Randle's 23 points and 11 rebounds gave him his 28th double-double in 64 games this season. Clarkson's outing (24 points, five rebounds, three assists) extended what's thus far been a magnificent March, in which he's averaged 19.5 points and knocked down 41.9 percent of his threes.
As for Russell (27 points, three assists, three steals), the No. 2 pick in the 2016 draft has more 20-point games in his last seven outings (six) than he did through his first 56 (four).
"I would say the experience is helping me see things clearer," Russell said, per Lakers Nation's Serena Winters. "A lot of reads are becoming more second nature to me."
On one hand, results like these may not be good for the Lakers' long-term outlook. With every win, L.A.'s grip on the NBA's second-worst record—and, in turn, its top-three-protected pick—weakens ever so slightly.
On the other hand, the growth of the Lakers' young guns gives the league's most glamorous brand a more viable path forward, as Adande noted:
Russell/Clarkson/Randle combine for 74 points in Lakers W over Magic. Transition to post-Kobe era has begun

— J.A. Adande (@jadande) March 9, 2016
Josh Martin covers the NBA for Bleacher Report. Follow him on Twitter(@JoshMartinNBA), Instagram and Facebook.