The downward spiral seems as if it will never end.
After their 105-104 loss to the Boston Celtics on Friday night, the New York Knicks have seen their record plunge to a putrid 25-38, leaving them ahead of only the Brooklyn Nets and Philadelphia 76ers in the Eastern Conference standings. And this one had to leave a bitter taste, as Carmelo Anthony failed to create any separation on his final attempt of the game, clanging it off the backboard to steal defeat from the jaws of victory:
Not only is it a bad sign that the Knicks couldn't get a better attempt at the buzzer, but they also had this game in hand, boasting an eight-point lead with just over three minutes left in the final quarter.
Then again, the collapse shouldn't be surprising. New York hasn't been able to avoid defeat in a long time.
It's hard to believe that at one point in the year, the Knicks were 22-22. They were on track to shatter the previous season's win total (17), which they'd passed just 37 games into the current campaign. They even had justifiable dreams about sneaking into the playoffs and expediting what now feels like a prolonged rebuild.
Not anymore.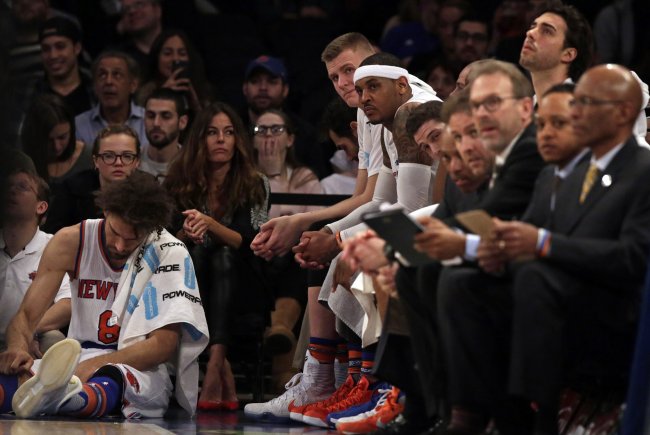 Adam Hunger-USA TODAY Sports
After this latest loss, the Knicks have won only three of their last 19 outings, and the opponents they've unseated don't make for a particularly scary bunch. They've beaten the Minnesota Timberwolves, Phoenix Suns and Orlando Magic—three teams unequivocally bound for the lottery.
Since topping the Utah Jazz to get to .500 for the final time, the Knicks have posted a net rating of minus-8.5. That ineffective mark is most comparable to the season-long net rating of the Phoenix Suns (minus-7.6), and a team that was looking to improve dramatically in 2015-16 can't be satisfied with optimistic comparisons to an organization in the thick of the Ben Simmons sweepstakes.
But the unsettling feelings can't just stem from the unfortunate performances on the court. Certain members of the Knicks aren't acquitting themselves with their words, either.
Recently, we've seen Anthony tell a heckling fan to ask Knicks owner James Dolan for a refund, then apologize and later explain the apology was Dolan's idea. And yes, there have been repercussions in the media, perhaps most prominently from the mouth of ESPN's Jalen Rose (as transcribed by USA Today's Luke Kerr-Dineen):
If I'm James Dolan, I don't want him on my team anymore. I just paid Phil $65 million to build me a roster that can compete in the Eastern conference. $25 million for Derek Fisher, who was recently fired. $125 million for Carmelo Anthony, who I had to mortgage a lot of my future assets...to even make the deal happen. I would not appreciate that one of my players basically himself distanced himself from me to my face, in my arena, during my game for which the roster I am paying has lost 15 of its last 18 games.

If I was the owner, that would just tell me that the writing is on the wall, that Carmelo is going to waive his no-trade clause and the Knicks will be trading him this summer.
"Right now it's kind of a rough patch for me," Anthony told Frank Isola of the New York Daily News after he found himself caught in the latest firestorm. "I'm trying to figure out a way to get out of it."
Could that mean he's planning on waiving his no-trade clause this summer and demanding a deal to a new location? Could it indicate newfound motivation during a lost season?
On Friday night, it appeared as if the latter explanation was superior. Anthony got off to a roaring start against the Celtics, logging 13 points in the first quarter en route to a stellar performance. He finished with 30 points, seven rebounds and four assists, highlighted by his and-1 obliteration of Jae Crowder in an isolation set:
But it wasn't enough. And if Anthony's recent words are true, he's still going to shoulder some of the blame.
"I'm the leader of this franchise," the All-Star told ESPN.com's Ohm Youngmisuk in early March. "I take the good with the bad. At the end of the day it falls on me. I accept that. I put the weight on my shoulders and I walk with that weight through the fires."
Even with Kristaps Porzingis continuing to assert himself as a franchise cornerstone, there's still more bad than good. Even with players such as Robin Lopez showing they can be rotation members when this Knicks squad is finally competitive, it's not enough. Even when Anthony puts up points in bunches, New York can't beat Boston.
Porzingis knows his team's small forward needs some help, as he told Sports Illustrated's Maggie Gray:
He's trying to be the guy for us. He is the leader, he's trying to be a real leader to us and I think he's been doing a great job. I kind of feel bad because we need to step up and we need to help him more. He's trying to do everything for us: score, rebound, play defense, he's been doing it all for us. So I think it's in our hands to step up and play at his level.
Stepping up won't be easy, especially after letting this latest game slip through their fingers.
Now, the Knicks are forced to complete a back-to-back against the Detroit Pistons on Saturday before embarking on a six-game road trip. If bad feelings are running rampant now, there's no telling what could happen if the losses continue accumulating
At this point, there's no telling whether the downward spiral will stop before the end of the season.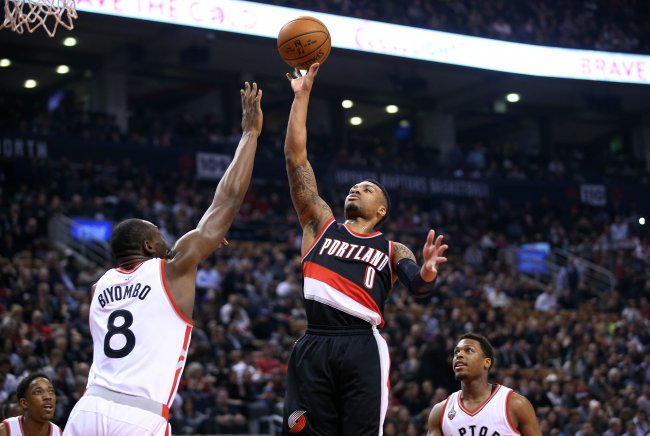 Tom Szczerbowski-USA TODAY Sports
Usually, the team with a 50-point scorer is going to emerge victoriously.
That didn't hold true Friday night, as Damian Lillard's 50-burger wasn't enough to carry the Portland Trail Blazers past the Toronto Raptors. But don't let the loss convince you the floor general's night was anything less than special.
During the 117-115 setback, he made 16 of his 28 shots from the field, went 6-of-13 from beyond the arc and knocked down 12 of his 13 attempts at the charity stripe. And for good measure, the explosive point guard added three rebounds and five assists.
This outing might not have been as impressive as his 51-spot in an upset victory over the Golden State Warriors on Feb. 19, but it's hard to discount any scoring outburst like this. Raptors head coach Dwane Casey certainly wasn't after Lillard almost single-handedly carried Rip City to victory, per Josh Lewenberg of TSN Sports:
Casey on Lillard: "He's not an All-Star in our league? Shame on us. That young man can score anyway he wants"

— Josh Lewenberg (@JLew1050) March 5, 2016
During this particular outing, "anyway he wants" included from waaaaay beyond the three-point arc. At the end of the first quarter, Lillard hit a shot from just past the half-court stripe that might remind you of...well, we don't want to say it:
But it may be even more impressive that he managed to overshadow so many other performances during a terrific matchup between two elite NBA backcourts.
C.J. McCollum put up 24 points and five assists for Portland, meaning the starting guards accounted for 64.3 percent of Rip City's points. The Raptors' Kyle Lowry had 28 points, five rebounds, six assists and two steals, which, hard as it may be to believe, has basically become his new normal. DeMar DeRozan logged 38 points while making his first 24 free-throw attempts, only missing the 25th with less than a second remaining in the contest.
None of them can be the story, though. That role is reserved for the red-hot Lillard.
Never Take the Ball Away from Giannis Antetokounmpo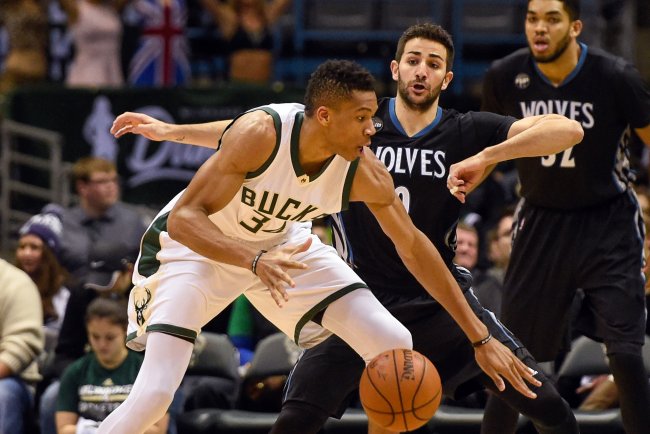 Benny Sieu-USA TODAY Sports
As Charles F. Gardner explained for the Milwaukee Journal Sentinel, you shouldn't expect to see Giannis Antetokounmpo removed from his point-forward role anytime soon:
Giannis Antetokounmpo playing as the Milwaukee Bucks' point forward may not be a short-term fix.

At least that's the way it sounds when you listen to Bucks coach Jason Kidd.

The 6-foot-11 Antetokounmpo started his 10th game as the team's designated ball-handler as the Bucks faced Minnesota on Friday night. It's a role he assumed when Michael Carter-Williams went to the bench in a lineup shakeup made just before the all-star break.
"I think it's something we are very happy with," Kidd told Gardner. "If you ask him, he's happy with it. And I think his teammates are happy with it. You can see pace of play has picked up for us, multiple touches. He's a player who can go one-on-one and still make a play for a teammate."
Everyone should be happy—those involved, those watching and Antetokounmpo himself. Well, everyone except whoever is unfortunate enough to play against him.
The Minnesota Timberwolves were the latest victim, falling 116-101 to the Bucks and Antetokounmpo, who had 27 points, nine rebounds, 12 assists, three steals and two blocks. He was one board shy of recording his third triple-double in his last six games, and his recent output is undeniably impressive:
At this point, it should be abundantly clear this role is working.
Antetokounmpo has led the Bucks to three victories in those six games—a distinct improvement for a team now sitting at 26-36 on the year. During that same stretch, his squad has also outscored the opposition by 20 points when he's been on the floor.
Let's not beat around the proverbial bush. This needs to become a long-term solution in BrewTown.
Have a Night, Alex Len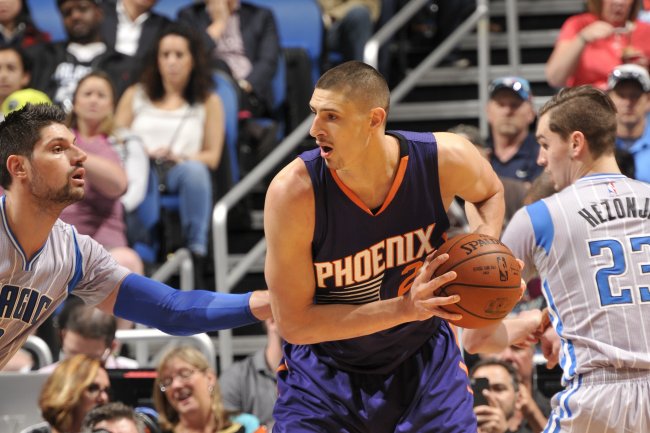 Fernando Medina/Getty Images
If you had Alex Len in your office pool for the NBA's next 30/15 game, congratulations. You are either incredibly lucky or psychic, in which case you should send info my way because I need help filling out my March Madness bracket this year.
. @alexlen career high 31 pts and 15 reb for 4 straight double-doubles makes him the @CarlsJR Star of the Game. pic.twitter.com/fsZV4dxJPC

— #WeArePHX (@Suns) March 5, 2016
During the Phoenix Suns' dominant 102-84 victory over the Orlando Magic, one that ended a string of 17 consecutive road losses, Len couldn't be stopped. He finished with 31 points, 15 rebounds, one steal and two blocks, allowing him to join Anthony Davis, DeMarcus Cousins and Andre Drummond as one of just four players this season to produce such a line.
Prior to this unexpected outburst, Len had never scored more than 23 points in a single game. His career high remains 18 boards, but this was only his third time grabbing at least 15 during a lone outing.
Nikola Vucevic, who was often tasked with slowing down Len, probably won't be highlighting this game on his resume.
Hassan Whiteside Continues to Thrive off the Miami Heat Bench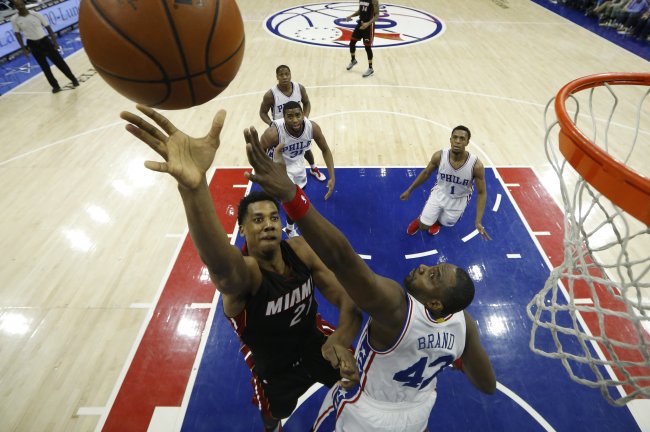 Matt Slocum/Associated Press
Given his penchant for NBA 2K16 ratings and his upcoming free agency, Hassan Whiteside probably won't accept a permanent role as a sixth man. Three games after beginning the transition into his newfound role, he basically said as much.
"I'm done talking to Coach [Erik Spoelstra] about it," he said, per Jason Lieser of the Palm Beach Post. "I have nothing else—we've talked about it so many times, ain't no reason to keep talking to him about it. I'm just gonna play."
But it's working wonders for his production with the Miami Heat, and the Philadelphia 76ers are only the latest victims. Now, it's worth thinking about whether he might eventually change his mind, becoming the bigger version of Manu Ginobili in the process.
Coming into the team's 112-102 victory over its bottom-dwelling foe, Whiteside had worked off the pine in each of his last 11 appearances, averaging 15.7 points, 12.7 rebounds and 4.2 blocks while shooting 62.2 percent from the field. Obviously, those are some fantastic numbers.
They still pale in comparison to what he did against the poor Sixers, and not just because of this finish:
With Philly decimated by injuries and forced to go into battle featuring a frontcourt composed of Carl Landry, Jerami Grant, Robert Covington, Elton Brand and Richaun Holmes, Whiteside couldn't be corralled. He finished with 19 points, 19 rebounds and two blocks in 34 minutes of action—just his latest masterpiece as a sixth man.
It's hard to form too many long-term takeaways here, given the undersized nature of those Philly "bigs." But Whiteside still had to produce, and produce he did during the comeback victory.
LeBron James Can Still Get It Done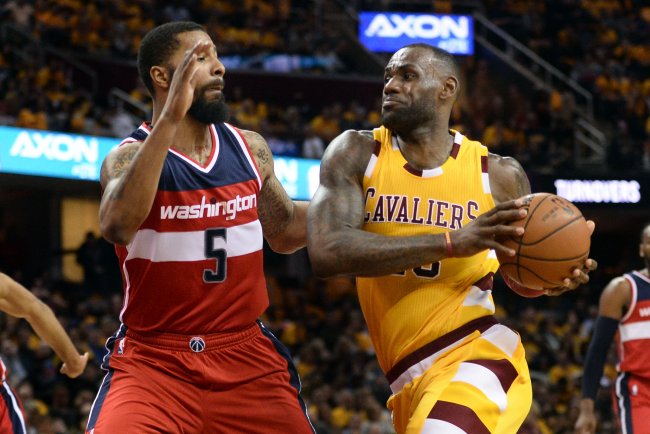 Ken Blaze-USA TODAY Sports
Even on a night in which Kevin Love sat out for rest purposes, the Cleveland Cavaliers thrashed the Washington Wizards 108-83. And though Kyrie Irving ended up leading the Eastern Conference's No. 1 seed in scoring, this was the LeBron James show.
The four-time MVP finished with 19 points, 13 rebounds, seven assists and three steals, highlighted by this thunderous transition flush:
One more time:
Just kidding. That wasn't a replay, because James recorded steals and rim-rattling slams on back-to-back possessions, getting the eventual blowout started in earnest.
The only thing keeping his line from growing even more impressive was playing time. He sat down for the final time at the end of the third quarter, not needing to play in the final period of a game that already featured a 20-point margin.
Lest we forget while marveling over Stephen Curry, Damian Lillard, Anthony Davis and all the young studs in the Association, this James guy is pretty good at basketball.
Is Two Greater Than One?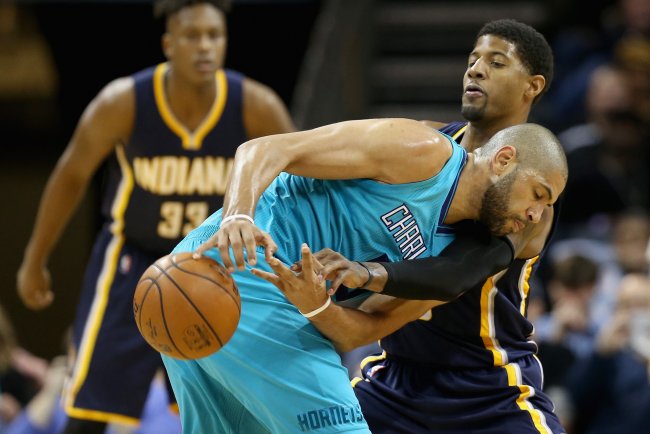 Streeter Lecka/Getty Images
Tell me, would you rather have two 30-point scorers or just one?
The Indiana Pacers, who unsuccessfully inserted Solomon Hill into the starting five to match up against the smaller Charlotte Hornets, had one. Paul George exploded for 35 points, seven rebounds, seven assists, five steals and a block on 11-of-23 shooting from the field.
But the Hornets had two. Kemba Walker paced the team with 33 points to go along with his two rebounds and 10 assists. Joining him was Nicolas Batum, who submitted 32 points, seven boards and four dimes of his own.
So, was two greater than one Friday night?
In this case, yes. The Hornets rode their two best players to a 108-101 victory, despite entering the fourth quarter with a two-point deficit.
Debut of the Night: Kris Humphries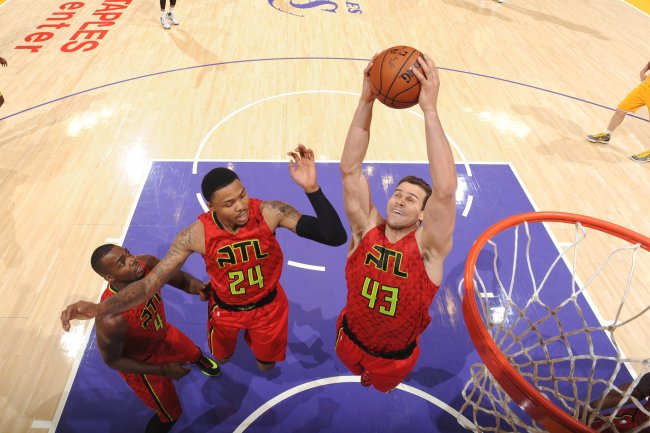 Andrew D. Bernstein/Getty Images
Kris Humphries has already suited up for the Washington Wizards and Phoenix Suns during the 2015-16 campaign, but he's now a member of the Atlanta Hawks. Friday night was the first time he donned the uniform, and it didn't take him long to make an impact in the eventual 106-77 victory over the Los Angeles Lakers.
The power forward finished with 14 points, eight rebounds, one steal and one block in 22 minutes off the bench, but it was his stretchiness that made the biggest impression. Atlanta head coach Mike Budenholzer runs a system that requires shooting from so many different positions in the lineup, and Humphries' ability to step out to the perimeter and knock down jumpers allows him to fit in seamlessly.
That stroke was on display late in the second quarter, when he calmly drilled his one and only triple of the game:
Humphries won't have this large an impact every night. He was second on the team in plus/minus Friday night, as the Hawks outscored their opponent by 24 points with him on the floor.
However, it's already clear Budenholzer will trust him in important moments, letting him spell Paul Millsap and Al Horford as the Tiago Splitter replacement. He's not a player capable of truly altering the Eastern Conference playoff picture, but he may well strengthen one of the fringe contenders.
Adam Fromal covers the NBA for Bleacher Report. Follow him on Twitter: @fromal09.
All stats, unless otherwise indicated, are from Basketball-Reference.com or Adam's own databases and are current heading into games on Friday.