Manchester City forward Raheem Sterling was reportedly "man-handled" by a Liverpool fan following the Sky Blues' Capital One Cup final win on penalties over the Reds at Wembley on Sunday.
According to the Manchester Evening News' Stuart Brennan, a Liverpool supporter "yanked" the 21-year-old and called him a "f--king Judas" as Sterling entered an official post-match celebration in one of Wembley's lounges.
Sterling was inevitably booed by Liverpool fans throughout the match following his summer move from Anfield to the Etihad, but City were eventual winners on the night, taking the shootout 3-1 after the contest finished 1-1.
Brennan added that City winger Kevin De Bruyne and a security guard stepped in to prevent the altercation from going any further.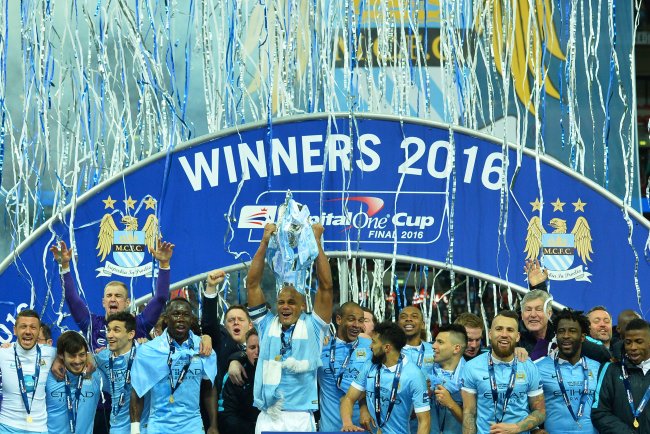 GLYN KIRK/Getty Images
Sterling's departure from the Merseyside club—where he had advanced through the youth ranks—was messy.
He initially turned down the offer for a new contract with Liverpool before asking to leave the club and finally sealing a deal with Manchester City worth up to £49 million, per BBC Sport.
Sunday was the first time Sterling had faced Liverpool away from the home comforts of the Etihad Stadium, and he received a fair amount of abuse during the match from the 30,000 Reds fans.
The Englishman also did not have the best game after missing a couple of chances to seal the triumph in normal time, per the Telegraph's Paul Hayward:
Liverpool keep hitting the jackpot with Raheem Sterling. £50m fee, two glaring misses which let them back into this Cup final. 1-1 ET.

— Paul Hayward (@_PaulHayward) February 28, 2016
Indeed, Bleacher Report's Dean Jones believes Sterling was "let off the hook" by Willy Caballero's heroics in the penalty shootout:
However, there is little excuse for his facing a physical confrontation from a Liverpool fan, and it is not known how the supporter in question was able to breach security and "get to an area where accreditation was needed," per Brennan.
In a quirk of the fixture list, City and Liverpool will face off again in the Premier League on Wednesday, and Sterling will not be expecting a warm welcome at Anfield.