It wasn't the action-packed bout that most hoped to see, but Carl "The Jackal" Frampton retained his IBF super bantamweight title and took Scott Quigg's WBA strap with a split-decision victory (116-112, 116-112, 113-115) at the Manchester Arena in England on Saturday.
Premier Boxing Champions congratulated the Jackal on his win:
Congrats to @RealCFrampton on his super bantamweight unification victory over @scottquigg. #FramptonQuigg pic.twitter.com/rZ3mTrRBr6

— PBC (@premierboxing) February 28, 2016
Most of the fight was boring, with both men showing too much respect. Frampton looked to get the better of the "action" during those quiet rounds. Showtime Sports shared a brief highlight of Frampton's best work:
.@RealCFrampton catches fire against @scottquigg in round 7. #FramptonQuigg https://t.co/jVhjXqjI22

— SHOWTIME SPORTS (@SHOsports) February 27, 2016
Tellingly, Frampton did manage to land one significant blow in the fourth round, per the Mail on Sunday's Oliver Holt:
Quigg has broken jaw. Says Frampton hit him with a 'peach of an upper cut' that broke jaw at end of the 4th

— Oliver Holt (@OllieHolt22) February 28, 2016
Kaveh Solhekol of Sky Sports later provided an X-Ray scan of the damage caused to Quigg's jaw:
X ray of Scott Quigg broken jaw #FramptonQuigg pic.twitter.com/BhdYkGOjlY

— Kaveh Solhekol (@SkyKaveh) February 28, 2016
Around the seventh, the fight began to open up, and Quigg did the better work in the late rounds.
He stunned Frampton in the 11th frame and landed the more effective punches during the exchanges. Unfortunately for him and fight fans, he got started too late.
Here's a look at Quigg landing some solid combinations against Frampton, via Showtime Sports:
.@scottquigg comes on strong in round 8! #FramptonQuigg https://t.co/dcLHiWbR2V

— SHOWTIME SPORTS (@SHOsports) February 27, 2016
Bad Left Hook's Tom Craze had an interesting take on the fight:
Had that been a 15-round fight, we could well have been talking about a British classic. As it is, a fight that never quite caught fire.

— Tom Craze (@Box_Bet) February 28, 2016
Craze may have been accurate, but the two fighters' friendship might have been the real culprit in the lackluster bout. These two guys like and respect each other. From a sportsmanship standpoint, that's beautiful, but it doesn't make for an interesting fight.
Perhaps a rematch with more of an emphasis on action early in the bout is in order. That's what broadcaster Jim White was calling for:
Let's do it again guys - but from the FIRST bell next time 🔔👊🏽 #FramptonQuigg

— Jim White (@JimWhite) February 28, 2016
It seems safe to assume, with a chance to do it over again, both men would open up their attacks earlier.
A rematch might have to wait, as another Jackal could be waiting for Frampton. Guillermo Rigondeaux is set to face James Dickens on March 12. If he wins, there would be hype for a bout between him and Frampton. Based on what we saw Saturday, Rigondeaux would be a heavy favorite to win that fight.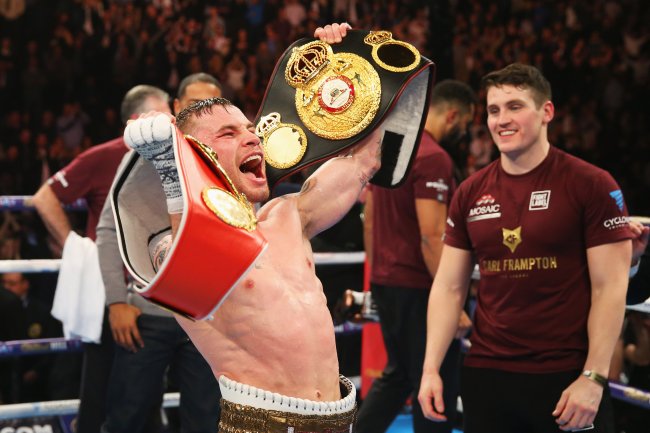 Alex Livesey/Getty Images
His power, defensive slickness and overall boxing acumen are superior to Frampton's skill set. However, he's not the most popular fighter, and many don't appreciate his technical style.
That's understandable, but it's hard to imagine Rigo and Frampton delivering a sleepier bout than what we saw Saturday night. There's also a chance that Frampton could step in the ring with Leo Santa Cruz. The latter will take on Kiko Martinez later Saturday night.
That, too, could be a popular bout with fans. It's also one Frampton would likely have a better chance of winning.
Quigg's stock didn't take much of a hit after this one. He showed his skill, but he'll likely be kicking himself for not being more aggressive early. He'll likely get another shot on a huge stage, but he'll probably always regret this performance.
---
Follow Brian Mazique on Twitter.