The 10 Drivers Who Really Deserve to be in F1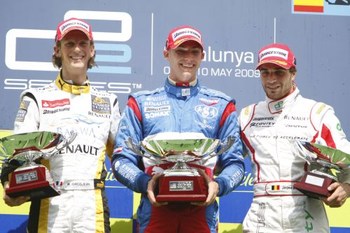 With possibly 28 cars taking to the grid next season there has never been a better chance for a rookie to gain a seat in F1.
With four new teams in the sport (USF1, Manor Motorsport, Campos, and Lotus), GP2 drivers and others who have been sidetracked in the lower series have a shot at making the big time.
Not since the mid-90s has there been such a raft of new teams and potential race seats for new drivers and with the regulations still not fully utilized, many young drivers will be hoping to make their mark.
No. 10: Gary Paffett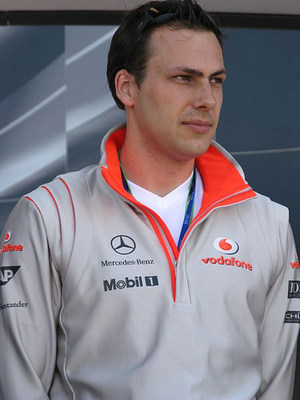 The 28 year old Brit may have a glittering career with the DTM and German F3 championships under his belt but he has generally been overlooked by F1 in the past.
The closest Paffett got was a testing role for Mclaren after his DTM championship win in 2005 but unlike rival Christjian Albers, was unable to find a drive in F1.
Later he was in line for an alleged drive with Prodrive for the 2007 season but eventually the outfit failed to materialize. Paffett would be a dependable choice, but racing in F1 next year is more fantasy than reality.
Current Championship : DTM
F1 Experience: Solid, testing role with Mclaren
Pros: Proven champion in single seaters with his win in German F3, the same series where Nick Heidfeld, Jarno Trulli, Alexander Wurz, and Ralf Schumacher found success. His exploits in the DTM didn't go unnoticed as well.
Cons: His age, at 28 means he doesn't have time on his side and he seems settled in the DTM with a full factory backed ride again.
Furthermore his victory in F3 was 7 years ago in which time he has adjusted to touring car racing. Is it too much to expect him to jump into an inexperienced outfit and perform? Plus his experience in F3000/GP2 is minimal.
2010 Prospects: Generally not strong, he is a good driver with an excellent pedigree but his age is a factor and new teams will probably look to invest in younger talent.
No .9: Vitaly Petrov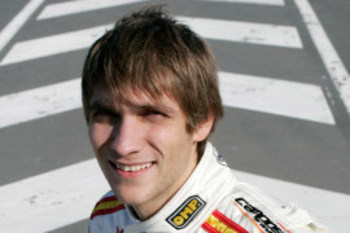 Behold the Russian Revolution! Or Rather Vitaly Petrov, the young Russian who has excelled in GP2.
While his successes have come mainly from his native Russia, Petrov has caused major ripples with his performances in GP2, mainly his drive to the runner-up spot this year.
Also and, most importantly, he currently races for the Barwa Addax team formerly the Campos team. This puts him in good stead for a drive for the Spanish outfit in 2010.
Current Championship: GP2
F1 Experience: Nada
Pros: Has a good reputation in GP2 and is a former Campos driver. Is viewed as a driver in-form.
Cons: No F1 experience and would have probably been overlooked if Campos had not taken a place on the 2010 grid. His successes have generally been in his native Russia.
2010 Prospects: Strong, while he lacks the experience maybe new teams would be looking for, he certainly is a quick driver and it would be surprising if Campos would overlook one of their old drivers.
No. 8: Giorgio Pantano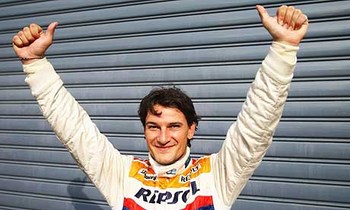 Pantano holds a rather dubious honor to his name. He was the first GP2 champion not to graduate to F1. In a sense this reflects mainly of the differing circumstances in which he won the championship but also his reputation within the F1 paddock.
Unlike most of the ten drivers chosen, Pantano has some F1 racing experience. After a number of successful years in F3000 he graduated to F1 in 2004, signing with the ailing Jordan team.
It was an unmitigated disaster in which time he was dropped twice by Jordan, scored no points and finished no higher than 13th in a race. It wasn't a vintage year for Jordan but Pantano failed to hit even the lowest of expectations.
He thus disappeared from the scope for some years until 2008 when he won the GP2 championship in convincing style, reigniting his hopes of gaining an F1 drive. Sadly no-one came knocking. For now it seems everyone has forgotten about Giorgio Pantano.
Current Championship: Superleague Formula
F1 Experience: Solid, contested a part-season for Jordan in 2004 but very little since then.
Pros: Has a proven track record in single seaters with GP2 and German F3 championships under his belt. Also he has a crucial endorsement from Bernie Eccelstone to compete in F1.
Cons: Like Paffett his age is a factor, even more so in fact as he would be 31 by the time the 2010 season started. Furthermore his rookie season evidently haunted him as he turned his back on F1 probably explaining why nobody hired him for 2009.
2010 Prospects: Slightly better than Paffett. Is not currently seated in a competitive series and has a proven track record. But is he a has been?
No. 7: Will Power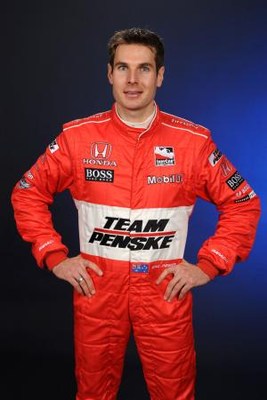 Maybe a surprise choice but Will Power has proven himself a very capable figure in motorsport and certainly deserves a shot at F1.
While not a particularly well known figure on the European circuit, Power has certainly impressed on the American stage.
His talent shone in the waning years of Champ Car, leading him to three wins, four poles, and 4th overall in only his second full year.
His graduation to IRL has been just as impressive with two wins already to his name despite racing with an ex-champ car team and generally in a interrupted schedule.
He impressed so much he even received a part time ride with uber-successful team Penske, taking his second IRL win in Edmonton.
While not as high profile as many of his peers, Will Power could be the next Aussie sensation.
Current Championship: IRL
F1 Experience: Minimal, tested for Minardi in 2004.
Pros: Is a proven talent in America and does have experience in Europe with the Renault World Series and A1GP. Also could help in US market, being a recognizable face.
Cons: Certainly has made few ripples in the F1 circuit and isn't exactly getting his door beaten down by offers either.
2010 Prospects: Personally I would love to see Power in F1 and certainly has the talent, but sadly his obscurity could be his downfall.
No. 6: Bruno Senna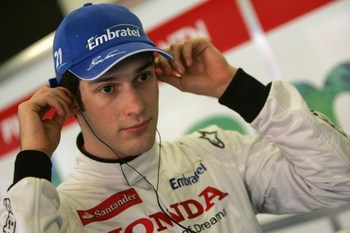 His name aside, Bruno Senna would be a decent acquisition for F1. Not only has he succeeded in multiple Formula but has impressed in F1 testing, impressing on his Honda debut.
Whilst yet to have won a major championship, Senna has performed well in both F3 and GP2, enough to merit a serious consideration in F1 for the future.
Furthermore It would be interesting to see if he could overcome the supposed nepotism outcry should he secure a drive in F1.
Current Championship: Le Mans Series
F1 Experience: Varied but limited, a test with Torro Rosso and a three day test for Honda thus far.
Pros: His abilities when he tested for Honda in 2008 were proven when he lapped within 0.3 seconds of Button by the end of the session. It showed that his multiple wins in Formula 3 and GP2 were merited and that made him the No.1 choice to join F1 from GP2 that year.
Cons: He has never actually won a major series, preferring to graduate as quickly as possible not sticking around for long. Furthermore his step into Le Mans took him off the F1 radar and was more of a back step than a sidestep.
2010 Prospects: If he had stayed in GP2 for 2009 he probably would have been first in line for a seat. However his hastiness could cost him dear in the long run. However his performances in testing have impressed which makes him a distinct possibility, maybe not for 2010, but for the future.
No. 5: Alvaro Parente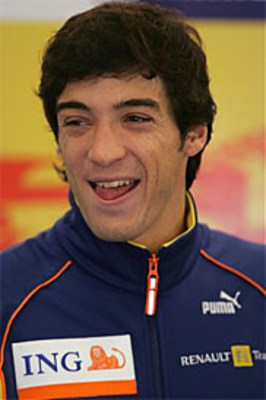 As much as Bruno Senna has tried to graduate to F1 as quickly as possible, Alvaro Parente has taken the long route. Indeed it seems incredible that five years have passed since Parente won the British F3 championship and yet still has not found his way into F1. Certainly nothing on paper should be holding him back.
As far as experience goes Parente has done everything under the sun. He raced in Spanish and British F3, the F3 Euroseries, Renault World Series, GP2 Asia Series, GP2 series, Superleague, and A1 GP. That is a lot of categories that Parente has explored.
And not without success. He stormed to the 2004 British F3 title defeating Adam Carroll in dominant fashion. He also took the Renault World Series title in 2007 and is a race winner in GP2.
Yet the Portugese has not taken a F1 seat to date. Surely with so many seats begging he has a great chance to finally graduate to the top formula for 2010.
Current Championship: GP2
F1 Experience: Minimal, his only experience came from a one day test in 2007 for winning the Renault World Series.
Pros: Has a proven track record and has excelled in all forms of single seaters, including GP2.
Cons: Seems to attract very little attention and his success in GP2 doesn't really compare to the likes of Grosjean, Hulkenberg, or Di Grassi.
2010 Prospects: He is a good driver, no doubts about that, but thus far has been overlooked by F1 for most of his career. He needs to go asking rather than expect others to find him if he is to take a drive in 2010.
No. 4: Paul Di Resta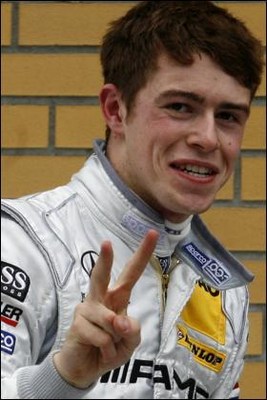 While not being one of the most well known drivers in motorsport, Di Resta has proven himself in most forms of racing and very much is the next hot British property.
The Scot has a number of successes to his name. He took the F3 Euroseries with Manor Motorsport in 2006 as well as the F3 Masters. He also is a Mclaren Autosport Young Driver of the Year and in his debut season in DTM was the highest old-spec car in the championship, beating ex-champion Gary Paffett. Certainly a bright prospect for the future.
Current Championship: DTM
F1 Experience: Little, some testing experience with Mclaren.
Pros: Despite not having a lot of F1 experience, Di Resta's pedigree has so far shone above most. His successes in DTM and F3 meant he was linked to Force India for 2009 and his past relationship with Manor and Mclaren puts him in good stead for a drive for 2010.
Cons: Took the Gary Paffett route and went into the DTM rather than pursuing single seaters. So far the DTM has proven a graveyard for prospective F1 drivers (Paffett, Green) as well as past stars (Hakkinen, Alesi, Frenzten, Ralf Schumacher, Albers). Not taking the conventional route may hurt his chances.
2010 Prospects: Despite this he is very highly rated and his links to Mclaren and Manor should see him into a 2010 drive.
No. 3: Lucas Di Grassi
Certainly if one driver deserves a shot in F1 it's Di Grassi. The Brazilian is probably wondering right now why he hasn't got a drive yet in F1.
Despite winning the prestigous Macau Grand Prix, as well as a runners up spot in GP2, Di Grassi has yet to secure a F1 drive.
It has almost become a running joke that Di Grassi has yet to become an F1 driver although certainly his ability is no laughing matter.
Indeed he has attracted substantial interest from Renault and is currently their test driver. While testing has been frequent his race opportunities have been limited. His best hope came actually this weekend when Grosjean was taken ill. However Grosjean recovered and Di Grassi is still waiting for his F1 debut.
Current Championship: GP2
F1 Experience: Substantial, tester for Renault throughout his GP2 career and also worked as tester for GP2.
Pros: Consistent front runner in GP2, links to Renault not to mention Campos and Manor.
Cons: Is there a reason why Kovalainen, Piquet, and Grosjean have been chosen over him? Furthermore although Di Grassi has been a consistent front runner in GP2 he has never won the championship; and can he really count on Renault involvement for much longer?
2010 Prospects: Very strong, surely if not Renault then another team will pick him up at some point.
No. 2: Anthony Davidson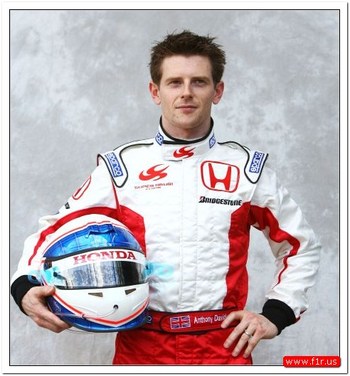 With a wealth of experience in F1 as a tester and driver, Davidson seems a no-brainer for a seat in 2010.
Davidson came to prominence in 2001 when he raced eventual champion Takuma Sato hard for the British F3 championship. He was promptly picked up by BAR as a tester in late 2001 and loaned out to Minardi racing a limited programme in 2002.
By 2003 he was a regular tester for the BAR team but failed to regain a regular race seat until 2007 with the Super Aguri team.
Despite occasionally impressing in the underfunded outfit, he eventually lost his seat when the team withdrew after just four races in 2008. This effectively cut Anthony Davidson out of the F1 equation.
However with his invaluable experience as a test driver he seems a no-brainer for any new team.
Current Championship: None, raced in Le Mans, currently Brawn reserve driver.
F1 Experience: Exhaustive, has spent eight years in and around F1.
Pros: Knows the cars inside out and is obviously desperate to regain a race seat. His experience as a tester would be invaluable, plus he's a damn good commentator.
Cons: Not much racing experience and his performances have been sporadically good rather than consistent.
2010 Prospects: Frankly if Davidson came knocking most new teams should take the opportunity of signing him. A hot property.
No. 1: Nico Hulkenberg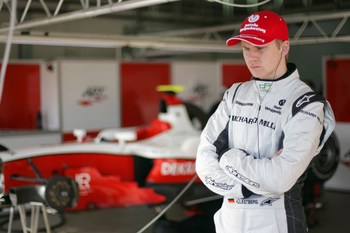 The clear favourite for a F1 seat, certainly if one driver on this list were to get into F1 for 2010 it would Hulkenberg.
A proven talent Hulkenberg exploded onto the motorsport scene in 2006 by storming to the A1 GP championship. In the following years he added the F3 Euroseries and this year's GP2 championship. With close links to Williams Hulkenberg could be going all the way to the prestigious team in 2010.
Current Championship: GP2
F1 Experience: Decent, has been a regular tester for Williams since 2007 and outpaced Nakajima in his first test.
Pros: Incredible record and reputation and his performances for Williams have almost guaranteed a seat in 2010. He was even linked to the vacant Ferrari seat this year.
Cons: Didn't really register in his first season in the F3 Euroseries but 3rd is hardly bad.
2010 Prospects: Almost inevitable that Hulkenberg will get a seat in 2010 and surely a high ranking one at that. Nico is the hottest property gunning for a race seat for 2010.
Keep Reading