For some prospects, the NFL Scouting Combine decides everything.
The biggest event on the road to the draft isn't just a simple stock adjustment for every name. It's a medical evaluation by many different experts for those prospects who enter with prior issues, something that can change the complexion of entire rounds.
Along those same lines, it's an intense character study for each and every prospect, but especially those who have run into trouble off the field or had other rumblings pop up around their name.
Below, let's look at a mock draft based on team need and prospect value, and a close look at a trio of players who have much riding on how they perform at the event.
2016 NFL Mock Draft
| | | | | |
| --- | --- | --- | --- | --- |
| Pick | Team | Player | Position | School |
| 1 | Tennessee Titans | Laremy Tunsil | OT | Ole Miss |
| 2 | Cleveland Browns | Jared Goff | QB | California |
| 3 | San Diego Chargers | Ronnie Stanley | OT | Notre Dame |
| 4 | Dallas Cowboys | Joey Bosa | DL | Ohio State |
| 5 | Jacksonville Jaguars | Jalen Ramsey | CB/S | Florida State |
| 6 | Baltimore Ravens | Mackensie Alexander | CB | Clemson |
| 7 | San Francisco 49ers | Myles Jack | LB | UCLA |
| 8 | Miami Dolphins | Reggie Ragland | LB | Alabama |
| 9 | Tampa Bay Buccaneers | DeForest Buckner | DE | Oregon |
| 10 | New York Giants | Jaylon Smith | LB | Notre Dame |
| 11 | Chicago Bears | Jack Conklin | OT | Michigan State |
| 12 | New Orleans Saints | Paxton Lynch | QB | Memphis |
| 13 | Philadelphia Eagles | Taylor Decker | OT | Ohio State |
| 14 | Oakland Raiders | Vernon Hargreaves III | CB | Florida |
| 15 | Los Angeles Rams | Carson Wentz | QB | North Dakota State |
| 16 | Detroit Lions | Ezekiel Elliott | RB | Ohio State |
| 17 | Atlanta Falcons | Darron Lee | LB | Ohio State |
| 18 | Indianapolis Colts | A'Shawn Robinson | DT | Alabama |
| 19 | Buffalo Bills | Jarran Reed | DL | Alabama |
| 20 | New York Jets | Noah Spence | DE/LB | Eastern Kentucky |
| 21 | Washington | Laquon Treadwell | WR | Ole Miss |
| 22 | Houston Texans | Robert Nkemdiche | DL | Ole Miss |
| 23 | Minnesota Vikings | Michael Thomas | WR | Ohio State |
| 24 | Cincinnati Bengals | Emmanuel Ogbah | DE | Oklahoma State |
| 25 | Pittsburgh Steelers | Eli Apple | CB | Ohio State |
| 26 | Seattle Seahawks | Shaq Lawson | DE/LB | Clemson |
| 27 | Green Bay Packers | Sheldon Rankins | DT | Louisville |
| 28 | Kansas City Chiefs | Corey Coleman | WR | Baylor |
| 29 | Arizona Cardinals | Leonard Floyd | LB | Georgia |
| 30 | Carolina Panthers | Josh Doctson | WR | TCU |
| 31 | Denver Broncos | Jason Spriggs | OT | Indiana |
Author's projections.
Top Destinations for Players Who Need Major Combine Performance
7. San Francisco 49ers: Myles Jack, LB, UCLA
There is little dispute that UCLA's Myles Jack looks like one of the best linebackers to enter the draft in a long time, though his performance at the combine won't necessarily focus on his on-field skills.
According to ESPN.com's Josh Weinfuss, Jack has not received the go ahead from doctors to participate in drills while he continues to recover from a knee injury suffered in September. While disappointing, Jack did assure the media his knee feels fine.
"Personally, I feel great," Jack said. "The knee, I can do whatever I can do with the knee, running, cutting. It feels great. It feels like a new knee."
Evaluations will decide much in the way of Jack's stock now. He's quite rare as a linebacker who can rush the passer well, close in sideline-to-sideline nature with violence and even drop back into coverage well, though he comes in at a less-than-desirable 6'1" and 245 pounds.
Should everything check out well for Jack, then his stock will remain in the top 10 and a team like the San Francisco 49ers won't be able to pass on the opportunity.
Those 49ers are in the midst of one of the league's most sudden rebuilds with nothing in the linebacker corps to speak of outside of NaVorro Bowman. It's a situation needing improvement right away, so expect the 49ers to be one of the most notable teams around Jack at the combine.
20. New York Jets: Noah Spence, DE/LB, Eastern Kentucky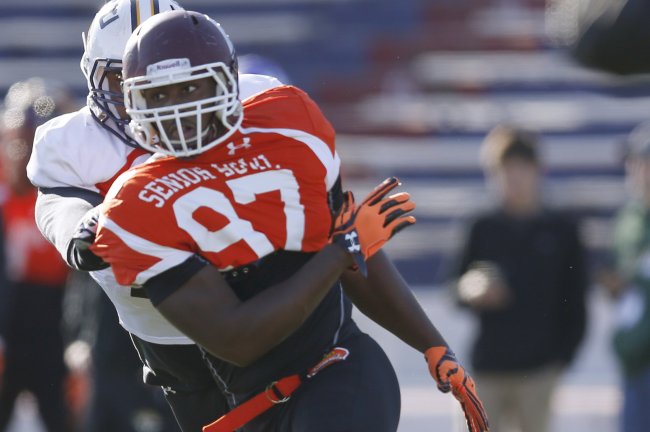 Brynn Anderson/Associated Press
Noah Spence makes the cut for quite a different reason.
Folks might recall Spence as one of the key components of a strong Ohio State defense a few years back, but he wound up leaving the team after a trip to rehab and an arrest last spring.
Despite the issues, Spence has had quite the turnaround performance on and off the field, easily dominating the competition while at Eastern Kentucky and alighting the NFL with buzz about his admission of issues and willingness to open up.
Spence took to the Senior Bowl and came away as perhaps the most impressive player in attendance. Doing so again, this time against the nation's best under the national spotlight will decide much about his stock, though more important might be his interviews with teams.
NFL.com's Lance Zierlein explained how Spence fits right now:
His issues are well-­documented, but his recovery and turnaround is what has NFL teams excited. Spence has been accountable for his actions and worked just as hard off the field as he has on the field to change his life and attack his problems. His inability to hold the point of attack combined with his ability to rush the passer make him a logical choice as a 3-­4 rush linebacker. The speed of the game make take a year or two to get used to, but Spence should become a starter early in his career.
Should everything check out for Spence off the field at the combine, No. 20 seems like the floor.
While it sounds low for such a talented prospect, in the era of Johnny Manziel, there are teams that won't have Spence on the board no matter what. With other prospects such as Jack in the class, teams won't have problems taking a pass.
The New York Jets won't complain if he makes it to No. 20. The Jets nabbed just 39 sacks last year, and adding another situational rusher who can develop into an every-down player makes plenty of sense.
21. Washington: Laquon Treadwell, WR, Ole Miss
Laquon Treadwell doesn't have it as easy as some might think in this class.
The Ole Miss product looks like a can't-miss prospect on paper. He comes in at 6'2" and 210 pounds, and last year brought in 82 catches for 1,153 yards and 11 touchdowns.
What's easy to forget—and the NFL most certainly hasn't—is a serious leg injury Treadwell suffered. Yahoo Sports' Charles Robinson provided the details:
That said, teams want to get a closer look at Treadwell's medical chart now that he's more than 15 months removed from a nasty fractured fibula and dislocated ankle. Treadwell looked stronger than ever in 2015, but teams will be looking to square away any lingering questions. They'll also want to see how fast he runs after a relatively short bounce-back period from the injury, which ended his 2014 season and required a rehabilitation process that stretched into the early summer of 2015.
It doesn't help Treadwell that this is a weak wideout class. Compared to other spots, the crop of receivers simply pales in comparison. Treadwell might not even be the consensus No. 1 wideout, not with Corey Colman, Michael Thomas, Josh Doctson and others hanging around in the first-round range.
Some team will eventually take the risk, though, especially if the leg checks out. Washington looks like an intriguing option after Kirk Cousins' emergence at quarterback (provided he comes back). Head coach Jay Gruden's offense already has a big-play threat in DeSean Jackson and a top-tier tight end in Jordan Reed, so adding a chain-moving prospect like Treadwell would make the attack even more versatile.
Like many with checkered injury pasts, though, Treadwell has much to prove at the combine to make this a reality.
Stats courtesy of NFL.com and are accurate as of Sunday. All advanced metrics courtesy of Pro Football Focus.