Can the NBA give Damian Lillard a retroactive All-Star nod? On a 14-game Friday night, nobody was more impressive.
With an endless barrage of deep jumpers that prevented the defending champions from gathering any semblance of momentum, the point guard recorded 51 points, seven assists and six steals in the 137-105 blowout victory over the Golden State Warriors. This Rip City floor general is now the only man to record those numbers since 1983-84.
Perhaps even more notably, he made a franchise-record nine three-pointers, and they each seemed to come from longer range.
Steve Kerr on Damian Lillard: He was phenomenal. He was great. He looked like Steph Curry out there."

— Jason Quick (@jwquick) February 20, 2016
Seriously, words can't do this performance justice:
Lillard became just the 13th player in the last decade to record at least 51 points without taking 30 shots from the field, and he joins LeBron James, Stephen Curry, Allen Iverson and Deron Williams as one of only five to do so with seven or more assists.
And it's not like he was the lone member of the Portland Trail Blazers backcourt to put together an impressive showing, as C.J. McCollum dropped 21 points, four rebounds and seven assists on 9-of-18 shooting from the field.
Sam Forencich/Getty Images
Curry's typical heroics just weren't enough. Even though the reigning MVP knocked down seven three-pointers and broke past the 30-point barrier yet again, his teammates didn't score enough. Nor did any member of the Warriors play much defense against Rip City, dooming themselves in the third quarter with countless turnovers that resulted in far too many transition buckets.
When chasing 73 wins, this isn't ideal.
Now 48-5 on the season, Golden State remains ahead of the necessary win-loss percentage—they stand at 0.906, while 73-9 registers at 0.89. But the schedule isn't getting any easier. This was only the first of six consecutive road contests (post-All-Star break), and multiple marquee clashes with the Oklahoma City Thunder and San Antonio Spurs still loom large.
Bad losses happen. They're an inevitable product of life in the NBA, especially when matched up against a backcourt tandem as explosive as Lillard and McCollum.
But it's important to remember one egg doesn't mean the quest for history is doomed. Every team is bound to come out flat once in a while, and the 1995-96 Chicago Bulls were no exception.
Lest we forget, they lost by 32 points to the New York Knicks in their 61st game of the season and dropped a game to the Toronto Raptors later in the year. That campaign, the 21-61 Raptors were an expansion franchise, and only seven players suited up against the Bulls during that fateful contest.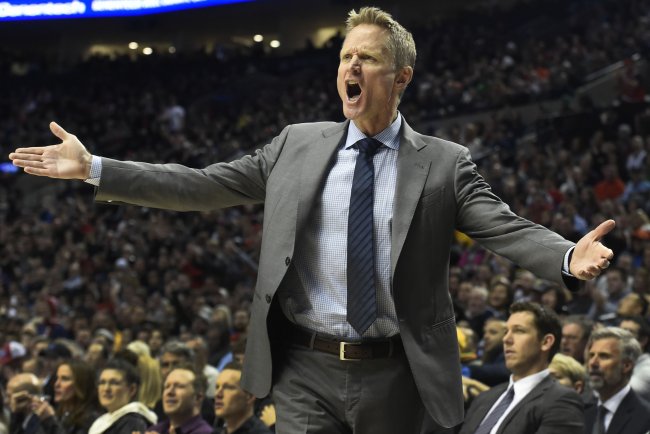 Steve Dykes-USA TODAY Sports
Now, we get to see how the Warriors respond.
Will they dig up extra motivation and blitz their way through the rest of their schedule? Will they take their foot off the pedal and begin keeping key players fresh for the inevitable playoff run?
We'll find out soon enough, starting with Saturday's matchup against the red-hot Los Angeles Clippers.
Tobias Harris' Strong First Impression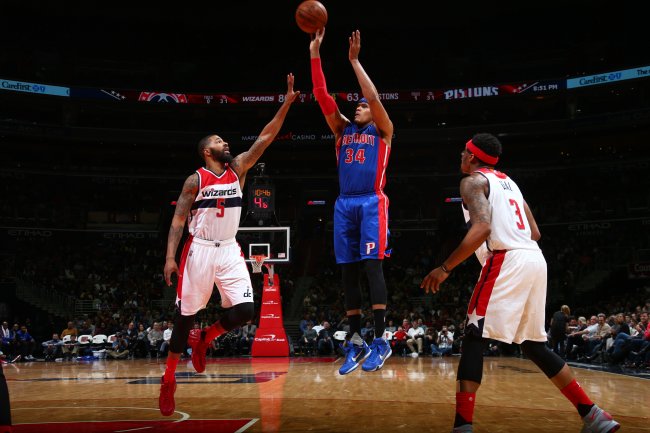 Ned Dishman/Getty Images
If you forget about the final score, just about everything went right for Tobias Harris during his debut with the Detroit Pistons. Though his squad ultimately lost 98-86 to the Washington Wizards, he came off the pine to lead his team in scoring.
This wasn't a night where Harris happened to knock down one spot-up jumper after another. He was consistently creating his own looks: spinning out of the post, driving the baseline and pulling up for a jumper, attacking the weak side of the defense or running the show in a pick-and-roll setting—exactly as the Pistons envisioned:
When the final buzzer sounded, Harris had recorded 21 points and four rebounds on 9-of-12 shooting from the field. The fact that he spent plenty of time standing in the corner and letting the incumbent Pistons operate makes that production even more impressive.
This is only a flash of what Harris can bring to his new squad, and it's why it remains stunning the Orlando Magic didn't manage to pry away a first-round pick from the Motor City. As he gains comfort with his new teammates and the opposition begins to respect his perimeter stroke, he'll look even better in Stan Van Gundy's one-in, four-out stratagems.
Harris wasn't on the floor for the opening tip during his Detroit debut. But as MLive.com's David Mayo noted midway through the game, that should change in the very near future:
If Tobias Harris doesn't start Sunday...why?

— David Mayo (@David_Mayo) February 20, 2016
Meanwhile, the victors also had a deadline acquisition making his first appearance in a new uniform. And as Markieff Morris told a reporter before the game, per The Vertical's Michael Lee, he didn't feel as if he had anything to prove, despite his Phoenix Suns tenure coming to a close in such tumultuous fashion:
Reporter to Markieff Morris: "Do you think you have something to prove?"
Markieff: "No, I don't think so. You do?"

— Michael Lee (@MrMichaelLee) February 20, 2016
If Morris didn't have anything to prove heading into Friday night, he does now.
The power forward was a step slow on the defensive end and failed to make many positive contributions on offense. In 22 minutes, he recorded six points, two rebounds and two turnovers on 2-of-8 shooting from the field.
Washington may have won the game, but the Pistons won the battle of the newcomers.
New Additions Edition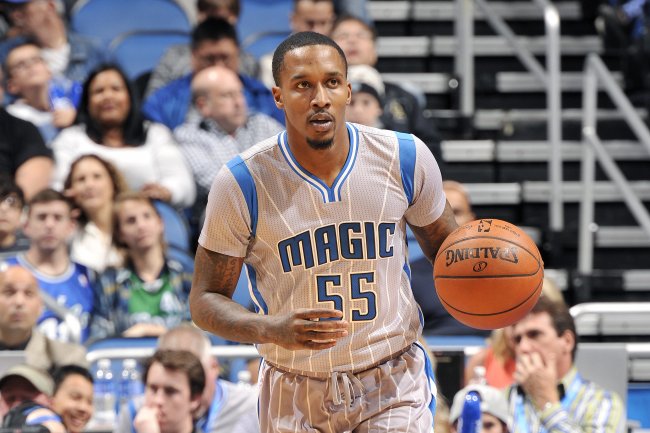 Fernando Medina/Getty Images
Morris and Harris weren't the only old faces suiting up in new places on Friday night.
Both of the Magic's new additions made strong first impressions during the team's 110-104 overtime victory over the Dallas Mavericks.
Ersan Ilyasova eventually fouled out of proceedings in 23 minutes, but not before recording 16 points, five rebounds, two assists and a steal. Brandon Jennings was even more impressive, throwing up 18 points, three rebounds, four dimes and a quartet of long-range bombs that helped swing momentum in Orlando's favor.
The Memphis Grizzlies' newcomers weren't as impactful, though they still helped their team earn a 109-104 victory against the Minnesota Timberwolves. Chris Andersen logged four points and three rebounds in 11 minutes, while P.J. Hairston made one of his three attempts from the field.
Struggling out of the Break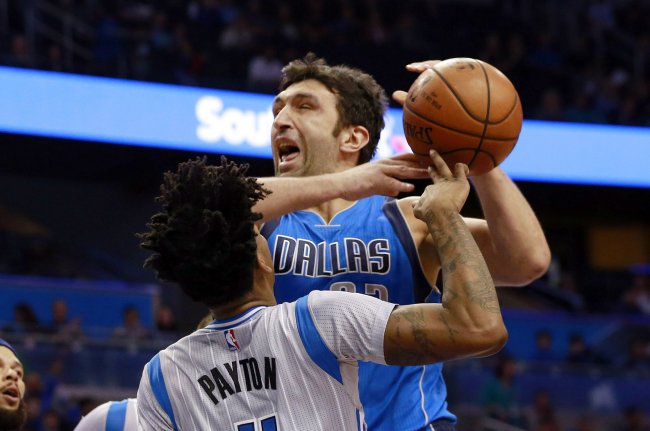 Kim Klement-USA TODAY Sports
Coming out of the All-Star break can yield some strange results in the early going, and we're not just talking about the early struggles of the Wizards and Pistons. Such was the case for plenty of teams that were apparently still on vacation during the first quarter of their respective games.
Much like Washington, the Dallas Mavericks came out flat at the beginning of the game before storming back and turning a blowout into a competitive affair. The Magic still got the 110-104 victory in five periods, and the Mavs will surely shake their collective heads at a 13-point first quarter in which they recorded more turnovers (six) than field goals (four).
The Atlanta Hawks and Miami Heat weren't immune to the post-All-Star-break fatigue either. As the Atlanta Journal-Constitution's Chris Vivlamore noted, both teams clanged plenty of shots during the first 12 minutes:
It's like the All-Star break is still in effect. Heat 3 of 12, Hawks 2 of 9.

— Chris Vivlamore (@CVivlamoreAJC) February 20, 2016
It was one shot off the back rim after another, proving yet again that rust is a real thing in the Association.
Last Meeting of Legends
One Last Time. Black Mamba vs. The Big Fundamental. Who had the better career? pic.twitter.com/xQDRipeXm7

— Bleacher Report (@BleacherReport) February 19, 2016
The San Antonio Spurs' 119-113 victory over the Los Angeles Lakers should prove to be the final matchup between the two best players of their generation: Kobe Bryant and Tim Duncan.
Predictably, the Spurs proved the superior squad on Friday night, thanks in part to 12 points, 13 rebounds and three blocks from the future frontcourt Hall of Famer. But Bryant held his own, fighting off a dislocated finger and recording 25 points, four rebounds and three assists.
It's par for the course.
Both legends have always put up impressive lines against each other, though Duncan has usually come out on top during the regular season. This was the 52nd matchup between the two, and the Spurs have now emerged victoriously from 31 of them.
The location of their next meeting will probably be Springfield, Massachusetts.
The Kristaps Show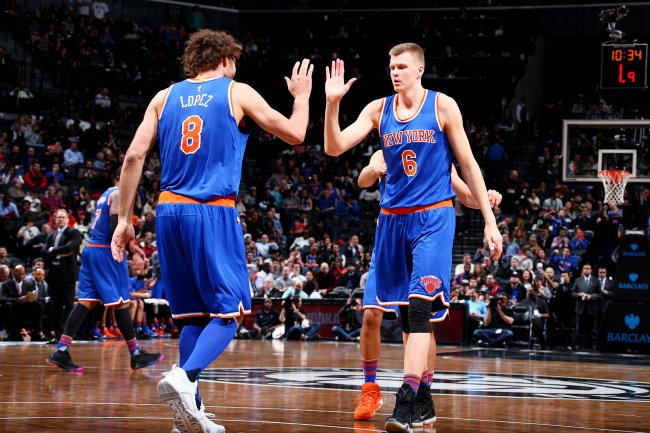 Nathaniel S. Butler/Getty Images
Losing the Battle for the Big Apple to the Brooklyn Nets by a final margin of 109-98 is less than ideal coming out of the All-Star Break, but the New York Knicks can take solace in the fact that Kristaps Porzingis put up yet another big performance.
It wasn't just his three rejections of Thaddeus Young in the opening period, each of which you can see below. It wasn't just the dominant first quarter in which he asserted himself in nearly every facet of the game.
It's the ease with which Porzingis plays.
No man listed at 7'3" should move like Porzingis does when he's attacking the hoop and finishing with a thunderous slam or crashing in from the perimeter to clean the boards. Despite dwarfing legitimate big men, the rookie routinely shows off his handles and displays brief glimpses of the shooting ability that should one day make him a consistent threat from the perimeter.
Porzingis recorded 18 points, eight rebounds, two assists, one steal and three blocks on the night. That's an impressive line, but it's still the way he plays that makes him such a basketball unicorn.
No plagiarism intended, Kevin Durant.
Muddled Morass in Eastern Middle Class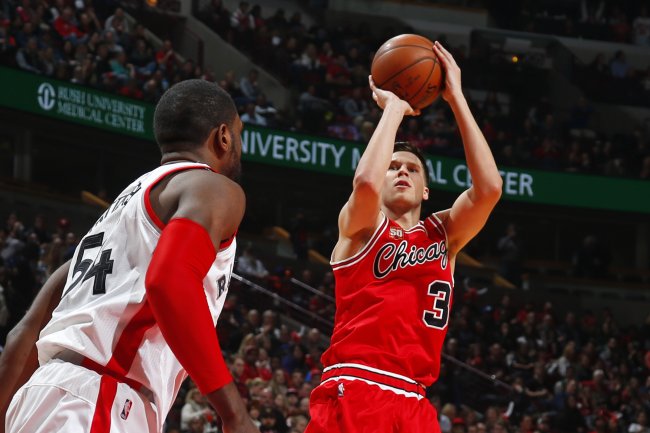 Jeff Haynes/Getty Images
If you know how the Eastern Conference will stack up behind the Cleveland Cavaliers, I'd love some exclusive access to your crystal ball. The first full slate of games during the season's second half provided no clarity whatsoever.
Behind a throwback 26-point outing from Derrick Rose and a 30-point showing from Doug McDermott off the bench, the Chicago Bulls took care of the Toronto Raptors, 116-106. That's good news for the Windy City representatives after Jimmy Butler's hyperextended knee forced them to consider becoming sellers and pawning off Pau Gasol at the trade deadline.
It also brings the East's No. 2 seed closer to the pack.
The Charlotte Hornets, who entered the night with the same 27-26 record boasted by the Bulls, kept pace by beating the Milwaukee Bucks in a 98-95 affair. Kudos to Kemba Walker for his impressive first half and Cody Zeller for his breakout performance as Charlotte remains right in the thick of the postseason conversation.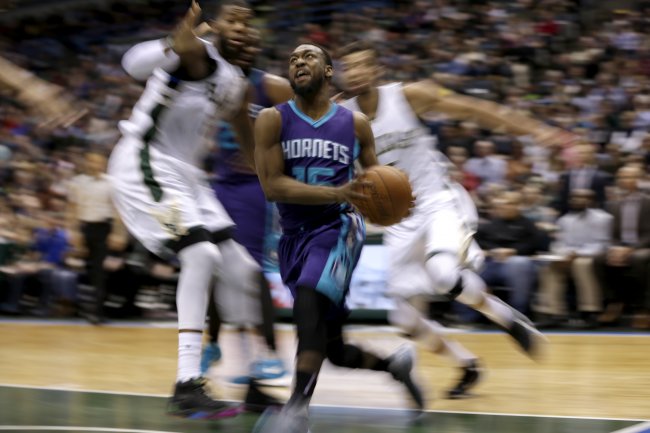 Mike McGinnis/Getty Images
With a come-from-behind 101-98 victory over the Oklahoma City Thunder, the Indiana Pacers looked strong as well. Though they couldn't slow down Russell Westbrook and Kevin Durant—who can?—they rode a big night from Monta Ellis to victory while proving the feasibility of a Myles Turner-Ian Mahinmi starting front line.
And because those three wins by teams in the East's middle class couldn't possibly be enough, the short-handed Miami Heat traveled to Philips Arena and emerged with a 115-111 victory over the Atlanta Hawks. Naturally, those two squads will exit Friday night with near-identical records—31-25 for Atlanta, and 30-24 for Miami.
Good luck predicting the final playoff picture while looking at this jumbled-up jigsaw.
Play Zach LaVine Next to a Point Guard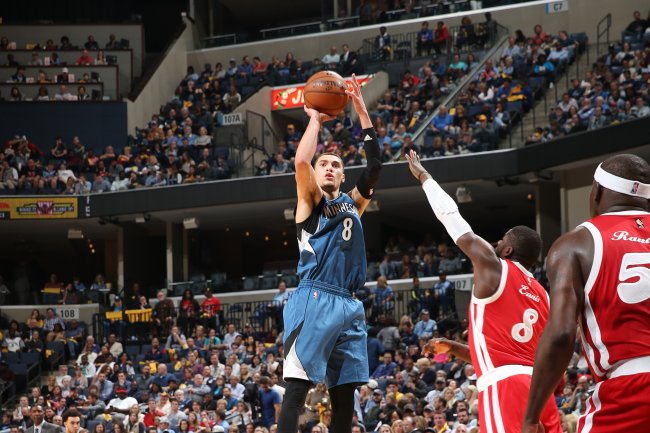 Joe Murphy/Getty Images
Zach LaVine doesn't just want to be known as a dunker.
Fresh off defending his Slam Dunk Contest title in an unforgettable battle with Aaron Gordon, the young Timberwolves guard exploded for 22 points on 8-of-13 shooting from the field. His 4-of-6 performance from three-point land was a major reason Minnesota drained a season-high 11 triples in the losing effort.
Not only did he look impressive playing alongside Andrew Wiggins—a great sign for the future of this rebuilding franchise—but he took over the game and showed unabashed confidence while working as a shooting guard.
As Seth Partnow of Nylon Calculus noted, that was the only position he played on Friday night:
LaVine's best game in a while.
LaVine has played zero minutes at PG.

— Seth Partnow (@SethPartnow) February 20, 2016
According to NBA.com's statistical databases, the Wolves have only been outscored by 0.9 points per 100 possessions this season when LaVine and Ricky Rubio have shared the court. That might not be notable in a vacuum, but consider that Minnesota has an overall net rating of minus-7.3 when LaVine plays.
It's almost like he's better in a certain role that allows him to serve as a secondary ball-handler.
Take heed, Sam Mitchell.
Look Out for this Utah Defense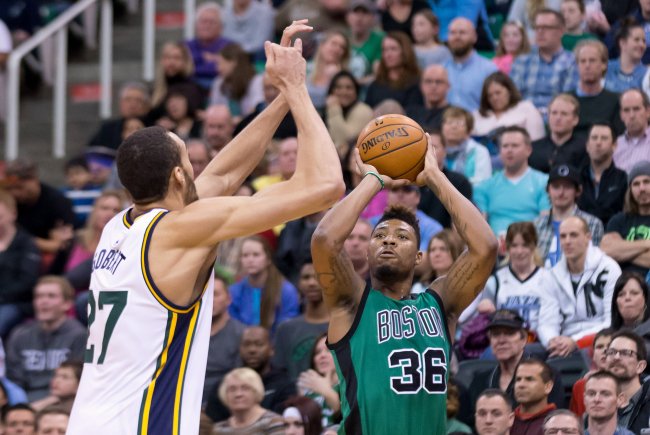 Russ Isabella-USA TODAY Sports
The Utah Jazz's 111-93 victory over the Boston Celtics was their latest strong defensive showing.
Since Rudy Gobert started playing his typical minutes on Jan. 9 against the Miami Heat, the Western Conference playoff contenders have gone 12-7 behind a suffocating unit that refuses to concede any easy points. Heading into this win, the big man's individual defensive rating during that stretch was a stellar 97, and the team as a whole was giving up just 102.9 points per 100 possessions.
This squad is still building chemistry now that most of the key pieces are fully healthy. Don't be surprised if we see a big second-half run, similar to what the Jazz accomplished after the All-Star break in 2014-15.
Utah remains tied with the Houston Rockets for the No. 8 seed in the West. But it's tough to imagine the Jazz sitting so low as we move forward—assuming, of course, this defensive potency is more than a mirage.
Non-Lillard Line of the Night: Russell Westbrook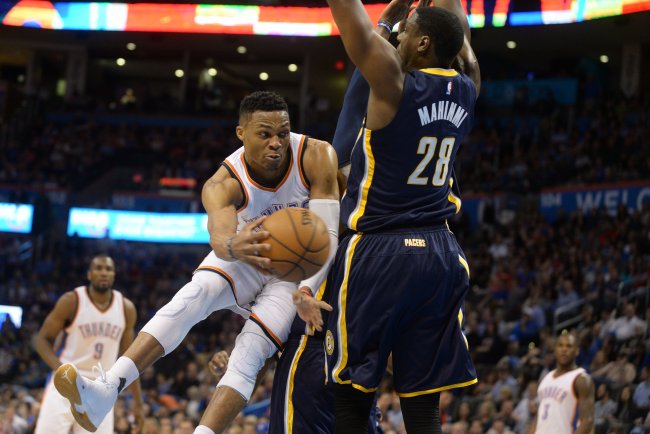 Mark D. Smith-USA TODAY Sports
Though Westbrook couldn't lead his Thunder to victory, he did record a career-best 18 assists to go along with 23 points, three rebounds, two steals and a block. Even more impressively, he turned the ball over just twice and shot 10-of-17 from the field—the last miss coming on a desperation heave at the final buzzer.
Russell Westbrook drives like a dump truck, appears completely wild, and yet the man has 12 assists and 0 turnovers at half. #Sensational

— Josh Eberley (@JoshEberley) February 20, 2016
In the last decade, just three other players have dropped 23 points and 18 dimes without recording more than a pair of cough-ups: Reggie Jackson, Brandon Jennings and Chris Paul. Since 1983-84, only 14 other players join the exclusive club.
And if we include Westbrook's efficiency from the field, he finds himself surrounded by even fewer players. Of the 17 in the previous group, only Magic Johnson, Tim Hardaway, Kevin Johnson, Fat Lever, Terry Porter and John Stockton had recorded such a line while shooting at least 58.8 percent.
Honorable Mentions:
Anthony Davis with 34 points, seven rebounds, one assist, two steals and two blocks in a 121-114 victory over the Philadelphia 76ers.
James Harden with 27 points, 10 rebounds, seven assists, three steals and a block in a 116-100 victory over the Phoenix Suns.
DeMarcus Cousins with 37 points, 20 rebounds, two assists, one steal and four blocks in a 116-110 victory over the Denver Nuggets.
Adam Fromal covers the NBA for Bleacher Report. Follow him on Twitter @fromal09.
Unless otherwise indicated, all stats are from Basketball-Reference.com or Adam Fromal's own databases and are current heading into games on Feb. 19.