Rafael Nadal: The Story Inside-Out (Part I-The Promise)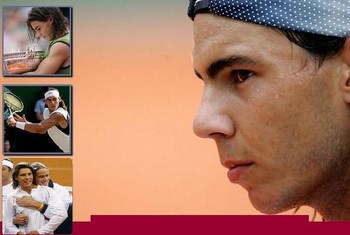 The game. The fans. The thrill.
Hard losses. Sweet victories.
Players. Personalities.
Sport has all of it.
But amidst eveyrthing, lie few names, that burn brighter than the rest.
Tennis has had it owns share which grace that list of marvels who transcend sport. Rod Laver, Bjorn Borg, John McEnroe, Pete Sampras, Andre Agassi, Roger Federer; perhaps are just a few to name.
They shape their era of tennis, raising the bar to new heights and building rivalries of unique kinds, doing things their way, and leaving it all imprinted in the tennis books forever.
So young, so quick, one man from Mallorca, has had his own journey up there.
Get to know Rafael Nadal.
A player like no other.
Unknown to the world. Yet undiscovered.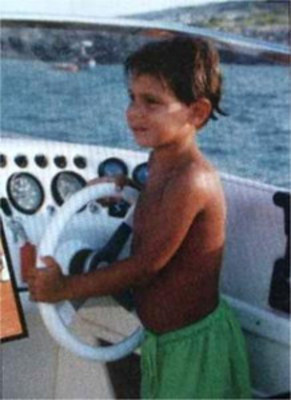 On third of June 1986, in Manacor, a certain Nadal opened his eyes for the first time. Safe, buoyant and smiling, he lay in his parents arms, not a clue what lies ahead for this little boy from Mallorca named Rafael.
Lovingly the centre of a close-knit family, born to Sebastián Nadal and Ana María Parera, and having a younger sister named María Isabel, glimpses of his upbringing are still evident in the heart of the man he has transformed into today.
His uncle, Miguel Ángel Nadal, was a professional football (soccer) player, having played for RCD Mallorca, FC Barcelona, and the Spanish national team. While another, Toni Nadal, was the trainer of CT Manacor.
Introduced to tennis just at a tender age, the little Nadal first held a racquet at three. Perhaps the love for sport and competition is genetic, but it soon became evident, the enormous potential this young boy had, and his family recognized his talent.
The choice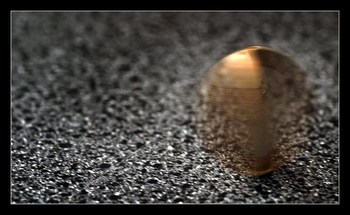 "I think I would have always been a sportsman. I Don't see myself in an office." - Rafael Nadal, September 2009.
Just like any other age, he was a happy, extroverted boy all through his childhood, but on top of all, an extreme sport enthusiast right from the beginning.
Rafa was brilliant, not just at tennis but also at another sport – soccer, scoring more than a hundred goals in the junior league.

A physical marvel, added to that firm mindset, he could take on to focus and discipline with such maturity, and no doubt, was surely one who could achieve the zenith of whatever he chose.
Soccer or tennis – one simply had to go.
Faced with this dilemma, it was the greenish, smaller ball that the Spaniard picked.
Two factors were most effective in this decision:
1) At an early age of 8 years old, Rafa won his first tournament – the Torneo Baleares and by the age of 12, he was already a major junior champion of Spain and Europe. All through these years, he seemd to achieve more notable triumphs in tennis.
2) On the other hand, the trainer of Olimpic de Manacor, his football club, did not allow students to pursue other sports. Everytime Rafa arrived after playing with his uncle, only to be relegated to the bench.
More to Sacrifice. More to Gain
Nothing comes easy.
Countless hours of hitting the ball, perfecting footwork, working on the serve, changing rhythim and direction, volleys, backhand, forehand, on every single day of the year including Sundays and holidays, this monotony continued, to make all of it mechanical.
Yet that was not the angle from which this young champion in waiting, saw it. Despite enormous demands, he was excited on every single day, and continued with admirable obedience and consistent effort.
In these early years, Rafa had a double-fisted drive, but since coach Toni could see no future of this, there was to be another choice to make – the left or right?
While Rafa prefers the right for normal day-to-day activities, his left hand seemed to be a more prudential beneficiary in tennis, and so it was to be, with a double-handed backhand.
Spartan on the court: Time for work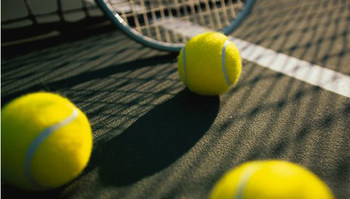 While others seek a hobby, or a past-time, tennis, for Rafa, was passion evolved more into the desire of challenge, and it was just a matter of time before it became a priority.
Without any question of doubt, his parents lay all their faith and trust in Toni.
"If I ever see you throw a racquet, it is over." – were the first words that rang in the young Nadal's ears, as a four-year old, standing on the dusty courts on their home island.
On another day, he listens to his uncle tell him: "When you lose it is your fault, not mine. It is not the racquets, not the balls, not the wind."
Though emerging as a child prodigy, no, he was not shipped off to a high-priced academy for the privileged and talented, but in fact, was even made to practice on poor courts with old tennis balls and inferior rackets to teach young Nadal excuses mean and fetch nothing.
There are bigger things to sport than just winning or losing. There are larger things to life than just playing the sport. Attitude, character, discipline, perspective.
No one knows it better than the enigmatic, philosophical, firmly-principled Toni Nadal, who says, "I try to prepare him for everything."
Change. Complications.
It was not like in the beginning, anymore, as Rafa grew things got complicated. His uncle decided to take him to Palma as he had no more rivals in Manacor.
Enrolled in the Balear school, a special centre for young sportpeople, he got up early before eight and did not get home until after 10, training in Centro de Tecnificacion de Palma de Mallorca, run by Jofre Porta, who had a major hand in the tennis growth on the island.
Work, effort, pain, sorrow, disappointment, joy, just 14, Rafa knew it all.
Travel, missing family, tough schedule and more, in the end, his parents chose for Toni to train his nephew permanently in Manacor.
Time for action: 2001-03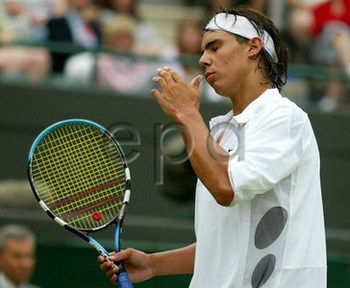 2001 was the year that Rafael Nadal turned professional on the circuit, and ended with a ranking of 811, reaching the second round of the Sevilla Challenger.
2002 fetched him his first victory in an ATP match, beating the World No. 81, Uruguayan Ramon Delgado as a mere 762 ranker, to be one of the only nine players able to achieve a victory on the circuit before the age of 16.
Continuing the success, he accumulated six futures in Spain and reached the semis of a challenger, jumping more than 600 places to go up to 200.
2003 saw Nadal make his debut in the Grand Slam tournaments. In his first appearance in Wimbledon at the age of 17, he reached a deserving third round and a second round at the US Open.
Exceeding optimistic expectations, his progress was simply extraordinary, as his results spoke for themselves, capping the year with a leap to 49 from 200.
2004: The big break: Career takes off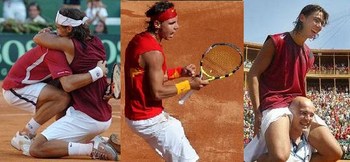 Still in his days of anonymity, opportunity knocked at his door, giving his first break with a place in the Spanish Davis Cup team.
In the last 16 against Czech Republic, without Moya and Ferrer, Nadal took a prime lead in helping Spain progress. But it was just the start.
He really emerged from his shell in the final against the US. When against all odds, he shocked the invigorated crowds by beating the then world number two, Andy Roddick, to secure Spain a 2-0 lead.
Never before had they seen this kind of tennis.
Energy, power, challenge, tenacity, such mettle went into every single point.
It confused them, astounded them, brought the crowds to the edge of their seats, and the applauded in awe, each one of his chases, as balls unretrievable came back to the court, somehow unfathomably.
And so, at 18 years and six months, Rafael became the youngest player to register a singles victory in a Davis Cup final for a winning nation.
His epic points stayed in the public's eye and his mental strength and competitive ability was emphatically reflected.
A rivarly in layout: The beginning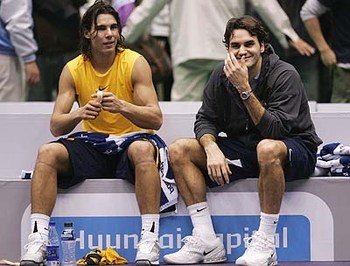 2004 was an year another champion was in making. A slightly older, another never-before-talent – Roger Federer, entered with his second major and first Australian Open crown.
The Miami Masters laid the grounds for their first meeting, in the third round of which, seeded 32nd, Rafael knocked out the number one seed in straight sets, to be one of the only six men to defeat the Swiss in such a phenomenal year of achievements
2005 marked their second encounter, once again in Miami, this time however, though being just two points from tasting victory built on a two-set lead, Rafael had to be content with a runner-up crown, losing in five sets.
Terre Battue: Beloved clay - Unfortunate curse?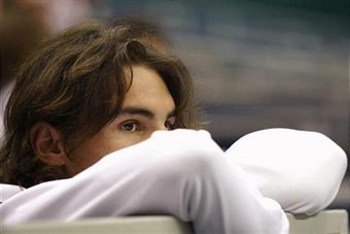 A surface that perfectly suited his game, a surface he was strongest at. Yet it ironically, seemed to be cursed for the soon-to-be-King-of-Clay
Nadal was not able to tour the clay season in his junior years, as his parents did not want him to travel amidst exams and school life when studies were a priority back then.
At 16, after achieving some significant victories, a casual injury in his elbow while playing with some of his friends, dismissed him from participating.
In a to-be-dream-year 2004? A stress fracture in his left foot in Estroil, meant success eluded him, yet again, this time not just Roland Garros but Wimbledon as well.
From a Rafa limping on crutches, to his agent Carlos Costa, come the only words:
"Do you know why I've been injured and not been able to play here? Because it was not yet my turn, not my time. When I can play in this tournament for the first time, I will do it in order to win."
2005: Back. Stronger. Better. The Nadal sensation grips the Tennis World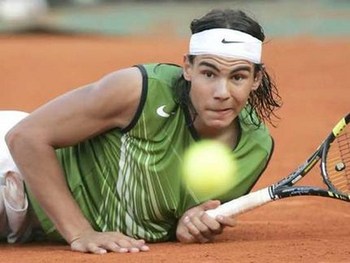 2005 seemed even bigger, a dream year for the still young Rafa.
A phenomenal clay court season saw him lift the trophies of Monte Carlo, Barcelona and Rome, and he finally entered his first Roland Garros, proclaimed the undisputable favorite by the media, something which his uncle never understood.
With the first and second rounds through, the draw brought him against an in-form Gasquet coming from a victory over Federer in Monte-Carlo and a final appearance at Hamburg, but against whom Rafa never tasted much success.
Hyped up by the French press, perhaps Gasquet seemed to feel the pressure and Rafa beat him comfortably in three sets with some solid tennis off the racquet.
"Today I felt like a junior player against a professional", was all the young Frenchman had to say.
Fourth Round: Grosjean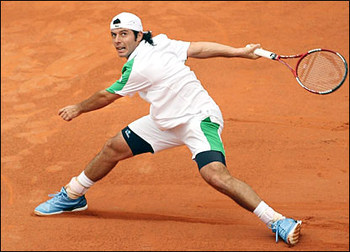 Fourth round presented an encounter with veteran Sebastien Grosjean, then, the only Frenchman remaining in the draw, and the crowd shamelessly charged hard against young Rafael, applauding his mistakes and celebrating his errors.
Not once, not twice, the incidents were serious and Toni also issued a complaint to the tournament supervisor.
But nothing was to prevent Rafa, as he came through in four sets including an emphatic bagel, to reach the last 16.
Getting Closer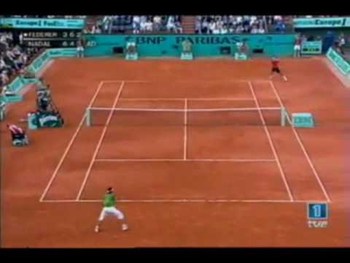 The Nadal seemed to be in relentless form in the quarters as he swept aside David Ferrer, a fellow-Spaniard 7-5 6-2 6-0.
And it was an eagerly awaited semi-final to follow: Federer on one side of the net and the teenage sensation Rafa on the other.
On a 19th birthday made more memorable than ever, he emerged victorious yet again, wowing the crowds with some finest clay court tennis that Federer finally had to surrender to an implacable Spaniard in four.
Mine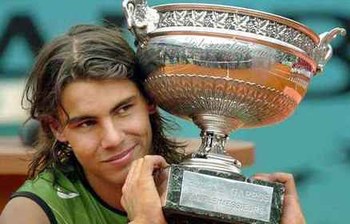 And he was never looking back, he was simply unstoppable.
The first set clinched 7-6 (8-6) and perhaps it was all that the Argentine Mariano Puterta could have that afternoon.
The stadium surrendered to his tennis, but all Rafa could remember was covering himself up in dirt, eyes closed, the excitement unable to be contained him.
Deafening, unanimous applause erupted throughout,
as Rafa made history to become only the third male player to win a Grand Slam on his first attempt since Mats Wilander in 1982. And at the age of 19, he was the first teenager to clinch a major crown since Pete Sampras at the 1990 US Open.
Winning the French Open increased Nadal's ranking to World number three.
After Paris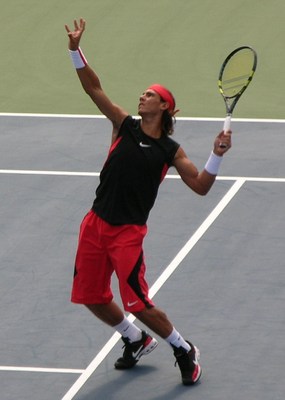 A 24-match winning streak snapped at Halle, the Wimbledon second round, another 16 consecutive matche wins and three consecutive tournaments, a Canada Masters with victory over Agassi and a third round upset at New York to Blake, Rafael ended a stellar year peaking to World number two.
Not only equalling Federer in his eleven singles titles and four ATP Masters Series titles in 2005 and Rafael also broke Mats Wilander's previous teenage record of nine in 1983.
Eight of his titles on clay and the remainder on hard courts, Nadal won 79 matches that year, second only to Federer's 81.
With eleven 6-0 sets in the year, he received the Golden Bagel Award for 2005, and also earned the ATP Most Improved Player of the Year award.
Dissecting a champion: A new cornerstone to the game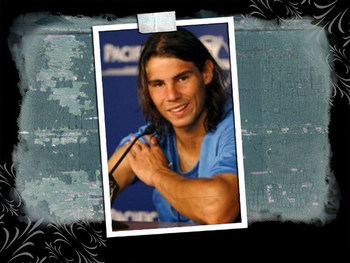 Fearless. Focused. Determined. Passionate.
Talented and ingenious, unwavering mental fortitude built within walls too strong to shatter, Rafa was seen to be the paradigm of physically demanding, intense tennis, wearing down the opponent from all corners.
Yet, in heavily-accented English, with slight amusement in the eyes, he retorts, "Intimidating, me? No!"
"I'm like any other normal guy, no?".
A charming Mallorcan so full of life, cheerful and down-to-earth, with a genuine smile so infectious and warmth in the eyes, it is simply too difficult not to love him.
It doesn't matter who, what, when, where, right till the end, he gives his all. Never-say die, he fights.
His rival doubts, demurs…Shaken, over-powered...
Simply a matter of time, before you hear… another VAMOS!
And... he has already won the match.
But even more, hearts all around.
[Part 2: http://bleacherreport.com/articles/274004-rafael-nadal-the-story-inside-out-pt-2-a-page-turned ]
Keep Reading