NBA Commissioner Adam Silver addressed the media in Toronto prior to the league's All-Star Saturday festivities, and he touched on nearly every big talking point in the Association with the regular season's home stretch on the horizon.
From Kobe Bryant's legacy to possible overseas competitions and potential changes to address the Hack-a-Shaq strategy, Silver had plenty of insight.
Discussion of Intentional Fouling
Right off the bat, Silver addressed the stigmatized Hack-a-Shaq strategy and said the league will not make any changes this season, according to Bleacher Report's Howard Beck.
However, Silver noted the league may need to make a change because instances of intentional fouling via the hack-a-player strategy are up 5.5 times from last season, according to CBS Sports' Ken Berger.
"I'm beginning to feel a change needs to be made," Silver added, per Berger.
Beck provided some more context regarding Silver's comments:
Silver says there's no consensus on how to adjust Hack-a rules. And change requires two-thirds approval of owners.

— Howard Beck (@HowardBeck) February 14, 2016
Furthermore, the Washington Post's Tim Bontemps reported that Silver and the league office are considering making jumping on an opposing player's back a flagrant foul as soon as next week.
But Silver isn't going to be making any drastic changes to the Hack-a-Shaq protocol in the coming weeks. "I don't feel it would be fair to change the rule this season," Silver said, according to Bleacher Report's Michael Pina.
Impact of Luxury Tax
The NBA's impending salary-cap spike is set to make the upcoming offseason fascinating, and Silver fielded questions regarding the possibility of small-market teams suffering as franchises in larger markets benefit from an influx of extra spending cash.
"We see almost no correlation between market size and where the stars go," Silver said, per Bleacher Report's Sean Highkin, crediting the NBA's luxury-tax rules.

A quick tally of the superstars residing in Cleveland, San Antonio, Memphis and even Milwaukee, among other NBA cities, supports Silver's claim.
Kobe Bryant's Legacy
With Bryant participating in his final All-Star Game, Silver took time to reflect on the Los Angeles Lakers legend's career.
"I don't think there's any doubt [Kobe] will go down as one of the greatest players in NBA history," the commissioner said, per Pina.
ESPN's J.A. Adande offered another sound bite from Silver on the Black Mamba:
Silver on Kobe Bryant's impact: "In addition to being a great player, he's punched way above his weight" as far as promoting game globally

— J.A. Adande (@jadande) February 14, 2016
Bill Oram of the Orange County Register noted Bryant and Silver have discussed keeping the five-time champion in the NBA family after he retires this spring:
Silver said he spoke to Kobe on Friday, and Kobe said he wants to stay involved with NBA after he takes some time to decompress.

— Bill Oram (@billoram) February 14, 2016
In other words, don't count on the Mamba disappearing from the Association's equation just because his playing days are coming to a close.
Global Expansion and Scheduling
According to the Sun Sentinel's Ira Winderman, Silver and the National Basketball Players Association have discussed the length of the regular season and preseason, but a change to the draft's timing doesn't appear to be on the way:
Adam Silver said when season starts, when season ends and length of preseason all being discussed with players' association.

— Ira Winderman (@IraHeatBeat) February 14, 2016
Adam Silver says of possibly of holding NBA Draft after free agency, "I don't think that makes sense."

— Ira Winderman (@IraHeatBeat) February 14, 2016
And with Sunday's All-Star Game being the first to take place outside the United States, questions lingered regarding the possibility for a midseason showcase across the pond.
"We haven't crossed an ocean yet for an All-Star Game, but who knows what the future holds for the NBA?" Silver said, per Berger.
According to Highkin, Silver added that "it's something we'd love to do," but he noted it would be difficult to accomplish from a logistics standpoint.
Silver also said the NBA is looking to expand its presence in Mexico and add more contests in Mexico City, per the Detroit News' Rod Beard.
All-Star Game Fan Voting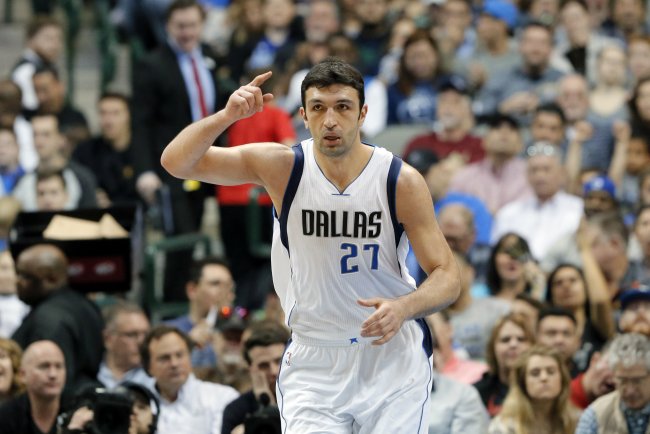 Tony Gutierrez/Associated Press
After Dallas Mavericks center Zaza Pachulia nearly crashed the Western Conference's starting lineup for the 2016 All-Star Game thanks to a viral Web campaign that encouraged fans to vote for the Georgian big man, Silver hinted at potential changes to the league's selection procedures.
"We love fan participation," he said, according to Sports Illustrated's Jeremy Woo, but he reiterated that savvy social media marketing shouldn't be the primary reason for a player's All-Star appearance.
"I don't want our All-Stars to be determined by who has the most clever social media presence," Silver said, per Highkin.
From LeBron James and Kyle Lowry to Stephen Curry, Russell Westbrook and Kawhi Leonard, the participants in Sunday's show should be a sight to behold—especially with Bryant lacing his kicks up for the Western Conference one final time.