With teams putting up the white flag and hosting fire sales, others rebuilding and plenty of would-be contenders looking to deal, the run to the NBA trade deadline on February 18 won't lack for entertainment.
The rumors department has evolved over the years, to say the least. Every now and then, a nugget would come out and turn a few heads. But with increases in technology and inside access to those in the know, more and more insider info continues to leak about anyone and everyone.
Heck, it applies retroactively, too—ESPN.com's Brian Windhorst just dug up a trade nugget from 2007 including Kobe Bryant and LeBron James.
Today's rumblings might not have the same historic flair, but they're important to the league landscape nonetheless and worth an observer's time.
Heat Looking at Omri Casspi?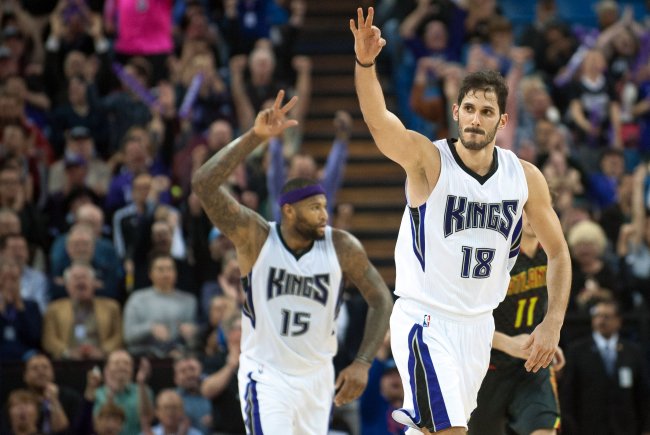 Ed Szczepanski-USA TODAY Sports
It's no secret the Miami Heat need help.
With so many guys hurt, including Tyler Johnson perhaps out for the season, the Heat don't have much of a choice but to be one of the more active teams at the deadline.
The need for quality shooting tops the list. Johnson was the team's top shooter from deep among those who took meaningful attempts, converting 38 percent. Miami as a whole, though, only shoots 32 percent.
To fix this, the team has Omri Casspi of the Sacramento Kings in mind, according to Ethan J. Skolnick of the Miami Herald: "Miami has explored numerous options, one of which is Sacramento's Omri Casspi, who entered Tuesday's play at 42.2 percent from behind the arc, 11th in the NBA among players with at least 100 attempts."
Casspi isn't the biggest name in the world, which is fine. The man shoots a 37 percent clip from deep on his career and this year hits on a career-high 42 percent. He's the guy whose snub from the three-point contest caused minor outrage, as Sean Cunningham of ABC10 pointed out:
Absolutely stunned that Omri Casspi was left off the All-Star weekend's three-point contest. STUNNED.

— Sean Cunningham (@SeanCunningham) February 5, 2016
Miami doesn't have much in the way of trade assets, so Casspi looks like the best-case scenario for a team looking to stick in the playoff hunt, if not climb the standings.
Currently fifth in the Eastern Conference at 29-24, look for the Heat to keep gunning for Casspi until the front office finds a deal that works.
76ers Want a Part of Atlanta's Sale?
From the sounds of the rumblings, it seems the Atlanta Hawks have hit the breaking point.
Just .500 over their last 10 games and now fourth place in the Eastern Conference at 31-24, the Hawks might want to blow things up and take a fresh approach to the summer. If so, it sounds like the Philadelphia 76ers want to be there to pick up the pieces.
Keith Pompey of the Philadelphia Inquirer revealed that the 76ers have talked to the Hawks about their point guards: "The 76ers have contacted the Atlanta Hawks about their desire to trade point guard Jeff Teague or backup Dennis Schroder, a league source said."
Now, Pompey does go on to mention that the 76ers likely won't strike a deal with Atlanta because the front office doesn't want to dangle either Nerlens Noel or Jahlil Okafor in talks. But it's still interesting to see the 76ers looking like buyers at the deadline.
Atlanta isn't much of a surprise. Teague will fetch a nice price on the market, and getting out of his contract wouldn't be a bad idea for the Hawks with Schroder looking like a much cheaper option. They certainly haven't fit well on the court, either. If the Hawks can do that and decide to not ink Al Horford to a new contract, they could be one of the biggest players on the market this summer.
That out of the way, it's clear the 76ers want to make some changes, but only on their terms. Noel and Okafor aren't available because the team wants to wait and see if Joel Embiid can pan out when he actually gets on the court.
Both have obvious trade value, of course. Noel averages 10.8 points and 8.2 rebounds at the age of 21. Okafor is just 20 and averages 17.1 points and 7.4 rebounds.
Owners of the oddest approach to rebuilding in recent years, the 76ers might move one guy or the other this summer. But right now, folks at least have a better idea as to the team's intent (upgrade as buyers) and how the front office wants to do it (without dishing away talent from underneath the basket).
Don't blink when it comes to the unpredictable 76ers.
Heat Listening on Hassan Whiteside?
David Zalubowski/Associated Press
The Hassan Whiteside experiment in Miami isn't working.
Miami might want to upgrade its shooting, but it also might want to move on from its 26-year-old center, an embattled player who has been both vocal and at times volatile on the court.
For example, the Marshall product got hit with an ejection Tuesday for throwing an elbow, something the coaching staff wasn't too pleased about.
"That's something that we'll deal with, with Hassan," head coach Erik Spoelstra said, according to Barry Jackson of the Miami Herald. "We don't condone that kind of play. We've been through this with him before, but it's a disappointing play. That's not a basketball play."
ESPN's Chris Broussard then noted that the Heat are willing to listen to offers on the center, but a deal won't be easy to come by.
Thank Whiteside's contract, which has him as a hot-ticket item this offseason. Miami doesn't have the cap space, especially with Dwyane Wade due a new deal, to keep him around if another team comes calling with a big offer.
Call it the cost of doing business. Miami couldn't have expected Whiteside to morph into one of the game's best centers. Wade, Goran Dragic and Chris Bosh already form the Big Three and eat that cap space, leaving little for a breakout player.
Plenty of teams will make room for such a breakout player this offseason. Whiteside is just 26 years old but already averaging a double-double at 12.2 points and 11.0 rebounds per game with a silly 3.9 blocks tacked on for good measure.
This rumbling is the product of Miami seeing the writing on the wall. The front office simply doesn't have any wiggle room to keep Whiteside around, so it only makes sense it would listen to offers now. With that such common knowledge, though, will a team come with a deal worth Miami's time?
All stats and info via ESPN.com unless otherwise specified.