Arsenal manager Arsene Wenger has no intention of investing in a new star striker during the summer transfer window, despite the Gunners' lack of scoring form so far in 2016. Meanwhile, the club is also rumoured to be looking at Norwich City youngster Todd Cantwell.
As reported by Matthew Dunn of the Daily Express, Wenger doesn't believe the club's lack of goals is down to the quality of the strikers—or that there are many better options available than he currently has in his squad:
I don't really understand prioritising a striker this summer unless you don't rate the strikers you have? I don't see many strikers on the market who are better than our strikers.

I will remind you that on the last day of the summer transfer window, Manchester United bought Anthony Martial for a huge amount of money. That means they look as well everywhere.

Goals are not only down to the strikers it's down to the quality of the way you create goal chances and the quality of the chances you create. Not only down to the strikers.
Arsenal are winless in their last four Premier League matches and scoreless in their last three, a dry spell that has seen the club slide down the standings and back into fourth place.
Star striker Olivier Giroud has scored just three times since the turn of the year, with his last two goals coming in the 3-3 draw against Liverpool, while Theo Walcott is yet to score a single goal in 2016.
The former has done his very best leading the line and has looked deadly at times this season, but he remains a streaky player who has a tendency to go through dry spells. And with Alexis Sanchez spending some time on the sidelines and Walcott not finding his form, he's suddenly being looked at to carry the attack at a time he's struggling to score.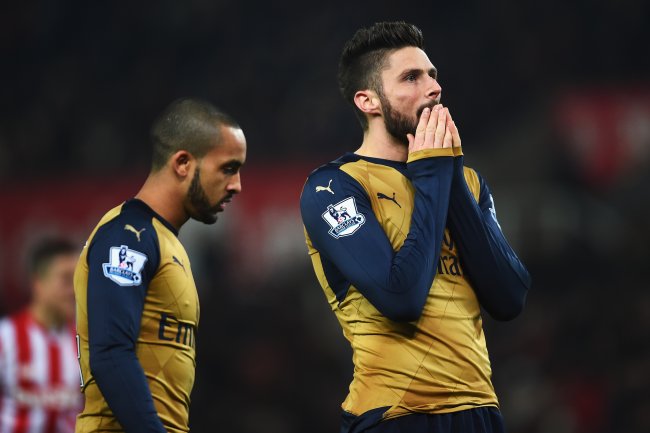 Laurence Griffiths/Getty Images
It's hard to disagree with Wenger's assessment there's more to scoring goals than just your strikers, and the absence of Sanchez and Santi Cazorla has certainly played its part. Mesut Ozil is yet to find his best form in the new year as well, and the German played a major part in creating chances during the first half of the season.
But more depth and options up front would certainly be welcomed by the fans, and they may not be too happy to hear Wenger has already ruled out prioritising the position.
Instead, it looks as if the Gunners will continue to look for young, British talent they can nurture for the future. As reported by the Daily Mirror's John Cross, the club is looking at Norwich City's Cantwell, after a January bid for Leicester City's Ben Chilwell came to naught.
Glenn Wheeler, who does commentary for Norwich's Under-21 side, is certainly a fan:
@LaskyDavid @johncrossmirror Yeah I rate him! Love watching him play, has the potential to make things happen...

— Glenn Wheeler (@GlennWheeler_) February 6, 2016
Cantwell caught the eye of scouts during Norwich's come-from-behind win over Middlesbrough in the FA Youth Cup, scoring twice in the 5-4 triumph. He also wreaked havoc with his set-piece deliveries, one of which led to a fantastic goal from team-mate Louis Ramsay.
Sky Sports' Simon Thomas was kind enough to provide footage of the goal:
Take a bow Louis! RT @NorwichCityFC: WATCH | Louis Ramsay's amazing strike against @boro in the FA Youth Cup. #ncfchttps://t.co/uAPQBMtcob

— Simon Thomas (@SimonThomasSky) February 4, 2016
Per Cross, Arsenal scout Steve Rowley attended the match and came away mightily impressed with the teenager, who scored the winner to send Norwich through to the quarter-finals.
Manchester United, Manchester City and Liverpool also had scouts in attendance, and all those clubs will have seen how the 18-year-old played a massive role in the win. Per Cross, the Canaries are hoping to tie him down to a long-term deal, as his current contract expires in 2016.
The proposed new contract will be key. Cantwell will have every opportunity to graduate from Norwich's academy and step up to the senior side in the future should he decide to stay with the club, but if he believes his future would be best served with Arsenal, the Gunners could steal him from the Canaries fairly easily.