The 2016 NFL draft, along with the preceding free-agency period, will dominate the conversation about pro football following Sunday's Super Bowl 50 showdown between the Carolina Panthers and Denver Broncos.
Those two championships participants will determine the final first-round order of the draft, but with the vast majority of teams locked into place, it's reasonable to begin making inferences as to which prospects they might choose.
Below is a complete mock scenario for the first round, accompanied by analysis on the most notable hypothetical picks near the top. The New England Patriots forfeited their selection as part of Deflategate.
2016 NFL Mock Draft: Round 1

| | | |
| --- | --- | --- |
| Pick | Team | Selection |
| 1 | Tennessee Titans | Laremy Tunsil, OT, Ole Miss |
| 2 | Cleveland Browns | Carson Wentz, QB, North Dakota State |
| 3 | San Diego Chargers | Joey Bosa, DE/OLB, Ohio State |
| 4 | Dallas Cowboys | Robert Nkemdiche, DT, Ole Miss |
| 5 | Jacksonville Jaguars | Jalen Ramsey, DB, Florida State |
| 6 | Baltimore Ravens | Mackensie Alexander, CB, Clemson |
| 7 | San Francisco 49ers | Jared Goff, QB, California |
| 8 | Miami Dolphins | Vernon Hargreaves III, CB, Florida |
| 9 | Tampa Bay Buccaneers | DeForest Buckner, DE, Oregon |
| 10 | New York Giants | Ezekiel Elliott, RB, Ohio State |
| 11 | Chicago Bears | Jaylon Smith, LB, Notre Dame |
| 12 | New Orleans Saints | Myles Jack, LB, UCLA |
| 13 | Philadelphia Eagles | Ronnie Stanley, OT, Notre Dame |
| 14 | Oakland Raiders | A'Shawn Robinson, DT, Alabama |
| 15 | Los Angeles Rams | Paxton Lynch, QB, Memphis |
| 16 | Detroit Lions | Laquon Treadwell, WR, Ole Miss |
| 17 | Atlanta Falcons | Shaq Lawson, DE, Clemson |
| 18 | Indianapolis Colts | Reggie Ragland, ILB, Alabama |
| 19 | Buffalo Bills | Taylor Decker, OT, Ohio State |
| 20 | New York Jets | Leonard Floyd, OLB, Georgia |
| 21 | Washington Redskins | Michael Thomas, WR, Ohio State |
| 22 | Houston Texans | Andrew Billings, DT, Baylor |
| 23 | Minnesota Vikings | Jack Conklin, OT, Michigan State |
| 24 | Cincinnati Bengals | Darron Lee, OLB, Ohio State |
| 25 | Pittsburgh Steelers | Eli Apple, CB, Ohio State |
| 26 | Seattle Seahawks | Will Fuller, WR, Notre Dame |
| 27 | Green Bay Packers | Jarran Reed, DT, Alabama |
| 28 | Kansas City Chiefs | Jonathan Bullard, De, Florida |
| 29 | Arizona Cardinals | Noah Spence, OLB, Eastern Kentucky |
| 30 | Denver Broncos | Hunter Henry, TE, Arkansas |
| 31 | Carolina Panthers | Jeremy Cash, SS, Duke |
Breakdown of Notable Picks
No. 2. Cleveland Browns: Carson Wentz, QB, North Dakota State
Bleacher Report's Matt Miller reported from the Senior Bowl that the Browns prefer Wentz over Jared Goff as their quarterback of choice near the top of the draft.
Despite playing lesser competition, no one can argue with Wentz's track record at the pre-eminent FCS powerhouse program. He guided the Bison to a national championship in 2014 and returned from a broken wrist to do so again this past year—the team's fifth title in a row.
Another plus to boost Wentz's stock is that he runs a pro-style offense, which ought to ease his transition to the pros. It's also a far cry from the drastic playbook shift Cleveland's last first-round signal-caller, Johnny Manziel, had to go through.
"He's got a lot of free rein," said North Dakota State receiver Zach Vraa of Wentz, per the Dallas Morning News' Rainer Sabin. "He's got a powerful arm. He can run. He can read defenses. He's got everything that you want in a quarterback and he definitely shows it when he's out here."
ESPN's Matt Bowen was impressed with what he saw in Mobile, Alabama:
Senior Bowl: The hype on ND State QB Carson Wentz is pretty legit. 6-5, 233. Big frame, solid footwork + arm strength. He can sling it.

— Matt Bowen (@MattBowen41) January 26, 2016
New Browns coach Hue Jackson hasn't been shy about his desire to land a QB. Team executive Sashi Brown recently made a statement about Manziel to suggest his off-field conduct has cost him a shot as the long-term answer under center.
A cerebral, prototypical-in-size QB like Wentz (6'5", 232 lbs) is more of what Jackson is looking for at the most important position, which hasn't been settled in Cleveland since its NFL return in 1999.
Wentz has the arm talent to play right away on Sundays, along with the bonus of underrated mobility and athleticism to make plays with his legs. It won't be a surprise if he's the first player at his position off the board on draft night.
No. 7. San Francisco 49ers: Jared Goff, QB, California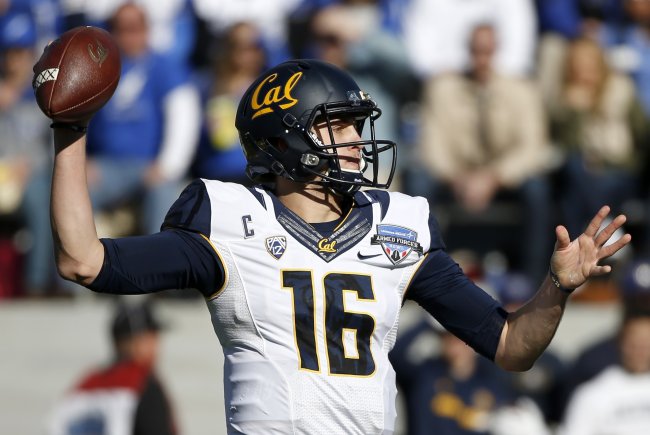 Ron Jenkins/Associated Press
This is not a bad consolation prize for San Francisco. After the 49ers benched Colin Kaepernick for Blaine Gabbert this past season, they could use more of a surefire solution at QB.
Goff provides that as an in-state passer who'd be thrilled to play for one of the league's most storied franchises. Joining forces with a QB-friendly coach in Chip Kelly makes San Francisco an even more attractive destination for him.
It's possible the Niners place enough trust in Kelly to get Kaepernick back on track or roll with a former first-round pick in Gabbert for 2016. Should Goff still be on the board at No. 7 overall, though, San Francisco shouldn't pass him up.
Comcast SportsNet's John Middlekauff noted how Goff isn't shying away from the big stage ahead of the NFL Scouting Combine, where he plans to showcase his considerable skills:
Ran into Jared Goff and asked him if he was going to throw at the combine. He said of course. Love his attitude. Kids a stud

— John Middlekauff (@JohnMiddlekauff) February 3, 2016
As a key catalyst for a Golden Bears program that was in the midst of a massive rebuild during his college career, Goff knows what it takes to spearhead a massive turnaround. The same goes for Kelly, who won 10 games in his first year at the helm with the Philadelphia Eagles.
To finish off his time at Cal, all Goff did was throw 19 touchdowns to only one interception in his final four games. Talk about ending on a high note.
Although Goff could stand to add more bulk to his frame, he has enough strength to make every NFL throw, understands the importance of ball placement and can improvise and extend plays when necessary.
The risk on Kaepernick is too steep for the 49ers to justify letting Goff slide in the draft. A partnership between Kelly and Goff could well help San Francisco contend sooner than expected in one of the tougher divisions in football in the NFC West.
No. 10. New York Giants: Ezekiel Elliott, RB, Ohio State

Ross D. Franklin/Associated Press
The only better way to help Giants QB Eli Manning as he enters the last phase of his career than bringing in a top receiver prospect is to give him a workhorse running back.
In this instance, Elliott goes in the same slot that the Rams franchise drafted Todd Gurley last year—and could well make a similar impact.
New York has continuity on offense thanks to retaining play-caller Ben McAdoo as the successor to former head coach Tom Coughlin. That helps Manning, but the G-Men must keep opponents more honest by having better balance. That's exactly what Elliott would provide.
Despite a turbulent QB situation in his final year with the Buckeyes, Elliott managed to bully his way to 1,821 yards rushing and 23 touchdowns. He also showed an unusual willingness to block despite having a pro future to bear in mind and being the biggest star at a big-time college program.
CFB Film Room highlighted how stellar Elliott was in pass protection—which doesn't even regard all the monster blocks he threw on Ohio State's numerous QB keeper designed runs:
Ezekiel Elliott allowed just 3 QB pressures in 108 pass block snaps last season, among the best rates we charted for RBs

— CFB Film Room (@CFBFilmRoom) February 2, 2016
Such competitive spirit and polish is bound to land Elliott a starting role by Week 1. Although Rashad Jennings and Shane Vereen are on the roster, neither is as explosive or has as much upside as Elliott does.
Plus, the depth the Giants would boast behind Elliott would allow the rookie to stay fresh, giving him a better chance of avoiding the rookie wall, and position New York for a shot at a division title in an NFC East that's open for the taking.
Defense was a huge issue for this team in 2015, but that side of the ball can be addressed throughout the rest of the draft and through free agency. Elliott is too special of a talent to pass up in the top 10.