The Golden State Warriors smashed the San Antonio Spurs' beautiful machine Monday, and Stephen Curry was the guy swinging the sledgehammer.
The reigning MVP led his teammates to a spirited 120-90 win over the Spurs, removing any doubt about the identities of the league's best team and its most rule-bending, mold-breaking, incomprehensibly dominant player.
Curry produced 37 points in 28 minutes, needing only three quarters to set the season high for individual points scored against the Spurs. That he sat out the final period, making such a highly anticipated contest seem like so many other walkovers, may have been Curry's most impressive feat.
Or, it might have been this:
Or this:
Or this:
Curry treated San Antonio's historically potent defense—an unsolvable Rubik's Cube of long arms, air-tight principles and incessant effort—like tic-tac-toe. The Spurs demand that you be defended; Curry viewed the directive as a suggestion.
He had an elegant and simple answer for everything.
Chase him over a screen at the top? Floater in traffic.
Go under? Thirty-footer in your eye.
Lose track of him for a split second anywhere on the floor? Bucket.
Curry wasn't alone out there. Draymond Green scored 11 points, grabbed nine rebounds and handed out a team-high six assists while absolutely smothering LaMarcus Aldridge defensively. And Golden State's bench had its way with the Spurs reserves.
But Curry was alone in his ability to control the game, as ESPN's Ethan Strauss noted:
Pressing Curry full court results in one man offense

— Ethan Strauss (@SherwoodStrauss) January 26, 2016
Danny Green took the first turn, and Tony Parker spent some brutal stretches in the first and third quarters getting torched. Even Kawhi Leonard couldn't slow down Curry, who emulated Leonard's defensive ubiquity with countless tipped passes and five steals. San Antonio's clamp-down superstar, likely to win a second consecutive Defensive Player of the Year award, barely bothered Curry, who turned the ball over only once.
Even at his best, Curry has struggled with careless turnovers. They're mostly inseparable from the chaotic, free-flowing confidence that defines the rest of his game, and nobody's particularly bothered by them anymore. The fact he cut down the giveaways in a game in which he knew he'd face intense pressure from the league's best team and individual defense says everything about his level of determination.
And if it hadn't, his blow-by finish and subsequent scream raised the volume to an undeniable level.
The Spurs can play better. They will play better.
Tim Duncan's absence allowed Curry and the Warriors to capitalize when they pierced San Antonio's defensive bubble and reached the rim. And it's unrealistic to expect the Spurs to cough up a season-high 25 turnovers when these two teams next meet.
Golden State was locked in on both ends, understanding that its season seems to hinge on whether it can beat this particular version of the Spurs. Without doubt, the Warriors showed more defensive activity and focus than they had at any point this season.
They wanted this one, and Curry led the way in getting it. The San Francisco Chronicle's Rusty Simmons believed it was an important game for Curry:
This game means something to Stephen Curry.

— Rusty Simmons (@Rusty_SFChron) January 26, 2016
It would have been reasonable to think the Spurs could stop Curry from doing to them what he's done to everyone else, that they had the system and personnel to make him mortal. But the most striking thing about Golden State's victory was that Curry looked exactly like he has all season.
Actually, that's not completely accurate.
He looked better.
Because the circumstances matter, and because he really did do all this against a Leonard-led elite defense. That he made it look like so many of his other mind-numbing efforts only enhances the surreality. Curry made us think the Spurs were ordinary. He made us see them as they weren't.
Curry bent reality.
And he broke the Spurs.
We're Not Sure About the Cavs Yet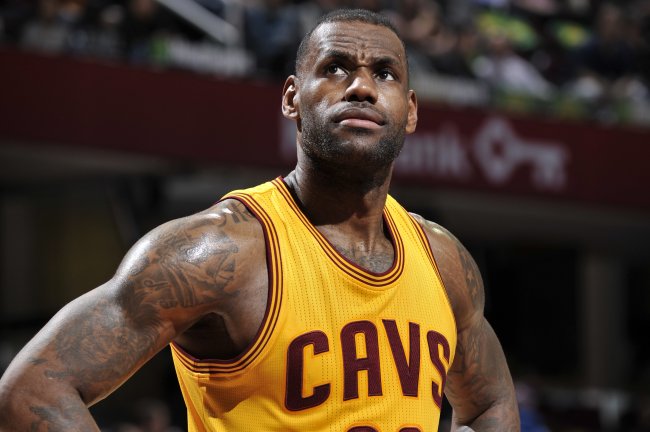 David Liam Kyle/Getty Images
The Cleveland Cavaliers cleared the lowest bar imaginable Monday, beating the Minnesota Timberwolves 114-107 in a game that was close to the very end.
But at least the Cavs managed more than 83 points—their total against Chicago in Tyronn Lue's coaching debut. And at least they did it with a little style.
A third-quarter surge included the game's two shiniest highlights in sequence. First, a runout lob from Matthew Dellavedova (Happy Australia Day!) to Timofey Mozgov:
And second, Kyrie Irving crossing up Tayshaun Prince before drilling a step-back three:
The good news is that the Cavs generated those plays as a result of a strategic halftime tweak that put pressure on the Timberwolves' inexperienced (and mostly shaky) ball-handlers, per NBA analyst Britt Robson:
Lue turned up the double teams for second half. Surprised both Wigs and Bazzy first few touches

— brittrobson (@brittrobson) January 26, 2016
If you're looking for signs of change, or at least tiny justifications that Lue will utilize the talent on hand better than David Blatt did, this helps a little. But the fact that Cleveland's half-court offense mostly spun its wheels and stood around while guards feverishly pounded the rock mitigates that optimism.
The Cavs need to close the gap between themselves and the league's clear-cut first class—Golden State and San Antonio—if they hope to justify the Blatt firing and, more importantly, make a title push. They didn't do anything to suggest the chasm was narrower against Minnesota.
And, really, even if Cleveland had hammered the Timberwolves by 50, it would have been hard to draw meaningful conclusions.
Good thing they'll get a shot at the Spurs on Saturday.
Don't Worry, Wizards—The Hurting Has Stopped
The Boston Celtics secured a 4-0 season sweep of the Washington Wizards with a 116-91 blowout on Monday, and it had Wizards head coach Randy Wittman doing some postgame reflection, per J. Michael of CSNMidAtlantic.com:
Witt: "We got to look ourselves in the mirror, me included" #WizardsTalk #NBA @CSNWizards #WizCeltics

— J. Michael (@JMichaelCSN) January 26, 2016
Don't fret, Coach. The man in the mirror is doing just fine...unless anyone in a Celtics jersey is lurking over his shoulder. In which case: Run!
Boston has locked up three straight wins, and the only downside is the fact that it won't see Washington—which it's beaten by a round average of 20 points per game—again this season.
The Wizards face the Toronto Raptors, Houston Rockets, Oklahoma City Thunder and Golden State Warriors in the next nine days, which sounds bad. But at least they won't have to worry about the Celtics until next year.
Jeff Green Showed Up
Jeff Green scored a season-high 30 points and led the Memphis Grizzlies to a 108-102 overtime win against the Orlando Magic.
It was his clutch bucket-steal-bucket stretch that turned a four-point deficit into a tie in the final 15 seconds of regulation.
Green came into the contest shooting 40.7 percent from the field and 27.3 percent from long range in 28.6 minutes per game, but he picked a good time to snap out of his season-long slump. Memphis has now won five of its last six and will close out a short homestand against the Milwaukee Bucks and Sacramento Kings later this week.
If Green gives the Grizz anything like this going forward, the No. 4 seed in the West isn't out of the question.
And Green, who's in a contract year (though you sure wouldn't have guessed that before Monday), could make himself a little more appealing to the market.
This Just Keeps Happening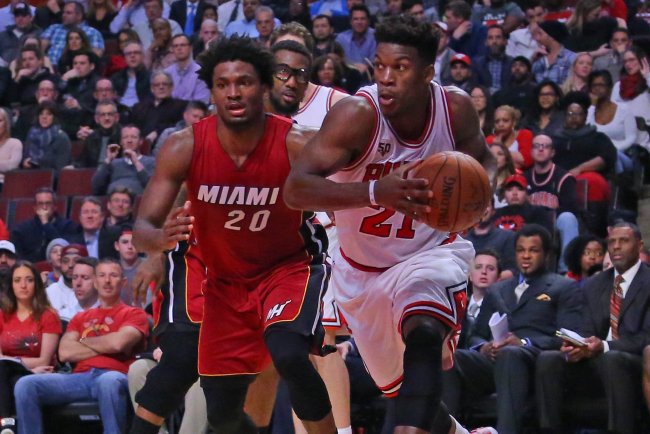 Dennis Wierzbicki-USA TODAY Sports
In a two-game stretch that served as a microcosm of their season, the Chicago Bulls beat the theoretically motivated Cavaliers and then lost to a Miami Heat squad so riddled with injury it could hardly field a roster.
The latter result, an 89-84 loss at home, prompted Nick Friedell of ESPNChicago.com to ask the requisite rhetorical question:
Is anyone really that surprised? #unpredictaBulls

— Nick Friedell (@NickFriedell) January 26, 2016
The Bulls haven't won back-to-back games since Jan. 5 and 7, but you would have thought that drought would end against Miami, which had lost four straight and seven of eight. Thanks to Dwyane Wade (28 points, seven rebounds, five assists) and Chris Bosh (18 points, seven rebounds), the Heat somehow ended their slide.
Miami's veteran leaders had no choice but to carry the load; Chris Andersen, Goran Dragic, Josh McRoberts and Hassan Whiteside were all out. And Wade played with two bad shoulders.
And any analysis would be incomplete without citing rookie Justise Winslow's defense on Jimmy Butler, who managed only 13 points.
Winslow drawing raves for his D is nothing new, but this was an otherworldly effort, as Heat analyst Couper Moorhead observed:
Seems extremely odd that Butler has only taken 15 shots in 40 minutes, but if you've been watching Winslow you know why.

— Couper Moorhead (@CoupNBA) January 26, 2016
Chicago now embarks on a seven-game road trip, which you might assume would mean a prolonged stretch of losses—especially after a disappointing defeat like this one and especially with Derrick Rose now nursing a sore back and hamstring.
But these are the Bulls, and nobody's been able to predict their performance yet.
That's either exciting or ulcer-inducing, depending on whether you're an outside observer or Bulls loyalist.
Tyreke Evans Didn't Make Any Friends
Not only did Tyreke Evans' shaky play (and balky knee) result in him sitting out most of the pivotal minutes of the New Orleans Pelicans' 112-111 loss to the Houston Rockets, but it was also his inadvertent elbow that concussed Anthony Davis when the two collided in pursuit of a second-quarter rebound.
Davis' status is up in the air, as his future availability will be determined by the league's concussion protocol. His absence comes at a difficult time, as the Pelicans had won three straight coming into the Houston game, and Davis had been playing some of his best all-around ball of the season.
Evans played only 16 minutes, scoring just five points.
The Pelicans did well to battle back after giving up an 18-0 run to the Rockets with Davis in the locker room. But with James Harden piling up 35 points, 11 rebounds and eight assists, the Pels just didn't have enough to finish off a comeback win.
With so many key cogs ailing (it feels like just yesterday that Eric Gordon went down with a broken finger), New Orleans can't survive a protracted stretch without Davis.
Boogie Goes Big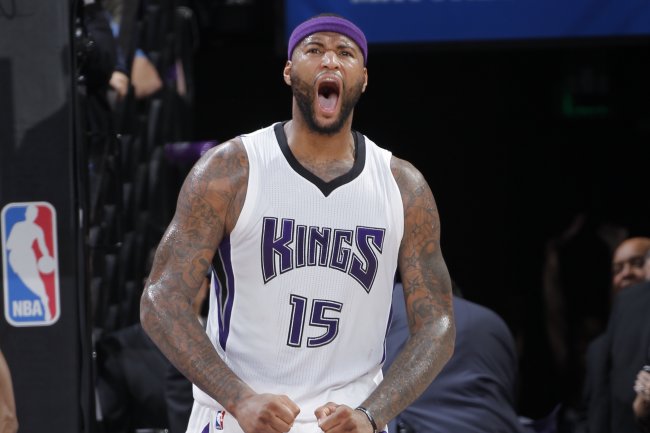 Rocky Widner/Getty Images
Coming off a career-high 48 points in his last outing, DeMarcus Cousins elevated his game.
No, seriously: He hung a career and NBA season-high 56 points on the Charlotte Hornets in a 129-128 double-overtime loss. Kemba Walker missed a potential go-ahead free throw at the end of regulation, which allowed Cousins the overtime period he needed to blow past the half-century mark.
Even though the Kings lost, if Cousins keeps this up, they won't have any trouble holding on to that No. 8 playoff spot. And the league office won't have to change the particulars of the Player of the Week award—which Cousins took home Monday for his efforts over the previous seven days.
Follow @gt_hughes on Twitter.
Stats courtesy of NBA.com and Basketball-Reference.com.