If head coaches weren't already looking to make Kemba Walker one of the reserves for the Eastern Conference All-Star team, perhaps Steve Clifford can just send all of his colleagues tape of the Charlotte Hornets' 120-116 overtime victory at the expense of the Orlando Magic.
Walker was utterly fantastic throughout the proceedings, emerging with a final line that included 40 points, seven rebounds, nine assists, four steals and one block. He shot 14-of-28 from the field, made 10 of his 12 shots at the charity stripe and turned the ball over only twice.
One cough-up admittedly gave the Magic life during overtime, leading to an easy Victor Oladipo layup. But he made up for the other one in a big way just prior to the end of regulation:
Walker found success all night, but he was particularly excellent while leading the Hornets back from a 19-point deficit. As soon as he adopted even more of an attack mentality, no one could stay in front of him, leading to bursts toward the rim and devastating, ankle-breaking crossovers.
This blow-by layup in transition finally gave Charlotte a lead for the first time since the opening period, and it was part of a massive 19-3 run by the visitors:
During the fourth quarter, which the Hornets won 30-15, Walker went for 13 points, five rebounds and three dimes on just six shots from the field. In overtime, he chipped in with another two points and two assists while making a few impressive defensive plays.
Apparently, the former Connecticut standout wants that All-Star berth that's eluded him up to this point in his young career. During his last three outings, he's now averaging 37.7 points, highlighted by this showing and a 52-point explosion against the Utah Jazz.
Already, my total points added metric (TPA), which shows how many more points someone contributes than a league-average player would and is explained in full throughout this article, indicates that Walker should be an All-Star. In fact, he's on pace to earn the No. 3 TPA among all Eastern backcourt players.
If All-Star teams were based solely on TPA... pic.twitter.com/VefbvEXyCQ

— Adam Fromal (@fromal09) January 22, 2016
This has never been the case before.
During previous seasons, Walker has been plagued by inefficiency far too often. Just last year, he shot 38.5 percent from the field and 30.4 percent from beyond the arc, which almost made it a bad thing when he was attempting to lead the Charlotte offense with one shot after another.
In 2015-16, the Hornets have more floor-spacing threats around him. Nicolas Batum, for example, has been a particularly beneficial presence, even if Friday night's exploits came with the French forward sitting out. Sporting News' NBA editor Adi Joseph quoted Walker:
@_bk_chino I recently asked Kemba a question about how Batum helps him, and he started his reply with "Not only Nic but also J-Lin."

— Adi Joseph (@AdiJoseph) January 23, 2016
That extra space has paid large dividends for the guard, and his percentages now reflect his growing confidence—43.6 percent from the field and 37.8 percent from downtown before the latest victory.
All of a sudden, Walker has made the transition from volume scorer to valuable scorer, and that's not even all he's done well. As you can see below, looking at Walker's percentile ranks throughout the entire Association in the defensive component of total points added and three metrics that Bleacher Report's Kelly Scaletta and I developed—scorer rating, passer rating and rebounder rating—he's become a nearly complete floor general: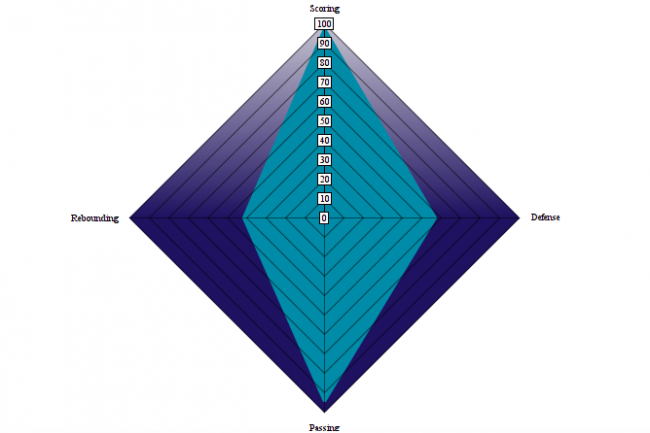 Adam Fromal's calculations.
Walker's physical profile prevents him from being a true threat on the glass or a lockdown defensive stopper, but he's overcoming as best he can. The 6'1" guard still averages over four rebounds, and his defensive box plus/minus indicates that he's an above-average player on the point-preventing end.
Most importantly, he's quite valuable to the Hornets, and his hot streak has helped keep them alive while Al Jefferson recovers from surgery on his right knee. The initial shock of losing the starting center forced Charlotte down the East's leaderboard, but Walker's heroics are allowing it to remain within striking distance of that No. 8 seed.
Maybe Walker does get his All-Star berth. Maybe he doesn't and wakes up to find himself on snub lists all over the interwebs.
Either way, he's playing like he belongs in the midseason festivities.
Derrick Rose Returning to Form?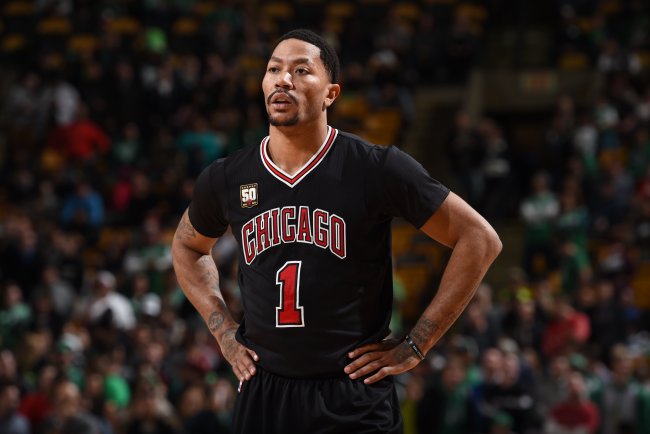 Brian Babineau/Getty Images
The Chicago Bulls did drop this contest to the Boston Celtics, pulling tantalizingly close to the home team during the fourth quarter before eventually losing 110-101. Jimmy Butler's heroics weren't quite enough, even though he logged 28 points and 14 rebounds on the night.
But the Windy City residents shouldn't feel terrible about what happened Friday night.
After all, Derrick Rose looked like the old version of Derrick Rose, and that's not the first time in the last few weeks he's given us a vintage performance. Against Boston, he recorded 27 points, seven rebounds and three assists while shooting 10-of-21 from the field and 3-of-4 from beyond the arc.
Rose is averaging 20.2 PPG over his last 11 with a 49.5 FG%, 52.1 eFG% and 56.5 TS%. At least he's getting going. And Jimmy.

— Kelly Scaletta (@KellyScaletta) January 23, 2016
Even before this game, the oft-injured point guard was averaging 18.8 points and 3.3 assists during the 2016 portion of the calendar. Perhaps more impressively, he was shooting 48.8 percent from the field—a far cry from the 38.6 percent clip he posted prior to January.
Now, there's plenty to look at if we want proof that Rose is—fingers crossed!—actually returning closer to the MVP form of old. Let's start by taking a peek at his overall trend throughout the 2015-16 campaign, simply looking at the progression of his game scores:
Obviously, there are outlier performances littering that graphic, but there's still a distinct upward trend. Rose is, without a doubt, getting better as the year drags on.
Plus, plays like this sure look good, and the highlights are coming more frequently:
It's still highly unlikely the former MVP regains his full-fledged glory of years past, but he's quickly becoming an asset for a Chicago squad that could pose a serious threat to anyone during the Eastern Conference postseason.
Juggernauts Keep Rolling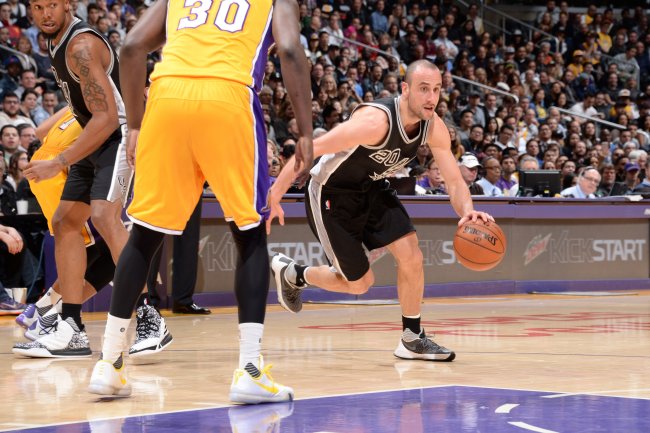 Andrew D. Bernstein/Getty Images
Surprised? Don't be.
First, the San Antonio Spurs took care of business against the Los Angeles Lakers, emerging with a 108-95 victory while holding Kobe Bryant to 76 fewer points than he scored against the Toronto Raptors exactly 10 years ago. Even without LaMarcus Aldridge in the lineup, it never seemed as if this contest was in doubt.
Manu Ginobili, who's flown way too far under the radar this season, deserves the lion's share of the credit. Only missing a single shot from the field, he recorded 20 points, four rebounds, four assists, five steals and two blocks.
But the Spurs couldn't gain any ground on the team still leading the Western Conference. Despite their 38-6 record, they still trail the Golden State Warriors by two games after the defending champs moved to 40-4 on the year.
The Dubs were forced to square off with a much tougher opponent, but they toppled the Indiana Pacers 122-110 to complete their tour of dominance against the East's best. Though Indiana managed to climb within seven points at multiple points during the proceedings, this game still never felt like it was leading toward anything other than another Golden State victory.
And the usual suspects deserve the praise, even if it was Steve Kerr calling the signals from the bench for the first time this season.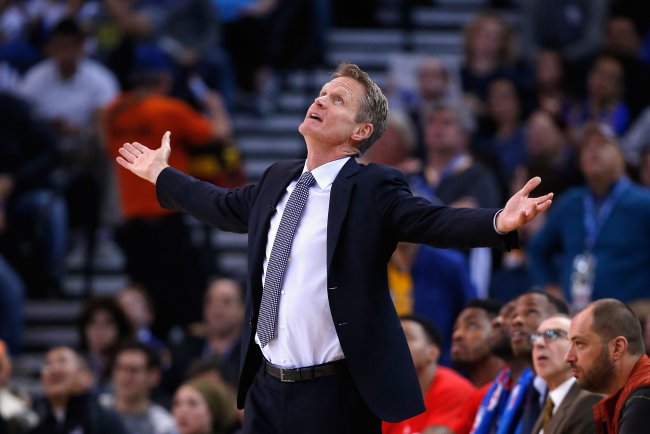 Ezra Shaw/Getty Images
Klay Thompson dropped 18 points while making four shots from beyond the arc. Draymond Green added 22 points, 11 rebounds, two assists and four steals. Stephen Curry submitted a triple-double with a pretty special twist, even if his three-quarter-court shot at the end of the first quarter came after the buzzer sounded. Per ESPN Stats & Info:
Stephen Curry: 39 points, the most he's scored in a game in which he also had a triple-double

— ESPN Stats & Info (@ESPNStatsInfo) January 23, 2016
The reigning MVP finished with 39 points, 10 rebounds and 12 assists, highlighted by his especially deep triple to end the first half:
Is there anything he can't do? We're not even to the All-Star break yet, but he's already made 204 triples, which would be the No. 37 single-season mark of all time if he sat out until the playoffs.
Better yet, is there anything this team can't do? We'll find out Monday when the two juggernauts finally meet.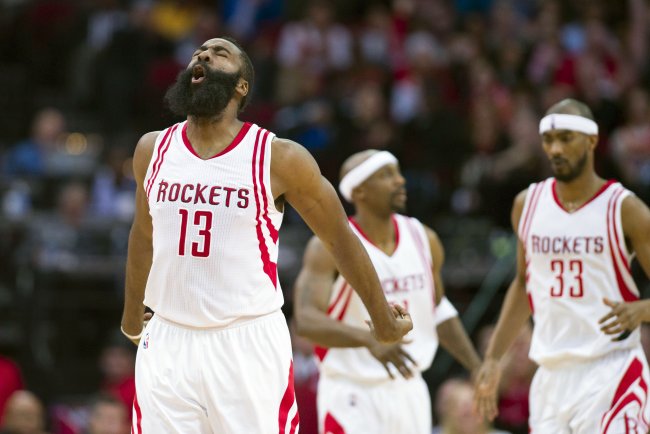 Jerome Miron-USA TODAY Sports
It's easy to criticize James Harden.
You can take note of his occasionally apathetic attitude and the lack of emotion he sometimes displays in contests that aren't proceeding as planned for the Houston Rockets. You can make fun of his incredibly unaware defense, which often keeps him from becoming as valuable as he could otherwise be.
But you can't deny just how good the bearded shooting guard is on the offensive end, and his superiority was on full display in a 102-98 victory over the defenseless Milwaukee Bucks.
He tortured his defenders to the tune of 30 points and eight assists while shooting 9-of-15 from the field, 5-of-8 from beyond the arc and 7-of-8 from the charity stripe. Those may not seem like particularly notable numbers for Harden, but here's the complete list of players who have posted at least 30 points and eight assists without taking more than 15 shots during the 2015-16 campaign: Harden (twice now) and Kyle Lowry.
That's it. Even if we expand our scope to include the last five years, the club only swells to include a dozen players:
James Harden: nine times
LeBron James: three times
Kevin Durant, Kyle Lowry, Chris Paul: twice
DeMarcus Cousins, Stephen Curry, Goran Dragic, Monta Ellis, Paul Pierce, Isaiah Thomas and John Wall: once
This was a special performance, even if it feels routine for the Houston superstar.
DeMar DeRozan DeStroys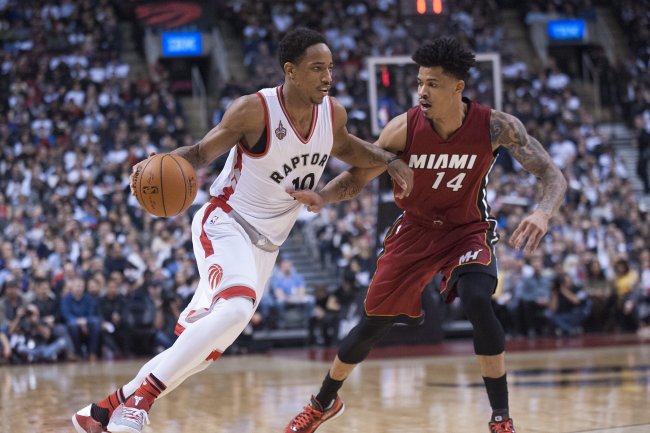 Peter Llewellyn/Getty Images
While DeMar DeRozan's 33 points, six rebounds and four assists in a 101-81 victory were noteworthy, they did come against the M a i H at.
We can't write out "Miami Heat" in its entirety, because that would be misleading. It's only appropriate that almost half the letters are missing.
There were too many absent pieces Friday night, even if Dwyane Wade was quickly upgraded from out to doubtful to in the lineup so that the South Beach residents could have nine "healthy" bodies. Goran Dragic, Luol Deng, Hassan Whiteside, Beno Udrih, Chris Andersen and Josh McRoberts were all unavailable, which put Miami in an immediate hole it could never dig out of.
In case you don't believe the Heat were severely short-handed, just consider the fact that Udonis Haslem logged 16 minutes off the bench. He's only done that on two other occasions during the 2015-16 season.
Still, DeRozan was a force for the Toronto Raptors.
Constantly probing the defense and attempting to drive into the paint, he tortured his matchups on nearly every possession while still looking to involve his teammates. Plus, his shot was falling from the perimeter, as Ryan Wolstat of the Toronto Sun noted:
This is fourth time DeRozan has hit four threes in a game. Hit five once in 2012. Raptors win seventh in a row.

— Ryan Wolstat (@WolstatSun) January 23, 2016
Even against an injury-ravaged squad while playing in front of the hometown faithful, a 20-point win in the NBA is still a 20-point win.
Underrated Team of the Night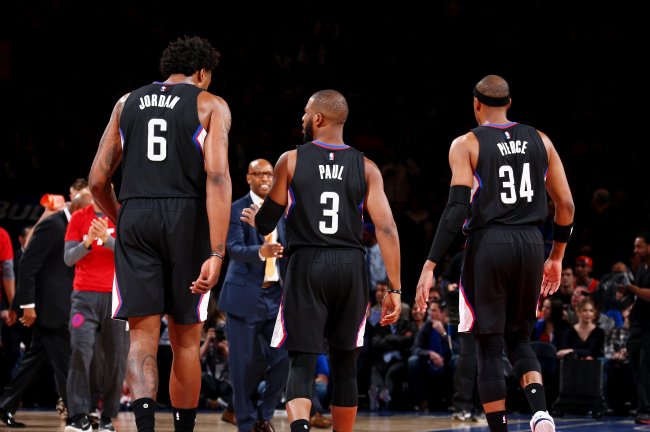 Nathaniel S. Butler/Getty Images
Don't look now, but the Los Angeles Clippers rebounded from their loss to a motivated Cleveland Cavaliers squad and got their 12th win in 14 games with a 116-88 dismantling of the New York Knicks in Madison Square Garden.
The Clips are flat-out rolling, but imagine what will happen when Blake Griffin returns. As much success as they've found, they're still 2.8 points per 100 possessions better when he's on the court.
After the latest victory, the Clippers are 28-15 on the season and sitting pretty with the Western Conference's No. 4 seed. They still have a long way to go before catching the Oklahoma City Thunder, San Antonio Spurs or Golden State Warriors, but they're nonetheless establishing themselves as a fourth powerhouse in their half of the NBA.
Sleep on this squad at your own risk.
Continuing Streak of the Night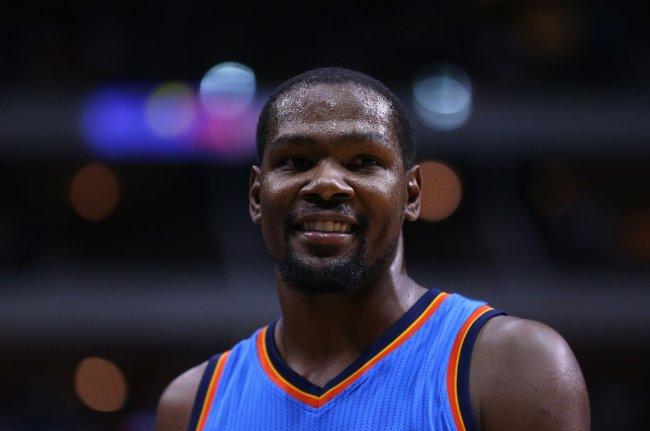 Ronald Martinez/Getty Images
In the Oklahoma City Thunder's 109-106 win against the Dallas Mavericks, Kevin Durant did his thing. Though five of his teammates managed to hit double figures, the 2014 MVP was the Thunder's leading scorer, putting up 24 points to go along with his three rebounds, seven assists, one steal and two blocks.
Why is a 24-spot notable for Durant? Because this is now the 30th consecutive game in which he's scored at least 20 points, moving him up into a tie with Blake Griffin for the fourth-longest streak in the last five seasons.
Barring an injury or an inexplicably poor performance, he'll likely log his 31st such showing Sunday against the Brooklyn Nets, and that will leave him tied with Carmelo Anthony at No. 3. After that, he'll be chasing LeBron James (38) and...himself.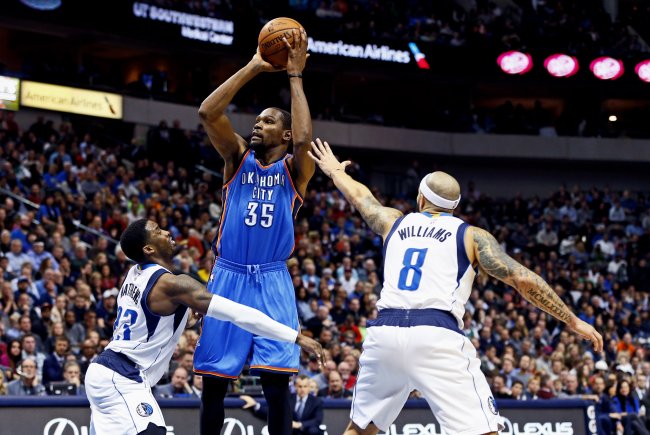 Kevin Jairaj-USA TODAY Sports
No one in the last five years has put together a longer stretch of 20-point games than Durant, who hit the necessary number 56 times in a row during the 2013-14 season.
If he manages to keep the streak alive and plays in every OKC contest for the rest of the year, he'll be looking to break the record on March 24 against the Utah Jazz.
Anyone want to doubt his ability?
Adam Fromal covers the NBA for Bleacher Report. Follow him on Twitter: @fromal09.
All stats, unless otherwise indicated, are from Basketball-Reference.com or Adam's own databases and are current heading into games on Jan. 22.