Coming Soon in the World of Pro Wrestling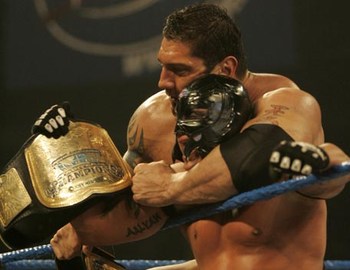 Hey, it's Svyato hitting you guys up with another article. There are a lot of rumors that swirl around the Pro Wrestling world.
There are a lot of predictions that we humans make when it comes to wrestling. There are many storylines we pray to see.
Basically I'm gonna give you a short run down on things we might see soon and some things we will definitely see. Enjoy reading, guys.
A Batista and Rey Tag Team Again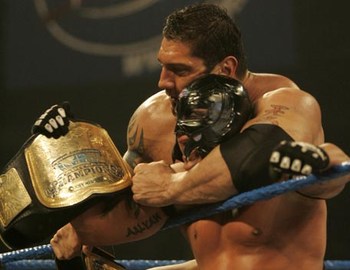 On Batista's first night back on Friday Night SmackDown, Batista was confronted by who else besides the man himself, Chris Jericho.
Jericho came out proclaiming that SmackDown is his show. Batista answered with it ending that he will face Jericho in the main event that night and then spinebustered him.
In the main event, Batista defeated Chris after he tried to go for a Code Breaker and Batista countered into the Batista Bomb. Following that Big Show challenged Batista to a match the following week (this week).

So Batista is taking shots at the tag champions. Now we all know that to be a part of a tag team match you gotta have a tag team partner. Well how about Mr. 619, Rey Mysterio.

Batista and Rey have been a tag team in the past. In 2005 they even beat MNM for the titles. With Rey set to return soon this looks like a good possibility.
The thing with tag team action is you can keep Chris and Rey out there for the most time and then just let Batista or Big Show in whenever needed.
Plus if I do say so myself Batista has looked decent since his return so maybe he won't wrestle us to tears.
I think this would be a good feud for the tag division and good for Batista to go tag before finally returning to the main event.
Shawn Michaels vs, Triple H at Wrestlemania 26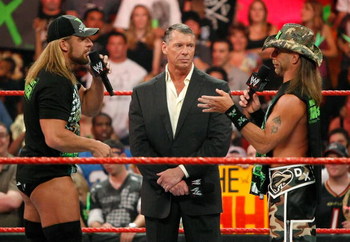 Many WWE fan are thinking this at this point. The Legacy Vs DX feud should end with Legacy taking it. There is nothing for D Generation X to gain by winning this feud.
Everyone knows that Shawn and Triple H are two of the best superstars in WWE history and everyone knows that they are also one of the best tag teams in history.
As for Legacy walking away with their heads held high after this feud should help them a lot.
It would help them establish themselves as future Main Eventers and a great tag team. So I think logically that is what should happen.
Now let's take a look at this ladies and gentelman. What happens when DX lose to two "amateurs" in the business? They get mad. Who do they get mad? Each other, exactly. So what comes out of all of this? You guessed it, Shawn Michaels Vs Triple H.
Now these two have feuded in the past and it has looked great. Most matches with these two are. The final meeting between the two should definitely be WM 26 and it should have the stipulation that loser retires.
We all know that WM 25 was a huge disappointment and this is the kinda stuff the WWE needs to bounce back. Also throw in that winner gets a title and you are set to go.
Now of course this means that the WWE loses two of their biggest and best superstars, but that also means they can push a young talented superstar into the main event too. Someone like Jack Swagger or Evan Bourne.
Plus I think everyone wants Triple H to go back to playing a heel we all know he is a way better heel than face.
Now come who loses. This is a tough part. Do you give up HBK or The Game. Despite the fact the HBK is a better wrestler I think he should be the loser.
The potential with Triple H winning is Ric Flair's record. He can pass it and become the soul owner of it. Considering he has 13 world title and if he wins one at Mania it will make it 14. This could be something great!
CM Punk's next challenger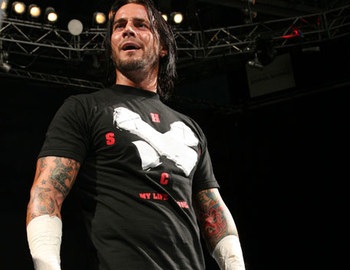 I know that most of us have been kinda disappointed at the CM Punk/The Undertaker feud. Undertaker to me hasn't looked the same since he came back from injury. So I'm looking at a quick list of possible opponents for Punk.
Albert Dankwa (AkD) had this cool idea where CM Punk could call out Batista on using steroids. It would be cool for someone to finally confront that and maybe Punk can make the man look good. I wouldn't mind having this feud, but only short term.
Matt Hardy would be another person to challenge Punk. As we all know CM Punk retired Jeff Hardy. This would be a great revenge angle for Matt.
You can kinda relate it to the Eddie dying, Rey winning situation. You could push Matt in honour of Jeff and because Matt deserves it by now.
John Morrison and CM Punk would be an interesting feud too. JoMo is obviously going to get pushed sooner than later, so why not before Mania time so he can main event with Punk? It could prove to be a good feud plus we've seen these two meet in the past in pretty good matches.
A few people have actually told me that they wanna see Tyson Kidd and I'm not surprised. The man has got talent. He also has great potential for the industry I believe he can become a major player one day. I think it may be a little early for him, but I wouldn't mind seeing it.
I was not shocked when many people told me that they would wanna see CM Punk Vs Chris Jericho. You have two of the WWE's top heels today feud against each other. I think in cases like these you gotta have that heel vs heel feud. Let the fans choose who they hate more.
John Cena's next opponent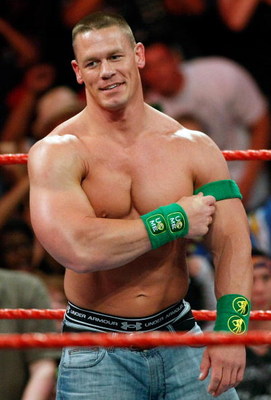 We have talked about Punk's title now let's talk about the undeserving strap that is wrapped around John Cena's waist. Orton is not too highly favoured to win at Hell In A Cell.
Then again I think it has some kinda thing to it that if Orton loses he won't get another shot. So he has a good shot of winning, but if he doesn't let's take a look at a few people.
First of all before we lose HBK I think we need him to get at least one more title run. I mean the man obviously deserves it.
He has been one of the best if not the best superstar in the WWE for years. And I think it's only fair that he gets the strap before he leaves.
Jack Swagger is a guy obviously deserving of a push. He was a great ECW Champion on ECW and he would be a great WWE Champion if given the oppurtunity. The man has the size, skill, and charisma. All he needs is that push.
MVP was obviously a way better heel. And I think he has much better things to do that to tag up with that pathetic excuse for a wrestler, Mark Henry. So I suggest to go heel again and go after Cena. MVP has worked hard for such a long while now and I believe he has earned his shot by now. Come on WWE don't be a playa hata.
Kofi Kingston is bound for success sooner or later so why not now. The Jamaican superstar is built to be a main eventer.
First, though, we need him to come up with something better than trouble in paradise, because that finisher doesn't do it for me. The man can be big he just gotta get pushed at the right time.
Other honourable mentions:
Evan Bourne
Ted DiBiase
Diva's and Women's Championships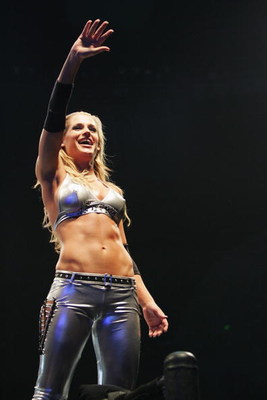 Melina Vs Michelle McCool and Alicia Fox Vs Mickie James, what do I think?
I think that pushing Alicia might not be a bad thing. She can easily be a good champion for the brand, but I would still want my girl Kelly Kelly to get a shot, but she is working on an injury so until then Alicia will do.
I am getting tired of McCool and Melina I wanna see someone else fight for the belt. Maybe have Layla betray McCool and feud with her or have Natalya feud with Melina. Either way, I wanna see something refreshing there.
Closing Notes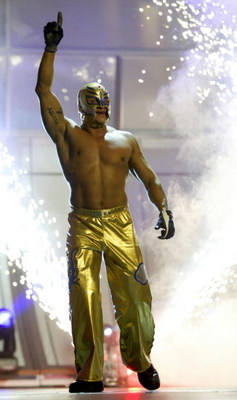 Thanks for reading guys. Leave your comments if you want.
Keep Reading